Overview
Escape the winter crowds and seek out one of nature's most fabulous show, the Aurora Borealis, at Torassieppi, in breath-taking Finnish Lapland. There is very little light pollution in the wilderness region and Aurora displays can rival those of winter, particularly if you are lucky enough to witness the dancing colours reflect off the unfrozen Lake Torasjarvi. In addition, two particular Autumnal highlights are the opportunity to hike with a reindeer and a Lapland foodie foraging experience.
What's included?
ALL OF THE ACTIVITIES AND SERVICES LISTED BELOW ARE INCLUDED IN THE HOLIDAY PRICE
Flights: return flights from London Heathrow to Kittilä (via Helsinki). Flight routes are subject to change
Transfers: return transfers from Kittilä Airport
Accommodation: 3 nights in a winter cottage room (winter cottage upgrades available on request)
Meals: 3 breakfasts, 2 lunches, 3 dinners
The following activities are included in the holiday: Aurora campfire, Aurora explorer, reindeer hike and Lapland foodie experience (the order of activities is subject to change)
Fully qualified guides and instructors during activities
---
Torassieppi Reindeer Farm enjoys an idyllic setting close to the borders of Pallas Ylläs National Park in the north-west corner of Finnish Lapland. Autumn here is a time of change. The landscapes transform into vibrant colour, wildlife becomes more active as it prepares for the long winter, and the nights draw longer following 24 hours of daylight during the summer. This combination makes for the perfect Aurora hunting escape, as not only can you potentially witness captivating displays, but you can also enjoy 'Ruska', which is a local word used to describe the changing colours of the leaves which takes place for around two-three weeks each year (timing varies, depending on the weather).
A Northern Lights display in autumn can rival those of winter, particularly given the location of the accommodation at the edge of Lake Torasjarvi. You can potentially get two displays for the price of one here, as the dancing lights flicker off the unfrozen lake. Torassieppi is at the heart of the Aurora Zone and the lack of light pollution due to the surrounding wilderness makes for prime Aurora viewing conditions.
Read more
An Aurora camp is a fantastic introduction to the scientific elements behind the Northern Lights and this is the first of your dedicated activities. An informative workshop will be followed by a campfire, where you will cook pancakes at the edge of the lake, awaiting a potential Northern Lights display. On your final night, a minibus tour allows you to venture further out into the wilderness surrounding Torassieppi, out running any potential cloud cover and using the local knowledge of an experienced guide to assess the conditions and determine the most suitable route for your hunt.
To enhance your chances of spotting the Northern Lights, you may wish to choose to spend an unforgettable night in an Aurora Dome, situated on the banks of the lake. The insulated domes contain a large Perspex north facing window, which provides their inhabitants with the best possible views of the night sky. Imagine the sudden appearance of ethereal colours from the comfort of your accommodation.

The dramatic changes of the Finnish 'Ruska' season are reflected in the forest and the growth of seasonal produce. A Lapland foodie experience will allow you the opportunity to forage for berries and mushrooms, which you will help to prepare with an experienced chef over a campfire.
You will also encounter reindeer, which are synonymous in Lapland. Enjoy a leisurely hike with these magnificent animals amidst the colourful autumn terrain and learn about the importance of the animals to the indigenous Sami people. This activity is a particular highlight and is unique to the Torassieppi Reindeer Farm.
To conclude, this autumn holiday to Torassieppi offers a peaceful escape, away from the winter crowds. It is specifically designed for seeking out the Aurora but we have also made sure to include some fascinating activities which will introduce you to the cultural aspect of Lapland and the vibrant changes of the autumn season.
---
Image credits: Antti Pietikainen
View Gallery
Download Dossier
Key facts
| | |
| --- | --- |
| Duration: | 3 nights |
| Pace: | Balanced |
| Suitable for: | Ages 15+. See our terms for further information |
Make an enquiry
Agenda
Accommodation
Included in price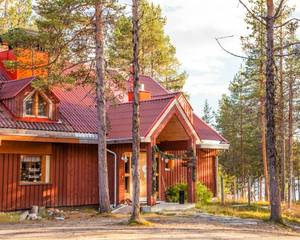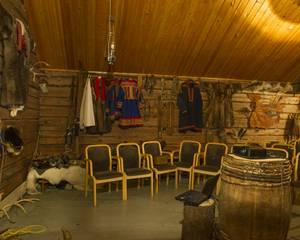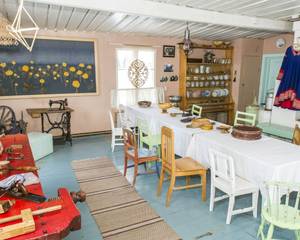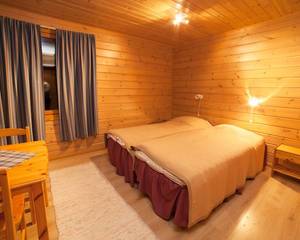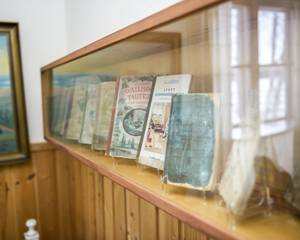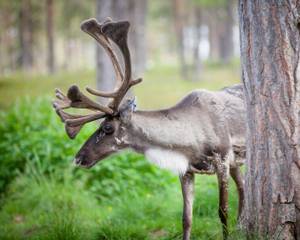 Torassieppi Reindeer Farm (Autumn)
Nights:
1-3
Located on the edge of Lake Torasjarvi, and bordering the Pallas Ylläs National Park, Torassieppi Reindeer Farm is situated in one of the most picturesque wilderness areas in Finland.
The farm building dates back to 1847 making it one of the oldest in the area. Today it has been lovingly renovated and accommodation has been added nearby so that guests can stay in this spectacular spot.
Torassieppi Reindeer Farm is also listed by National Geographic Travel as one of the places to visit in 2017.
Hotel facilities
Torassieppi has a central restaurant and reception building which is a short walk from the rooms and winter cottages. A roaring fire accompanies the evening meals which include as much local produce as possible Typically they are served in a buffet format and include traditional Finnish ingredients such as reindeer (of course dietary requirements are also catered for)
There is no bar but alcohol can be purchased from the restaurant so it can be enjoyed with your evening meal
The reception building also has a small gift shop area which sells a variety of local crafts, including reindeer hides and traditional carved Kuksa cups
There are two lakeside saunas at Torassieppi which are both heated in the evenings for guests to use. Separate facilities are provided for both men and women
There is free Wi-Fi in the main restaurant building
You may also choose to add a night of Arctic glamping in one of the famous Aurora Domes, which are only a short walk away from the main building and available all year round. Please see our personalise section for further details.
A perfect spot to search for the Aurora, there are also a few wooden benches on the edge of the frozen lake, which are ideal for enjoying the expansive wilderness and hopefully a Northern Lights display or two
Room types
DOUBLE/TWIN ROOMS: Torassieppi has only eight rooms which are located a short walk from the main building. There are two rooms to each small cabin building. Each room is completely independent with their own en-suite bathroom and entrance but some rooms can be interconnecting at the guest's request. The rooms can be made up as either twin or double bedded rooms and are really cosy with all the facilities you will need to enjoy your stay including tea and coffee making facilities and hairdryers.
---
Image credit: Antti Pietikainen, Harriniva Hotel and Safaris
Read more
Read less
---
Other options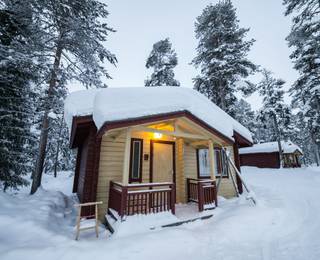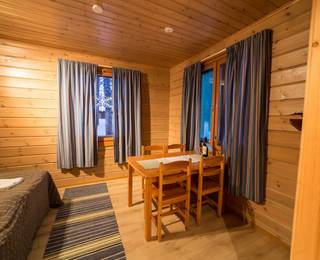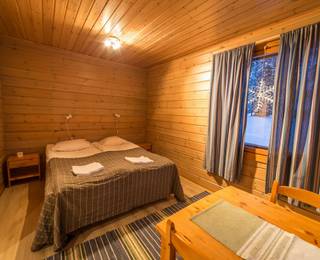 Torassieppi Winter Cottages
Supplements from: £88pp
Torassieppi offers 8 detached winter cottages to which you can upgrade. The cottages are ideal for those who want more space or for larger groups of people. Located close to the main restaurant, they are only a short walk away through the snow-laden trees and close to the frozen lake beyond.
The smaller cottages contain a fireplace, living room area, toilet, shower, hairdryer and kitchenette. There are two bedrooms, one with twin beds and another with three beds (including a set of bunk beds). These can accommodate two to five people, we feel they are ideal for 3 or 4 adults.
Torassieppi also has some larger cottages and these have their own sauna in addition to the fireplaces. The larger cottages offer a living room area, toilet, shower, hairdryer and kitchenette with a kettle. They have two bedrooms which have twin beds and a sleeping alcove with bunk beds. Whilst they can sleep up to 6 people, we feel that they are most suited to 4 or 5 adults.
Please contact our Travel Experts for a quotation if you would like to upgrade to a winter cottage.
Read more
Read less
Personalise
Personalise this tour
---
Our pick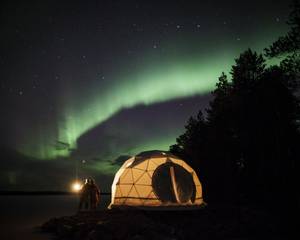 Torassieppi and Jeris' exceptional Aurora Domes offer a special overnight experience for guests. The cosy, simple domes allow for star-gazing and hopefully Northern Lights-gazing, due to their large glass wall. Enjoying the views whilst staying comfortable and warm inside is an experience like no other.
Read more
The domes are equipped with a wood-burning stove, a double bed and electric heater. Although these features will keep the dome warm, we do recommend keeping additional layers to hand, in case you find yourself in need of extra warmth should the fire burn out. The toilet, shower and sauna facilities are located a short walk away (50m).
On your chosen Aurora Dome night, you will enjoy dinner at the hotel before being transferred to your dome. Any required transfers are included, as well as breakfast the following morning. Please note, clients may be allocated to either destination on arrival.
Price: £134 (per Dome per night)
*Please note:
the price shown is based on your spending the first or final night of your stay in a dome and therefore not requiring a hotel room or cottage. Should you wish to spend an alternative night glamping then additional supplements will apply. Please contact one of our team for a quote.
Image credit: Antti Pietikäinen
---
Other options
Trip Extensions
Helsinki city break
With our destinations being so remote, the majority of flights to Finnish Lapland are operated by Finnair and therefore involve connecting through Helsinki Airport. Many of our guests choose to extend this stop and spend some time in the Finnish capital, either at the start or end of their holiday.
Read more about this activity
We can arrange a wide variety of city centre hotel accommodation for guests to choose from and some options closer to the airport should you prefer. We know that everyone tends to be looking for something different so please contact our Travel Experts for their opinion on the hotels which may best suit you and your party.
Located on the peninsula of the Baltic Sea, Helsinki enjoys a charming coastal location and has much to offer its guests. This thriving city has a rich culture and arts scene with many museums and galleries to enjoy alongside the exciting gastronomy.
Despite its cool urbanism and a reputation for cutting-edge design, Helsinki also retains its charm and visitors will enjoy this city's very friendly atmosphere.
In the city itself, Senate Square is the main feature, showcasing neoclassical architecture and offering easy access to the surrounding shops. With Helsinki once part of the Duchy of Russia, it offers similar striking architecture, with wide streets and bold facades. For those looking for more of an insight into the city's past, we would suggest visiting the Ateneum Art Museum which houses over 20,000 pieces of art or the Helsinki Design Museum which showcases the history of design in the country from traditional folklore to postmodernism.
A 15-minute ferry ride from the main city is the UNESCO-listed Suomenlinna Sea Fortress which was constructed in 1748. As well as being a unique monument, it is also a lovely day trip, as the island has numerous shops and parks to explore.
Helsinki's food scene has seen a recent evolution, with a growth in street food which showcases the city's multicultural population. Helsinki is famed also for its specialist dishes of seafood and Russian cuisine so there is much to sample!
Finland is famed for its coffee consumption so you can be sure of a thriving café culture here. Be sure to include an obligatory stop for a coffee and a cinnamon roll during your explorations!
Whether you add your city break onto the start or the end of your holiday, spending a night or two in Helsinki is not something that you will regret.
Please contact our Travel Experts for a full quotation. All city breaks are subject to flight availability.
Image credit: Visit Helsinki & Jussi Hellston
Dates & Prices
We include more, no hidden costs
On each of our holidays, you will see a clear outline of exactly what's included in the price of your holiday. We never use 'headline' or 'lead-in' prices like so many tour operators, as we prefer to include as much as we can, rather than see our clients incur considerable additional costs in our destinations.
Prices
Departure dates between

Fri 24 Aug 2018
to
Mon 24 Sep 2018

Enquire

Adults

£ 1,055

Single Adult

£ 1,165
Next season's provisional dates and prices
To secure places for next season, you can make a provisional booking and fix the cost of your holiday at the provisional package price displayed online. Simply by paying a deposit, you will protect yourself from any package price increases. The departure dates and itineraries remain subject to change and we will contact you when the final dates and itineraries are confirmed. You will have 14 days to decide if you would like to go ahead. If you decide not to travel we will refund your deposit. We reserve the right to charge supplements where there are significant changes to an itinerary or increases in flight costs. Any non-package rates remain subject to change.
Departure dates between

Fri 23 Aug 2019
to
Mon 23 Sep 2019

Enquire

Adults

£ 1,180

Single Adult

£ 1,300
Terms
For our full booking terms and conditions please click here
Holiday group size (approximate)
Minimum 4 people, maximum 16 people
Group sizes and minimum numbers
Most of our holidays require a minimum number of participants to operate. Minimum numbers are detailed on each holiday page and are always approximate. Group sizes for tailor made holidays will vary for each of the activities. For private departures you may also be joined by other guests during the activities unless you have discussed specific private activities with us.
If your selected date has not yet reached minimum numbers you will be informed at the time of booking. In the unlikely event that your chosen date has not reached the required minimum numbers nine weeks before your scheduled departure date we will contact you and discuss the various options available to you. We will always do all we can to operate a holiday and in some cases we may be able to operate the holiday by combining your itinerary with that of other guests for some activities (this may mean that the maximum group size is increased but this will be discussed in full with you).
If we are unable to operate the holiday then you will be offered the chance to transfer to an alternative holiday or date (subject to availability). If the alternative is more expensive you will be asked to pay the difference, if it is cheaper then you will be reimbursed. You will also be offered the option to cancel and receive a full refund of all monies paid.
See our booking conditions for further information.
Order of activities
The order of activities is always subject to change and you will be provided with your final itinerary upon arrival at your destination
Medical History and advice
If you or any member of your party is pregnant or has any medical condition or disability which may affect your holiday or has any special requirements as a result of any medical condition or disability (including any which affect the booking process), please tell us before you confirm your booking so that we can assist you in considering the suitability of the arrangements and/or making the booking. In any event, you must give us full details in writing at the time of booking and whenever any change in the condition or disability occurs. You must also promptly advise us if you become pregnant or any medical condition or disability which may affect your holiday develops after your booking has been confirmed.
See our booking conditions for further information.
Experience and fitness
We offer a vast choice of holidays which range from 'relaxed' to 'active' so there really is something for everyone and our holidays can be filtered by how active they are. Regardless of the chosen holiday, all activities will include tuition from a beginner's lever and no prior experience is assumed.
If you are unsure about the physical demands of a particular holiday please contact us and our expert team will be happy to help.
See our booking conditions for further information.
Guides and safety
It is absolutely essential when partaking in any activity that you listen very closely to, and abide by, the instructions provided.
If there is anything that you are unsure of during a safety briefing or that you would like to clarify with the guides please make this clear to them immediately before starting the activity.
Our guides' word on activities is always final and your safety is their principal concern at all times, please respect their decisions. By following their instructions, your safety and enjoyment during each activity will be greatly enhanced.
See our booking conditions for further information.
Booking activities locally
In almost all of our destinations you can book and pay for additional activities locally. Please note that we cannot be held responsible for any injury or loss that occurs through any activities that are booked in your destination (see our terms and conditions for further details).
Please always ensure that your safety is your primary concern when arranging any such activity.
Car Hire
If your trip includes car hire the named driver must have a credit card registered in their name which they can present when they collect their car along with their driving licence, as a deposit will be held on the credit card. Please see your trip dossier for full details.
Minimum age
The minimum age for participation in our itinerary is 15 years old, however, for some activities and shared transfers, our guests may be joined by others and these may include those of a younger age. Any younger participants will be fully supervised by an adult and the guides will ensure that they are only able to participate if there will be no effect on the activity experience. None of the hotels we feature have a minimum age and so there may be families staying at them with younger children, especially during the holiday periods.
To drive a snowmobile you must have a full driving licence and be over 18 years old.
Reviews
Traveller Reviews
What a fantastic time I had in Finland
01 July 2014
by Karen Therese Patchett
I just wanted to e-mail to say what a fantastic time I had in Finland. Our guide Timo was excellent, he worked hard to make sure our stay was interesting and varied but relaxed (and he was very knowledgeable on just about everything Finnish). It was a lovely location and hotel, and the activities gave us a nice glimpse of Finland and its culture. What I liked most about Finland (apart from the…
Read more stunning scenery of course) is it is true to itself; if I had gone there and found a Disneyland-type set up I would have been deeply disappointed. And I had the best gluten free food I have had in the last place I expected it.
Read less
---
---