Overview
Escape the winter crowds during this 3-night autumn break to breathtaking Finnish Lapland. Torassieppi is a wilderness region away from light pollution and with an excellent Aurora track record. During autumn, you could be lucky enough to see the Northern Lights reflect off the unfrozen Lake Torasjarvi.
What's included?
ALL OF THE ACTIVITIES AND SERVICES LISTED BELOW ARE INCLUDED IN THE HOLIDAY PRICE
Flights: return flights from London Heathrow to Kittilä (via Helsinki). Flight routes are subject to change
Transfers: return transfers from Kittilä Airport
Accommodation: 2 nights hotel room accommodation and 1 night in an Aurora Dome
Meals: 3 breakfasts, 2 lunches, 3 dinners
Activities: Northern Lights workshop and Aurora campfire, Aurora hunt by horseback (this can be changed to Northern Lights hunt by minibus, if preferred), Aurora glamping and husky hike (order subject to change)
Fully qualified guides and instructors during activities
24/7 assistance from our UK based operations team and in destination support from our local partners
---
Torassieppi enjoys an idyllic setting close to the borders of Pallas Ylläs National Park in the north-west corner of Finnish Lapland. Autumn here is a time of change. The landscapes transform into vibrant colour, wildlife becomes more active as it prepares for the long winter, and the nights draw longer following 24 hours of daylight during the summer. This combination makes for the perfect Aurora hunting escape, as not only can you potentially witness captivating displays, but you can also enjoy 'Ruska', which is a local word used to describe the changing colours of the leaves which takes place for around two-three weeks each year (timing varies, depending on the weather).
A Northern Lights display in autumn can rival those of winter, particularly given the location of the accommodation at the edge of Lake Torasjarvi. You can potentially get two displays for the price of one here, as the dancing lights flicker off the unfrozen lake. Torassieppi is at the heart of the Aurora Zone and the lack of light pollution due to the surrounding wilderness makes for prime Aurora viewing conditions.
An Aurora camp is a fantastic introduction to the scientific elements behind the Northern Lights and this is the first of your dedicated activities. An informative workshop will be followed by a campfire, where you will cook pancakes at the edge of the lake, awaiting a potential Northern Lights display. On your final night, a horse riding safari in search of the Aurora allows you to venture further out into the wilderness surrounding Torassieppi. Alternatively, you can choose to change the horseback safari for a Northern Lights minbus hunt, free of charge. You'll then spend a night in an Aurora Dome, situated on the banks of the lake. The insulated domes contain a large Perspex north-facing window, which provides their inhabitants with the best possible views of the night sky. Imagine the sudden appearance of ethereal colours from the comfort of your accommodation.
The dramatic changes of the Finnish 'Ruska' season are reflected in the forest and the growth of seasonal produce. You will get the chance to enjoy the amazing colours up close as you head out on a leisurely hike through the rich autumn terrain, with huskies at the helm.
This autumn holiday to Torassieppi offers a peaceful escape, away from the winter crowds. It is specifically designed for seeking out the Aurora but we have also made sure to include a fantastic day-time activity which will introduce you to the cultural aspect of Lapland and the vibrant changes of the autumn season.
---
Image credits: Antti Pietikainen
Agenda
Accommodation
Included in price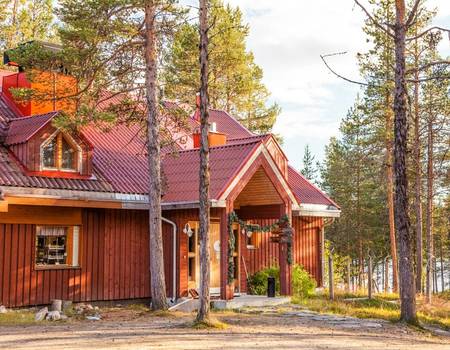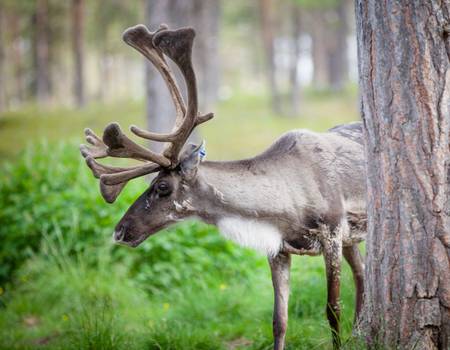 Torassieppi Reindeer Farm (Autumn)
Nights:
1-2
Located on the edge of Lake Torasjarvi, and bordering the Pallas Ylläs National Park, Torassieppi Reindeer Farm is situated in one of the most picturesque wilderness areas in Finland.
The farm building dates back to 1847 making it one of the oldest in the area. Today it has been lovingly renovated and accommodation has been added nearby so that guests can stay in this spectacular spot.
Torassieppi Reindeer Farm was listed by National Geographic Travel as one of the places to visit in 2017.
Hotel facilities
Torassieppi has a central restaurant and reception building which is a short walk from the rooms and winter cottages. A roaring fire accompanies the evening meals which include as much local produce as possible. Typically they are served in a buffet format and include traditional Finnish ingredients such as reindeer (of course dietary requirements are also catered for).
There is no bar but alcohol can be purchased from the restaurant so it can be enjoyed with your evening meal.
The reception building also has a small gift shop area which sells a variety of local crafts, including reindeer hides and traditional carved Kuksa cups.
Tea and coffee are available free of charge throughout the day in the hotel restaurant / bar area.
There are two lakeside saunas at Torassieppi which are both heated in the evenings for guests to use. Separate facilities are provided for both men and women.
There is free Wi-Fi in the main restaurant building.
You may also choose to add a night of Arctic glamping in one of the famous Aurora Domes, which are only a short walk away from the main building and available all year round. Please see our personalise section for further details.
A perfect spot to search for the Aurora, there are also a few wooden benches on the edge of the frozen lake, which are ideal for enjoying the expansive wilderness and hopefully a Northern Lights display or two.
Room types
DOUBLE/TWIN ROOMS: Torassieppi has only eight rooms which are located a short walk from the main building. There are two rooms to each small cabin building. Each room is completely independent with their own en-suite bathroom and entrance but some rooms can be interconnecting at the guest's request. The rooms can be made up as either twin or double bedded rooms and are really cosy with all the facilities you will need to enjoy your stay including tea and coffee making facilities and hairdryers.
---
Image credit: Antti Pietikainen, Harriniva Hotel and Safaris
Read more
Read less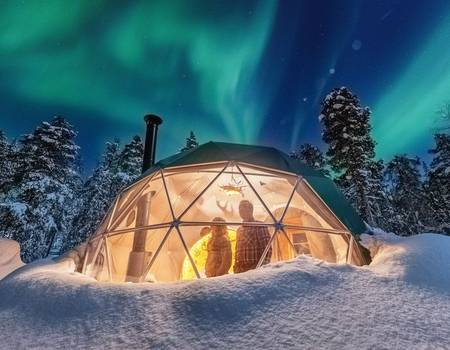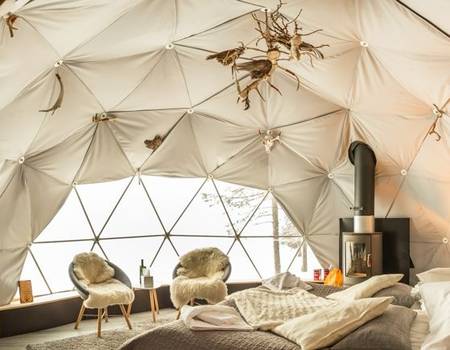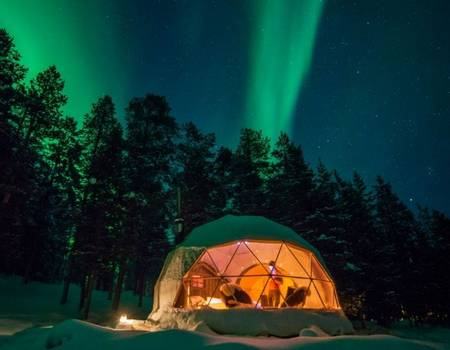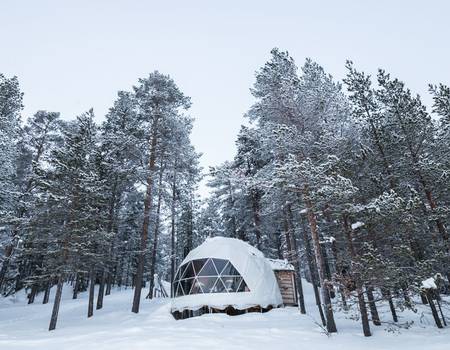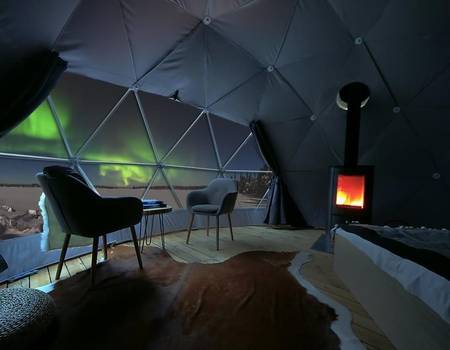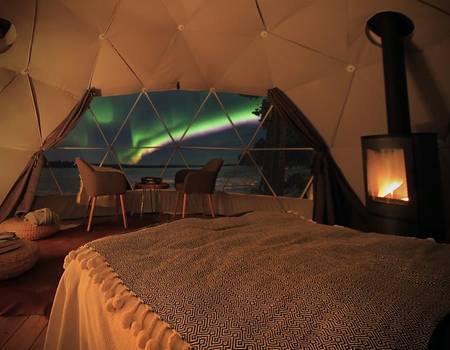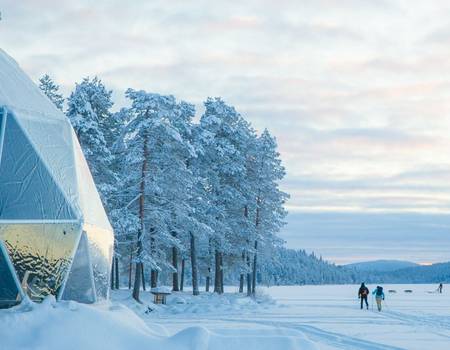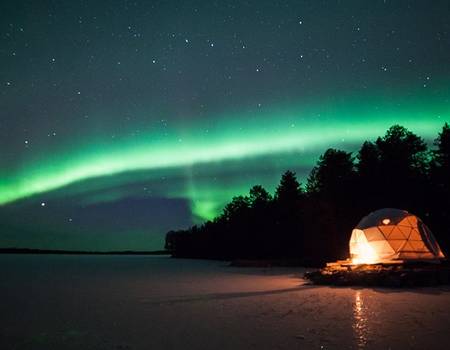 Aurora Dome
Nights:
3
These incredible structures are found at both Torassieppi and Jeris and they offer a rather different overnight experience for guests. Shaped like domes, these tents have pleasant, cosy décor, with one wall designed to be see-through, allowing you to gaze at the night sky in search of the Northern Lights.
Each dome has a double bed and wood-burning stove. Toilet, shower and sauna facilities are just a short walk away (around 50-100 metres).
Depending on availability, you will either stay at an Aurora Dome in Torassieppi or Jeris. For December dates at Torassieppi, you will have dinner at your hotel, prior to transferring to your dome at approximately 8:30/9pm; from early January onwards, you will check in at approximately 4 pm and have dinner at Torassieppi. If you are staying at an Aurora Dome in Jeris, check-in is approximately 4 pm throughout the season and you will have dinner at Jeris. Any required transfers and breakfast are included.
Please note: for 2022/23, it is likely that the domes will only be operating in Torassieppi.
---
Image credit: Antti Pietikainen and Harriniva Hotel and Safaris

---
Other options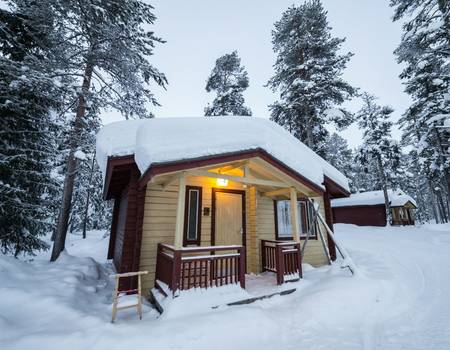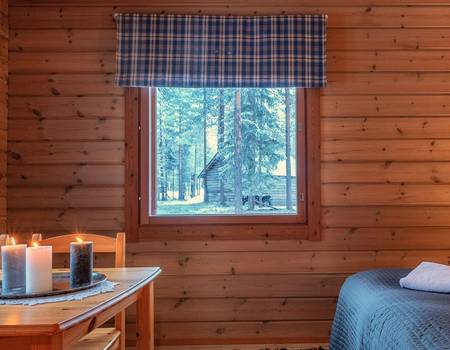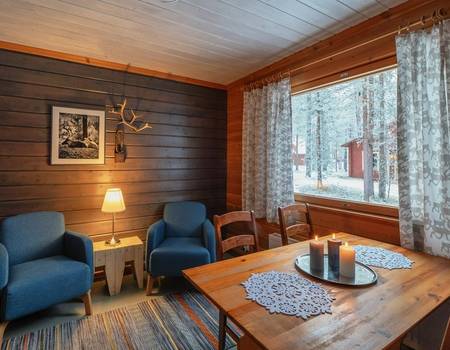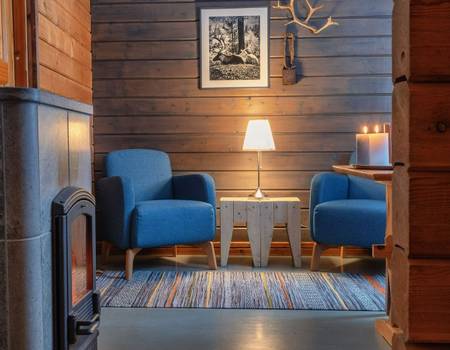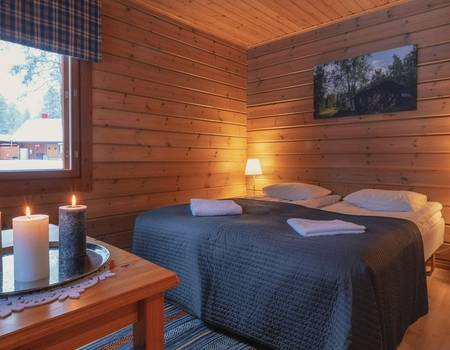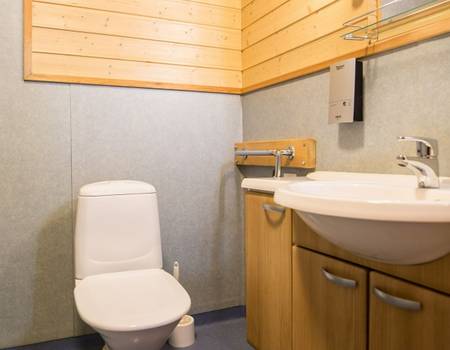 Torassieppi Winter Cottages
Supplements from: £98pp
Torassieppi offers 8 detached winter cottages to which you can upgrade. The cottages are ideal for those who want more space or for larger groups of people. Located close to the main restaurant, they are only a short walk away through the snow-laden trees and close to the frozen lake beyond.
The smaller cottages contain a fireplace, living room area, toilet, shower, hairdryer and kitchenette. There are two bedrooms, one with twin beds and another with three beds (including a set of bunk beds). These can accommodate two to five people, we feel they are ideal for 3 or 4 adults.
Torassieppi also has some larger cottages and these have their own sauna in addition to the fireplaces. The larger cottages offer a living room area, toilet, shower, hairdryer and kitchenette with a kettle. They have two bedrooms which have twin beds and a sleeping alcove with bunk beds. Whilst they can sleep up to 6 people, we feel that they are most suited to 4 or 5 adults.
Please contact our Travel Experts for a quotation if you would like to upgrade to a winter cottage.
Read more
Read less
---
Special Nights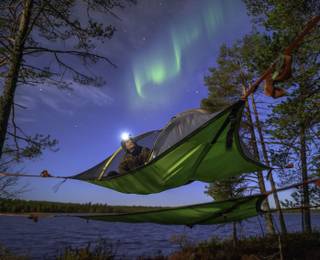 Aurora Hammock
From: £35pp
Spend a night suspended off the ground, searching the sky for the Northern Lights as you're tucked cosily away in a Tentsile tree tent.
Whether you choose to sleep under the open Arctic sky, with the mosquito net or under the water proof cover - this is a true back to nature experience and an unforgettable way to admire the autumnal wilderness and Auroras, if conditions are favourable.
You'll be in the heart of nature but ideally situated only 50-100m away from the nearest sauna, toilet and shower facilities.
Personalise
Personalise this tour
---
Our pick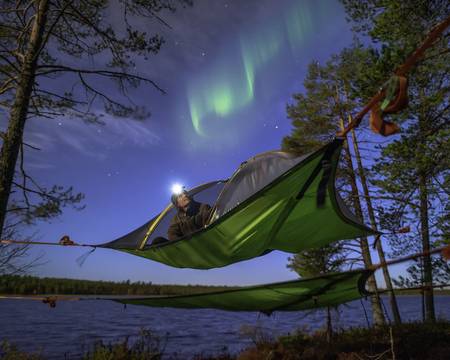 Spend a night suspended off the ground, searching the sky for the Northern Lights as you're tucked cosily away in a Tentsile tree tent.
Whether you choose to sleep under the open Arctic sky, with the mosquito net or under the water proof cover - this is a true back to nature experience and an unforgettable way to admire the autumnal wilderness and Auroras, if conditions are favourable.
You'll be in the heart of nature but ideally situated only 50-100m away from the nearest sauna, toilet and shower facilities.
---
Other options
Activities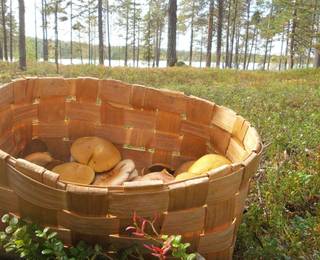 Lappish Foodie Experience
From: £27pp
If you prefer, you can swap the husky hike to a delicious Lappish foodie experience for an immersive insight into the local foods on offer. During this activity, your guide will take you into the wilderness to choose from nature's kitchen. You will help pick ingredients and wild foods according to the season such as berries, mushrooms and herbs and then use them to prepare a tasty traditional meal over an open fire.
A minimum of 2 people are required to run this activity.
Duration: 3 hours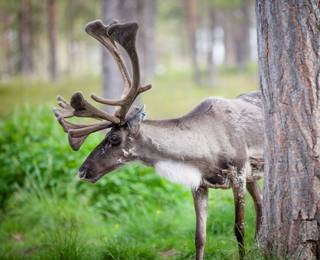 Visit a Reindeer Farm
From: £14pp
Close to where you are staying lies one of the oldest reindeer farms in Finland. During this guided tour, you will learn all about the reindeer herders' way of life, as well as enjoying a tour of the farm and its museum. You'll also get to meet and feed the reindeer. This activity lasts for approximately 1.5 hours and requires a minimum of 2 people to operate.
Trip Extensions
Helsinki city break
With our destinations being so remote, the majority of flights to Finnish Lapland are operated by Finnair and therefore involve connecting through Helsinki Airport. Many of our guests choose to extend this stop and spend some time in the Finnish capital, either at the start or end of their holiday.
Read more about this activity
We can arrange a wide variety of city centre hotel accommodation for guests to choose from and some options closer to the airport should you prefer. We know that everyone tends to be looking for something different so please contact our Travel Experts for their opinion on the hotels which may best suit you and your party.
Located on the peninsula of the Baltic Sea, Helsinki enjoys a charming coastal location and has much to offer its guests. This thriving city has a rich culture and arts scene with many museums and galleries to enjoy alongside the exciting gastronomy.
Despite its cool urbanism and reputation for cutting-edge design, Helsinki also retains its charm and visitors will enjoy this city's very friendly atmosphere.
In the city itself, Senate Square is the main feature, showcasing neoclassical architecture and offering easy access to the surrounding shops. Helsinki offers striking architecture, with wide streets and bold facades. For those looking for more of an insight into the city's past, we would suggest visiting the Ateneum Art Museum which houses over 20,000 pieces of art or the Helsinki Design Museum which showcases the history of design in the country from traditional folklore to postmodernism.
A 15-minute ferry ride from the main city is the UNESCO-listed Suomenlinna Sea Fortress which was constructed in 1748. As well as being a unique monument, it is also a lovely day trip, as the island has numerous shops and parks to explore.
Helsinki's food scene has seen a recent evolution, with a growth in street food which showcases the city's multicultural population. Helsinki is famed also for its specialist dishes of seafood so there is much to sample!
Finland is famed for its coffee consumption so you can be sure of a thriving café culture here. Be sure to include an obligatory stop for a coffee and a cinnamon roll during your explorations!
Whether you add your city break to the start or the end of your holiday, spending a night or two in Helsinki is not something that you will regret.
Please contact our Travel Experts for a full quotation. All city breaks are subject to flight availability.
---
Image credit: Visit Helsinki & Jussi Hellston
Dates & Prices
Price Comparison Guarantee
Expertise and knowledge are key to witnessing the Northern Lights. We've been running Aurora hunting holidays longer than any company in the UK and with no lead in prices, no hidden costs and more included, we're confident our tours will come out on top.
Prices
Dates

Thu 25 Aug 2022
to
Sun 25 Sep 2022

Book

Adults

£ 1,355
Please note: our holiday prices are based on the lowest available airline fares. These fares can sell out quickly and, as a result, prices may increase and supplements may be applicable. We recommend booking at the earliest opportunity to secure the best possible fares and flight times.
Terms
For our full booking terms and conditions please click here
The Specifics
Holiday group size (approximate)
Minimum 2, maximum 24 (approximately)
Group Size
We always try to provide an approximation of the group size you can expect to be with for the duration of each of our holidays. It may be that you are joined by others for parts of your holiday (such as transfers and particular activities) but the above number reflects those you can normally expect to be with from beginning to end. If group size is something which is particularly important to you, please speak to our Travel Experts and they can suggest the best holidays for you.
Tailor-made holiday group sizes will vary for all activities as will the group size for any additional activities you book.
Minimum numbers required for a holiday to operate
Some of our holidays require a minimum number of participants to operate (as listed in the 'Group Size' section). If your holiday departure has not yet reached the minimum number, you will be told at the time of booking. In the unlikely event that your chosen date is not guaranteed by nine weeks before your scheduled departure date, we will contact you to discuss the available options as per our booking conditions.
Minimum and maximum age
If a specific minimum age applies to this holiday, it can be found in the Key Facts box on the holiday Overview page.
Unless otherwise stated in the Key Facts box on the holiday Overview page, the minimum age for participation in an Aurora Zone holiday is typically 12 years old (there may be younger children in some destinations who have booked with other companies). If an adult-only environment is important to you, then please contact our Travel Experts and they will advise on the best dates and destinations for you. If you are looking for a holiday designed specifically for families then please see our sister company www.activitiesabroad.com.
Itinerary amendments
The order of activities listed in this agenda is provided for guidance only, your final and detailed itinerary will be provided either with your final travel documents (which are uploaded into your online account around a week prior to departure) or upon arrival.
Medical History and Advice
We want our holidays to be accessible as they can be and will do our best to accommodate any special requests and requirements where possible. We have a wide range of holidays and destinations and so our travel experts will help find the best holiday for you.
In order to give us the best possible chance to do this, we ask that if you or any member of your party has any medical condition or disability which may affect your holiday or has any special requirements, that you tell us at the time of enquiry or booking. You must also promptly advise us if any medical condition or disability which may affect your holiday develops after your booking has been confirmed. You may need to provide a doctor's note and proof of insurance in some cases as the health and safety of our clients is absolutely paramount.
In providing this information you are allowing us to work with our expert local partners to ensure that your whole party can enjoy the holiday. By letting us know in advance we can discreetly work with you to adapt any part of the holiday which may potentially be challenging. Being able to prepare for this in advance makes an incredible difference to what we can offer and minimises any impact on your party and the rest of the group.
Unfortunately, if you choose not to share this information with us in advance then it may limit some or all of the itinerary you have booked, and we cannot be held accountable for any additional costs or missed activities resulting from this.
Insurance
Insurance is not included in your holiday, but it is a pre-requisite to travelling with us. You will need to ensure that you have cover for all the activities that you will be participating in during your holiday.
It is extremely important that you take out a suitable travel insurance policy at the time of booking. Plans do sometimes change, and you will need this policy should you need to cancel your holiday.
If you are struggling to find a suitable policy then details of our preferred provider, who will cover you for all the activities we offer, can be found on our website by clicking here. Please note that this policy is available to EU residents under the age of 75 only.
Booking Activities Locally
Additional activities can be booked locally in almost all our destinations. However, as per our booking conditions, we cannot be held responsible for any injury or loss incurred through participation in activities which are booked at your destination outside of our holiday itinerary (see our 'Terms and Conditions' for further details).
When arranging any such activity please always ensure that safety is your primary concern.
In some of our destinations, you can borrow or hire equipment for use in your free time. You do so entirely at your own risk. You must ensure that you are properly prepared, have the necessary equipment and knowledge (maps, etc) and ensure that where applicable, you follow marked routes. We recommend discussing your plans with the local teams who will be able to advise on the most suitable options for you.
Always let the reception/guide know where you are planning to go and take a torch and mobile phone (with the hotel/guide's phone number stored). It is also a good idea to leave your contact number and the time you expect to return to the hotel should the hotel need to contact you.
The UK Foreign Office Advice
Our clients' safety is at the centre of everything we do, and our operations team continually assesses and monitors the destinations we feature. We carry out thorough risk assessments and work closely with all of our suppliers to continually follow best practice. For up to date travel advice the UK government offers its Travel Aware website as well as the advice detailed below.
The Foreign and Commonwealth Office Advice
We receive all updates from the Foreign and Commonwealth Office (FCO) with regards to travel advice and we always ensure that we follow this advice in our operations. The FCO issues travel advisories for countries based on a very wide range of factors. They may provide notification about things as simple as a football match and crowds, or they may go so far as to advise against all travel to a region. We ask all our clients to refer to the relevant Travel Advice by Country for the destinations they are visiting in order to make an informed decision on the safety of the destination based on the details provided. It also provides vital information regarding entry requirements, embassy information, local laws and customs as well as specific safety and health. Guests should take responsibility for keeping themselves up to date with this advice. Please also ensure that, if you are transiting through another country, you have read the advice and meet the entry requirements for that destination too.
The FCO travel advice is applicable to British Passport Holders. Most governments will issue their own travel advice for a region and, if you are not a UK resident then you can find some helpful links below:
Australian Department of Foreign Affairs and Trade http://www.smartraveller.gov.au/
New Zealand Ministry of Foreign Affairs and Trade https://www.mfat.govt.nz/
Canadian Consular Affairs Bureau http://voyage.gc.ca/
The U.S. Bureau of Consular Affairs https://travel.state.gov/content/travel/en/international-travel.html
If the FCO deems that there is an unacceptable level of risk for UK citizens then, together with the government, they may issue an advisory against all travel to a region or country. If such an advisory is published, then we will act accordingly, and this may require the cancellation, curtailment or amendment of a holiday itinerary. These decisions are made on the basis of ensuring our clients' safety and will affect all clients on the holiday, regardless of their nationality.
If one of our local experts suggests an amendment due to a situation which develops locally then we may also take the decision to amend an itinerary appropriately.
If we have to cancel your holiday prior to departure you will be offered the option of an alternative trip (where any price difference will either be refunded to or covered by you) or a full refund of the monies paid.
If we have to curtail a holiday, then you will be refunded for any costs for the elements we have been unable to deliver, where we have been able to secure a refund from our suppliers. If we must reroute a holiday, then any basis for refund is determined on a case by case basis and dependent on whether the central holiday experience was provided or not.
Brexit information for British Passport holders
For the most up to date information on how the UK's departure from the EU may affect your holiday please click here to view our Brexit information for British Passport holders.
Flight schedule changes and connecting transportation
On your documentation, we will confirm your flight schedule. Sometimes the flight number, routing and timings might change prior to your departure. If the change is classed as a significant change then we will contact you to discuss this. Please see our booking conditions for details.
Flight schedule changes can impact on your pre and post-holiday travel arrangements if these have been booked separately to your holiday. We strongly recommend that you do not book transport (such as trains or transfers), car parking or non-connecting flights to the departure point for your holiday until you have received your final confirmed travel times when your final travel documents are issued. We are not responsible for the effect of any schedule change on your pre or post travel arrangements. We strongly recommend that you do not purchase non-flexible or non-refundable tickets to avoid cancellation and penalty charges.
Booking your own flights - cancellation disclaimer
If you have chosen to book your own flights, then you will need to wait until we confirm to you that the holiday departure has met the minimum numbers required to run (if applicable to your chosen holiday). Once the holiday is guaranteed to run, you will be informed and you can then make your arrangements.
If transfers are included in your holiday, please ensure that any potential flights will be met by our standard transfers (speak to one of our Travel Experts for advice) otherwise private transfer supplements may be applicable. Once your flights are booked, please send us a copy of your detailed flight itinerary.
Please be aware that most tickets are non-refundable in the case of cancellation. For this reason, we strongly advise you check the rules of the ticket and check the limitations of your cancellation insurance before booking. We cannot be held liable, in the unlikely eventuality that we should be forced to cancel or amend your trip, for losses incurred relating to any flight booking you have made.
Terms and Conditions
Our full booking terms and conditions can be found on our website: https://www.theaurorazone.com/booking-conditions
---
---