The Yukon
Canada's most north-western province, the Yukon is a vast untouched wilderness - perfect Aurora hunting territory.
About
Situated between British Columbia and the Arctic Ocean, The Yukon is Canada's most north-western province. A massive sprawling area covering some 186,000 miles yet home to only 35,000 people. Wilderness really is the key word and the vast stretch of untouched landscape and minimal light pollution make it one of the best places in the world to witness the Northern Lights.
Winters here offer freezing temperatures, with plentiful snow and crisp, short winter days making it ideal for winter adventures via husky sled, snowmobile or sleigh. Indeed, many say that in The Yukon you experience winter the way it's supposed to be.
Speak to our Aurora Experts
01670 785012
Gold Rush Towns
Whitehorse, the provincial capital, is home to 27,000 people as well as a wide array of hotels, restaurants, shops and cafés set against a backdrop of hills and the Yukon River, which flows across the province and into Alaska.
Another main region is Dawson City, a small town to the north of the province which is home to around 1,500 people. The foundation of the town dates back to 1897 when gold was found in the surrounding area and sparked the Klondike Gold Rush, bringing thousands of eager prospectors to this region.
The boom led to a growth in saloons, houses and restaurants, and whilst the gold has long since dwindled, the town still exudes an old country charm with its wide boardwalks and historic places of interest.
National Parks
Most people who come to this region travel in search of the vast wilderness of the national parks. Kluane National Park and Tombstone Territorial Park are some of the most uninhabited and remote wilderness areas in the world, indeed Kluane covers some 8500 square miles.
Kluane is home to giant mountain peaks, winding glaciers and the world's largest ice field below the Arctic, as well as a plethora of wildlife including bears, moose and caribou. Tombstone Park is two hours north of Dawson City, offering a unique wilderness of granite peaks, permafrost sub-arctic tundra, rolling hills and alpine lakes.
These are locations where you can experience true wilderness alongside an incredible opportunity to watch the sky come alive with colour as the Northern Lights dance across the darkness.
IMAGE CREDITS: ARCTIC RANGE ADVENTURE LTD, GOVERNMENT OF YUKON & ROBERT POSTMA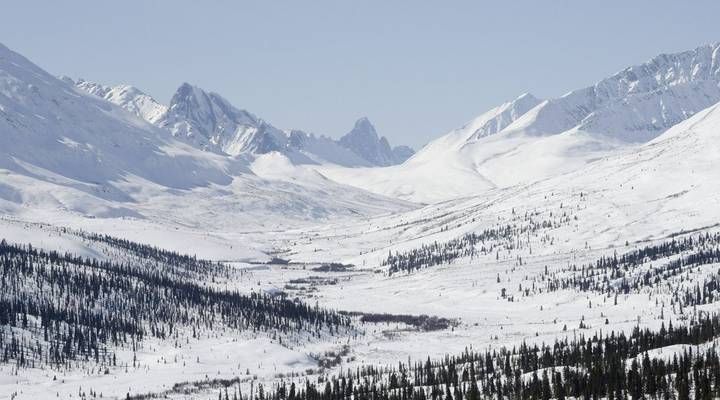 Popular holidays to The Yukon
Holidays
Accommodation