Overview
The months of October and November can produce Auroras to match any of the deep winter months so we have designed a trip for those who want to hunt for the Northern Lights in the autumn, ahead of both the crowds and the coldest winter months. There are many wonderful experiences to be had at this time of year.
What's included?
ALL OF THE ACTIVITIES AND SERVICES LISTED BELOW ARE INCLUDED IN THE HOLIDAY PRICE
Flights: return from London to Rovaniemi or Kittila (via Helsinki). Regional and non-UK departures available on request. Routings are subject to change
Transfers: return airport transfers
Accommodation: 4 nights' accommodation in standard twin/double rooms. Superior room upgrades are available on request
Meals: 4 breakfasts, 4 dinners
The following activities and equipment are included: visit to the Amethyst Mine, Aurora hike, hike with huskies, visit to Aurora Kota, visit to reindeer farm, Aurora hunt by minibus (the order of activities is subject to change)
Cold weather clothing will be provided to guests for the duration of their stay if required
Services of our expert local guides
Aurora alert until approximately 1 am
---
There is so much on offer in Lapland during autumn and the colours can be stunning as the trees turn auburn and red before the arrival of winter. The winter can arrive anytime during October or November but the main snowfalls tend to arrive in late-November and December.
This holiday is based in the very aptly named Hotel Aurora (the hotel formerly known as the Aurora Chalet) and takes full advantage of the nearby Sodankyla Geophysical Observatory. The hotel works in conjunction with the Observatory to provide an Aurora alert system that alerts guests to any potential Northern Lights displays in the surrounding area.
Read more
During the day, you will visit the remarkable amethyst mine in Luosto, hike with huskies and visit a reindeer farm. The evenings are dedicated to searching for the Northern Lights as you enjoy an Aurora hike, Northern Lights presentation and an Aurora hunt in a minibus.
You do need to travel with a flexible approach at this time of year as hikes, for example, can easily become snowshoe treks with the onset of the snowfall. This holiday will allow you to experience the region at its best whatever the weather.
Hotel Aurora now boasts the exceptional 'Arctic View' rooms which guests can upgrade to throughout their stay. These rooms have glass roofs and provide views of the night sky from the comfort of the bed. Full details can be found in the 'Personalise' section of the holiday page.
Please note: some elements of this itinerary (including transfers and some activities) are shared with our sister company Activities Abroad and are popular with families during the school holidays. If a child free holiday is important to your party when travelling, please speak to our travel experts for recommendations.
---
Image credits: Graham Greenway and Hotel Aurora
View Gallery
Download Dossier
Key facts
| | |
| --- | --- |
| Duration: | 4 nights |
| Pace: | Balanced |
| Suitable for: | Ages 15+. See our terms for further information |
Make an enquiry
Agenda
Accommodation
Included in price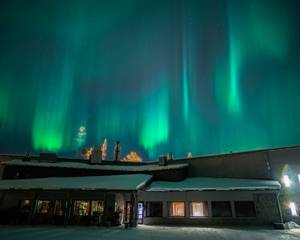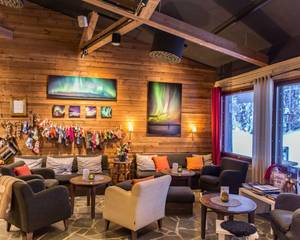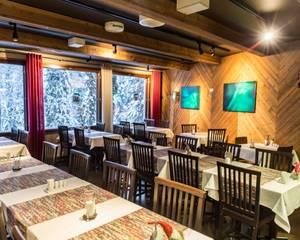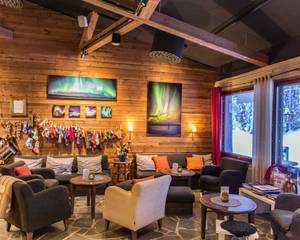 Hotel Aurora, Luosto
Nights:
1-4
With spectacular scenery, a tremendous Northern Lights record and a huge array of activities, Luosto is an ideal destination for a holiday within the Aurora Zone.
As Luosto is a small ski resort. There are seven slopes to keep downhill enthusiasts entertained as well as a network of perfectly maintained cross-country skiing and snowshoe tracks, so there is always a way to get outdoors and enjoy the landscape if not on an arranged activity (all equipment is available for hire and is payable locally).
There are a couple of souvenir shops available and a small supermarket where you can buy drinks and snacks. There are also two additional restaurants and a cheap and cheerful café at the small ski centre.
The Hotel Aurora is one of only two hotels here and has proved to be one of our most popular accommodation options in Finland with its boutique charm, excellent gourmet food and cosy rooms with private saunas.
Hotel facilities
On arrival at the Hotel Aurora, guests are provided with an Aurora alarm. Essentially this is a mobile phone which will receive text alerts. The alarm operates via the Geophysical Observatory in Sodankylä which sends a message to the hotel. If the conditions in Luosto are promising then the hotel will alert guests (until around 1 am - please confirm this with the hotel on arrival). The system is designed to aid you in your Northern Lights hunt but as conditions can change very quickly you should not rely solely upon this and should try and keep an eye out yourselves.
There is a lovely dining area from where you can watch the chef in an open kitchen working on a lava stone grill. Local ingredients are very much to the fore and you will witness fish from the lakes and meat from the forest being transformed into delicious dishes that any restaurant would be proud to serve.
Breakfast is a typical Scandinavian buffet and in the evening you will be served a set three-course meal (special dietary requirements such as gluten-free and vegetarian diets can be catered for if we are made aware of them at the time of booking).
There's a small lounge area with a log fire where you can enjoy a pre or post-dinner drink.
Room Types
Standard rooms
Hotel Aurora has eleven beautifully decorated and furnished standard hotel bedrooms. A combination of dark wood and warm colours creates a tranquil and distinctly Lappish atmosphere. All rooms have their own private sauna and en-suite shower room with hairdryer. The rooms are also equipped with wireless internet, television, telephone and include tea and coffee making facilities.
---
Image credits: Matt Robinson
Read more
Read less
---
Other options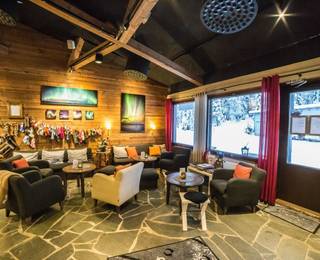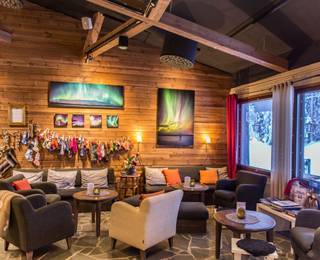 Hotel Aurora - standard room with fireplace
Supplements from: £48pp
For those who want a little extra then you can choose to upgrade to a room with a log burning stove should you wish to relax by the fire in the evenings.
The 12 rooms are all equipped with their own private sauna and en-suite shower room with hairdryer. The rooms have wireless internet, television, telephone and tea and coffee making facilities. Starter kits for the fires are provided along with instructions for use.
Whilst the rooms are all fully heated at Hotel Aurora, a fire can be a delight after a day and night of activities out in the Arctic wilds.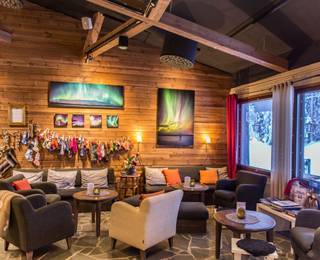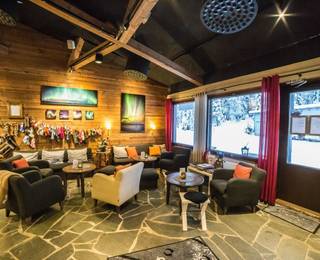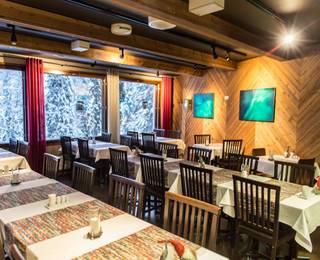 Hotel Aurora - superior room
Supplements from: £25pp
There are four superior rooms at Hotel Aurora, all of which are around 28m² and offer spacious accommodation for guests.
The rooms are all equipped with saunas and en-suite shower rooms. Tea and coffee making facilities are provided as well as TV and wireless internet. The primary difference in these rooms is that they offer guests more space and a sofa seating area. This sofa can also be turned into an additional sleeping area as it functions as a twin sofa bed.
There are also two superior rooms with their own fireplace (shown) which are a slightly higher in cost but provide the warming glow of the stove in the evenings.
There is also one suite available at the hotel which can sleep four people. This is subject to an additional supplement so please contact our Travel Experts for details.
Personalise
Personalise this tour
---
Our pick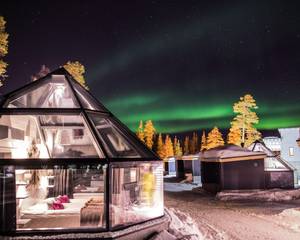 Spend the night in an Arctic View Rooms
Why not end your holiday in real style with a night in a stunning Glass Arctic View Room! These rooms are situated close to the Hotel Aurora, a short walk from the Tunturi Hotel and the cabins.
These luxurious rooms offer great views to the northern skies. The panoramic windows and partially glassed roofs mean that they are ideal for keeping your eye out for a potential Aurora display.
Read more
Hotel Aurora's ten rooms will bring guests closer to the Finnish polar nights in total comfort – with high-quality features, fully-equipped bathrooms and great views.
Our standard price is based on guests spending their final night in the Arctic View Rooms. You will, therefore, be asked to check out of your previous hotel room or cabin on the morning before your stay.
As most guests will be enjoying an evening activity, you will return to the Arctic View on your return.
If you would prefer to keep your hotel room or spend a different night in these unique rooms (or indeed if they are fully booked for your final night) supplements will apply.
Please contact one of our travel experts for a quote for your chosen departure date.
---
Please note: Prices are based on you spending the first or last night of your holiday in this unique accommodation and not keeping your original accommodation. If you would like to do this on any other night during your holiday you will need to keep your accommodation and supplements will apply.
---
Other options
Trip Extensions
Helsinki city break
With our destinations being so remote, the majority of flights to Finnish Lapland are operated by Finnair and therefore involve connecting through Helsinki Airport. Many of our guests choose to extend this stop and spend some time in the Finnish capital, either at the start or end of their holiday.
We can arrange a wide variety of city centre hotel accommodation for guests to choose from and some options closer to the airport should you prefer. We know that everyone tends to be looking for something different so please contact our travel experts for their opinion on the hotels which may best suit you and your party.
Read more about this activity
Located on the peninsula of the Baltic Sea, Helsinki enjoys a charming coastal location and has much to offer its guests. This thriving city has a rich culture and arts scene with many museums and galleries to enjoy alongside the exciting gastronomy.
Despite its cool urbanism and a reputation for cutting-edge design, Helsinki also retains its charm and visitors will enjoy this city's very friendly atmosphere.
In the city itself, Senate Square is the main feature, showcasing neoclassical architecture and offering easy access to the surrounding shops. With Helsinki once part of the duchy of Russia, it offers similar striking architecture, with wide streets and bold facades. For those looking for more of an insight into the city's past, we would suggest visiting the Ateneum Art Museum which houses over 20,000 pieces of art, or the Helsinki Design Museum which showcases the history of design in the country from traditional folklore to postmodernism.
A 15-minute ferry ride from the main city is the UNESCO-listed Suomenlinna Sea Fortress which was constructed in 1748. As well as being a unique monument, it is also a lovely day trip, as the island has numerous shops and parks to explore.
Helsinki's food scene has seen a recent evolution, with a growth in street food which showcases the city's multicultural population. Helsinki is famed also for its specialist dishes of seafood and Russian cuisine so there is much to sample!
Finland is famed for its coffee consumption so you can be sure of a thriving café culture here. Be sure to include an obligatory stop for a coffee and a cinnamon roll during your explorations!
Whether you add your city break onto the start or the end of your holiday, spending a night or two in Helsinki is not something that you will regret.
Please contact our Travel Experts for a full quotation. All city breaks are subject to flight availability.
Image credit: VisitFinland
Dates & Prices
We include more, no hidden costs
On each of our holidays, you will see a clear outline of exactly what's included in the price of your holiday. We never use 'headline' or 'lead-in' prices like so many tour operators, as we prefer to include as much as we can, rather than see our clients incur considerable additional costs in our destinations.
Prices
Dates

Fri 05 Oct 2018
to
Tue 09 Oct 2018

Book

Adults

£ 1,465

Single Adult

£ 1,675

Fri 12 Oct 2018
to
Tue 16 Oct 2018

Book

Adults

£ 1,485

Single Adult

£ 1,695

Fri 19 Oct 2018
to
Tue 23 Oct 2018

Book

Adults

£ 1,545

Single Adult

£ 1,755

Fri 26 Oct 2018
to
Tue 30 Oct 2018

Book

Adults

£ 1,465

Single Adult

£ 1,675

Fri 02 Nov 2018
to
Tue 06 Nov 2018

Book

Adults

£ 1,465

Single Adult

£ 1,675

Fri 09 Nov 2018
to
Tue 13 Nov 2018

Book

Adults

£ 1,465

Single Adult

£ 1,675

Fri 16 Nov 2018
to
Tue 20 Nov 2018

Book

Adults

£ 1,485

Single Adult

£ 1,695

Fri 23 Nov 2018
to
Tue 27 Nov 2018

Book

Adults

£ 1,485

Single Adult

£ 1,695
Please note: our holiday prices are based on the lowest available airline fares. These fares can sell out quickly and, as a result, prices may increase and supplements may be applicable. We recommend booking at the earliest opportunity in order to secure the best possible fares and flight times.
Next season's provisional dates and prices
To secure places for next season, you can make a provisional booking and fix the cost of your holiday at the provisional package price displayed online. Simply by paying a deposit, you will protect yourself from any package price increases. The departure dates and itineraries remain subject to change and we will contact you when the final dates and itineraries are confirmed. You will have 14 days to decide if you would like to go ahead. If you decide not to travel we will refund your deposit. We reserve the right to charge supplements where there are significant changes to an itinerary or increases in flight costs. Any non-package rates remain subject to change.
Dates

Fri 04 Oct 2019
to
Tue 08 Oct 2019

Enquire

Adults

£ 1,570

Single Adult

£ 1,795

Fri 11 Oct 2019
to
Tue 15 Oct 2019

Enquire

Adults

£ 1,590

Single Adult

£ 1,815

Fri 18 Oct 2019
to
Tue 22 Oct 2019

Enquire

Adults

£ 1,655

Single Adult

£ 1,880

Fri 25 Oct 2019
to
Tue 29 Oct 2019

Enquire

Adults

£ 1,570

Single Adult

£ 1,795

Fri 01 Nov 2019
to
Tue 05 Nov 2019

Enquire

Adults

£ 1,570

Single Adult

£ 1,795

Fri 08 Nov 2019
to
Tue 12 Nov 2019

Enquire

Adults

£ 1,570

Single Adult

£ 1,795

Fri 15 Nov 2019
to
Tue 19 Nov 2019

Enquire

Adults

£ 1,590

Single Adult

£ 1,815

Fri 22 Nov 2019
to
Tue 26 Nov 2019

Enquire

Adults

£ 1,590

Single Adult

£ 1,815
Terms
For our full booking terms and conditions please click here
Holiday group size (approximate)
Minimum 4 and maximum 16 people (approximately)
Group sizes and minimum numbers
Most of our holidays require a minimum number of participants to operate. Minimum numbers are detailed on each holiday page and are always approximate. Group sizes for tailor made holidays will vary for each of the activities. For private departures you may also be joined by other guests during the activities unless you have discussed specific private activities with us.
If your selected date has not yet reached minimum numbers you will be informed at the time of booking. In the unlikely event that your chosen date has not reached the required minimum numbers nine weeks before your scheduled departure date we will contact you and discuss the various options available to you. We will always do all we can to operate a holiday and in some cases we may be able to operate the holiday by combining your itinerary with that of other guests for some activities (this may mean that the maximum group size is increased but this will be discussed in full with you).
If we are unable to operate the holiday then you will be offered the chance to transfer to an alternative holiday or date (subject to availability). If the alternative is more expensive you will be asked to pay the difference, if it is cheaper then you will be reimbursed. You will also be offered the option to cancel and receive a full refund of all monies paid.
See our booking conditions for further information.
Order of activities
The order of activities is always subject to change and you will be provided with your final itinerary upon arrival at your destination
Medical History and advice
If you or any member of your party is pregnant or has any medical condition or disability which may affect your holiday or has any special requirements as a result of any medical condition or disability (including any which affect the booking process), please tell us before you confirm your booking so that we can assist you in considering the suitability of the arrangements and/or making the booking. In any event, you must give us full details in writing at the time of booking and whenever any change in the condition or disability occurs. You must also promptly advise us if you become pregnant or any medical condition or disability which may affect your holiday develops after your booking has been confirmed.
See our booking conditions for further information.
Experience and fitness
We offer a vast choice of holidays which range from 'relaxed' to 'active' so there really is something for everyone and our holidays can be filtered by how active they are. Regardless of the chosen holiday, all activities will include tuition from a beginner's lever and no prior experience is assumed.
If you are unsure about the physical demands of a particular holiday please contact us and our expert team will be happy to help.
See our booking conditions for further information.
Guides and safety
It is absolutely essential when partaking in any activity that you listen very closely to, and abide by, the instructions provided.
If there is anything that you are unsure of during a safety briefing or that you would like to clarify with the guides please make this clear to them immediately before starting the activity.
Our guides' word on activities is always final and your safety is their principal concern at all times, please respect their decisions. By following their instructions, your safety and enjoyment during each activity will be greatly enhanced.
See our booking conditions for further information.
Booking activities locally
In almost all of our destinations you can book and pay for additional activities locally. Please note that we cannot be held responsible for any injury or loss that occurs through any activities that are booked in your destination (see our terms and conditions for further details).
Please always ensure that your safety is your primary concern when arranging any such activity.
Car Hire
If your trip includes car hire the named driver must have a credit card registered in their name which they can present when they collect their car along with their driving licence, as a deposit will be held on the credit card. Please see your trip dossier for full details.
Aurora alerts
During your stay, you will be supplied with an Aurora alert. This is typically a mobile phone system to which the staff will send a text should the Northern Lights be sighted. The alerts generally operate until 1 am but it is best to confirm with your guide as times may vary.
The alerts are designed as an aid to Aurora hunting and, although every effort will be made to issue an alert should the conditions seem conducive to a display, things can change very quickly so you should not rely solely on them and should also keep an eye on the sky yourself.
Autumn activities: The daytime activities included in this holiday may be amended to accommodate the arrival of winter's first snows (an unpredictable science!). Walks may become snowshoe treks and guests may need to be flexible in their approach. This is unlikely to be the case in September but changes become more likely in October and November. Your Aurora hunting activities should be unaffected.
If cold weather clothing is required and will make your stay more comfortable then this will be included and issued to you upon arrival. If you would like to borrow any additional equipment then please just speak to one of the local guides. For more information please see the trip dossier.
Minimum age
The minimum age for participation in our itinerary is 15 years old, however, for some activities and shared transfers, our guests may be joined by others and these may include those of a younger age. Any younger participants will be fully supervised by an adult and the guides will ensure that they are only able to participate if there will be no effect on the activity experience. None of the hotels we feature have a minimum age and so there may be families staying at them with younger children, especially during the holiday periods.
To drive a snowmobile you must have a full driving licence and be over 18 years old. To travel on a snowmobile (as passenger or driver) guests must also be a minimum of 140cm tall.
Call out charges for Luosto
If you need to call a doctor out to assist you in Luosto during your holiday the following charges will apply: Call out to Luosto approx - €400 (min 350€)
To make an appointment and go to the clinic during the week is as follows (plus taxi costs):
20 mins - €62
30 mins - €77
45 mins - €102
60 mins -€142
Weekends an average of €134
The doctor on call does accept credit card payments (except American Express) and depending on your insurance policy you may be able to claim these charges back upon your return to the UK. Please carefully read your policy documentation or speak to your insurance company to double check this and you may also need to produce a receipt to assist with your claim.
Hotel Aurora room key policy
Please remember to keep your room key with you and secure at all times!
Reception is open from 1 am until 11 pm. If you forget your room key whilst reception is closed then you will need to contact 'Keyservice' on +358 (0)40 748 3423. There will be a charge of 70€ for opening the door.
If you lose your room key, please advise the reception immediately. Please note, that there is a charge of 100€ for a lost key.
Reviews
Traveller Reviews
Amazing holiday
16 February 2017
by Natasha Weaver & Andrea Photiou
Amazing holiday so many new experiences, can't wait to go back. Amazing holiday, amazing company, no hassle just sit back and enjoy the experience because they covered everything!
Lights, shooting stars and snow flurries
24 November 2014
by Kathleen Yeo
Hotel was cosy and warm, dinner service & food was excellent! Service staff were generally friendly and warm too! Wifi service was erratic in room but was alright in the lobby/dining area. Olli was a friendly and great host! While he was not a man of many words, he was always smiling and willing to give a hand/explain things. Most enjoyable activity was the car hunt for Northern Lights. An…
Read more unforgettable experience, complete with the Lights, shooting stars and snow flurries.
Read less
A wonderful time
20 November 2014
by Victoria Mowbray
Hi! I came back from my trip to Luosto (7th-11th November 2014) and want to thank the team so much for such a wonderful time. I have attached some photographs from the trip and have many more! Thanks again, Vicki
Best organised trip
18 November 2014
by Elizabeth James
One of the best organised trips I've been on. A special thanks to the two guides Pascale and Oleg, who were excellent.
An excellent holiday
11 March 2014
by Christine Pearson
We got back home last night at 10.00.p.m. after five excellent days. The connections and transfers went really well and the location was perfect. Excellent walks around the village and the hotel and beautiful scenery with nearby lakes as well (not that you can miss a lake in Finland!!!) We had snow the first night we were there which made the scenery very beautiful and we saw the Northern Lights…
Read more twice, so we were very, very lucky. The Hotel was warm, friendly and comfortable and the food (Table d'hôte menu) was excellent as was the choice at breakfast time. Nothing was too much trouble. Our Guides, Pascal and Sallie (Not sure how you spell their names) were absolutely wonderful. Full of information and very caring about the whole group. We were looked after extremely well. A very big thank you to them. The Trips were well organised and very informative. The Walking with Huskies was fun - they took us for a walk! The Aurora Kota was very informative and interesting and a beautiful location and the Reindeer visit was again, very, very informative - such a different way of life and very hard. The Aurora hike was hard because of the slight snow fall which made the walk a little more difficult but again, interesting and good exercise - just a shame that night was windy and cloudy. Hey ho.....just one of those things. The Amethyst Mine was very informative and fun to find our own...and we did........!! In short Amy, an excellent holiday that I would recommend to our friends and family and very well organised from the office and on location. Many thanks, Kind Regards, Chris Pearson
Read less
The whole package was superb
13 February 2014
by Rosemary Thompson
The whole package was superb which meant even though weather conditions resulted in us being unable to see the Northern Lights it was still a fantastic experience which gave a real insight into the lives of the Finnish people in the area.
Fantastic! Magical
13 February 2014
by Julie Hughes
The guides went the extra mile and arranged extras such as a sleigh ride as we had plenty of snow. Fantastic! Magical. We returned feeling so refreshed. The husky sled trip through the forest and the sleigh ride to the amethyst mine were our favourite activities.
A great Aurora holiday
30 September 2013
by Reginald Miller
We have just returned from our five day trip to Luosto arranged by your company. Unfortunately the Aurora was not co-operative and we did not see the Northern Lights. However we did have one of the best short break holidays we have ever had. Good organisation, no untoward incidents, the hotel, staff and food were high quality and the activity guide, Pascal, was excellent. All in all a great…
Read more holiday. Thanks Aurora team. Regards, Reg and Margaret Miller, Australia.
Read less
Fantastic time in Lapland
19 December 2012
by Dorothy Scott
Mike and I had a fantastic time in Lapland. Everything was excellent from the flight, guide, hotel, food, hospitality, trips and even the weather. We only had five days there but would recommend a visit to everyone. The holiday could not have been better!! Dot Scott.
---
---