Overview
Autumn in Norway marks the return of dark skies and Auroral displays. During this 3-night break, you'll be on the lookout for the Northern Lights in a variety of ways and against the dramatic fjordic landscapes. Imagine telling your envious friends back home you spotted such a display from your glass-roofed Crystal Lavvo?
What's included?
ALL OF THE ACTIVITIES AND SERVICES LISTED BELOW ARE INCLUDED IN THE HOLIDAY PRICE
Transfers: return airport transfers
Accommodation: 2 nights at Clarion Hotel The Edge and 1 night in a Crystal Lavvo
Meals: 3 breakfasts, 1 light lunch (November departures only), 1 dinner and 1 light dinner
The following activities are included in the holiday price: guided RIB adventure*, overnight in a Crystal Lavvo and guided visit to the husky centre and Aurora Camp (order subject to change)
Fully qualified guides and instructors during activities
---
Travelling to Tromsø and the Lyngen Peninsula during autumn, not only provides the chance to witness the stunning colours of autumn but also provides exceptional Aurora viewing opportunities. This short break combines two nights in cosmopolitan Tromsø with a night in a glass-roofed Crystal Lavvo (traditional tepee) and provides some unforgettable autumn Aurora hunting experiences. You'll also take to the fjords for a wildlife watching safari which, for those travelling in November, may provide the chance to do some whale watching too.
Your first and final nights in Norway are spent in Tromsø, which is a vibrant Arctic city, surrounded by islands, fjords and mountains. There is so much to do here (we can help you extend your holiday of course) but we strongly recommend a trip in the Storsteinen cable car to take in the incredible views. The city is alive with bars, cafes and restaurants and it is awash with Arctic history and heritage so there is much to see and enjoy during your stay.
The second night of your stay will see you sleeping in one of the remarkable Crystal Lavvos, located amid the stunning Lyngen Alps. Far from light pollution, these glass-roofed tepees, offer stunning views of the night sky and are ideal for some duvet-based Aurora hunting!
From Tromso, we also take you out of the city lights in search of the Aurora, but we combine this with a wonderful husky encounter. You will enjoy a visit to a local husky sledding centre, where you can meet the dogs and search the skies for the Northern Lights at their Aurora Camp. We also offer several Northern Lights activity upgrades, including an Aurora husky sledding experience (on wheels or snow, depending on your departure date), Northern Lights cruise and Northern Lights chase - please see our 'Personalise' section for further details.
Of course, we also show off this area's surroundings during the day, and an ideal way to soak up the landscape is from the water. As standard, this holiday offers an exceptional RIB wildlife boat tour which is an unforgettable and very exciting way to see marine life and enjoy the views. If you travel in November, then it may also be possible to see whales, as the migration season should bring them to this area, although this can never be guaranteed.
This three-night short break offers an incredible array of experiences in a short space of time. You'll enjoy a cosmopolitan city, wildlife encounters, amazing Aurora accommodation and the chance to hopefully see the Northern Lights in all their glory.
---
* For those travelling between the 11th September and 30th October, you will enjoy a guided RIB wildlife safari as part of your agenda. For those travelling in November, you will enjoy a guided RIB whale & wildlife watching tour. Please be aware that the November whale & wildlife safari will require a 6 am departure and will be longer in duration. Whale activity and sightings cannot be guaranteed and dates are subject to change.
Credit: Green Gold of Norway and Francisco Damm, Tromsø Adventure, Tromsø Villmarkssenter & Ricardo Torres
Agenda
Accommodation
Included in price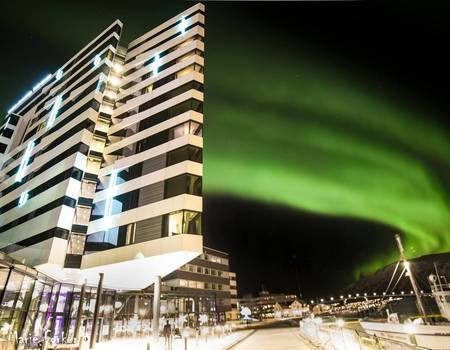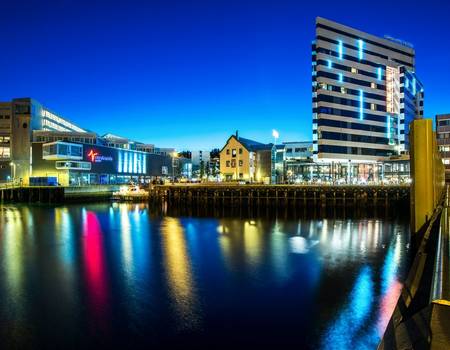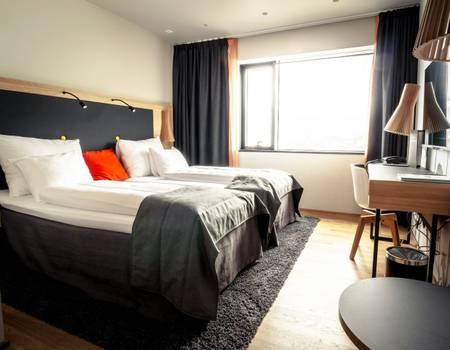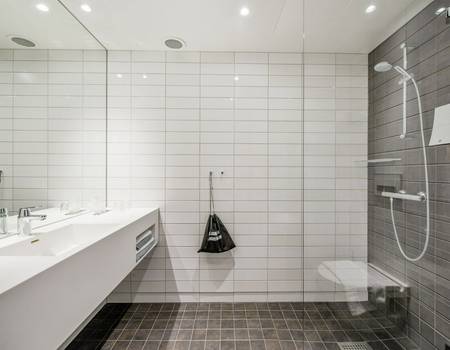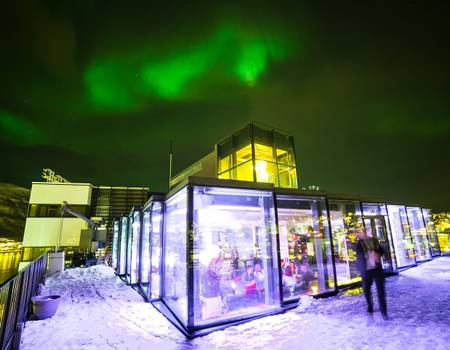 Clarion Hotel - The Edge
Nights:
1,3
Situated right in the centre of Tromsø, the Clarion Hotel The Edge puts you in a prime location to explore the 'Paris of the North' and is an excellent base to transfer to your memorable activities.
Hotel Facilities
Enjoy great views of the brilliant architecture of the city as it reflects in the waters just outside the hotel or head to the 11th-floor sky bar – the only one of its kind in the city – for a vista like no other
The hotel puts great emphasis on being eco-friendly and is built with an environmental classification A.
Keep up with your fitness in the onsite gym with stunning sea views
Enjoy tastes of Manhattan made using Arctic ingredients in the 'Kitchen and Table' restaurant
Room Facilities
Twin/Double Rooms: the hotel offers standard double rooms as well as a standard twin room (two single beds). All rooms are ensuite and come with WiFi, minibar, iron and ironing board.
Deluxe Double/Junior Suite/Family Room: for larger groups, we can offer an upgrade to a deluxe double (sleeps up to 3 persons) or a junior suite or family room for 4 people.
NB: The hotel is cash-free. They take payment by credit or debit card and accept all major international cards.
Read more
Read less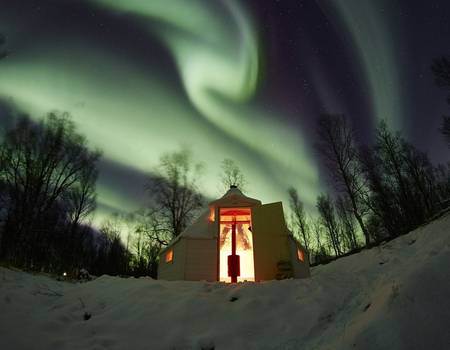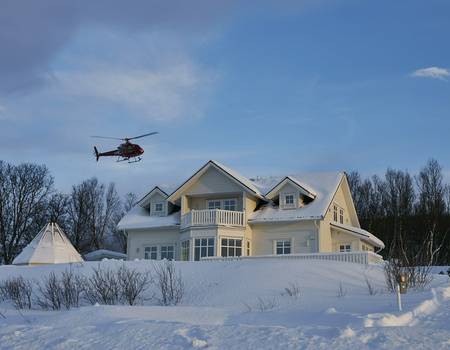 Green Gold Villa and Crystal Lavvos
Nights:
2
Green Gold Villa is located amongst the Lyngen Alps, meaning that the views from the villa are spectacular. It provides an ideal base for Northern Lights activities due to its rural setting and mountainous surroundings. The owner, Francisco, takes pride in giving his guests the best possible service and also acts as your guide while you are staying in his accommodation. Staying here offers a very intimate experience, as the villa provides for small groups. If you decide to sleep in a Crystal Lavvo, you are still free to use the villa and all of its facilities.
Facilities
The villa has fibre internet connection
Bathroom facilities are shared. There are two bathrooms inside the villa which are shared between four bedrooms and three insulated, outdoor bathrooms for guests staying in the Lavvos
Breakfasts typically consist of eggs and smoked salmon, while dinner is usually fish or lamb with vegetables. Francisco will try his best to accommodate any other preferences
The villa's kitchen has hot drinks facilities and a coffee machine for you to use at your disposal
Room Type
Option 1: Crystal Lavvo
Sleeping in a Crystal Lavvo is a fantastic and adventurous way to spend the night. This 'glamping' experience provides you with the excitement of camping, but with added comfort. The lavvos are located in the forest behind Green Gold Villa and insulated bathrooms with hot water are only a few metres away. The lavvos are wooden constructions but have a glass roof, so that each night you can lie back and admire the Arctic sky and, hopefully, the Aurora. Each lavvo has a double bed or two single beds and a wooden stove, which you will be taught how to use, to ensure that you are warm and comfortable during your stay.
Option 2: Double Room in the villa
Each room in the villa offers a king-sized bed and a wardrobe for clothing storage. Hot drinks and kitchen facilities are all provided in the shared kitchen of the villa. Hairdryers are provided in each bedroom. Two bathrooms are shared between four rooms.
---
Credit: Green Gold of Norway and Francisco Damm
Read more
Read less
Personalise
Personalise this tour
---
Our pick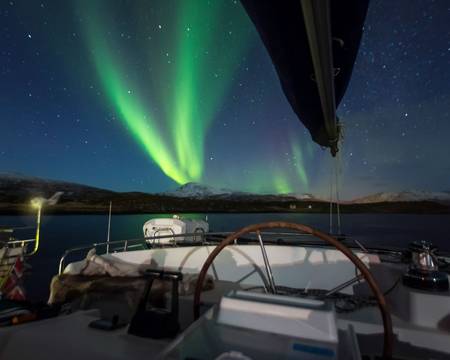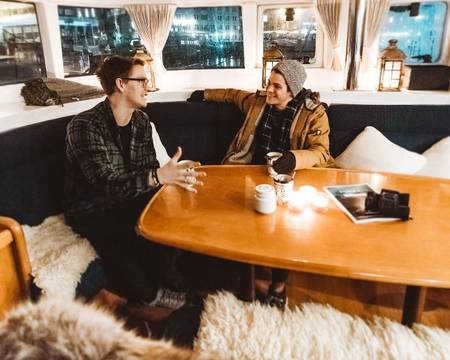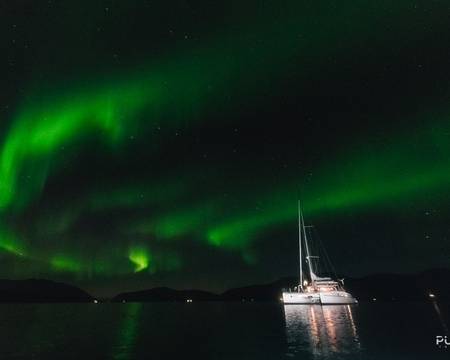 Chase the Northern Lights from a unique vantage point at sea onboard a catamaran.
You will set sail from Kirkegata 1 in Tromsø and pass through the stunning fjords, away from the city lights and in search of the Aurora. A professional skipper will help you in your quest, advising you on what to look out for in the dark sky. If the Northern Lights start to appear, you will have one of the best viewpoints in the city.
The catamaran is well-equipped with a comfortable heated saloon, toilets and safety suits so you will stay dry and warm. You can enjoy drinks and a homemade fish soup from the day's fresh catch. You will return to Tromsø at approximately 12:30am.
Duration: Approximately 3 hours, including transfers
Note: The from price is based on upgrading your included evening activity on day 3.
---
Image Credit: Pukka Travels
---
Other options
Activities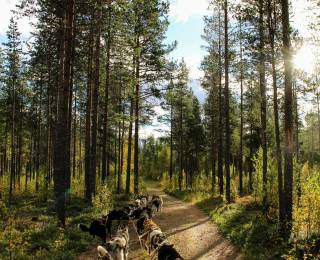 Northern Lights Husky Sledding on Wheels (Sept-Oct)
From: £87pp
Today you will get to meet the friendly dog sledding team, located at their camp just 35 minutes away. As the deep snow hasn't settled yet, you can enjoy the dog sledding experience on wheels as you travel into the Arctic night. Each buggy has space for two people and you will have the opportunity to switch drivers during the activity.
After meeting the dogs and receiving full instructions, you will set off into the wilderness in search of the Aurora. Returning to the camp later in the evening, a campfire will be lit and you will enjoy warm drinks and snacks as you keep an eye on the starry sky for the Auroras. Your knowledgeable guide will tell you all about the lives of the dogs, as well as his experience in dog sledding while you wait in hope for the Northern Lights to make their appearance.
You will be transferred back to Tromsø at approximately 12am.
Duration: Approximately 6 hours, including transfers.
Note: The from price is based on upgrading your included evening activity on day 3.
---
Credit Active Tromso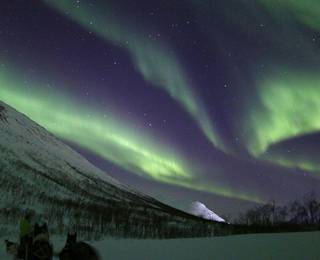 Northern Lights Dog Sledding on Snow (Nov)
From: £87pp
Dog sledding and Northern Lights hunting are two of the most-loved Arctic experience and tonight, you will experience both in one trip (if the Aurora conditions are favourable).
Your evening starts with a transfer to the dog sledding camp, around 35 minutes away from where you will meet with your expert guide and loyal team of dogs.
After receiving full instructions on how to mush, you will set off into the night, keeping an eye on the sky at all times in search of the Aurora. You will travel two people per sled, with the chance to swap drivers during the activity. The sled ride will last approximately two hours and upon your return to the camp, you will have time to thank your dogs before enjoying warm drinks and snacks around the campfire. As you swap stories of the night's adventure, your guide will also be helping you search the skies for the Northern Lights. You will return to Tromsø at approximately 11 pm.
Duration: Approximately 6 hours, including transfers
Please note this trip is suitable for those with good fitness levels.
Note: The from price is based on upgrading your included evening activity on day 3.
---
Image Credit: Active Tromso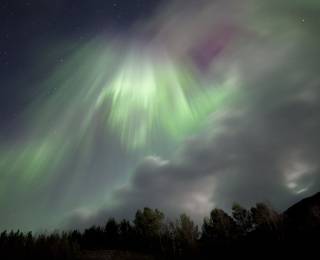 Northern Lights Chase
From: £51pp
Tonight takes you out of the city lights in search of an incredible Northern Lights display.
Travelling by minibus allows you to outrun any potential cloud cover and go further in search of the Northern Lights. Your guide will use the weather forecast and their expert knowledge to determine the best location for potential viewings.
Upon arrival at your chosen spot, you will keep warm by the campfire and enjoy warm drinks and a local meal as your guide helps you look for the lights. If conditions are favourable and they do make an appearance, you can also get tips on how to capture the moment on camera. Your guide will also be taking photos which will be provided to you. The activity starts at 6pm.
Duration: between 6 and 9 hours depending on weather conditions and including transfers.
Please note: the from price is based on upgrading your included evening activity on day 3.
---
Image credit: Ricardo Torres
Dates & Prices
Price Comparison Guarantee
Expertise and knowledge are key to witnessing the Northern Lights. We've been running Aurora hunting holidays longer than any company in the UK and with no lead in prices, no hidden costs and more included, we're confident our tours will come out on top.
---
The prices below are based on our allocated rooms. If these rooms are unavailable at the time of booking, a supplement may apply.
Prices
Terms
For our full booking terms and conditions please click here
The Specifics
Holiday group size (approximate)
Minimum 1 person; maximum 25 (approximately)
Group Size
We always try to provide an approximation of the group size you can expect to be with for the duration of each of our holidays. It may be that you are joined by others for parts of your holiday (such as transfers and particular activities) but the above number reflects those you can normally expect to be with from beginning to end. If group size is something which is particularly important to you, please speak to our Travel Experts and they can suggest the best holidays for you.
Tailor-made holiday group sizes will vary for all activities as will the group size for any additional activities you book.
Minimum numbers required for a holiday to operate
Some of our holidays require a minimum number of participants to operate (as listed in the 'Group Size' section). If your holiday departure has not yet reached the minimum number, you will be told at the time of booking. In the unlikely event that your chosen date is not guaranteed by nine weeks before your scheduled departure date, we will contact you to discuss the available options as per our booking conditions.
Minimum and maximum age
If a specific minimum age applies to this holiday, it can be found in the Key Facts box on the holiday Overview page.
Unless otherwise stated in the Key Facts box on the holiday Overview page, the minimum age for participation in an Aurora Zone holiday is typically 12 years old (there may be younger children in some destinations who have booked with other companies). If an adult-only environment is important to you, then please contact our Travel Experts and they will advise on the best dates and destinations for you. If you are looking for a holiday designed specifically for families then please see our sister company www.activitiesabroad.com.
Itinerary amendments
The order of activities listed in this agenda is provided for guidance only, your final and detailed itinerary will be provided either with your final travel documents (which are uploaded into your online account around a week prior to departure) or upon arrival.
Medical History and Advice
We want our holidays to be accessible as they can be and will do our best to accommodate any special requests and requirements where possible. We have a wide range of holidays and destinations and so our travel experts will help find the best holiday for you.
In order to give us the best possible chance to do this, we ask that if you or any member of your party has any medical condition or disability which may affect your holiday or has any special requirements, that you tell us at the time of enquiry or booking. You must also promptly advise us if any medical condition or disability which may affect your holiday develops after your booking has been confirmed. You may need to provide a doctor's note and proof of insurance in some cases as the health and safety of our clients is absolutely paramount.
In providing this information you are allowing us to work with our expert local partners to ensure that your whole party can enjoy the holiday. By letting us know in advance we can discreetly work with you to adapt any part of the holiday which may potentially be challenging. Being able to prepare for this in advance makes an incredible difference to what we can offer and minimises any impact on your party and the rest of the group.
Unfortunately, if you choose not to share this information with us in advance then it may limit some or all of the itinerary you have booked, and we cannot be held accountable for any additional costs or missed activities resulting from this.
Insurance
Insurance is not included in your holiday, but it is a pre-requisite to travelling with us. You will need to ensure that you have cover for all the activities that you will be participating in during your holiday.
It is extremely important that you take out a suitable travel insurance policy at the time of booking. Plans do sometimes change, and you will need this policy should you need to cancel your holiday.
If you are struggling to find a suitable policy then details of our preferred provider, who will cover you for all the activities we offer, can be found on our website by clicking here. Please note that this policy is available to EU residents under the age of 75 only.
Booking Activities Locally
Additional activities can be booked locally in almost all our destinations. However, as per our booking conditions, we cannot be held responsible for any injury or loss incurred through participation in activities which are booked at your destination outside of our holiday itinerary (see our 'Terms and Conditions' for further details).
When arranging any such activity please always ensure that safety is your primary concern.
In some of our destinations, you can borrow or hire equipment for use in your free time. You do so entirely at your own risk. You must ensure that you are properly prepared, have the necessary equipment and knowledge (maps, etc) and ensure that where applicable, you follow marked routes. We recommend discussing your plans with the local teams who will be able to advise on the most suitable options for you.
Always let the reception/guide know where you are planning to go and take a torch and mobile phone (with the hotel/guide's phone number stored). It is also a good idea to leave your contact number and the time you expect to return to the hotel should the hotel need to contact you.
The UK Foreign Office Advice
Our clients' safety is at the centre of everything we do, and our operations team continually assesses and monitors the destinations we feature. We carry out thorough risk assessments and work closely with all of our suppliers to continually follow best practice. For up to date travel advice the UK government offers its Travel Aware website as well as the advice detailed below.
The Foreign and Commonwealth Office Advice
We receive all updates from the Foreign and Commonwealth Office (FCO) with regards to travel advice and we always ensure that we follow this advice in our operations. The FCO issues travel advisories for countries based on a very wide range of factors. They may provide notification about things as simple as a football match and crowds, or they may go so far as to advise against all travel to a region. We ask all our clients to refer to the relevant Travel Advice by Country for the destinations they are visiting in order to make an informed decision on the safety of the destination based on the details provided. It also provides vital information regarding entry requirements, embassy information, local laws and customs as well as specific safety and health. Guests should take responsibility for keeping themselves up to date with this advice. Please also ensure that, if you are transiting through another country, you have read the advice and meet the entry requirements for that destination too.
The FCO travel advice is applicable to British Passport Holders. Most governments will issue their own travel advice for a region and, if you are not a UK resident then you can find some helpful links below:
Australian Department of Foreign Affairs and Trade http://www.smartraveller.gov.au/
New Zealand Ministry of Foreign Affairs and Trade https://www.mfat.govt.nz/
Canadian Consular Affairs Bureau http://voyage.gc.ca/
The U.S. Bureau of Consular Affairs https://travel.state.gov/content/travel/en/international-travel.html
If the FCO deems that there is an unacceptable level of risk for UK citizens then, together with the government, they may issue an advisory against all travel to a region or country. If such an advisory is published, then we will act accordingly, and this may require the cancellation, curtailment or amendment of a holiday itinerary. These decisions are made on the basis of ensuring our clients' safety and will affect all clients on the holiday, regardless of their nationality.
If one of our local experts suggests an amendment due to a situation which develops locally then we may also take the decision to amend an itinerary appropriately.
If we have to cancel your holiday prior to departure you will be offered the option of an alternative trip (where any price difference will either be refunded to or covered by you) or a full refund of the monies paid.
If we have to curtail a holiday, then you will be refunded for any costs for the elements we have been unable to deliver, where we have been able to secure a refund from our suppliers. If we must reroute a holiday, then any basis for refund is determined on a case by case basis and dependent on whether the central holiday experience was provided or not.
Brexit information for British Passport holders
For the most up to date information on how the UK's departure from the EU may affect your holiday please click here to view our Brexit information for British Passport holders.
Flight schedule changes and connecting transportation
On your documentation, we will confirm your flight schedule. Sometimes the flight number, routing and timings might change prior to your departure. If the change is classed as a significant change then we will contact you to discuss this. Please see our booking conditions for details.
Flight schedule changes can impact on your pre and post-holiday travel arrangements if these have been booked separately to your holiday. We strongly recommend that you do not book transport (such as trains or transfers), car parking or non-connecting flights to the departure point for your holiday until you have received your final confirmed travel times when your final travel documents are issued. We are not responsible for the effect of any schedule change on your pre or post travel arrangements. We strongly recommend that you do not purchase non-flexible or non-refundable tickets to avoid cancellation and penalty charges.
Booking your own flights - cancellation disclaimer
If you have chosen to book your own flights, then you will need to wait until we confirm to you that the holiday departure has met the minimum numbers required to run (if applicable to your chosen holiday). Once the holiday is guaranteed to run, you will be informed and you can then make your arrangements.
If transfers are included in your holiday, please ensure that any potential flights will be met by our standard transfers (speak to one of our Travel Experts for advice) otherwise private transfer supplements may be applicable. Once your flights are booked, please send us a copy of your detailed flight itinerary.
Please be aware that most tickets are non-refundable in the case of cancellation. For this reason, we strongly advise you check the rules of the ticket and check the limitations of your cancellation insurance before booking. We cannot be held liable, in the unlikely eventuality that we should be forced to cancel or amend your trip, for losses incurred relating to any flight booking you have made.
Terms and Conditions
Our full booking terms and conditions can be found on our website: https://www.theaurorazone.com/booking-conditions
Reviews
Traveller Reviews
All arrangements were executed without fault - all pick-ups were flawless. Hotel was excellent.
27 November 2019
by Philip & Ruth MacCarthy
Overall excellent. All arrangements flawless - everyone was expecting us and we saw amazing things. We were very lucky with the Aurora and whales! A bit more info on the coach transfers and the flow of the days would have been welcome. Whale safari slightly less perfunctory.
Thank you for an unforgettable trip!!!
03 November 2019
by Erin O'Connor & Joshua Kluesner
This was one of the best vacations I have ever had! The choice of accommodations was excellent and the customer service throughout was phenomenal. But the best part were the local guides and companies that they partnered with. Green Gold of Norway was especially fantastic. We had the most magical day, whale watching (saw so many orcas and grey whales!) during the day, and watching the breathtaking…
Read more Northern Lights at night. Cannot say enough about what an amazing trip this was. Thank you!
Read less
Tromsø - Autumn Auroras and the Crystal Lavvos
02 November 2019
by Stephen & Amanda Downing
We were very lucky and had a clear sunny day for this trip and saw many whales close up.
Highly recommended
26 October 2019
by Mike and Sarah Saunders
Thoroughly enjoyed all the excursions and especially the night at the Crystal Lavvos on the Lyngen peninsula. We were so fortunate to see the Aurora on a number of nights and the local guides provided great information and photographic advice. The Clarion Hotel The Edge was excellent and the breakfast kept us going throughout the day. Many thanks to the whole Aurora Zone team and…
Read more their local guides.
Read less
The Rib excursion was fantastic and the Husky centre was really great too.
26 October 2019
by Michael & Sarah Saunders
Crystal Lavvos (Lyngen) was a superb area to view the Aurora and Franciso and Norbert of Green Gold were excellent guides. Francisco's advice on camera set-up was invaluable and overall he made us so welcome at his home. Have to add that we were extremely fortunate with the weather and Aurora conditions.
It is a great experience sleeping under the night sky but still having the comfort of a real bed.
26 October 2018
by Patrycja Machnowska
The crystal lavvo overnight. Francisco is an interesting and communicative host. It is a great experience sleeping under the night sky but still having the comfort of a real bed.
Every night is special!
03 October 2017
by Leonard & Trixie Velez
Thank you so much for organizing a very good tour for us! We were lucky to see the Northern Lights! Honestly, it was the best trip we've ever had!
---
---