Overview
Hotel Aurora is one of the most comfortable accommodation options available. All rooms here come complete with their own sauna and the restaurant serves delicious evening menus and a selection of excellent wines. This is an exceptional hotel from which to tailor your holiday in the Arctic and search for the Aurora. There is a wonderful and varied range of experiences and activities to choose from.
What's included?
ALL OF THE SERVICES LISTED BELOW ARE INCLUDED IN THE HOLIDAY PRICE:
Flights: return flights between London Gatwick and Rovaniemi (via Helsinki). Flight routes are subject to change and direct flights are available on certain dates.
Transfers: return airport transfers
Accommodation: a minimum of 3 nights' hotel accommodation in standard rooms with sauna
Meals: half board
Activities: choose from our extensive range of activities (individually priced as detailed in the 'Activities' section)
Cold weather clothing is provided for the duration of your stay
Services of our local representative
Aurora alert until approx 1 am
---
Hotel Aurora is an excellent place to stay and offers guests an excellent base from which to explore the Lappish delights of Luosto and also search for the Northern Lights.
The hotel's central location in Luosto means that the amenities of this small ski resort are all within easy reach but the small scale of the accommodation here means it doesn't lose any of its intimate charms.
As the name suggests this hotel is geared for guests wanting to see the Northern Lights and offers an Aurora alert service to all residents. Many of the rooms also have north facing windows so you can gaze upon the night skies from the comfort of your room.
The range of activities on offer here is extensive and includes the chance to visit unique destinations such as the amethyst mine as well as Northern Lights focussed activities such as a visit to the famous Aurora Kota. You can choose the activities which are most important to you and your party from our extensive range and can fully determine the pace of your own holiday.
Luosto also offers a small number of downhill ski slopes and a wealth of cross-country ski trails for those who have some experience. Equipment can be hired locally for those who want to explore independently or we can arrange lessons for you in advance.
Read more
Our basic package includes a minimum of three nights' accommodation on a half board basis, return flights from London, return transfers and the services of our local representative. You can then add in the activities from the weekly schedule and extend your stay to your preferred duration. Cold weather clothing is provided for the duration of your stay.
You can really craft your dream holiday and our Travel Experts are always on hand to help if you have any questions. If you book five or more activities in advance of your holiday then you will receive 5% discount on the cost of the activities (this excludes equipment hire, downhill skiing and accommodation upgrades).
A highlight for many guests is the chance to upgrade your stay to one of the glass-roofed Arctic View rooms at the hotel, for the ultimate way to view the night sky. These can be utilised for one night or your whole stay and details can be found in both the 'accommodation' and 'activity' sections of the holiday page.
Please note: some elements of this itinerary (including transfers and some activities) are shared with our sister company Activities Abroad and are popular with families during the school holidays. If a child free holiday is important to your party when travelling, please speak to our travel experts for recommendations.
---
Photography by Thomas Kast And Visit Finland, Juho Kuva and Visit Finland
View Gallery
Download Dossier
Key facts
| | |
| --- | --- |
| Duration: | 3 or more nights |
| Pace: | Set your own |
| Suitable for: | Ages 15+. See our terms for further information |
Make an enquiry
Accommodation
Included in price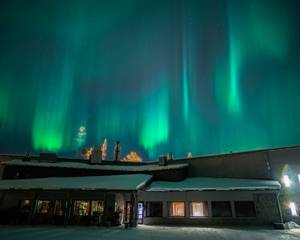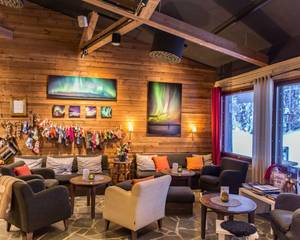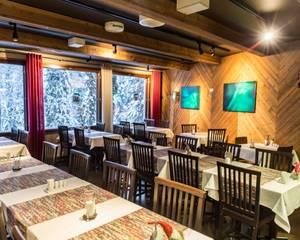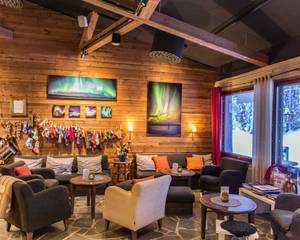 Hotel Aurora, Luosto
Nights:
1-3
With spectacular scenery, a tremendous Northern Lights record and a huge array of activities, Luosto is an ideal destination for a holiday within the Aurora Zone.
As Luosto is a small ski resort. There are seven slopes to keep downhill enthusiasts entertained as well as a network of perfectly maintained cross-country skiing and snowshoe tracks, so there is always a way to get outdoors and enjoy the landscape if not on an arranged activity (all equipment is available for hire and is payable locally).
There are a couple of souvenir shops available and a small supermarket where you can buy drinks and snacks. There are also two additional restaurants and a cheap and cheerful café at the small ski centre.
The Hotel Aurora is one of only two hotels here and has proved to be one of our most popular accommodation options in Finland with its boutique charm, excellent gourmet food and cosy rooms with private saunas.
Hotel facilities
On arrival at the Hotel Aurora, guests are provided with an Aurora alarm. Essentially this is a mobile phone which will receive text alerts. The alarm operates via the Geophysical Observatory in Sodankylä which sends a message to the hotel. If the conditions in Luosto are promising then the hotel will alert guests (until around 1 am - please confirm this with the hotel on arrival). The system is designed to aid you in your Northern Lights hunt but as conditions can change very quickly you should not rely solely upon this and should try and keep an eye out yourselves.
There is a lovely dining area from where you can watch the chef in an open kitchen working on a lava stone grill. Local ingredients are very much to the fore and you will witness fish from the lakes and meat from the forest being transformed into delicious dishes that any restaurant would be proud to serve.
Breakfast is a typical Scandinavian buffet and in the evening you will be served a set three-course meal (special dietary requirements such as gluten-free and vegetarian diets can be catered for if we are made aware of them at the time of booking).
There's a small lounge area with a log fire where you can enjoy a pre or post-dinner drink.
Room Types
Standard rooms
Hotel Aurora has eleven beautifully decorated and furnished standard hotel bedrooms. A combination of dark wood and warm colours creates a tranquil and distinctly Lappish atmosphere. All rooms have their own private sauna and en-suite shower room with hairdryer. The rooms are also equipped with wireless internet, television, telephone and include tea and coffee making facilities.
---
Image credits: Matt Robinson
Read more
Read less
---
Other options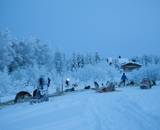 Wilderness Cabins
Wilderness cabin accommodation is reserved for those people enjoying overnight safaris. There can surely be few better forms of escape from the everyday stresses (which could include laptops, mobiles and your day job) than a night in one of these cabins. Their isolation also means that the views of the night sky are incredible.
The Northern Lights could well pay you a visit should conditions be right and, if the sky is clear, you will never forget the sight of the galaxy overhead.
The title is fairly self-explanatory as the cabins are located in the wilds. The cabins that you visit are determined by the conditions of the trails you are using. They are varied in their set up but all offer the same incredible experience of complete silence in the evening (not guaranteed if you are dog sledding as the huskies do like a howl now and then!).
Some of the cabins are more basic than others, as some have no electricity or running water. Everyone will join the guide to help set up camp by collecting wood and water if needed. Participating enhances the wilderness experience.
Once the fire is lit, the food will be cooked. The guides prepare your meals over an open fire and our guests always provide exceptional feedback on the meals that the guides rustle up.
Should you have specific dietary requirements, please mention these at the time of booking.
There are no showers or bathroom facilities in the cabins but this is all part of the adventure. Finland is renowned for its saunas and the wilderness cabins are no exception. Once heated, you can steam clean in the sauna (don't forget to take a towel with you). The toilet facilities are normally a short walk from the cabin and are compostable. We certainly recommend a head torch for any ventures to the toilet during the night!
In most cases, the sleeping arrangements are dormitory style. You will be given your own Arctic-grade sleeping bag in which to sleep and combined with your thermals and the open fire, this should keep you lovely and warm.
You will carry with you all that you need for any stay in the cabins, so luggage is typically restricted to the essentials. Your main bag will be securely stored back at the hotel and a safe is provided for your valuables.
There is something so refreshing about realising that you can strip back your belongings and enjoy such a simple but satisfying experience.
Read more
Read less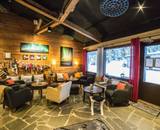 Hotel Aurora - standard room with fireplace
For those who want a little extra then you can choose to upgrade to a room with a log burning stove should you wish to relax by the fire in the evenings.
The 12 rooms are all equipped with their own private sauna and en-suite shower room with hairdryer. The rooms have wireless internet, television, telephone and tea and coffee making facilities. Starter kits for the fires are provided along with instructions for use.
Whilst the rooms are all fully heated at Hotel Aurora, a fire can be a delight after a day and night of activities out in the Arctic wilds.
Hotel Aurora - superior room
There are four superior rooms at Hotel Aurora, all of which are around 28m² and offer spacious accommodation for guests.
The rooms are all equipped with saunas and en-suite shower rooms. Tea and coffee making facilities are provided as well as TV and wireless internet. The primary difference in these rooms is that they offer guests more space and a sofa seating area. This sofa can also be turned into an additional sleeping area as it functions as a twin sofa bed.
There are also two superior rooms with their own fireplace (shown) which are a slightly higher in cost but provide the warming glow of the stove in the evenings.
There is also one suite available at the hotel which can sleep four people. This is subject to an additional supplement so please contact our Travel Experts for details.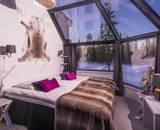 Hotel Aurora - Arctic View Room
The 10 spectacular Arctic View Rooms at the hotel are a favourite with guests and many people like to spend a night in one of these glass-roofed delights. If however, you would really like to maximise your Aurora watching options and treat yourself, then you may also upgrade for the duration of your stay.
The rooms are situated a short walk from the main hotel building and all of them have excellent views of the night sky from their glass walls and rooftops.
The Arctic View Rooms are en-suite with a shower room but they do not offer guests a private sauna and so this is something to consider when booking.
The rooms are all beautifully furnished and offer a high level of comfort and a great chance to view the night sky and with luck, the Northern Lights, from the comfort of your bed.
---
Please note: this price is based on you staying in Hotel Aurora and spending the first or last night of your holiday in this unique accommodation and not keeping your original accommodation. If you are staying in Hotel Tunturi or would like to do this on any other night during your holiday, you will need to keep your accommodation and supplements will apply.
---
Credit: Hotel Aurora
Activities
Keep yourself busy!
---
---
---
Activities
Special Nights
Valid 01 Dec - 30 Apr 2018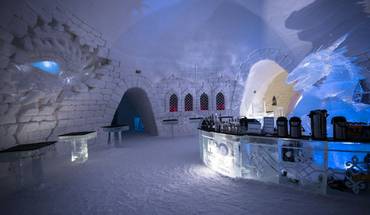 Valid 02 Dec - 08 Apr 2018
Dates & Prices
We include more, no hidden costs
On each of our holidays, you will see a clear outline of exactly what's included in the price of your holiday. We never use 'headline' or 'lead-in' prices like so many tour operators, as we prefer to include as much as we can, rather than see our clients incur considerable additional costs in our destinations.
Prices
Next season's provisional dates and prices
To secure places for next season, you can make a provisional booking and fix the cost of your holiday at the provisional package price displayed online. Simply by paying a deposit, you will protect yourself from any package price increases. The departure dates and itineraries remain subject to change and we will contact you when the final dates and itineraries are confirmed. You will have 14 days to decide if you would like to go ahead. If you decide not to travel we will refund your deposit. We reserve the right to charge supplements where there are significant changes to an itinerary or increases in flight costs. Any non-package rates remain subject to change.
Departure dates between

Fri 30 Nov 2018
to
Thu 13 Dec 2018

Enquire

3 Nights

£ 1,235

Extra Night

£ 140

Sun 06 Jan 2019
to
Sat 19 Jan 2019

Enquire

3 Nights

£ 1,235

Extra Night

£ 140

Sun 20 Jan 2019
to
Sat 06 Apr 2019

Enquire

3 Nights

£ 1,315

Extra Night

£ 140
Terms
For our full booking terms and conditions please click here
Holiday group size (approximate)
Minimum 2 people; maximum 28 people (approximately)
Group sizes and minimum numbers
Most of our holidays require a minimum number of participants to operate. Minimum numbers are detailed on each holiday page and are always approximate. Group sizes for tailor made holidays will vary for each of the activities. For private departures you may also be joined by other guests during the activities unless you have discussed specific private activities with us.
If your selected date has not yet reached minimum numbers you will be informed at the time of booking. In the unlikely event that your chosen date has not reached the required minimum numbers nine weeks before your scheduled departure date we will contact you and discuss the various options available to you. We will always do all we can to operate a holiday and in some cases we may be able to operate the holiday by combining your itinerary with that of other guests for some activities (this may mean that the maximum group size is increased but this will be discussed in full with you).
If we are unable to operate the holiday then you will be offered the chance to transfer to an alternative holiday or date (subject to availability). If the alternative is more expensive you will be asked to pay the difference, if it is cheaper then you will be reimbursed. You will also be offered the option to cancel and receive a full refund of all monies paid.
See our booking conditions for further information.
Order of activities
The order of activities is always subject to change and you will be provided with your final itinerary upon arrival at your destination
Medical History and advice
If you or any member of your party is pregnant or has any medical condition or disability which may affect your holiday or has any special requirements as a result of any medical condition or disability (including any which affect the booking process), please tell us before you confirm your booking so that we can assist you in considering the suitability of the arrangements and/or making the booking. In any event, you must give us full details in writing at the time of booking and whenever any change in the condition or disability occurs. You must also promptly advise us if you become pregnant or any medical condition or disability which may affect your holiday develops after your booking has been confirmed.
See our booking conditions for further information.
Experience and fitness
We offer a vast choice of holidays which range from 'relaxed' to 'active' so there really is something for everyone and our holidays can be filtered by how active they are. Regardless of the chosen holiday, all activities will include tuition from a beginner's lever and no prior experience is assumed.
If you are unsure about the physical demands of a particular holiday please contact us and our expert team will be happy to help.
See our booking conditions for further information.
Guides and safety
It is absolutely essential when partaking in any activity that you listen very closely to, and abide by, the instructions provided.
If there is anything that you are unsure of during a safety briefing or that you would like to clarify with the guides please make this clear to them immediately before starting the activity.
Our guides' word on activities is always final and your safety is their principal concern at all times, please respect their decisions. By following their instructions, your safety and enjoyment during each activity will be greatly enhanced.
See our booking conditions for further information.
Booking activities locally
In almost all of our destinations you can book and pay for additional activities locally. Please note that we cannot be held responsible for any injury or loss that occurs through any activities that are booked in your destination (see our terms and conditions for further details).
Please always ensure that your safety is your primary concern when arranging any such activity.
Car Hire
If your trip includes car hire the named driver must have a credit card registered in their name which they can present when they collect their car along with their driving licence, as a deposit will be held on the credit card. Please see your trip dossier for full details.
Minimum age
The minimum age for participation in our itinerary is 15 years old, however, for some activities and shared transfers, our guests may be joined by others and these may include those of a younger age. Any younger participants will be fully supervised by an adult and the guides will ensure that they are only able to participate if there will be no effect on the activity experience. None of the hotels we feature have a minimum age and so there may be families staying at them with younger children, especially during the holiday periods.
To drive a snowmobile you must have a full driving licence and be over 18 years old. To travel on a snowmobile (as passenger or driver) guests must also be a minimum of 140cm tall.
Aurora alerts
During your stay, you will be supplied with an Aurora alert. This is typically a mobile phone system to which the staff will send a text should the Northern Lights be sighted. The alerts generally operate until 1 am but it is best to confirm with your guide as times may vary.
The alerts are designed as an aid to Aurora hunting and, although every effort will be made to issue an alert should the conditions seem conducive to a display, things can change very quickly so you should not rely solely on them and should also keep an eye on the sky yourself.
Hotel Aurora room key policy
Please remember to keep your room key with you and secure at all times!
Reception is open from 1 am until 11 pm. If you forget your room key whilst reception is closed then you will need to contact 'Keyservice' on +358 (0)40 748 3423. There will be a charge of 70€ for opening the door.
If you lose your room key, please advise the reception immediately. Please note, that there is a charge of 100€ for a lost key.
Call out charges for Luosto
If you need to call a doctor out to assist you in Luosto during your holiday the following charges will apply: Call out to Luosto approx - €400 (min 350€)
To make an appointment and go to the clinic during the week is as follows (plus taxi costs):
20 mins - €62
30 mins - €77
45 mins - €102
60 mins -€142
Weekends an average of €134
The doctor on call does accept credit card payments (except American Express) and depending on your insurance policy you may be able to claim these charges back upon your return to the UK. Please carefully read your policy documentation or speak to your insurance company to double check this and you may also need to produce a receipt to assist with your claim.
Reviews
Traveller Reviews
Really good fun, great experience, beautiful scenery
12 December 2017
by Graham Warnes and Caroline Solomon
The snowmobile trips into the wilderness and hunting the Auror - a really good fun, great experience, beautiful scenery, etc. All the food was great too.
I couldn't have asked for a better holiday
28 January 2017
by Harriet Gill & Richard Ketelle
Everything the company did to help me organise the trip was impeccable, and the trip itself was outstanding! Thoroughly recommend and would go back any day!
Thank you for the perfect honeymoon!
12 December 2016
by Natalie Savage & David Walls
I cannot say enough about how amazing our honeymoon in Luosto was. Even though our baggage was delayed in Helsinki, our Rep, Greta, was the most welcoming and friendly person we could have imagined. She was unbelievably helpful and even went home to see if she could get any of her own clothes to help us! Although our luggage turned up the next day, Greta went above and beyond. She continued to be…
Read more a helpful, smiley face throughout our trip. She is a credit to Aurora Zone! The Hotel Aurora was amazing. Although small, everyone was helpful and it was as if we'd known them forever! We had a set menu and found the food incredible and varied. The rooms were comfortable and clean. We had a room with a fireplace, which was perfect and a nice touch. We also spent a nice night in the glass igloo, which was lovely. Lapland Safaris, who we did our excursions with, were fantastic. We did a variety of trips and enjoyed every one of them. The standard of clothing we were supplied with and the support of the staff was great - much better than we had anticipated. Artsi was wonderful - we did a couple of trips with him. Our favourite trip was definitely the husky safari! Since booking our holiday we have been kept in contact with and had speedy responses to any questions. Booking was helpful and easy. The best holiday we've been on - we are already looking at booking again! Thank you for the perfect honeymoon!
Read less
The most wonderful trip ever
03 January 2016
by Jane Imhof
We have just come back from the most wonderful trip ever. We went for 4 nights and were luck to see the lights every evening. The scenery is amazing and the temperatures got down to -38 degrees on our last day. We took part in the husky safari, the trip to the Amethyst mine on snowmobiles & the reindeer safari. The team at the Aurora Zone were amazing and so helpful, making the booking of this…
Read more trip of a lifetime easy and enjoyable.
Read less
All of the activities were personal, awe-inspiring, and unforgettable.
14 December 2015
by Leanne Tomkinson
All of the activities were personal, awe-inspiring, and unforgettable. Our favourite was the snowmobile tour of the wilderness, where we spent a few hours with the activity guide driving through the snow and drinking warm juice in the kota. It was just the three of us and gave us a great opportunity to take in the beautiful surroundings and learn a great deal about Luosto. Everything was perfect!…
Read more Thanks to everyone for their part in organising our holiday, especially Andy who dealt with my initial enquiry right through to handing the package over to the admin team. Our holiday was very last minute, I booked only 2 weeks in advance. Andy did a great job in finding us everything we could have hoped for.
Read less
---
---