Overview
Staying in a winter cottage overlooking the frozen sea, this three-night Christmas break to Brändön Lodge puts you in a truly amazing setting. This tailor-made trip means you're in control of the activities that suit you. From Aurora hunting to Arctic exploration, this is a Christmas you won't forget.
What's included?
ALL OF THE ACTIVITIES AND SERVICES LISTED BELOW ARE INCLUDED IN THE HOLIDAY PRICE
Transfers: return airport transfers from Luleå Airport
Accommodation: 3 nights minimum accommodation in a winter cottage at Brändön Lodge
Meals: 3 breakfasts, 3 dinners (2 courses)
Cold weather clothing for the duration of your stay
Services of our expert local guides
Free use of snowshoes and skis
A note on flights: while flights are not included in the holiday price, our team will happily provide a quote and arrange them for you. Simply ask one of our Travel Experts for details of the available options
Please note: if you are staying on either 24th or 31st December, a festive dinner supplement is payable
---
Brändön Lodge is ideally situated in the stunning region of Luleå, on the coast of Swedish Lapland. The lodge offers views out towards the Bothnian Bay which freezes during winter and becomes a vast white plain of thick ice and snow. Spending Christmas in a winter cottage is a highlight in itself but with incredible Aurora potential and some amazing activities available, this is a fabulous three-night break.
Luleå has a fantastic Northern Lights record and your accommodation sits in an area of limited light pollution. If conditions are favourable, you can simply step outside to catch a display or choose from our range of dedicated Aurora activities found in our 'Personalise' tab.
During the day, you can tailor your holiday and choose from a wide range of winter activities including a husky safari, snowmobile forest tour or even a hovercraft trip on the frozen sea. If you are looking for something more relaxing, then you can add in the hot tub and sauna which is a short walk from the lodge. Please see our 'Personalise' section for full details.
The main lodge itself is warm, cosy and ideally suited to a Christmas getaway and you can enjoy hearty local food and a relaxed ambience in the central restaurant. Our good friend Göran and his team will no doubt greet you with warmth and hospitality. The combination of comfort and the option to choose the winter activities to suit you will undoubtedly ensure a memorable Christmas break.
---
©Brandon Lodge, Graeme Richardson, Tomas Jönsson, Andreas Walitalo
Accommodation
Included in price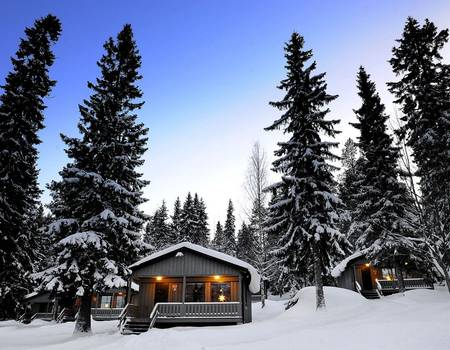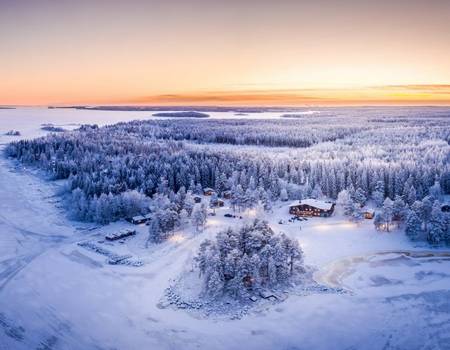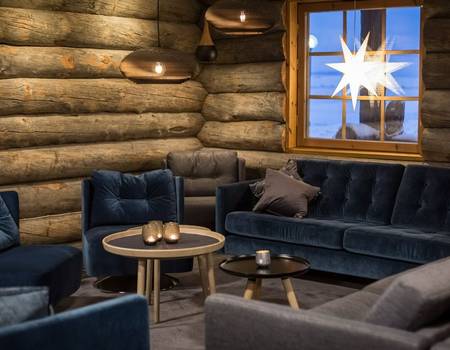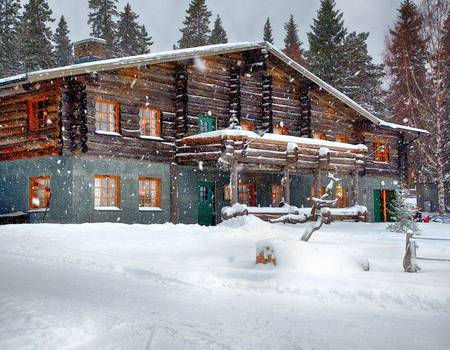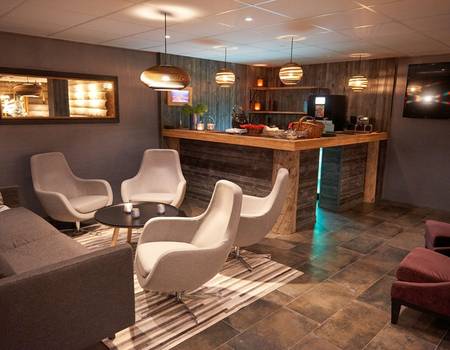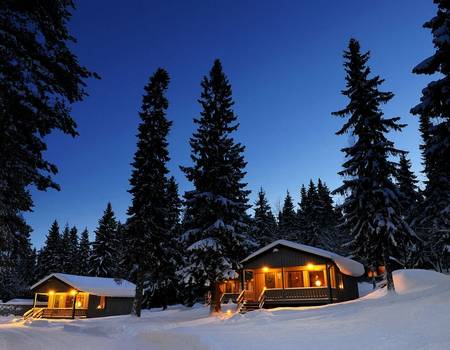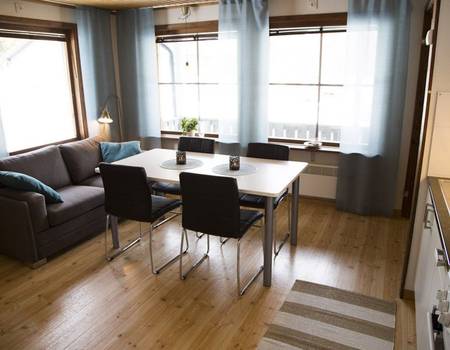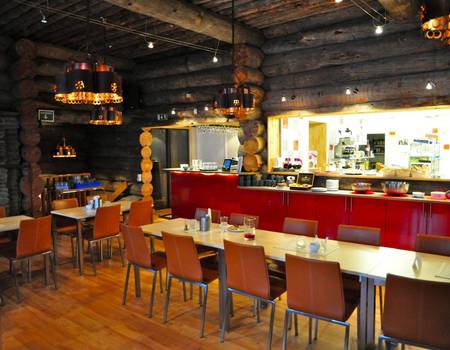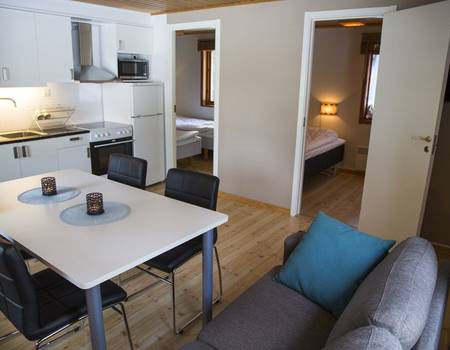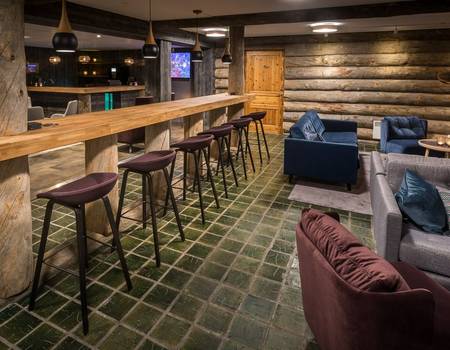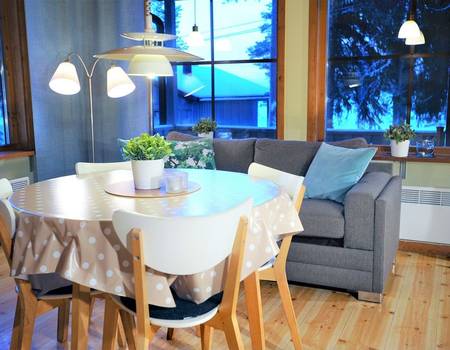 Brändön Lodge
Nights:
1-3
Brändön Lodge is located on the edge of the sea that freezes around the Luleå Archipelago each year. It is a remarkable sight to see such a vast frozen mass of water each morning as you step out of your cosy cottage for a day of activities.
Hotel facilities
Your meals are all served in the restaurant in the main building. You will enjoy a variety of local dishes and more international cuisine in the evening menus (which are typically two courses and served as a hearty buffet). Breakfasts are typically Scandinavian in style and provide you with the fuel that you need for a day of adventure
The restaurant is situated on the upper floor of the main hotel building and offers panoramic views over the frozen bay while you tuck into your delicious meal
The lodge also has a fully stocked bar and pretty impressive wine cellar for any enthusiasts staying
A short walk from the restaurant building, there is also a sauna and hot tub for guests to enjoy. Indulging in a sauna, after an exhilarating day in the great outdoors is just the perfect way to unwind and the hot tub is the cherry on the cake! This is bookable locally and charges apply
Guest room types
Winter cottages: Brändön Lodge consists of individual winter cottages. Each homely cottage is detached, allowing guests the space to unwind and relax in comfort and having all the added benefits of the main building within walking distance.
All the winter cottages have an open plan living and dining area with kitchenette. We recommend taking tea and coffee provisions with you. They have two bedrooms (both furnished with twin beds – in some cases these can be moved together), an en-suite shower room, hairdryer and toilet. Recent room refurbishment leaves the cottages with a modern yet authentic Scandinavian feel. One of the nicest features of the cottages are the terraces, where in the morning you can step out and inhale the cool, crisp air and marvel at the view of the frozen sea and snow-covered forests that stretch before you.
---
Image credit: Graeme Richardson, Andream Walitalo
Read more
Read less
---
Special Nights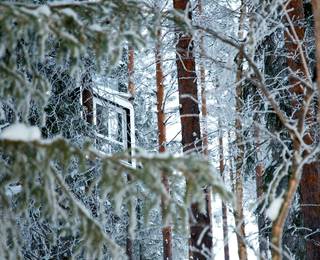 The Treehotel
The Treehotel is unique and surreal. We can arrange for you to spend the night amidst the treetops of Swedish Lapland in one of the most inventive bedrooms on the planet. It is an experience, unlike any other and one that we don't feel that you should miss. Each of the seven architect-designed rooms is cutting edge.
The bedroom options include The UFO, Mirror Cube, Bird's Nest, Blue Cone and The Cabin. Each room is spectacular in its own right and totally unique and no matter which option you choose you will experience an unforgettable night. It is possible to upgrade to a night in The Dragonfly or the 7th Room - please ask if you would like a quote for this option.
Your stay includes lunch, dinner and breakfast at Britta's Guesthouse which is approximately a 10-minute walk from the tree rooms. This is a characterful and quirky place to dine, in contrast with the ultra-modern Treehotel, with old-world charm and hearty home cooking.
This is exclusive accommodation as there are only seven rooms, so we recommend booking as soon as possible to avoid disappointment.
In the morning after your breakfast, your transfers will be arranged to take you back to the airport for your return flights home.
Please contact us for a full quotation based on your transfer and rooming requirements.
---
Image credits: Graeme Richardson
Read more
Read less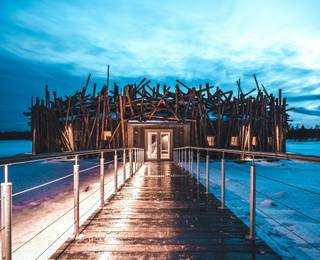 Arctic Bath Hotel
Complete your Swedish Lapland experience with a spectacular stay at the Arctic Bath Hotel - a wellness accommodation with an innovative touch. The structure floats on the Lulea River during the summer and freezes in place throughout the winter for a peaceful retreat amongst stunning nature.
The Arctic Bath Hotel features four saunas, a spa room with a variety of treatments on offer, a hot bath, outdoor and indoor showers and two dressing rooms. For the full Nordic experience, there is also a cold-water bath for guests to take an icy plunge - something the locals swear by!
Guests can choose to stay in one of the six floating cabins or land-based cabins. On land, you can make use of the huge glass windows facing north to search the skies for the Auroras and in the floating cabins, you can enjoy a brilliant view from your wooden deck outside.
The Arctic Bath believes in a holistic approach and the four cornerstones of wellness; proper nutrition, regular exercise, peace of mind and care of the face and body. Nutrition is covered in the onsite restaurant which features local, pure and sustainable ingredients. Regular exercise can be achieved with the available activities such as snowshoe hiking and yoga. You will find peace of mind in the tranquil surroundings and by making use of the saunas and wellness areas. Finally, take care of your face and body with the available treatments on offer, ranging from massages to facials all using organic skincare.
Please contact us for a full quotation based on your transfer and rooming requirements.
---
Image credits: The Arctic Bath Hotel
Read more
Read less
Activities
Keep yourself busy!
---
---
---
Activities
Little Extras
Special Nights
Trip Extensions
Dates & Prices
Thank you for your interest in this Aurora Zone Northern Lights holiday.
Dates and prices for this specific trip have not yet been finalised for the coming season. For further information about this or any of our trips, please email our Travel Experts at This email address is being protected from spambots. You need JavaScript enabled to view it. or contact us on 01670 785 012.
Our Travel Experts have been to all the destinations we feature and love to share their knowledge and experience. Each trip is unique and we want to make sure you find the itinerary that suits your needs, so if you have any questions please get in touch; we will be happy to talk through the destinations with you.
Reviews
Traveller Reviews
The activities were excellent
22 December 2018
by The Roberts Family
The activities were excellent and the staff amazing.
We both had a wonderful time.
22 December 2018
by Lesley Mills
Thank you so much for finding this alternative trip for us which allowed my ageing mother to go for what will probably be her last overseas trip. A shame we didn't see the Aurora's but we both had a wonderful time.
It was all so wonderful
22 December 2018
by Gillian Tyropolis
It was all so wonderful but I think the peace and quiet of Pine Lodge were the most memorable. The holiday was so well organised and I would like to thank Goran and Ann.
---
---