Pyhä
Pyhä is a great choice if you want a relaxing Northern Lights holiday or fancy trying both downhill skiing and Nordic activities.
About
Located approximately 100kms north of the Arctic Circle and close to the breathtaking and expansive Pyhä Luosto National Park, Pyhä is a nature lover's dream. From the seemingly endless views of the Finnish wilderness to the dark skies ensuring an excellent Northern Lights track record, a visit here is a completely immersive experience in the Arctic.
Speak to our Aurora Experts
01670 785012
Pyhä-Luosto National Park
Situated only 90 minutes from Rovaniemi, the capital of Lapland and the nearest airport, Pyhä-Luosto National Park is an easily accessible natural escape from city life.
Formed of Finland's southernmost fell chain, it is one of the oldest national parks in the country. Not only does the area showcase Finland's wonderful wilderness, but Pyhä-Luosto National Park also conserves nature, preserves indigenous cultures and is a brilliant destination for hiking and tourism.
In some parts of the park, the forests are not logged so you can see trees that are over 400 years old. The history continues as you delve into the rich Sámi presence here, Europe's only indigenous people who have called this area home for hundreds of years.
Pyhä is also known to the locals for its brilliant ski resort of Pyhätunturi, making the most of the Finnish fells and abundance of snowfall during the winter.
Arctic and Aurora Activities of a Lifetime
Pyhä's enormous wilderness setting and dark skies offer the perfect environment for both Arctic and Aurora activities.
The Sunday Morning Resort sits in the fell scenery of the National Park with beautiful lakeside and forest surroundings, approximately 5 minutes from Pyhä. Though easily accessible, this remote setting has a very special and tranquil atmosphere. What's more, the resort offers many activities to complete your time in the Arctic. From snow-based experiences to exploring the colourful autumnal scenes, the resort may be peaceful but you can make your stay as adventurous as you like.
As darkness falls, the resort's location away from light pollution makes it a prime destination for Aurora hunting. This can be done in a variety of memorable ways such as snowmobiling and snowshoeing, or you could simply step outside your accommodation for your chance to see an unbelievable display.
Image Credits: Sunday Morning Resort, Miika Hämäläinen, Tea Karvinen, Jani Kärppä, Juho Kuva & Visit Finland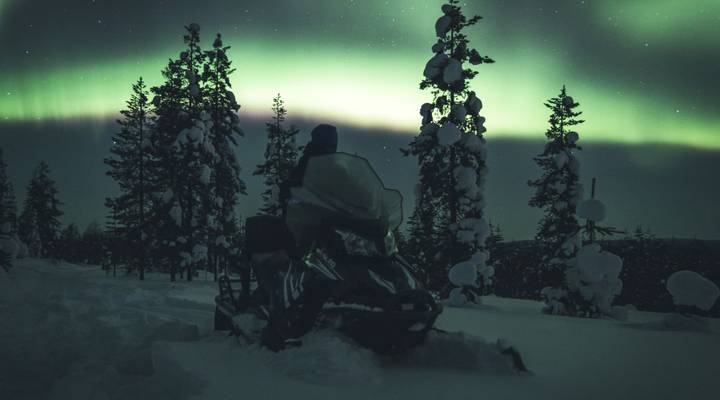 Holidays
Accommodation