Nellim
Nellim is where many of us here at The Aurora Zone first saw the Northern Lights. Sitting on the shore of mystical Lake Inari, dark nights at Nellim regularly deliver spectacular skies.
About
Nellim, set deep within the forests of northern Finland, offers the kind of adventures and experiences that only a true wilderness can. Far from the distractions of the wider world, the snow covered hills and frozen lakes reflect the stillness of nature and the calm character of the indigenous Sami people.
Expert local guides will show you their unfettered view of life above the 68th parallel and, somewhere between its vast ice-covered lakes and an even more expansive night skies, Nellim will steal a piece of your heart. Whether it is watching the Northern Lights play overhead from the comfort of an 'Aurora Bubble' igloo or setting off into the snowy forests for a taste of local exploration, Nellim, its land and its people are sure to excite.
The Nellim Wilderness Hotel is ideally situated to illustrate the absolute best of Finnish Lapland. You can explore the epic landscapes by day before setting out under starlight to some of the best Northern Lights vantage points anywhere in Northern Europe.
We have worked with our friends Jouko and Mari who own Nellim for well over a decade and together we have created an exceptional range of Aurora hunting holidays in this extraordinary place.
---
Speak to our Aurora Experts
01670 785012
Nellim's Highlights
Nellim is a small hamlet, just a short walk from the edge of Lake Inari, one of the largest lakes in Finland. The setting is remote and only 8km from the border with Russia. The lack of light pollution and this wilderness location provide both the dark skies required for Northern Lights hunting and the terrain needed for some seriously fun activities.
Dog sledding or snowmobiling across a vast frozen lake, feeding reindeer, snowshoeing and cross-country skiing are all part of the daily activities which guests enjoy from Nellim. That is on top of one of the most comprehensive Aurora hunting activity ranges available. The expert team at Nellim have also set up incredible Aurora Camps which are used as bases for many evening activities and are in prime Aurora viewing territory.
For those who want a short break, we have our action-packed for night foray – Northern Lights over Lake Inari. Anyone wanting a more relaxed weekend away may prefer our three night Wilderness Weekend. Our seven-night Aurora in the Wild holiday is a perennial favourite and includes all the key activities during the day and night and provides an exceptional experience for those with more time. We also offer festive versions of these holidays for anyone who wants an escape over or between Christmas and New Year.
We can also combine Nellim with one of our other remarkable locations on a holiday that lets you visit both Nellim and its sister Lodge Muotka on The Great Aurora Adventure.
For those who simply cannot choose, we recommend Nellim – Tailor Made where we help you to design your own holiday here.
Love at first sight
When our team first visited Nellim in 2007, it was a tiny family-run hotel with simple rooms and some intriguing orange curtains, a far cry from the incredible destination it has since become. Nevertheless, we fell fully in love with the location and the team and over the last decade or so; Nellim has become one of our most popular destinations and a favourite with our staff and guests.
The vision that the owners, Jouko and Mari Lappalainen have had over the years is astounding and Nellim now offers a choice of fabulous accommodation options but fully retains the charm.
There are cosy en-suite rooms, spacious apartments, cosy cabins and romantic log suites to choose from here, none of which will disappoint.
The icing on the accommodation cake here is the range of Aurora Bubbles which are available for guests to sleep in during their stay. These Perspex dome igloos, provide incredible views of the night sky so you can watch for the Northern Lights from the comfort of your bed.
The hotel restaurant serves a range of dishes which have a local flavour and provide excellent hearty meals for guests before they head out on Aurora hunts.
We cannot recommend Nellim highly enough and we suggest that you come and see for yourself why people choose to not only visit once but to come back time and time again.
Image credits: Anthony Oberlin and Markku Inkila
Read more
Read less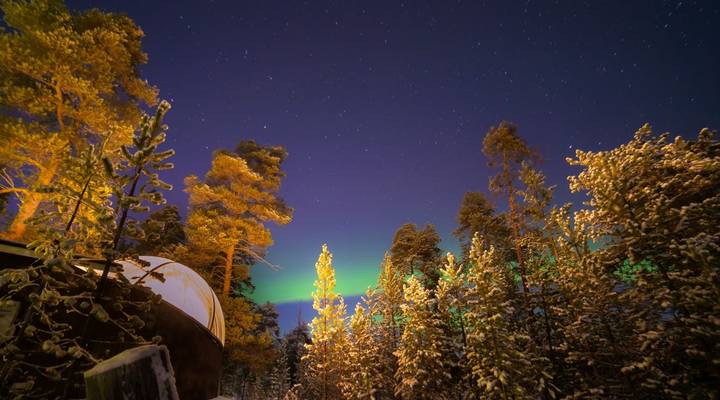 Popular holidays to Nellim
Holidays
Accommodation