Inari
The Finnish capital of the indigenous reindeer herding Sámi people, Inari is a region steeped in tradition where reindeer outnumber people.
About
Inari is Aurora hunting's unrecognised hero. We hear so much about Reykjavik in Iceland, and Tromsø in Norway but that is because they are large population centres with (ahem!) significant marketing budgets.
Little-known Inari has a Northern Lights record to match, or even better, any of its more vaunted rivals but significantly, Inari's population density is minuscule in comparison. With more reindeer than people living in the Inari municipality there is virtually no light pollution so, on a good night, rather than having to escape the yellow glare of a large town or city, you can just stroll down to the lake and watch the show.
At first glance, you wouldn't even know that Inari is anything other than a small village situated on the shore of huge lake but hereabouts you'll find a few hotels which provide some of the best Aurora viewing services in the world.
Inari is also the Finnish capital of the indigenous reindeer herding Sámi people and is steeped in tradition and even, a degree of mysticism. To stand on frozen Lake Inari some 250 km north of the Arctic Circle and behold the Northern Lights overhead is about a far as you can get from modern day urban life.
---
Speak to our Aurora Experts
01670 785012
The Perfect Viewpoint
Lake Inari is huge, and the wide open spaces mean that there are unobstructed views of the northern skies. This makes it perfect Aurora viewing territory and as a result, our partners have set up Aurora Camps on the lakeside. At these camps, your guide can get a fire going and brew up some warm drinks while you wait for the Aurora to emerge.
For the most romantic of Aurora hunts how about treating your partner to a private tour in heated glass windowed Aurora Sleigh? You'll be pulled by a snowmobile driven by a local Aurora guide who will do all the hard work while you sit back and eagerly watch the sky.
There's also Aurora hunting activities such as snowmobile safaris, snowshoeing, and car and minibus tours to provide additional mobility when trying to avoid cloud cover.
There are also plentiful daytime activities here many of which help maintain the cultural and traditional identity of Lapland's indigenous Sámi people.
The excellent Sámi Siida Museum in the village is well worth visiting and beyond Inari itself, there are many winter delights to be enjoyed. Snowmobiling, dog sledding, snowshoeing, cross-country skiing are all available in the huge winter wilderness that surrounds little Inari.
Inari Accommodation
Inari features a hosts of accommodation options to suit different tastes, all in prime Aurora territory.
Traditional Hotel Kultihovi is situated in the centre of Inari village where the permanent population is approximately 600 people. With so few people living here it's no distance to the nearest light-free spot and we would particularly recommend staying here if you like your grub. The hotel is run by Sámi brother and sister Kaisu and Heikki Nikula.
Heikki heads up the kitchen and, in our opinion, there is nowhere better in Finnish Lapland to try local produce in traditional Lappish cooking. Dinner will warm you up before you go Aurora hunting and when you come back to the hotel, if you have upgraded to a stay in a riverside bedroom, you can head for your own private sauna to thaw out in true Finnish style.
There's also Hotel Inari Aurora Resort, again ideally situated in Inari village for brilliant access to the local attractions such as the Sámi Siida Museum.
Wilderness Hotel Inari is a Lake Inari hotel focussing on the Northern Lights. We particularly like the Aurora cabins which boast premium views because of their large thermal windows. If you like the idea of watching the Northern Lights from the comfort of your own bed then these cabins might just make it happen. There are also the cosy log cabins, for a true winter retreat or the Panorama Lakeside Chalets for a touch of luxury.
There a great range of daytime activities available here to keep you busy while you wait for darkness to fall and the Aurora hunting to begin.
---
Photography by Matt Robinson, Inari-Saariselka Tourism and Markku Inkila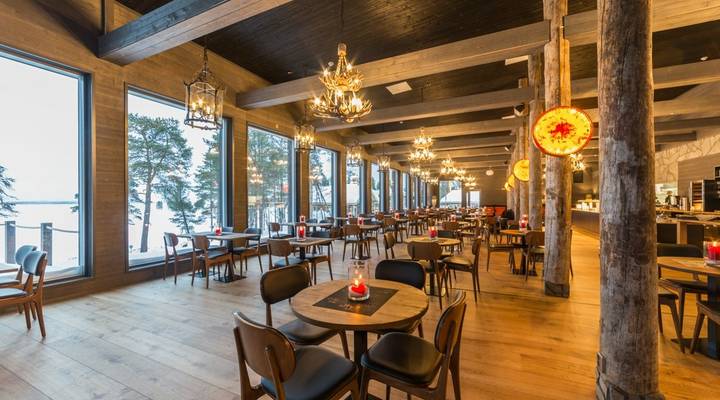 Popular holidays to Inari
Holidays
Accommodation