Overview
Discover the pristine wilderness of Swedish Lapland from two exceptional bases. Spend two nights at Brändön Lodge in a cosy winter cottage overlooking the frozen Bothnian Bay before ending your holiday in spectacular style with a night at the world-famous Treehotel. Your days have been left completely free for you to tailor your time with your dream winter experiences.
What's included?
ALL OF THE ACTIVITIES AND SERVICES LISTED BELOW ARE INCLUDED IN THE HOLIDAY PRICE
Flights: return flights from London to Luleå either direct or via Stockholm depending on departure date and availability. Flight routes are subject to change
Transfers: return airport transfers from Luleå Airport
Accommodation: 2 nights in a winter cottage at Brändön Lodge and 1 night at the Treehotel (Bird's Nest, UFO, or Blue Cone included. Other rooms will require a supplement)
Meals: 3 breakfasts, 2 lunches, 3 dinners
Activities: choose from our extensive range of activities (individually priced in the 'Personalise' section of the holiday page)
Cold weather clothing during your stay at Brändön Lodge
Services of our expert local guides
---
Swedish Lapland is one of the last untouched wilderness regions in Europe and at Brandon Lodge, you'll discover just how pristine this part of the world is. Situated in the coastal area of Lulea, your views span across the Bothnian Bay, which freezes solid during winter to transform into a snowy playground for unforgettable activities.
Your two nights at Brändön Lodge put you in a fantastic location for all the key winter experiences. From husky sledding across the frozen trails to gaining an authentic insight into the fascinating Sámi culture and the much-loved animals of Lapland during a reindeer experience day - take a look at the 'activities' tab to design your ideal itinerary. It's been said that there is a real magic in the air here and as darkness falls, you'll hopefully see it for yourself as you will be in prime Northern Lights territory. Step outside of your cosy accommodation or choose from an array of dedicated Aurora activities to increase your chances of seeing a mesmerising display.
For your final night, you'll see why the Swedish are known for their impeccable architecture during an unforgettable night's stay at the Treehotel. Renowned for its innovative design, the hotel is one of the most sought-after accommodations in the region and you will spend the night in one of the spectacular concept rooms situated amongst the treetops. Each room has a unique theme, covering everything from a bird's nest to a UFO!
In just three nights, you can get the full experience of life in Lapland and tick of some phenomenal bucket list items along the way.
---
Image credits: Sally Hickinson, Brändön Lodge, Graeme Richardson, Andreas Walitalo, Quinten Elpers
View Gallery
Download Holiday Overview
Download Trip Notes
Key facts
| | |
| --- | --- |
| Duration: | 3 nights |
| Pace: | Set your own |
| Suitable for: | Ages 10+. See terms for further information. |
Make an enquiry
Agenda
Accommodation
Included in price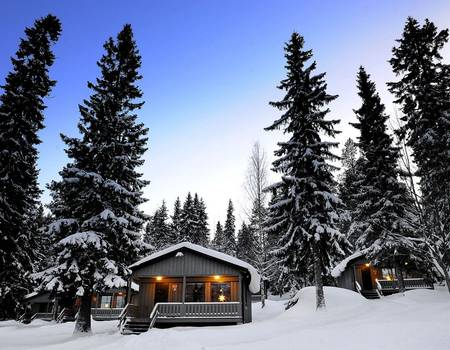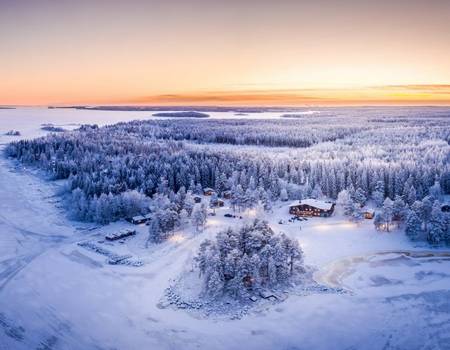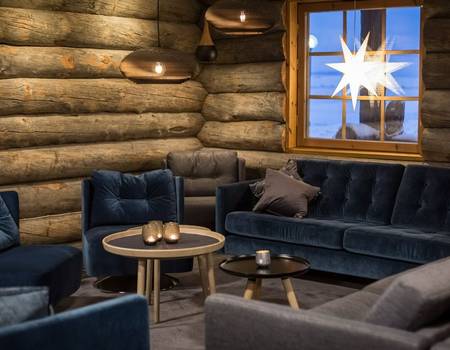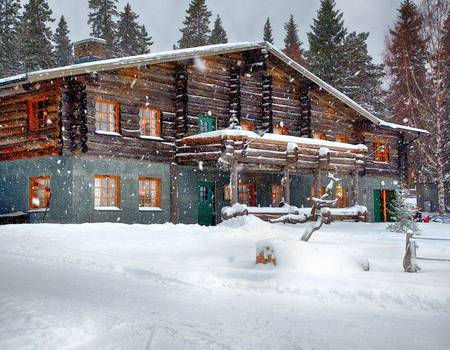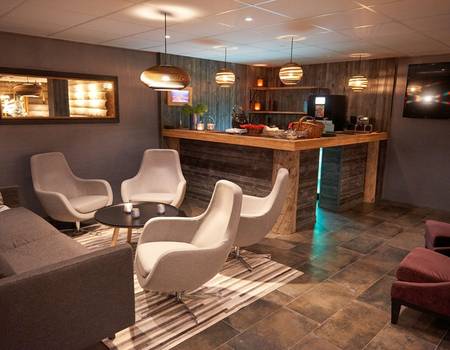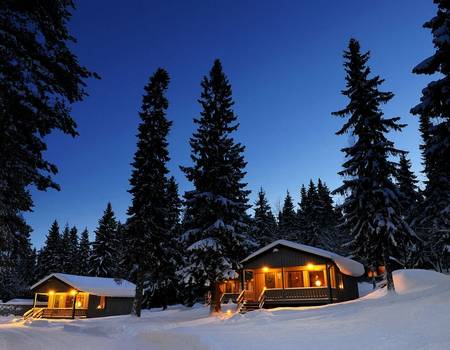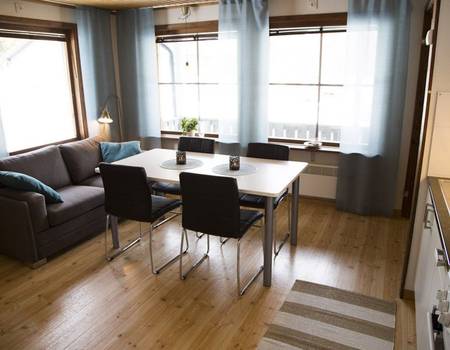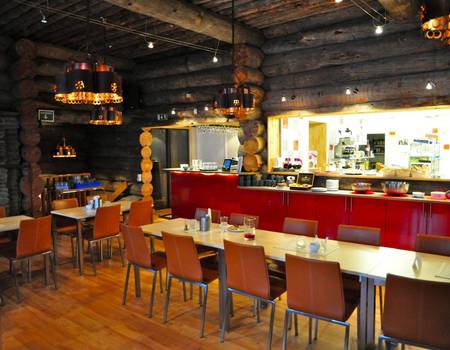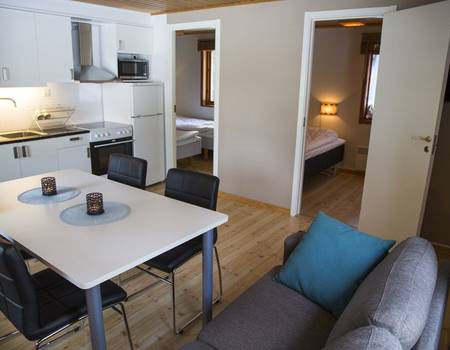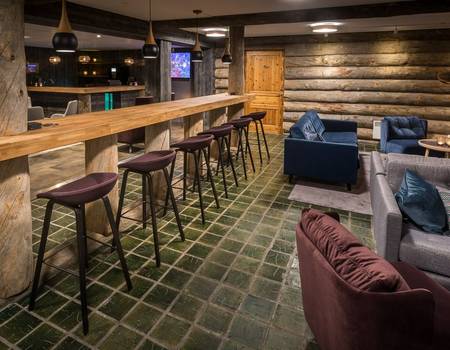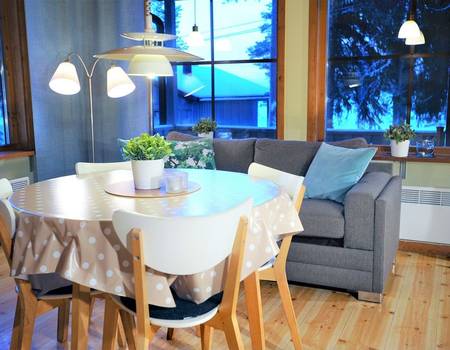 Brändön Lodge
Nights:
1-2
Brändön Lodge is located on the edge of the sea that freezes around the Luleå Archipelago each year. It is a remarkable sight to see such a vast frozen mass of water each morning as you step out of your cosy cottage for a day of activities.
Hotel facilities
Your meals are all served in the restaurant in the main building. You will enjoy a variety of local dishes and more international cuisine in the evening menus (which are typically two courses and served as a hearty buffet). Breakfasts are typically Scandinavian in style and provide you with the fuel that you need for a day of adventure
The restaurant is situated on the upper floor of the main hotel building and offers panoramic views over the frozen bay while you tuck into your delicious meal
The lodge also has a fully stocked bar and pretty impressive wine cellar for any enthusiasts staying
A short walk from the restaurant building, there is also a sauna and hot tub for guests to enjoy. Indulging in a sauna, after an exhilarating day in the great outdoors is just the perfect way to unwind and the hot tub is the cherry on the cake! This is bookable locally and charges apply
Guest room types
Winter cottages: Brändön Lodge consists of individual winter cottages. Each homely cottage is detached, allowing guests the space to unwind and relax in comfort and having all the added benefits of the main building within walking distance.
All the winter cottages have an open plan living and dining area with kitchenette. We recommend taking tea and coffee provisions with you. They have two bedrooms (both furnished with twin beds – in some cases these can be moved together), an en-suite shower room, hairdryer and toilet. Recent room refurbishment leaves the cottages with a modern yet authentic Scandinavian feel. One of the nicest features of the cottages are the terraces, where in the morning you can step out and inhale the cool, crisp air and marvel at the view of the frozen sea and snow-covered forests that stretch before you.
---
Image credit: Graeme Richardson, Andream Walitalo
Read more
Read less
The Treehotel
Nights:
3
The Treehotel is not only special and unique but also quite surreal. Spending a night in a treetop is an experience that we highly recommend.
Several renowned architects have ensured that the outlandish, yet cutting edge designs fit perfectly in the untouched Lappish forests. All rooms were designed with their location in mind.
Some of the rooms even blend in so well that you can be standing beneath them without realising that they are there.
The accommodation can only be described as 'exclusive', as there are only seven rooms. Given that all the rooms are completely different in design, we thought it would be helpful to provide a more detailed description of each. They all provide a remarkable experience with their own quirks. All include an incinerator toilet and have a supply of water. Drinking water is also supplied. As standard, we include overnight accommodation in either The Bird's Nest, The UFO, or The Blue Cone. The Mirror Cube, The Cabin, Dragonfly and 7th Room, all require a supplement.
Guest bedroom types
The Bird's Nest: One of the most well-known rooms here, the Bird's Nest is camouflaged within the forest. The Bird's Nest has two separate sleeping areas – one double room and then bunk beds, which means that it is suitable for friends or couples. It has a very light interior, with small circular windows. From the outside, the windows are nearly invisible. The nest is accessed by a narrow retractable staircase, therefore, you need to have some confidence with heights to stay here and a level of agility. We recommend taking only the essentials to your rooms and leaving the rest stored securely at Britta's Pension.
The UFO: One of the most spectacular creations at The Treehotel and considered to be a 'big kid's dream'. To stumble across such a modern spacecraft in the forests of Lapland is surreal. Imagine turning the key to release the access ladder and the ladder descends to a puff of smoke. You would genuinely expect a form of alien life to appear.
Despite being modern in décor, the UFO is very comfortable. It has the capacity to sleep up to five people with a double bed and three singles. There is a living area and your very own computer game to complete the childhood dream.
Access to the UFO is by a retractable and narrow metal ladder, therefore, we recommend this for those who are comfortable with heights and agile. We also suggest taking only the essentials to the room and storing the rest of your luggage at Britta's Pension.
The Mirrorcube: As the room name suggests, the entirely mirror clad exterior means that the room disappears in a camouflage created by the reflection of the landscape in the walls. The cube has been clad in an infra-red film, in order to prevent birds from flying into it. It is a four-metre cube with a birch-clad interior. There are six windows which create an incredible amount of light. Couples can enjoy relaxing in the double bed. The lounge area of the rooftop terrace can be accessed by a ladder. Accessed by a 12-metre long bridge walkway this is one of the most easily accessible rooms.
The Blue Cone: Yes, this is the bright red building. This traditional wooden structure is constructed of laminated birch wood. It has a minimalist interior with reindeer skins accenting the timber clad walls. The views from this room are magnificent and can be enjoyed from the seating area. There is a double room and then a loft sleeping area (which is accessible by ladder) with two single beds. This is one of the most accessible rooms as there is a bridge providing access. It is ideal for those who want to experience staying in a tree room without being too far off the ground.
The Cabin: The interior is a real favourite with guests. It offers a romantic tree top retreat for couples and stunning views across the Luleå River Valley. It is one of the larger rooms at 24 metres square. There is a large double bed, a tree top terrace, which is ideal for soaking up the views. The interior is simple and light. The Cabin is easily accessed via a horizontal bridge. The cabin has a real elegance and the small terrace area is a wonderful place to sit and enjoy the panoramic views of the valley below.
The Dragon Fly: The Dragon Fly is not only the largest room but also the newest addition. It can form a unique meeting venue or an excellent suite for those with a larger party to accommodate.
There is a 15-metre long ramp which provides relatively easy access. The panoramic windows bring the stunning landscape inside. You can sit at the large seating area and absorb the breathtaking views of the valley. The Dragon Fly is equipped with air conditioning and Wi-Fi. There are two rooms here and so it can easily accommodate two couples. A supplement is required when reserving The Dragon Fly, so please see pricing for further details.
The 7th room: The 7th Room is the newest and largest tree room and offers guests a Scandi-style log cabin experience 10 metres up in the air. The inside space consists of two double bedrooms, a sofa bed, lounge and bathroom, which has been furnished in a light and airy style. Outside, guests can climb out onto a net which provides patio space which provides views over the stunning Swedish valley below.
Other Facilities
The Tree Sauna –this is an exhilarating experience, where you can pay locally for a two-hour visit to the sauna and relaxation area. A hot tub is also available for rental at an additional charge
Showers are located in a separate building a couple of minute's walk from the rooms
Your meals will be served at Britta's Pension (guesthouse). The cosy dining area is full of character furniture and quirky charm. All meals are full of local home cooking. Hearty and warming meals enhance the welcoming atmosphere at Britta's
It is around a 10-minute walk uphill from Britta's to the area which houses the tree rooms. Britta's Pension also serves as the reception for The Treehotel. Britta and her husband Kent own the Treehotel. The guesthouse is Britta's pride and joy and it is easy to see how passionate both Britta and Kent are about the local area and their wonderfully unique, innovative and quirky accommodation.
Please note: Prices are based on you staying in either The Bird's Nest, The UFO, or The Blue Cone.
---
Image credit: Graeme Richardson and Treehotel
Read more
Read less
Personalise
Personalise this tour
---
Our pick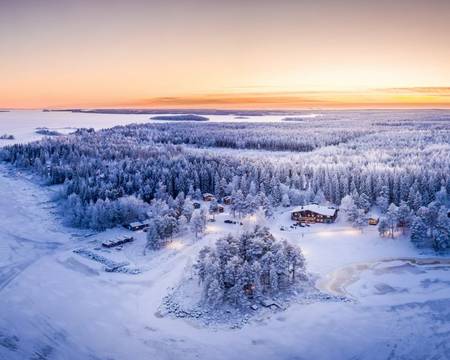 Have some fun in the snow as you learn how to travel across the frozen wilderness just like the locals do. During this cross-country skiing activity, you'll explore the winter wonderland surroundings of the lodge and get a real back-to-nature experience of the Lappish landscape.
Your local guide will teach you all the techniques needed to use the cross-country ski equipment. Then, once you are fitted with your skis, you will follow your guide along the snowy trails.
The weather and snow conditions will determine which route you will take - either along the solid-frozen sea, through the enchanting forest or gliding across the specially-carved snowmobile tracks. You will also stop to warm up with hot drinks along the way and enjoy the peaceful surroundings.
Duration: 2 hours
---
Image credit: Quinten Elpers
---
Other options
Activities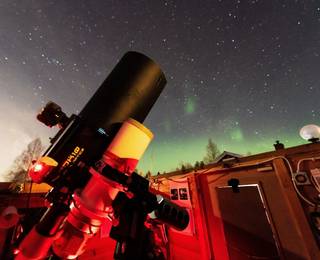 Arctic Astronomy
From: £158pp
After an early dinner, you will have a short transfer to the nearby home of Ulf Jonsson, an amateur consultant of aviation, space and photography who has built his own small, but fantastic, observatory.
Ulf will take you through the range of binoculars and telescopes on offer. Then, the roll-away roof will reveal the night sky and you'll get a brilliant view of the wonders overhead.
Ulf will point out constellations and explain how different cultures perceive the stars. If the moon is visible, you can track along the surface to observe the craters and mountain ranges. Of course, the real highlight in this part of the world is the Northern Lights and if conditions are favourable, you may get one of the most detailed views of this wonder. Should the Auroras appear, Ulf will also help you with your camera settings to capture this special moment.
Duration: 3 hours, including transfers
---
Image credit: Juo Foto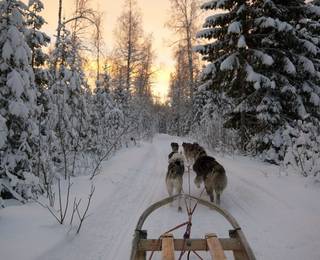 Full Day Dog Sledding Self Drive
From: £324pp
This tour is for adults only, so if you fancy something more active, then this full-day dog sledding tour certainly offers that.
You'll transfer to a husky farm, approximately 1 hour away, where you will be given expert guidance and tuition on how to control your team of dogs and how to drive the sled. You'll ride two people per sled, with several chances to swap drivers along the way, travelling through snow-covered forests and frozen lakes.
The tour involves approximately 4 hours of dog sledding, with breaks along the way, covering between 30-50km, depending on conditions. The tour also includes a wilderness lunch, cooked over an open fire and you will also get to spend some time with the dogs during and after the tour; a great photo opportunity!
Read more about this activity
Please note that the price does not include the cost of the transfer – please speak to one of our Travel Experts for a full quotation.
Duration: 6 hours in total (including transfers), approximately 4 hours of dog sledding (including lunch break)
---
Image credits: Graeme Richardson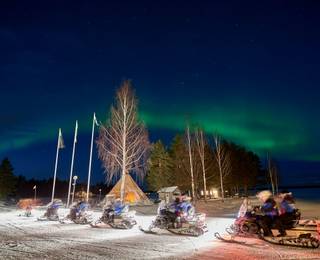 Northern Lights Sled Tour
From: £132pp
Enjoy a speedy search for the Northern Lights where you can relax at the same time. As you sit back on cosy reindeer pelts in a sled, your guide will pull you along with their snowmobile. Heading over the ice, you will journey between islands in your search for the Aurora. You'll make a stop for warm drinks and snacks around an open fire, as you search the skies for the Aurora
Read more about this activity
Duration: 2 hours (includes hot drinks)
---
©Graeme Richardson
Nordic Winter Skills
From: £132pp
Having learned how to fasten snowshoes, you will be taken by a guide on a three-hour trek over the nearby trails. They will share their knowledge about the local flora and fauna and also show you different animal tracks in the snow. Making a stop, you will be taught how to set up a small fire and prepare a hot drink in the wilderness. You will have a break at a 'kota' (teepee) and enjoy a delicious lunch which will be cooked by your guide on an open fire.
Duration: 3 hours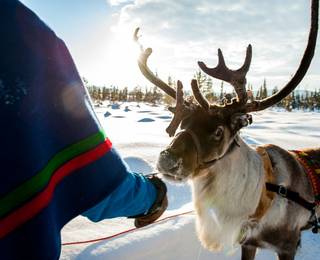 Sámi reindeer experience
From: £219pp
Gain an authentic insight into the Sámi culture and learn all about the significance of reindeer in the Arctic during this Sámi reindeer experience day.
You will meet with Henrik Andersson, a local Sámi man who will show you his way of life as you learn all about his culture.
Read more about this activity
Taking the short walk from Brändön Lodge to the reindeer enclosure, Henrik will talk to you about the life of these wonderful animals, the eight seasons of the region and how nature plays a major role in life in the Arctic.
You will then walk with the reindeer into the forest and towards a Sámi tent. Here, you will sit around an open fire with a hot drink and talk more with Henrik before enjoying a lunch of fresh and traditional ingredients.
Duration: 2.5 hours starting at 10am
Available: 17 Dec 2021 – 04 Apr 2022
---
Image credit: Lola Akinmade Akerstrom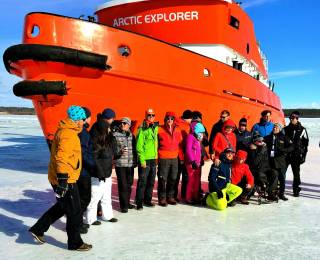 Icebreaker
The frozen sea is a sight to behold. A vast, thick sheet of shimmering white, stretching out far into the distance, it is hard to believe that the ocean lies below. The ship then cuts through the ice with apparent ease and suddenly the water is revealed. Shards of Ice surround the boat and you would be forgiven for wondering whether you are on an expedition to Antarctica. The title of the ship 'Arctic explorer' conjures up images of historic voyages and when you get out onto the open ocean it is difficult not to feel a sense of adventure.
Read more about this activity
You will take a 35-minute transfer to Luleå from your accommodation at Brändön Lodge or Pinebay Lodge, before picking up a second transfer from Luleå to Piteå, which takes approximately 50 minutes. Following an introduction and safety briefing by the ship's captain, the journey will begin in Pitsundskanalen, which is where the mouth of the river Piteälven meets the open sea. A mere 100 yards ahead of this point, the ocean opens out and there is a seemingly endless display of ice, which is easily broken by the 'Arctic Explorer'. The ship leaves a trail of ocean behind and this makes it possible to bathe in the freezing water.
You will be given survival suits which will provide protection from the cold and also prevents you from getting wet. Following this, you will have the opportunity to float on the water. It is an invigorating experience, and when you are lowered into the ocean you may have feelings of trepidation, but this soon replaced by delight. You can also experience walking upon the thick Ice of the frozen sea, which is a surreal experience, particularly if you imagine the contrast of a summer's day, where the water is flowing freely.
A hot drink and survival suits are included.
Duration: 2 hours cruise (5 hours total, including transfers and preparation time)
Available: 17 Dec – 04 Apr 2022 on a variety of days (start and end dates depend on ice conditions)
Please note: although children of all ages are welcome to join the cruise, due to the availability of survival suits, swimming in the frozen sea is only available for children 7 years and older, or children above the height of 125cm.
---
Image credit: Graeme Richardson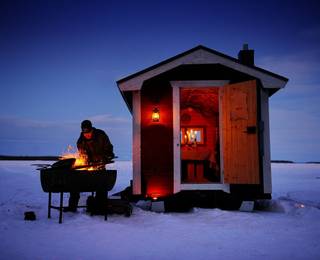 Aurora hideaway dinner
From: £167pp
For an extra special evening during your holiday, we highly recommend the Aurora Hideaway Dinner which is a private dining experience. This small hideaway is one of a handful that effectively offers a completely private "restaurant". Each is moved around the archipelago by snowcat to ensure that it is in the best possible location (based on the day's wind, weather and ice conditions).
Read more about this activity
You will travel via snowmobile-pulled sleigh into the wilds, where you will soon see the glow coming from a small hut in the distance. The heat from a cosy fire will await you inside.
Upon arrival, you will be served a drink of your choice (either wine, beer or a hot drink – any further drinks can be added to your room bill to be paid at checkout) along with a delicious soup. Your main course will then be prepared on an open fire before pudding and hot drinks are served.
We strongly recommend that between courses you pop outdoors in order to gaze at the sky, as the Northern Lights have been known to interrupt these meals! Your guide will also have snowshoes available for you should you wish to explore the surrounding area (close to the cabin) whilst your next course is being prepared.
If you are booking this activity from Pine Bay Lodge then a short car transfer will be required initially.
Duration: 3 hours (approximately)
Available: 17 Dec 2021 – 02 Apr 2022
Ice fishing is an incredibly popular activity in the Nordic Countries. You will be led to a fishing spot in a snowmobile-pulled sled.
Your guide will demonstrate how to drill through the ice and set up a fishing line.
Read more about this activity
It will then be a test of patience and luck to see if you make a catch – perch are commonly caught in the waters here. As you wait, you can sit back with a hot drink and sweet snack.
Duration: 2 hours
Available: 17 Dec 2021 – 04 Apr 2022 (start and end dates depend on ice conditions)
---
Image credit: Lapland Safaris
Hovercraft tour on the sea ice
From: £237pp
An experience which is only available in this part of Swedish Lapland, this hovercraft tour is a genuinely unique means of exploring the Luleå Archipelago. As you are driven along, you can look for sea eagles and seals. There will also be a break to walk over the sea ice and make the most of the outstanding scenery.
Read more about this activity
Duration: 2.5 hours including lunch
Valid: 17 Dec – 04 Apr 2022 (start and end dates depend on ice conditions)
---
Image credit: Graeme Richardson
Husky Sledding - Self Drive
From: £193pp
Riding a husky sled is definitely one of the most popular activities in Swedish Lapland. Having been transferred to a local husky farm, you will meet the enthusiastic dogs that will pull you along before learning how to control a sled. You will then head off following your guide, travelling two people per sled.
Duration: 1.5 hours
Valid: 17 Dec – 04 Apr 2022
---
© G Richardson
Northern Lights Snowshoe Walk with Wilderness Dinner
From: £123pp
Snowshoes allow you to easily get over areas of deep snow. This is particularly useful when trekking to find the Northern Lights because you will be able to get to less accessible Aurora-spotting locations.
Read more about this activity
After walking through the snow-covered forest, your guide will prepare a fire and begin cooking your evening meal, as you discuss the science behind the Aurora and learn about the local area. Hot drinks will keep you nice and warm as you look to the skies in search of the Northern Lights.
Duration: 3 hours including outdoor dinner
---
©G Richardson
Snowmobile Forest and Nature Tour
From: £140pp
Snowmobiling through the snowy forests and frozen sea and lakes of Swedish Lapland is an enchanting and fast-paced experience. Have been shown how to drive the vehicles, you will follow your guide on a trail, travelling two people per snowmobile. It is also possible to upgrade to one person per vehicle.
Anyone wishing to drive a snowmobile must be at least 18 years old and in possession of a full driving licence.
Read more about this activity
There is a two-hour and a four-hour version of this activity. Stops will be made for tea and coffee along the way, with the four-hour version also featuring lunch.
Duration: 2 hours /4 hours
4-hour safari: Available from 8th January until the 4th April 2022
Snowmobile tour to the Luleå Archipelago Pack Ice
From: £219pp
Add some speed to your adventuring with this snowmobile tour around the many islands of Luleå. Following an in-depth briefing on how to safely drive a snowmobile, you will drive behind your guide into the white land. You will travel two people per machine with the opportunity to switch driver and passenger.
You can also upgrade and go one person per snowmobile, getting the full driving experience. Anyone wishing to drive a snowmobile must be at least 18 years old and in possession of a full driving licence.
Read more about this activity
The ultimate destination on this trip is Brändöskär Island, which has a tranquil fishing village that looks out over pack ice and snow (depending on the weather and snow conditions). There will be a stop along the way and lunch will be prepared over an open fire, and you will head back on snowmobiles.
Duration: 4 hours including lunch
Available: from 10 January until 04 April 2022
Dates & Prices
Price Comparison Guarantee
Expertise and knowledge are key to witnessing the Northern Lights. We've been running Aurora hunting holidays longer than any company in the UK and with no lead in prices, no hidden costs and more included, we're confident our tours will come out on top.
Prices
Terms
For our full booking terms and conditions please click here
The Specifics
Holiday group size (approximate)
This holiday requires a minimum of 2 people to run, however, on some dates we require a minimum of 10 people for our flight allocation. Maximum 25 people (approximately). Please speak to our Travel Experts for further information.
Group Size
We always try to provide an approximation of the group size you can expect to be with for the duration of each of our holidays. It may be that you are joined by others for parts of your holiday (such as transfers and particular activities) but the above number reflects those you can normally expect to be with from beginning to end. If group size is something which is particularly important to you, please speak to our Travel Experts and they can suggest the best holidays for you.
Tailor-made holiday group sizes will vary for all activities as will the group size for any additional activities you book.
Minimum numbers required for a holiday to operate
Some of our holidays require a minimum number of participants to operate (as listed in the 'Group Size' section). If your holiday departure has not yet reached the minimum number, you will be told at the time of booking. In the unlikely event that your chosen date is not guaranteed by nine weeks before your scheduled departure date, we will contact you to discuss the available options as per our booking conditions.
Minimum and maximum age
If a specific minimum age applies to this holiday, it can be found in the Key Facts box on the holiday Overview page.
Unless otherwise stated in the Key Facts box on the holiday Overview page, the minimum age for participation in an Aurora Zone holiday is typically 12 years old (there may be younger children in some destinations who have booked with other companies). If an adult-only environment is important to you, then please contact our Travel Experts and they will advise on the best dates and destinations for you. If you are looking for a holiday designed specifically for families then please see our sister company www.activitiesabroad.com.
Itinerary amendments
The order of activities listed in this agenda is provided for guidance only, your final and detailed itinerary will be provided either with your final travel documents (which are uploaded into your online account around a week prior to departure) or upon arrival.
Medical History and Advice
We want our holidays to be accessible as they can be and will do our best to accommodate any special requests and requirements where possible. We have a wide range of holidays and destinations and so our travel experts will help find the best holiday for you.
In order to give us the best possible chance to do this, we ask that if you or any member of your party has any medical condition or disability which may affect your holiday or has any special requirements, that you tell us at the time of enquiry or booking. You must also promptly advise us if any medical condition or disability which may affect your holiday develops after your booking has been confirmed. You may need to provide a doctor's note and proof of insurance in some cases as the health and safety of our clients is absolutely paramount.
In providing this information you are allowing us to work with our expert local partners to ensure that your whole party can enjoy the holiday. By letting us know in advance we can discreetly work with you to adapt any part of the holiday which may potentially be challenging. Being able to prepare for this in advance makes an incredible difference to what we can offer and minimises any impact on your party and the rest of the group.
Unfortunately, if you choose not to share this information with us in advance then it may limit some or all of the itinerary you have booked, and we cannot be held accountable for any additional costs or missed activities resulting from this.
Insurance
Insurance is not included in your holiday, but it is a pre-requisite to travelling with us. You will need to ensure that you have cover for all the activities that you will be participating in during your holiday.
It is extremely important that you take out a suitable travel insurance policy at the time of booking. Plans do sometimes change, and you will need this policy should you need to cancel your holiday.
If you are struggling to find a suitable policy then details of our preferred provider, who will cover you for all the activities we offer, can be found on our website by clicking here. Please note that this policy is available to EU residents under the age of 75 only.
Booking Activities Locally
Additional activities can be booked locally in almost all our destinations. However, as per our booking conditions, we cannot be held responsible for any injury or loss incurred through participation in activities which are booked at your destination outside of our holiday itinerary (see our 'Terms and Conditions' for further details).
When arranging any such activity please always ensure that safety is your primary concern.
In some of our destinations, you can borrow or hire equipment for use in your free time. You do so entirely at your own risk. You must ensure that you are properly prepared, have the necessary equipment and knowledge (maps, etc) and ensure that where applicable, you follow marked routes. We recommend discussing your plans with the local teams who will be able to advise on the most suitable options for you.
Always let the reception/guide know where you are planning to go and take a torch and mobile phone (with the hotel/guide's phone number stored). It is also a good idea to leave your contact number and the time you expect to return to the hotel should the hotel need to contact you.
The UK Foreign Office Advice
Our clients' safety is at the centre of everything we do, and our operations team continually assesses and monitors the destinations we feature. We carry out thorough risk assessments and work closely with all of our suppliers to continually follow best practice. For up to date travel advice the UK government offers its Travel Aware website as well as the advice detailed below.
The Foreign and Commonwealth Office Advice
We receive all updates from the Foreign and Commonwealth Office (FCO) with regards to travel advice and we always ensure that we follow this advice in our operations. The FCO issues travel advisories for countries based on a very wide range of factors. They may provide notification about things as simple as a football match and crowds, or they may go so far as to advise against all travel to a region. We ask all our clients to refer to the relevant Travel Advice by Country for the destinations they are visiting in order to make an informed decision on the safety of the destination based on the details provided. It also provides vital information regarding entry requirements, embassy information, local laws and customs as well as specific safety and health. Guests should take responsibility for keeping themselves up to date with this advice. Please also ensure that, if you are transiting through another country, you have read the advice and meet the entry requirements for that destination too.
The FCO travel advice is applicable to British Passport Holders. Most governments will issue their own travel advice for a region and, if you are not a UK resident then you can find some helpful links below:
Australian Department of Foreign Affairs and Trade http://www.smartraveller.gov.au/
New Zealand Ministry of Foreign Affairs and Trade https://www.mfat.govt.nz/
Canadian Consular Affairs Bureau http://voyage.gc.ca/
The U.S. Bureau of Consular Affairs https://travel.state.gov/content/travel/en/international-travel.html
If the FCO deems that there is an unacceptable level of risk for UK citizens then, together with the government, they may issue an advisory against all travel to a region or country. If such an advisory is published, then we will act accordingly, and this may require the cancellation, curtailment or amendment of a holiday itinerary. These decisions are made on the basis of ensuring our clients' safety and will affect all clients on the holiday, regardless of their nationality.
If one of our local experts suggests an amendment due to a situation which develops locally then we may also take the decision to amend an itinerary appropriately.
If we have to cancel your holiday prior to departure you will be offered the option of an alternative trip (where any price difference will either be refunded to or covered by you) or a full refund of the monies paid.
If we have to curtail a holiday, then you will be refunded for any costs for the elements we have been unable to deliver, where we have been able to secure a refund from our suppliers. If we must reroute a holiday, then any basis for refund is determined on a case by case basis and dependent on whether the central holiday experience was provided or not.
Brexit information for British Passport holders
For the most up to date information on how the UK's departure from the EU may affect your holiday please click here to view our Brexit information for British Passport holders.
Flight schedule changes and connecting transportation
On your documentation, we will confirm your flight schedule. Sometimes the flight number, routing and timings might change prior to your departure. If the change is classed as a significant change then we will contact you to discuss this. Please see our booking conditions for details.
Flight schedule changes can impact on your pre and post-holiday travel arrangements if these have been booked separately to your holiday. We strongly recommend that you do not book transport (such as trains or transfers), car parking or non-connecting flights to the departure point for your holiday until you have received your final confirmed travel times when your final travel documents are issued. We are not responsible for the effect of any schedule change on your pre or post travel arrangements. We strongly recommend that you do not purchase non-flexible or non-refundable tickets to avoid cancellation and penalty charges.
Booking your own flights - cancellation disclaimer
If you have chosen to book your own flights, then you will need to wait until we confirm to you that the holiday departure has met the minimum numbers required to run (if applicable to your chosen holiday). Once the holiday is guaranteed to run, you will be informed and you can then make your arrangements.
If transfers are included in your holiday, please ensure that any potential flights will be met by our standard transfers (speak to one of our Travel Experts for advice) otherwise private transfer supplements may be applicable. Once your flights are booked, please send us a copy of your detailed flight itinerary.
Please be aware that most tickets are non-refundable in the case of cancellation. For this reason, we strongly advise you check the rules of the ticket and check the limitations of your cancellation insurance before booking. We cannot be held liable, in the unlikely eventuality that we should be forced to cancel or amend your trip, for losses incurred relating to any flight booking you have made.
Terms and Conditions
Our full booking terms and conditions can be found on our website: https://www.theaurorazone.com/booking-conditions
Payment and Cancellation Terms
Please note that the following cancellation terms supersede in part those mentioned in sections 7 of our general booking terms and conditions.
- More than 63 days prior to departure - Loss of deposit (plus the full cost of flights or other services where paid at the time of booking)
- 63 to 43 days prior to departure - 40%
- 42 to 36 days prior to departure - 60%
- 35 or less days - 100%
---
---