Overview
Get acquainted with Reykjavik on this four-night getaway, which features a range of Iceland's best-known attractions. A full tour of the 'Golden Circle' will take you to the country's famous geysers, the 'Golden Waterfall' of Gullfoss, and the splendid Thingvellir National Park. You can try Aurora spotting at the Northern Light Inn and also unwind in the geothermal waters of the Blue Lagoon.
What's included?
ALL OF THE ACTIVITIES AND SERVICES LISTED BELOW ARE INCLUDED IN THE HOLIDAY PRICE
Transfers: return airport transfers
Meals: 4 breakfasts and 1 dinner at Restaurant Reykjavik
Accommodation: 3 nights standard double/twin room at the Grand Hotel (or similar), 1 night in a standard double/twin room at the Northern Lights Inn
The following activities and equipment are included: transfer to Restaurant Reykjavik, full day excursion to the Golden Circle, entrance to Blue Lagoon, Northern Lights hunt on Videy Island, Northern Lights coach tour(order subject to change)
Services of expert guides
---
This four-night Reykjavik holiday offers the perfect introduction to Iceland's capital and some of the country's much-loved natural attractions. In addition, there are extensive opportunities to seek out the Aurora and hopefully catch a glimpse of this natural phenomenon as it dances in the dark skies.
A tour of the 'Golden Circle' will take you to the lovely Thingvellir National Park, which has been labelled by UNESCO as a World Heritage Site. Here, you can see the amazing Silfra Fissure, a separation point between the North American and Eurasian tectonic plates, which has some of the clearest water on the planet. Stand in awe watching the iconic geysers of the Haukadalur Geothermal Area, and take photos by the mighty Gullfoss Waterfall. You will also have the chance to spend time in the relaxing Blue Lagoon, soaking in mineral-rich waters and getting completely refreshed.
Two nights of dedicated Northern Lights hunting are included in this trip, in addition to a third night at the Northern Lights Inn which is located in an area away from artificial light, considerably enhancing your opportunities of gazing upon the lights from the comfort of your accommodation. An extensive hunt is undertaken on day 3 as you are taken from viewpoint to viewpoint, from the luxury of a comfortable coach, away from the city lights, and into the surrounding countryside. You will also take a unique Northern Lights tour by boat to the neighbouring Videy Island which is free from light pollution and is characterised by its immense silence.
Read more
We have left a day free for you to enjoy Reykjavik's highlights at your own pace, or to book some superb optional activities. These include getting a tour of the city and the surrounding area, a subterranean adventure inside an old volcano, and an epic journey inside the tunnels of Langjökull Glacier.
---
Photography credits: Visit Iceland, visitreykjavik.is, Blue Lagoon, Iceland Excursions
Agenda
Accommodation
A note on accommodation: Hotels around Iceland are in extremely high demand so if one of the hotels listed in this tour at the time of booking is not available you will be offered an alternative in the same location. The hotel will be as similar in standard as possible. We really recommend booking as far in advance as possible to avoid any disappointment.
Included in price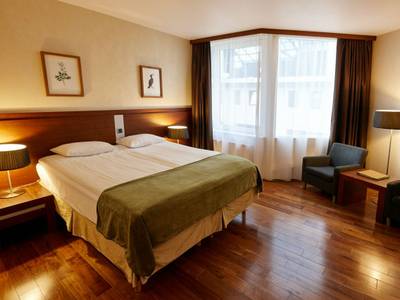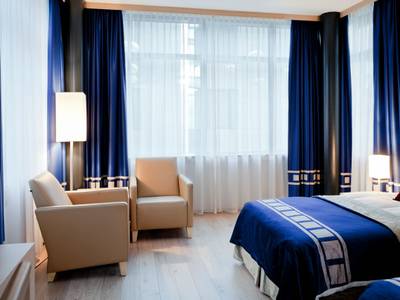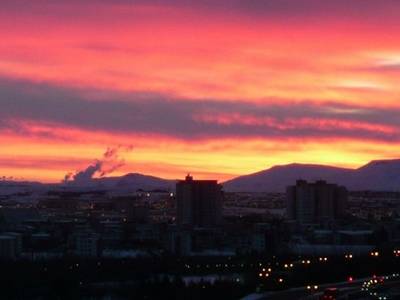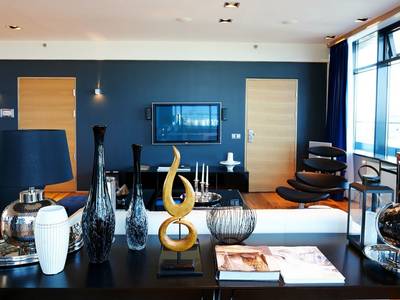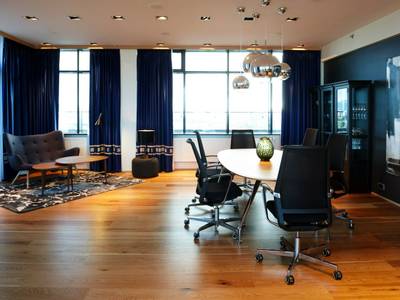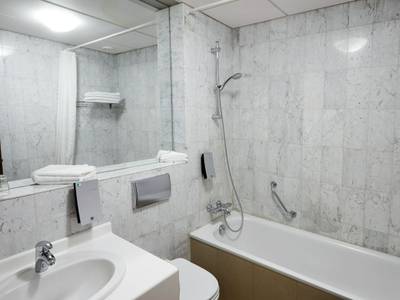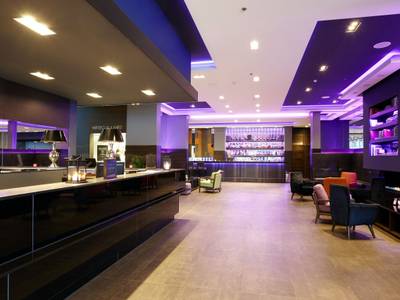 Reykjavik Grand Hotel
Nights:
1-3
The four-star Reykjavik Grand Hotel is conveniently located in quiet surroundings, close to the city centre. The hotel has 311 rooms and provides excellent service and a wide range of facilities.
The hotel is equipped with a modern and elegant restaurant with a focus on Icelandic and Nordic cuisine. You can enjoy dinner made with fresh produce or simply relax with a drink by the cosy fireplace.
The Reykjavik Grand Hotel has a fully equipped gym which guests can use free of charge and extensive spa facilities. Guests are given a 20% discount on the spa admission fee.
Facilities
Take advantage of the hotel's excellent location and enjoy a stroll through Laugerdalur's Botanical Garden before heading into downtown Reykjavik.
Keep active and enjoy free use of the hotel gym.
Sample local Icelandic cuisine or enjoy a drink in the cosy hotel restaurant.
Enjoy the free Wi-fi service which is available throughout the hotel.
Room type
Superior double/twin room: Superior double rooms are both bright and spacious with hardwood flooring and large windows. The rooms are equipped with a comfortable queen size bed or two large single beds and a private bathroom with a shower and bathtub. A satellite TV, hairdryer, coffee and tea making facilities and free Wi-Fi access are all included.
Triple Room: Triple rooms are spacious and decorated with brand new furnishings. The rooms contain either three single beds or a double and a single bed. A private bathroom with a shower and bathtub is included and each triple room is equipped with a hairdryer, satellite TV, coffee and tea making facilities and free Wi-Fi access.
Read more
Read less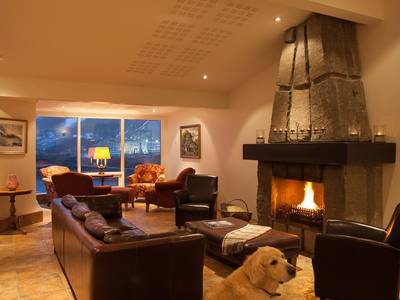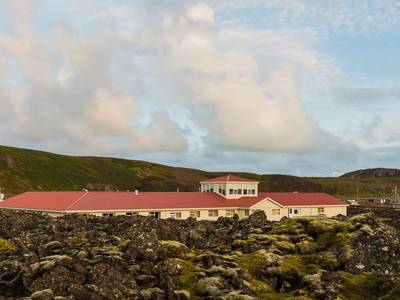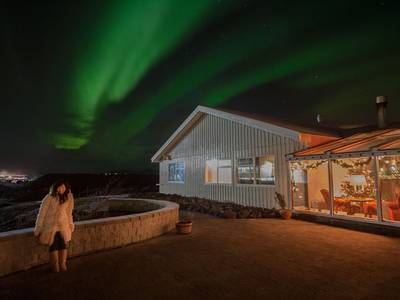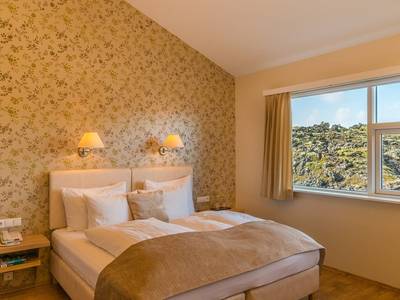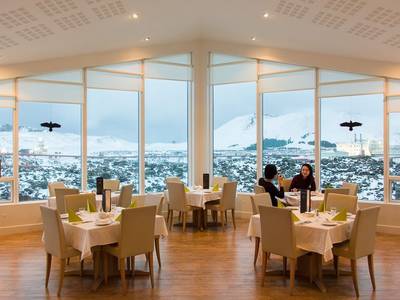 Northern Light Inn
Nights:
4
As the name may suggest, the Northern Light Inn is the ideal base for an Aurora-based trip in Iceland. Staying here puts you at a fantastic vantage point for a prospective display.
It enjoys an enviable position on the island, just a twenty-minute drive from Keflavik Airport and only a short distance from the world famous Blue Lagoon.
Whether your holiday includes a visit to the Blue Lagoon or you simply wish to visit again, then you can take the two-minute drive in the complimentary shuttle bus or a fifteen-minute walk through the picturesque moss-covered lava fields to reach it.
Hotel facilities
The hotel operates an 'honesty bar' in its beautiful living room with fireplace. The perfect location to exchange experiences with fellow travellers
In a panoramic setting, the restaurant serves buffet meals and is renowned for its 'Nordic soul food'. Meals include a varied selection of healthy contemporary cuisine coupled with the best of hearty Icelandic classics such as ocean-fresh fish, free-range lamb and home baked goods
Double/twin room
The hotel has 32 guest bedrooms in total. The rooms are geothermally heated and have en-suite shower rooms, tea and coffee making facilities, Wi-Fi and television. Their simple and bright decoration exudes a modern Icelandic charm and tranquil atmosphere.
Read more
Read less
Personalise
Personalise this tour
---
Our pick
Descend into an enchanting world of vibrant lava caves and craters as you look inside an age-old volcano on this tour. As you will be taking in the more familiar sights of Iceland back above ground, this makes for an excellent contrast. Please note that while most of the caves are high and spacious enough with a generally even ground, you may have to crawl and squeeze your way through some areas.
Duration: 3 hours
---
Image credit: Visit Iceland
---
Other options
Activities
Secrets of Langjökull Glacier
From: £262pp
Travel inside Langjökull Glacier for an experience like no other, making your way through some of the biggest man-made caverns of ice in the world. The cavern system has been formed out of a series of frozen tunnels and open areas that work their way 300 metres into the heart of the glacier, reaching a stunning, naturally formed ice cave at the centre.
Duration: 10-11 hours
Reykjavik Area Sightseeing
From: £52pp
Get familiar with Iceland's modern capital on this two- to three-hour tour. You will see Bessastadir, the official residence of the country's president, the lovely port town of Hafnarfjordur, the innovative Perlan Restaurant, Reykjavik's iconic Hallgrimskirkja church, the Parliament of Iceland, and the historic Hofdi House, where Ronald Reagan of the USA and Mikhail Gorbachev of the USSR held a summit in 1986 that led to the end of the Cold War.
Duration: 2-3 hours
---
Image credit: Visit Iceland
Dates & Prices
We include more, no hidden costs
On each of our holidays, you will see a clear outline of exactly what's included in the price of your holiday. We never use 'headline' or 'lead-in' prices like so many tour operators, as we prefer to include as much as we can, rather than see our clients incur considerable additional costs in our destinations.
Prices
Departure dates between

Mon 01 Oct 2018
to
Thu 27 Dec 2018

Enquire

Adults

£ 1,225

Single Adult

£ 1,940

Fri 04 Jan 2019
to
Sun 14 Apr 2019

Enquire

Adults

£ 1,225

Single Adult

£ 1,940
Next season's pre-sale dates and prices
To secure places for next season, you can make a provisional booking and fix the cost of your holiday at the provisional package price displayed online. Simply by paying a deposit, you will protect yourself from any package price increases. The departure dates and itineraries remain subject to change and we will contact you when the final dates and itineraries are confirmed. You will have 14 days to decide if you would like to go ahead. If you decide not to travel we will refund your deposit. We reserve the right to charge supplements where there are significant changes to an itinerary or increases in flight costs. Any non-package rates remain subject to change.
Departure dates between

Mon 30 Sep 2019
to
Thu 26 Dec 2019

Enquire

Adults

£ 1,375

Single Adult

£ 2,090

Fri 03 Jan 2020
to
Sun 19 Apr 2020

Enquire

Adults

£ 1,375

Single Adult

£ 2,090
Terms
For our full booking terms and conditions please click here
Holiday group size (approximate)
Groups approximately between 1-10 persons, although some excursions may include between 10-50.
Group sizes and minimum numbers
Most of our holidays require a minimum number of participants to operate. Minimum numbers are detailed on each holiday page and are always approximate. Group sizes for tailor-made holidays will vary for each of the activities. For private departures, you may also be joined by other guests during the activities unless you have discussed specific private activities with us.
If your selected date has not yet reached minimum numbers you will be informed at the time of booking. In the unlikely event that your chosen date has not reached the required minimum numbers nine weeks before your scheduled departure date, we will contact you and discuss the various options available to you. We will always do all we can to operate a holiday and in some cases, we may be able to operate the holiday by combining your itinerary with that of other guests for some activities (this may mean that the maximum group size is increased but this will be discussed in full with you).
If we are unable to operate the holiday then you will be offered the chance to transfer to an alternative holiday or date (subject to availability). If the alternative is more expensive you will be asked to pay the difference, if it is cheaper then you will be reimbursed. You will also be offered the option to cancel and receive a full refund of all monies paid.
See our booking conditions for further information.
Order of activities
The order of activities is always subject to change and you will be provided with your final itinerary upon arrival at your destination
SINGLE SUPPLEMENT
Please note that some of our holidays may incur a single supplement. Please speak to one of our Travel Experts who will provide you with a quotation.
Medical History and advice
If you or any member of your party is pregnant or has any medical condition or disability which may affect your holiday or has any special requirements as a result of any medical condition or disability (including any which affect the booking process), please tell us before you confirm your booking so that we can assist you in considering the suitability of the arrangements and/or making the booking. In any event, you must give us full details in writing at the time of booking and whenever any change in the condition or disability occurs. You must also promptly advise us if you become pregnant or any medical condition or disability which may affect your holiday develops after your booking has been confirmed.
See our booking conditions for further information.
Reduced Mobility
If you have a reduced level of mobility, then please contact our travel experts to discuss the suitability of this holiday in relation to your requirements.
Experience and fitness
We offer a vast choice of holidays which range from 'relaxed' to 'active' so there really is something for everyone and our holidays can be filtered by how active they are. Regardless of the chosen holiday, all activities will include tuition from a beginner's level and no prior experience is assumed.
If you are unsure about the physical demands of a particular holiday please contact us and our expert team will be happy to help.
See our booking conditions for further information.
Guides and safety
It is absolutely essential when partaking in any activity that you listen very closely to, and abide by, the instructions provided.
If there is anything that you are unsure of during a safety briefing or that you would like to clarify with the guides please make this clear to them immediately before starting the activity.
Our guides' word on activities is always final and your safety is their principal concern at all times, please respect their decisions. By following their instructions, your safety and enjoyment during each activity will be greatly enhanced.
See our booking conditions for further information.
Booking activities locally
In almost all of our destinations, you can book and pay for additional activities locally. Please note that we cannot be held responsible for any injury or loss that occurs through any activities that are booked in your destination (see our terms and conditions for further details).
Please always ensure that your safety is your primary concern when arranging any such activity.
Car Hire
If your trip includes car hire the named driver must have a credit card registered in their name which they can present when they collect their car along with their driving licence, as a deposit will be held on the credit card. Please see your trip dossier for full details.
Travelling in the Autumn requires a degree of flexibility. This period is a time of change in the far North and the arrival of the first snowfall can be very unpredictable.
Autumn activities: The daytime activities included in this holiday may be amended to accommodate the arrival of winter's first snows (an unpredictable science!). Walks may become snowshoe treks and guests may need to be flexible in their approach. This is unlikely to be the case in September but changes become more likely in October and November. Your Aurora hunting activities should be unaffected.
If cold weather clothing is required and will make your stay more comfortable then this will be included and issued to you upon arrival. If you would like to borrow any additional equipment then please just speak to one of the local guides. For more information please see the trip dossier.
CANCELLATION TERMS
Please note that the following cancellation terms supersede those mentioned in section 7 of our general booking terms and conditions.
- More than 63 days prior to departure = Loss of deposit (including the full cost of flights or other services where paid at the time of booking)
- 63 to 57 days prior to departure = 40%
- 56 days or less = 100%
Minimum age
The minimum age for participation in our itinerary is 12 years old, however, for some activities and transfers, you may be joined by other guests and this may include some of a younger age than stated. Any younger participants will be fully supervised and the guides will ensure that their participation takes place only if the activities will be unaffected.
Very few hotels have a minimum age and there may be families staying at them with younger children, especially during the holiday periods. We do have some itineraries and destinations which are guaranteed to be adult-only, so if this is important to you please speak to one of our Travel Experts.
To drive a snowmobile, you must have a full driving licence and be over 18 years old.
Reviews
Traveller Reviews
It was an awesome holiday; very well arranged. Thank you.
19 March 2018
by Soumyajit & Mousumi Ghosh
Classic Golden Circle tour was the best. It was day long tour of some of the best sights of Iceland and our guide and coach driver were great. The Blue Lagoon Geothermal Spa was well planned at the end of the hectic 2 days of tours to help us relax. The Northern Lights Inn was one of the best places we have ever stayed at.
---
---