Luleå
Luleå sits on the Bay of Bothnia which freezes in winter. Imagine standing on the frozen sea and watching the sky ablaze with swirling green light!
About
The Aurora Zone trips to Luleå are based in and around the Luleå Archipelago, a simply breathtaking region of Swedish Lapland situated just 100km south of the Arctic Circle. Here, guests are at the ideal base to sample some of the Arctic delights of the region - from exhilarating activities across the pack ice to scenic tours to potential Aurora viewing.
Luleå tourism is based on developing accommodation options and activities in such a way that there is no damage to the environment or the traditional values of local society. As such, there is a range of independent and locally-run businesses, which are ethical as well as enthusiastic in their approach and show a huge amount of passion to this small but significant region. Working alongside Visit Sweden and SAS, we're proud to have also championed a CO2-reducing direct flight from London Stansted to Luleå to further this sustainable approach to tourism.
The region is also home to the world-famous Treehotel and we strongly recommend extending your holiday to spend a night in one of the unforgettable tree rooms.
---
Speak to our Aurora Experts
01670 785012
Natural Wonders
The archipelago consists of over 3000 islands and islets which in the depths of winter are icebound creating not only an endless vista of frozen scenery but also pathways of ice and snow on which to ride a snowmobile, travel via hovercraft or mush a team of eager huskies across. Where the ice meets the sea, walls of pack ice build upwards, sometimes up to 10 metres creating spectacular formations to marvel at.
The water that surrounds the islands is brackish, meaning that the salt content is low, attracting a wide range of wildlife including cod, herring and salmon as well as rare bird breeds and seals that make the archipelago their home in the autumn months. More inland, there is wildlife to be seen in the forests too and some winters, Sámi reindeer herders from the Lule River valley will bring their herds across the ice for grazing on the islands.
A Fantastic Spot
Whether you are staying at Pine Bay Lodge or Brändön Lodge you will enjoy spectacular views of the frozen sea and surrounding forests from there locations on the coastal edge of the Luleå Archipelago.
In Luleå, you are never far from nature, be it the fields of ice, the trees or the rivers and guests will no doubt feel they are part of a long history of people that have worked harmoniously with their surroundings for many years. Indeed, people have lived and worked here for centuries, from the early days of fishing, farming, and hunting to the more recreational and touristy roles that are occupied today.
Given its positioning close to the Arctic Circle, Luleå is a fantastic spot from which to seek out prospective Auroras and dazzling displays are seen frequently here if the conditions are right. Add this to the natural scenery and range of activities and this is surely an ideal winter experience.
On any of The Aurora Zone trips to Luleå, you can be sure of not only the chance to marvel at the spectacular nature but also enjoy a memorable mix of Arctic authenticity and genuine hospitality.
Credit: Graeme Richardson & Andreas Wälitalo
Read more
Read less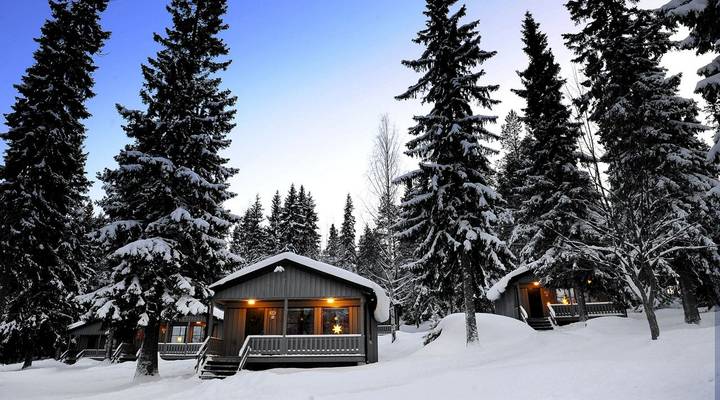 Popular holidays to Luleå
Holidays
Accommodation