Abisko
Abisko sits in a vast bowl of hills which, along with the prevailing winds, combine to break up the cloud cover. Clear skies are key to Aurora hunting so it's little wonder that Abisko is considered one of THE top Northern Lights destinations.
About
Clear skies are an Aurora hunter's true friend, if cloud cover blocks your view of the night sky then you simply can't see the Aurora. Whilst our Aurora hunting formula is designed to allow you to hopefully hunt down clear skies during your holiday, it helps if the region's weather patterns are historically on your side.
The small village of Abisko is nestled quietly in a bowl of hills and mountains which, when combined with the prevailing winds, create a micro-climate which provides some of Sweden's most cloud-free skies. It just so happens that Abisko also sits slap, bang in the middle of The Aurora Zone and so it is no coincidence that it has become hugely popular with Northern Lights enthusiasts.
We teamed up with husband and wife team, Dick and Mina, at the amazing Abisko Mountain Lodge over a decade ago, because we love the ambience of their small lodge, as well as the warm hospitality and excellent restaurant. The ethos here is to make sure that guests see the best of the Swedish Great Outdoors and all the guides have a wonderful passion for their surroundings. With a focus on local produce in the restaurant, unforgettable activities and an exceptional Aurora record, this lodge deserves its fantastic reputation.
---
Speak to our Aurora Experts
01670 785012
Tailored time and bucket list ticks
We feature two holidays at Abisko Mountain Lodge.
The first is a dream for those who like to tailor their own time. Our tailor-made holiday at Abisko enables you to pick and choose from the extensive list of daytime and Aurora activities on offer and create your own itinerary. The holiday is based on a minimum of three nights at the lodge and you can add as many extras as you would like. You can also choose to add time at the world famous ICEHOTEL® onto the end of your stay.
Daytime highlights include the chance to go snowshoeing, exploring in the National Park, visiting Narvik in Norway, ice climbing, reindeer experiences, snowmobiling and dog sledding.
At night the Aurora activities available include the chance to spend a night in the company of an expert Aurora photographer hopefully capturing the lights on camera, Aurora snowshoeing, Aurora hunts by car and the chance to visit the famous Aurora Sky Station on the mountain behind the lodge.
The second holiday to include this Aurora hotspot is our Ultimate Aurora Adventure, which does exactly what it says on the tin. This encapsulates the best that Sweden has to offer. We've included the Tree Hotel, ICEHOTEL® and four Northern Lights hunts from Abisko Mountain Lodge along with exciting Arctic activities such as dog sledding. It's true bucket list stuff.
Aurora hunting
We regularly visit our featured destinations and there's always a bit of a scrap when an Abisko trip is due. Some of us want to go for the stunningly expansive wilderness landscapes, others for the fabulous food at the Abisko Mountain Lodge but there is, of course, one common denominator, the Northern Lights.
Abisko's National Park boasts some of the least cloudy skies in Sweden which makes it so enticing to Aurora hunters.
There are many exciting ways of searching for the Aurora in Abisko. A particular favourite with us is to hit the road in a minibus. This allows you to visit some different vantage points and experience real darkness away from any artificial light pollution.
Another favourite is to go snowshoeing up the hill behind the Mountain Lodge. It can be a fairly energetic undertaking but the views of the Arctic firmament are unsurpassed. Should the lights choose to dance while you are there then you are in for a treat.
There's even more to this remote area than the Northern Lights. The IceHotel is a major draw and a visit or an overnight stay is pretty much obligatory. The work that goes into creating this monument to snow and ice architecture is incredible and the results are spellbinding. Quite simply, it is another of those "must-do" experiences.

The great thing about our tailor-made holiday at Abisko is that you can simply add in the activities and experiences you choose. Our Ultimate Aurora Adventure has been designed to encapsulate the key highlights for you.
---
Image credits: Chad Blakley and Lightsoverlapland
Read more
Read less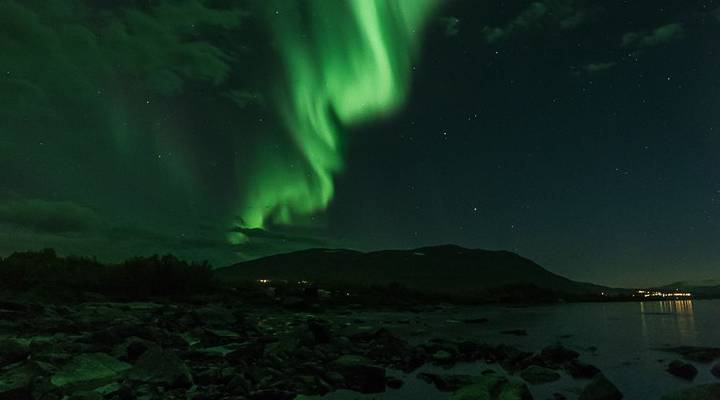 Popular holidays to Abisko
Holidays
Accommodation