Lyngenfjord and Alps
From glistening glaciers and snow-topped mountains to deep gorges and enchanting fjords; the Lyngenfjord and Alps are a spectacular place to witness the Aurora Borealis.
About
Deep within the Arctic Circle is the tranquil Lyngenfjord – an appropriately named place, given that it originates from the word 'logn' which means 'quiet' or 'still'. Meeting its shores are the grand slopes of the Lyngen Alps, an untouched mountain range, with peaks which tower 1500 metres above the waters of the fjord. This combination ensures some staggeringly beautiful scenery which is complemented even further by glaciers, beautiful mountain lakes and deep gorges.
Speak to our Aurora Experts
01670 785012
The Northern Lights
Given its positioning, 300km inside the Arctic Circle, this region is an ideal location from which to seek out dazzling displays of the Aurora Borealis, which are seen frequently here when the conditions are right.
Your chances are further improved with our trips here which include activities specifically designed for hunting the Northern Lights.
Experience a pursuit of the lights on a dog sledding adventure, search for wildlife on a RIB boat adventure, and sleep in a glass-ceiling Crystal Lavvo designed for gazing at the night sky.
More than just looks
Whilst the Northern Lights and spectacular scenery might be enough to tempt you to explore the incredible Lyngen Peninsula, there is plenty to entice you to this part of Northern Norway.
This part of Northern Norway is rich in heritage and steeped in culture, which you will be able to witness for yourself on your Aurora Zone adventure.
You will see the traditions of the fishing industry which remain strong in this region and meet with the indigenous Sámi people to learn about reindeer herding.
Image credits: Visit Lyngenfjord, www.nordnorge.com Konrad Konieczny, Jan Olsen, Gaute Bruvik, Baard Loeken, Visit Lyngenfjord ®Jan R Olsen Foto, Green Gold of Norway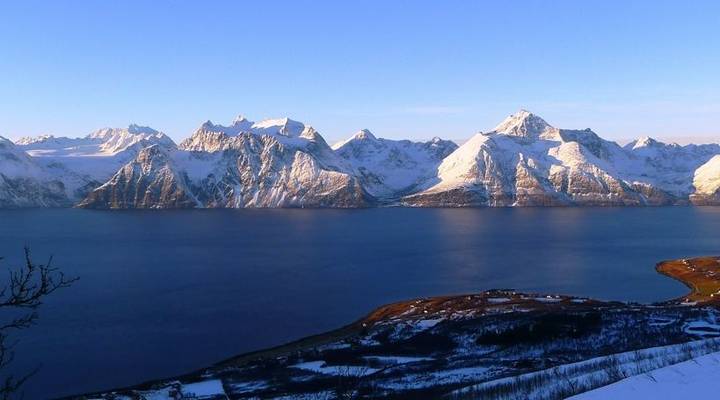 Popular holidays to Lyngenfjord and Alps
Holidays
Accommodation