Ranua
With a famed wildlife park home to Arctic animals and excellent Aurora and snow-based activities, Ranua offers the full Finnish experience.
About
Ranua is a small village in Finnish Lapland renowned for its wildlife park. Home to around fifty Arctic animals, all of the species, some of which are endangered, live in carefully designed enclosures to match their natural habitat.
Though it sits just below the Arctic Circle - in fact just an hour away from Rovaniemi - it has excellent Aurora potential. If conditions are favourable, you need only travel just outside the village and into the surrounding dark wilderness to see a display.
Speak to our Aurora Experts
01670 785012
Ranua's Wildlife Park
The Wildlife Park, which is situated just across the road from your hotel at Gulo Gulo Holiday Village, allows you to encounter a variety of Arctic animals in their natural environment. From bears and wolves to lynx and moose, you can witness an array of Arctic species at close quarters. The star of the show, however, is the regal polar bear - not to be missed during any visit to Ranua.
The park is also part of the European Association of Zoos and Aquaria and follows their aim of conserving healthy populations of endangered species in wildlife parks and preserving their natural habitat. Ranua also rehabilitates injured or orphaned animals with the aim of releasing them back into the wild. The polar bears, European mink, wolverines, Arctic fox, common otters and musk oxen at Ranua are all part of the European Endangered Species Programme, meaning that they are the pedigree animals of their species and of huge significance.
Winter Activities in the Wilderness
Alongside the park, Ranua offers many different experiences to complete your bucket list winter adventure. You can try dog sledding, one of the most sought-after activities in this region, or experience more animal encounters during a reindeer safari. The adventurers could try snowmobiling through the wilderness and those wanting to relax could opt for a peaceful afternoon ice fishing.
As night falls, the experiences continue with a range of dedicated Aurora activities dedicated to maximising your chances of witnessing Mother Nature's greatest wonder. You could sit in a cosy horse-drawn sleigh as you're led out into the night and on the search for the Northern Lights, you could cover a greater distance on a snowmobile or you could simply lay in bed and look out of your Aurora accommodation, the Arctic Fox Igloos, in hopes of witnessing a display. There are plenty of memorable moments to be had in Ranua!
Your base at the modern Gulo Gulo Holiday Village is located just across the quiet road from the Wildlife Park, giving you easy access to the attractions. What's more, many of the unforgettable winter activities start right on site.
Click here to view our trips to Ranua.
Image Credits: Marko Junttila & Jari Romppainen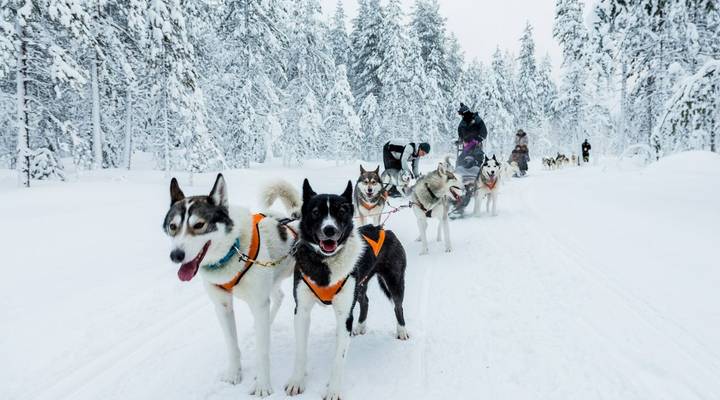 Popular holidays to Ranua
Holidays
Accommodation