Nangu
Situated on the southern shores of vast Lake Inari, Nangu is far removed from light pollution, making it the perfect base for a host of Northern Lights hunting activities.
About
As you leave Ivalo airport and make your way north on your approach to Lake Inari, already you will feel as though you are leaving civilisation behind and venturing further into the wilderness. Eventually, you will come to what you think must be the end point – surely it can't get more secluded than this? Keep going, and you will come to this remote destination - so remote, in fact, that it does not have a name. It is merely you, the lake, awe-inspiring views, a clear vista of jet-black sky, and the adults-only boutique Hotel Nangu, nestled amongst the snow.
Jouko and Mari, who already own fantastic hotels in Nellim and Muotka, have waited patiently for the opportunity to offer accommodation in this destination. The primary allure is that the vast expanse of dark sky over the lake makes for amazing Northern Lights-spotting opportunities. The secluded nature of the area also promises an extremely peaceful break, so when the opportunity presented itself, they began their newest venture here and renovated Hotel Nangu.
---
Speak to our Aurora Experts
01670 785012
An Active Escape
The vast Lake Inari, which is the third largest lake in Finland, is an excellent base for excursions and activities.
Simple snowmobile routes, without obstacles such as trees to slow you down, are mapped out across the lake by expert guides. The opportunity for ice fishing is also right on your doorstep, as you head out with a guide to drill a hole in the ice and wait patiently for something to emerge from the icy depths. And what's more, you can cosy up in a sledge in order to get there, as your guide pulls you along in his or her snowmobile until you reach the ideal fishing spot.
Venturing away from the lake, there are snowshoeing trails, cross-country skiing routes and an Aurora Camp, where a campfire and hot drinks await your arrival. Nangu's proximity to Nellim means that you can return to civilisation for a husky and reindeer day.
This day-long excursion includes a snowmobile-pulled sleigh ride, a husky safari, a Sámi culture and reindeer experience and a visit to Nellim's stunning log church.
Nangu's location is ideal for Aurora hunting and the evening activities available have all been designed to maximise your chances of seeing the lights. The lack of light pollution means that the sky is a perfect canvas for an Aurora display.
Just For Adults
As well as its ideal location, Hotel Nangu has a number of other draws. Throughout the whole of winter, the hotel only accepts adults as guests, in order to avoid the bustle of excitable families wanting to meet Father Christmas. The design of the hotel oozes elegance, and the site is made up of a series of log buildings, each holding varying accommodation types and facilities.
The main building consists of the reception area and an exquisite restaurant with a log interior.
All rooms are decorated beautifully, with a cosy and rustic wooden interior and large windows for admiring the landscape. It is also possible to upgrade to a superior room with a panoramic window that looks out onto the lake, offering the potential for Northern Lights viewing from the warmth and comfort of your room. And finally, the traditional hotel sauna is the ideal space to unwind after a cold and busy day out in the snow.
Nangu may be in a remote location but there is no compromise on comfort here.
Photography by Markku Inkila and Matt Robinson
Read more
Read less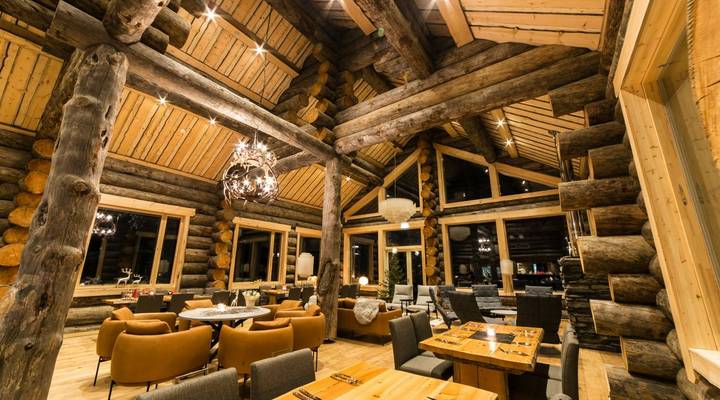 Popular holidays to Nangu
Holidays
Accommodation