Overview
Spend 5 nights in Finnish Lapland, surrounded by peaceful winter wilderness that doubles up as an excellent Northern Lights searching ground. Your evenings are spent Aurora hunting in many different ways, including an exceptional night glamping in an Aurora Dome. Your days are left free to relax in the pristine landscape and nearby Arctic sauna.
What's included?
ALL OF THE ACTIVITIES AND SERVICES LISTED BELOW ARE INCLUDED IN THE HOLIDAY PRICE
Flights: return flights from London Heathrow to Kittilä (via Helsinki). Flight routes are subject to change
Transfers: return transfers from Kittilä Airport
Accommodation: 4 nights hotel room accommodation and 1 night in an Aurora Dome
Meals: 5 breakfasts, 4 lunches, 5 dinners
Activities: Northern Lights campfire, reindeer Northern Lights experience, Arctic Elements Sauna World, Northern Light snowshoe, Aurora glamping (order subject to change)
Fully qualified guides and instructors during activities
Cold weather clothing for the duration of your stay
24/7 assistance from our UK based operations team and in destination support from our local partners
---
Close to the borders of the stunning Pallas Ylläs National Park, tucked away in the north-west corner of Finnish Lapland sits Torassieppi, a peaceful winter landscape full of Arctic and Aurora opportunities.
The surrounding wilderness means a lack of light pollution, giving you ideal viewing conditions for the Northern Lights. Your itinerary includes three dedicated activities to get you out further into the wilds and on the search for the Aurora. From visiting a prime lookout spot with your expert guide to putting on snowshoes and then via a reindeer-pulled sleigh, you'll be searching the skies in memorable ways.
A true highlight in your Northern Lights quest is spending the night in an Aurora Dome, situated on the banks of the frozen lake. The insulated domes come equipped with a large Perspex north-facing window, giving you the best possible views of the night sky, and if conditions are favourable, the Northern Lights.
Your days here have been left free to tailor your time as you please. This means you can make your stay as adventurous or relaxing as you like, with a visit to the Arctic Sauna World included and a range of optional activities to create your dream winter itinerary.
Agenda
Accommodation
Included in price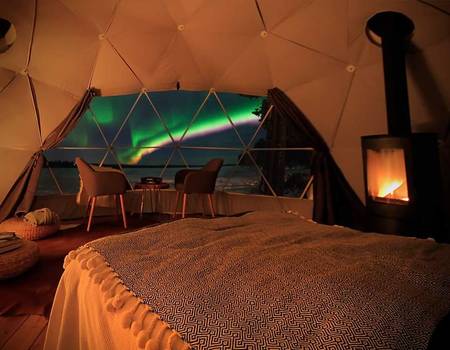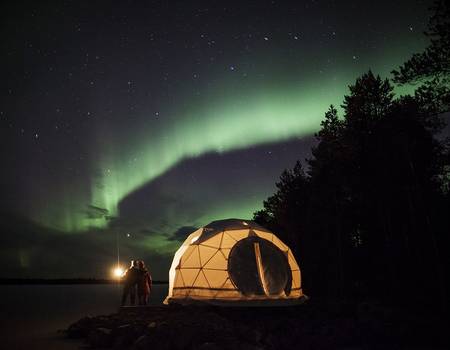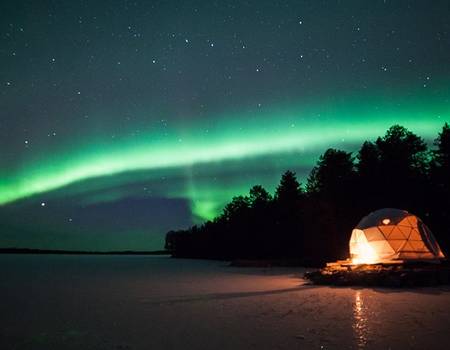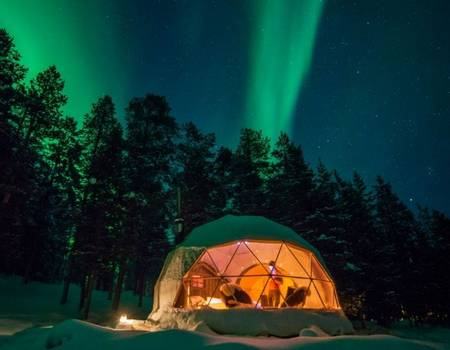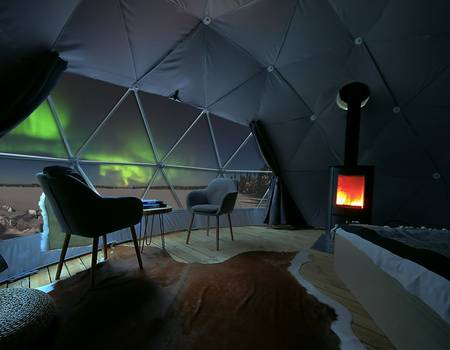 Aurora Dome at Torassieppi
Nights:
1
These incredible structures at Torassieppi offer a rather different overnight experience for guests. Shaped like domes, these tents have pleasant, cosy décor, with one wall designed to be see-through, allowing you to gaze at the night sky in search of the Northern Lights.
Each dome has a double bed and a wood-burning stove. Toilet, shower and sauna facilities are just a short walk away (around 50-100 metres).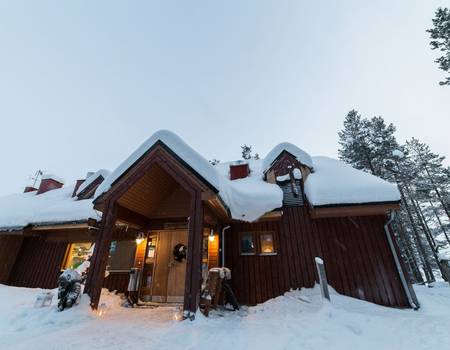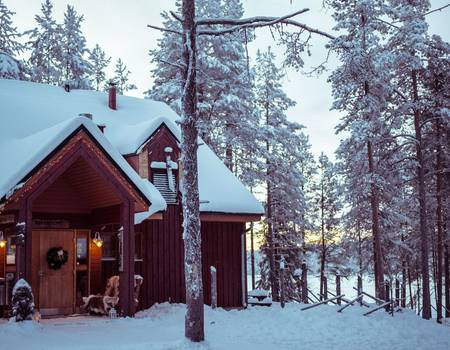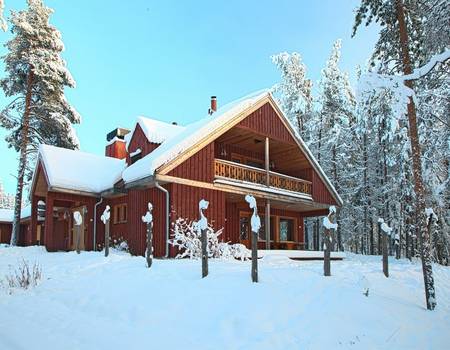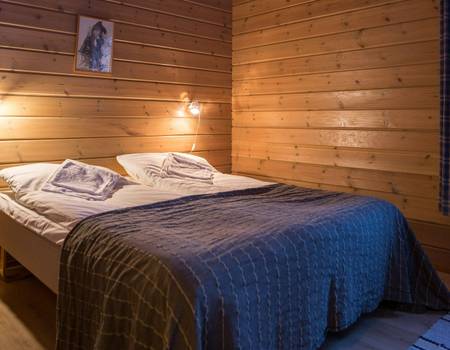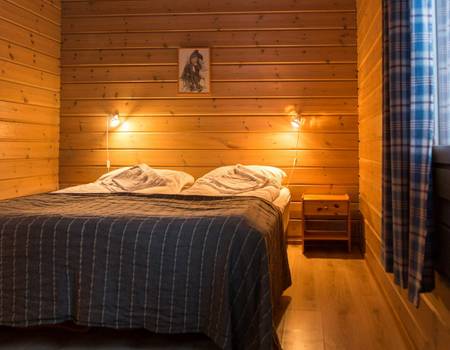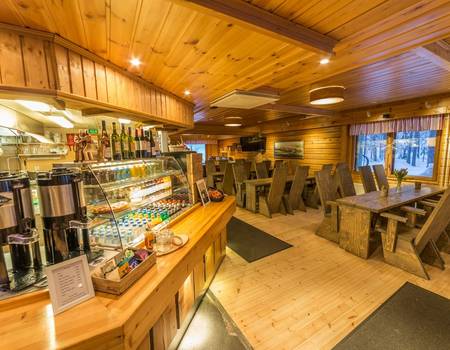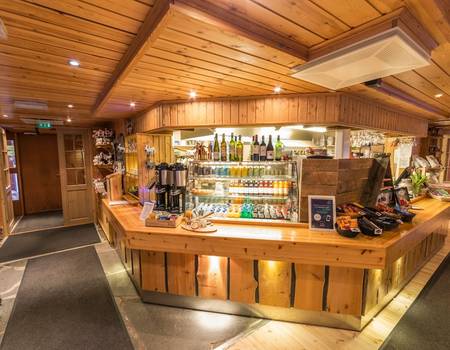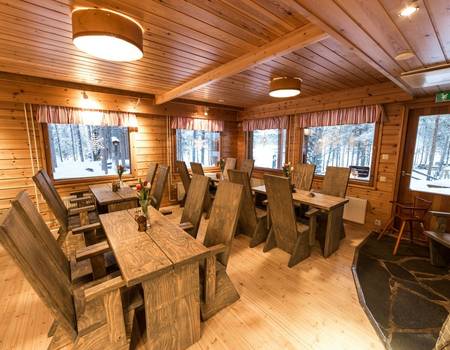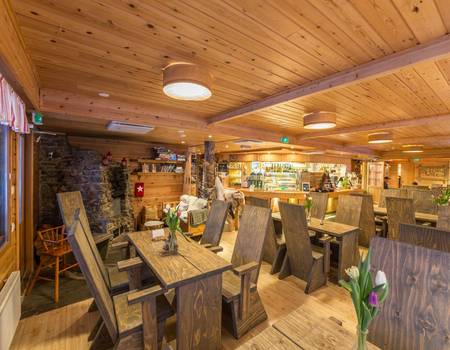 Torassieppi Reindeer Farm
Nights:
2-5
Located on the edge of Lake Torasjarvi, and bordering the Pallas Ylläs National Park, Torassieppi Reindeer Farm is situated in one of the most picturesque wilderness areas in Finland.
The farm building dates back to 1847 making it one of the oldest in the area. Today it has been lovingly renovated and accommodation has been added nearby so that guests can stay in this spectacular spot.
Torassieppi Reindeer Farm is also listed by National Geographic Travel as one of the places to visit in 2017.
Here they offer guests a choice of accommodation, in winter cottage rooms or in detached winter cottages.
Facilities
Torassieppi has a central restaurant and reception building which is a short walk from the rooms and winter cottages. A roaring fire accompanies the evening meals which include as much local produce as possible Typically they are served in a buffet format and include traditional Finnish ingredients such as reindeer (of course dietary requirements are also catered for).
There is no bar but alcohol can be purchased from the restaurant so it can be enjoyed with your evening meal.
The reception building also has a small gift shop area which sells a variety of local crafts, including reindeer hides and traditional carved Kuksa cups.
There are two lakeside saunas at Torassieppi which are both heated in the evenings for guests to use. Separate facilities are provided for both men and women.
There is free Wi-Fi in the main restaurant building.
Tea and coffee are available free of charge throughout the day in the hotel restaurant / bar area.
During the winter months, the nearby Torassieppi Winter Village is carved out of snow and you can personalise your stay by adding an overnight in one of the amazing snow igloos. You may also choose to add a night of Arctic glamping in one of the famous Aurora Domes, which are only a short walk away from the main building and available all year round. Please see our personalise section for further details of both options.
A perfect spot to search for the Aurora, there are also a few wooden benches on the edge of the frozen lake, which are ideal for enjoying the expansive wilderness and hopefully a Northern Lights display or two
Room types
DOUBLE/TWIN ROOMS: Torassieppi has only eight rooms which are located a short walk from the main building. There are two rooms to each small cabin building. Each room is completely independent with their own en-suite bathroom and entrance but some rooms can be interconnecting at the guest's request. The rooms can be made up as either twin or double bedded rooms and are really cosy with all the facilities you will need to enjoy your stay including tea and coffee making facilities and hairdryers.
---
Image credits Harriniva Hotels & Safaris
Read more
Read less
---
Other options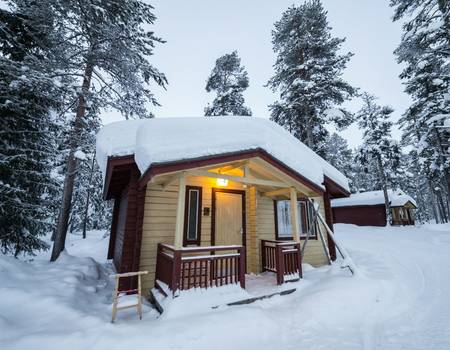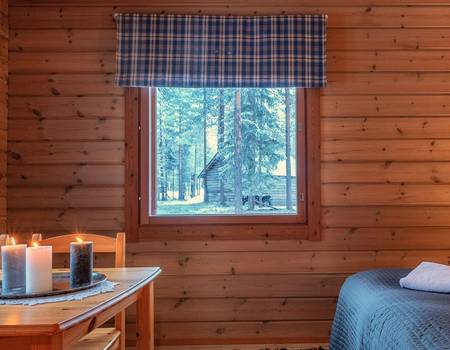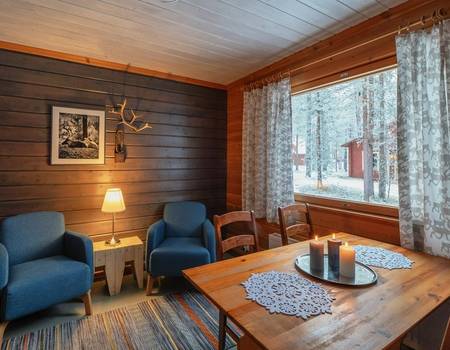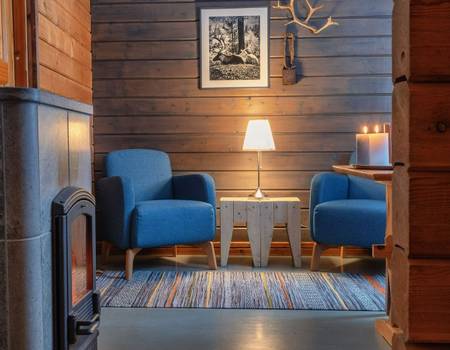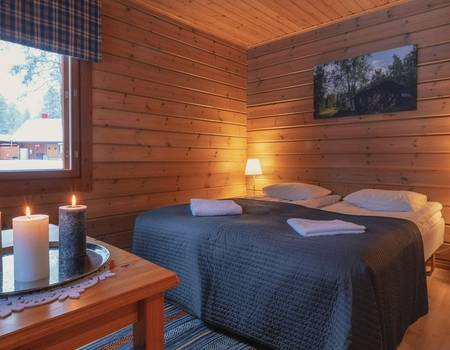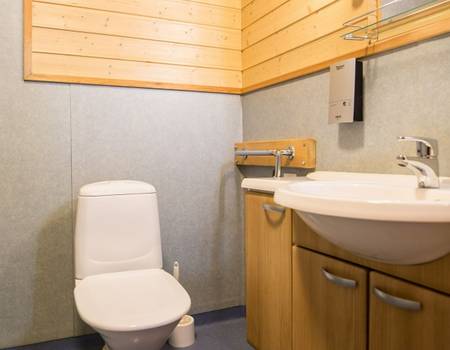 Torassieppi Winter Cottages
Torassieppi offers 8 detached winter cottages to which you can upgrade. The cottages are ideal for those who want more space or for larger groups of people. Located close to the main restaurant, they are only a short walk away through the snow-laden trees and close to the frozen lake beyond.
The smaller cottages contain a fireplace, living room area, toilet, shower, hairdryer and kitchenette. There are two bedrooms, one with twin beds and another with three beds (including a set of bunk beds). These can accommodate two to five people, we feel they are ideal for 3 or 4 adults.
Torassieppi also has some larger cottages and these have their own sauna in addition to the fireplaces. The larger cottages offer a living room area, toilet, shower, hairdryer and kitchenette with a kettle. They have two bedrooms which have twin beds and a sleeping alcove with bunk beds. Whilst they can sleep up to 6 people, we feel that they are most suited to 4 or 5 adults.
Please contact our Travel Experts for a quotation if you would like to upgrade to a winter cottage.
Read more
Read less
Personalise
Personalise this tour
---
Our pick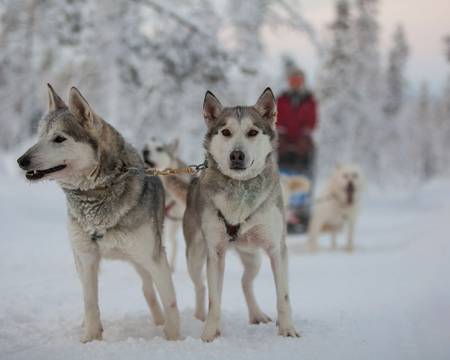 Visit the Arctic Sled Dog Centre and meet the team of dogs that will be taking you on a 15km (approximately) dog sledding adventure.
After a full safety briefing and instructions, you'll take to the sled and drive your team of dogs through snow-covered forests to see the best of the winter wonderland.
Read more
Two people will ride per sled and we recommend taking it in turns so you can sit back and enjoy the ride.
---
Duration: 2.5 hours in total including transfers (approximately)
Minimum group size: 2 people
Suitable for: aged 5 years and over
Available: Monday at 10 am and Tuesday, Thursday and Saturday at 2pm
---
Other options
Activities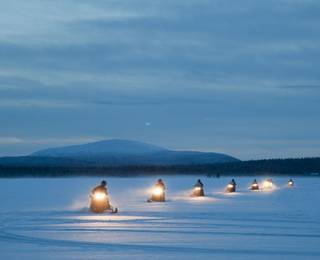 Panorama Safari
From: £99pp
After a full safety briefing and instructions, you will drive your snowmobiles through the Lappish winter landscape (2 people per snowmobile)
This sightseeing tour lasts for around 2 hours (30km) as you move across the snow to reach incredible lookouts.
Read more about this activity
You must over 18 to drive a snowmobile and hold a valid driving licence.
---
Duration: 2 hours (approximately)
Minimum group size: 2 adults
Suitable for: aged 4 years and over (children can ride in a sled pulled by the guide's snowmobile).
Available: Tuesday and Wednesday at 2pm and Sunday 10am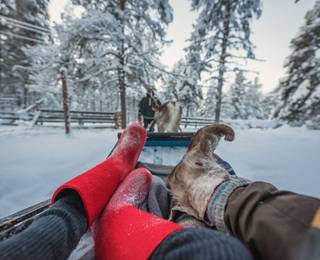 Local Culture
From: £129pp
Reindeer herding is intrinsic in Lappish culture. During this activity, you will gain an authentic insight into this tradition at one of the oldest reindeer farms in Finland.
You will learn all about the fascinating history of the family who used to live here and visit the museum on site.
Read more about this activity
You will also meet the animals as they pull you in a traditional sled through the forest.
Lunch is served in a traditional Lappish Kota around an open fire. You will also see the impressive Winter Village Snow Hotel which is situated next to the farm.
---
Duration: 3-3.5 hours (approximately) including lunch
Minimum group size: 2 adults
Suitable for: Aged 4 years and over.
Available: Monday, Wednesday and Saturday at 11am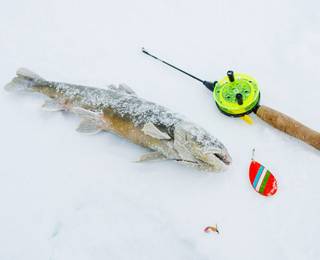 See who can get the catch of the day during ice fishing. You'll be provided with all the equipment as well as an introduction to winter fishing. This trip also includes a hot drink and if you catch a fish, the kitchen will prepare it for you.
Read more about this activity
---
Duration: 2 hours (approximately)
Minimum group size: 2 adults
Available: Thursday and Saturday at 10 am
---
Photography by Juho Kuva Visit Finland
Dates & Prices
Price Comparison Guarantee
Expertise and knowledge are key to witnessing the Northern Lights. We've been running Aurora hunting holidays longer than any company in the UK and with no lead in prices, no hidden costs and more included, we're confident our tours will come out on top.
Prices
Departure dates between

Sun 02 Jan 2022
to
Fri 07 Jan 2022

Enquire

Adults

£ 2,085

Sun 09 Jan 2022
to
Fri 14 Jan 2022

Enquire

Adults

£ 1,575

Sun 16 Jan 2022
to
Fri 21 Jan 2022

Enquire

Adults

£ 1,575

Sun 23 Jan 2022
to
Fri 28 Jan 2022

Enquire

Adults

£ 1,575

Sun 30 Jan 2022
to
Fri 04 Feb 2022

Enquire

Adults

£ 1,675

Sun 06 Feb 2022
to
Fri 11 Feb 2022

Enquire

Adults

£ 1,725

Sun 13 Feb 2022
to
Fri 18 Feb 2022

Enquire

Adults

£ 1,815

Sun 20 Feb 2022
to
Fri 25 Feb 2022

Book

Adults

£ 2,025

Sun 27 Feb 2022
to
Fri 04 Mar 2022

Book

Adults

£ 1,945

Sun 06 Mar 2022
to
Fri 11 Mar 2022

Book

Adults

£ 1,765

Sun 13 Mar 2022
to
Fri 18 Mar 2022

Book

Adults

£ 1,695

Sun 20 Mar 2022
to
Fri 25 Mar 2022

Book

Adults

£ 1,435
Please note: our holiday prices are based on the lowest available airline fares. These fares can sell out quickly and, as a result, prices may increase and supplements may be applicable. We recommend booking at the earliest opportunity to secure the best possible fares and flight times.
Terms
For our full booking terms and conditions please click here
The Specifics
Holiday group size (approximate)
Minimum 2. Maximum 30 (approximately)
Group Size
We always try to provide an approximation of the group size you can expect to be with for the duration of each of our holidays. It may be that you are joined by others for parts of your holiday (such as transfers and particular activities) but the above number reflects those you can normally expect to be with from beginning to end. If group size is something which is particularly important to you, please speak to our Travel Experts and they can suggest the best holidays for you.
Tailor-made holiday group sizes will vary for all activities as will the group size for any additional activities you book.
Minimum numbers required for a holiday to operate
Some of our holidays require a minimum number of participants to operate (as listed in the 'Group Size' section). If your holiday departure has not yet reached the minimum number, you will be told at the time of booking. In the unlikely event that your chosen date is not guaranteed by nine weeks before your scheduled departure date, we will contact you to discuss the available options as per our booking conditions.
Minimum and maximum age
If a specific minimum age applies to this holiday, it can be found in the Key Facts box on the holiday Overview page.
Unless otherwise stated in the Key Facts box on the holiday Overview page, the minimum age for participation in an Aurora Zone holiday is typically 12 years old (there may be younger children in some destinations who have booked with other companies). If an adult-only environment is important to you, then please contact our Travel Experts and they will advise on the best dates and destinations for you. If you are looking for a holiday designed specifically for families then please see our sister company www.activitiesabroad.com.
Itinerary amendments
The order of activities listed in this agenda is provided for guidance only, your final and detailed itinerary will be provided either with your final travel documents (which are uploaded into your online account around a week prior to departure) or upon arrival.
Medical History and Advice
We want our holidays to be accessible as they can be and will do our best to accommodate any special requests and requirements where possible. We have a wide range of holidays and destinations and so our travel experts will help find the best holiday for you.
In order to give us the best possible chance to do this, we ask that if you or any member of your party has any medical condition or disability which may affect your holiday or has any special requirements, that you tell us at the time of enquiry or booking. You must also promptly advise us if any medical condition or disability which may affect your holiday develops after your booking has been confirmed. You may need to provide a doctor's note and proof of insurance in some cases as the health and safety of our clients is absolutely paramount.
In providing this information you are allowing us to work with our expert local partners to ensure that your whole party can enjoy the holiday. By letting us know in advance we can discreetly work with you to adapt any part of the holiday which may potentially be challenging. Being able to prepare for this in advance makes an incredible difference to what we can offer and minimises any impact on your party and the rest of the group.
Unfortunately, if you choose not to share this information with us in advance then it may limit some or all of the itinerary you have booked, and we cannot be held accountable for any additional costs or missed activities resulting from this.
Insurance
Insurance is not included in your holiday, but it is a pre-requisite to travelling with us. You will need to ensure that you have cover for all the activities that you will be participating in during your holiday.
It is extremely important that you take out a suitable travel insurance policy at the time of booking. Plans do sometimes change, and you will need this policy should you need to cancel your holiday.
If you are struggling to find a suitable policy then details of our preferred provider, who will cover you for all the activities we offer, can be found on our website by clicking here. Please note that this policy is available to EU residents under the age of 75 only.
Booking Activities Locally
Additional activities can be booked locally in almost all our destinations. However, as per our booking conditions, we cannot be held responsible for any injury or loss incurred through participation in activities which are booked at your destination outside of our holiday itinerary (see our 'Terms and Conditions' for further details).
When arranging any such activity please always ensure that safety is your primary concern.
In some of our destinations, you can borrow or hire equipment for use in your free time. You do so entirely at your own risk. You must ensure that you are properly prepared, have the necessary equipment and knowledge (maps, etc) and ensure that where applicable, you follow marked routes. We recommend discussing your plans with the local teams who will be able to advise on the most suitable options for you.
Always let the reception/guide know where you are planning to go and take a torch and mobile phone (with the hotel/guide's phone number stored). It is also a good idea to leave your contact number and the time you expect to return to the hotel should the hotel need to contact you.
The UK Foreign Office Advice
Our clients' safety is at the centre of everything we do, and our operations team continually assesses and monitors the destinations we feature. We carry out thorough risk assessments and work closely with all of our suppliers to continually follow best practice. For up to date travel advice the UK government offers its Travel Aware website as well as the advice detailed below.
The Foreign and Commonwealth Office Advice
We receive all updates from the Foreign and Commonwealth Office (FCO) with regards to travel advice and we always ensure that we follow this advice in our operations. The FCO issues travel advisories for countries based on a very wide range of factors. They may provide notification about things as simple as a football match and crowds, or they may go so far as to advise against all travel to a region. We ask all our clients to refer to the relevant Travel Advice by Country for the destinations they are visiting in order to make an informed decision on the safety of the destination based on the details provided. It also provides vital information regarding entry requirements, embassy information, local laws and customs as well as specific safety and health. Guests should take responsibility for keeping themselves up to date with this advice. Please also ensure that, if you are transiting through another country, you have read the advice and meet the entry requirements for that destination too.
The FCO travel advice is applicable to British Passport Holders. Most governments will issue their own travel advice for a region and, if you are not a UK resident then you can find some helpful links below:
Australian Department of Foreign Affairs and Trade http://www.smartraveller.gov.au/
New Zealand Ministry of Foreign Affairs and Trade https://www.mfat.govt.nz/
Canadian Consular Affairs Bureau http://voyage.gc.ca/
The U.S. Bureau of Consular Affairs https://travel.state.gov/content/travel/en/international-travel.html
If the FCO deems that there is an unacceptable level of risk for UK citizens then, together with the government, they may issue an advisory against all travel to a region or country. If such an advisory is published, then we will act accordingly, and this may require the cancellation, curtailment or amendment of a holiday itinerary. These decisions are made on the basis of ensuring our clients' safety and will affect all clients on the holiday, regardless of their nationality.
If one of our local experts suggests an amendment due to a situation which develops locally then we may also take the decision to amend an itinerary appropriately.
If we have to cancel your holiday prior to departure you will be offered the option of an alternative trip (where any price difference will either be refunded to or covered by you) or a full refund of the monies paid.
If we have to curtail a holiday, then you will be refunded for any costs for the elements we have been unable to deliver, where we have been able to secure a refund from our suppliers. If we must reroute a holiday, then any basis for refund is determined on a case by case basis and dependent on whether the central holiday experience was provided or not.
Brexit information for British Passport holders
For the most up to date information on how the UK's departure from the EU may affect your holiday please click here to view our Brexit information for British Passport holders.
Flight schedule changes and connecting transportation
On your documentation, we will confirm your flight schedule. Sometimes the flight number, routing and timings might change prior to your departure. If the change is classed as a significant change then we will contact you to discuss this. Please see our booking conditions for details.
Flight schedule changes can impact on your pre and post-holiday travel arrangements if these have been booked separately to your holiday. We strongly recommend that you do not book transport (such as trains or transfers), car parking or non-connecting flights to the departure point for your holiday until you have received your final confirmed travel times when your final travel documents are issued. We are not responsible for the effect of any schedule change on your pre or post travel arrangements. We strongly recommend that you do not purchase non-flexible or non-refundable tickets to avoid cancellation and penalty charges.
Booking your own flights - cancellation disclaimer
If you have chosen to book your own flights, then you will need to wait until we confirm to you that the holiday departure has met the minimum numbers required to run (if applicable to your chosen holiday). Once the holiday is guaranteed to run, you will be informed and you can then make your arrangements.
If transfers are included in your holiday, please ensure that any potential flights will be met by our standard transfers (speak to one of our Travel Experts for advice) otherwise private transfer supplements may be applicable. Once your flights are booked, please send us a copy of your detailed flight itinerary.
Please be aware that most tickets are non-refundable in the case of cancellation. For this reason, we strongly advise you check the rules of the ticket and check the limitations of your cancellation insurance before booking. We cannot be held liable, in the unlikely eventuality that we should be forced to cancel or amend your trip, for losses incurred relating to any flight booking you have made.
Terms and Conditions
Our full booking terms and conditions can be found on our website: https://www.theaurorazone.com/booking-conditions
Reviews
Traveller Reviews
Our honeymoon in Lapland was a real trip of a lifetime!
20 March 2020
We really felt in safe hands with Aurora zone throughout and they planned an amazing week of activities which we could tailor to best suit us. Torassieppi is an incredible destination, with the friendliest and most helpful staff and guides ever (and the absolute best food throughout - and they were great at catering to our dietary requirements!) The activities and guides really made it special,…
Read more from a romantic night-time reindeer sleigh ride to snowshoeing through the Pallas-Yllastunturi National Park. On top of that, there was so much to do locally, including a reindeer and husky farm, winter village with incredible ice sculptures, and lots of great places to head off cross-country skiing/snowshoeing/fat biking. The real icing on the cake was seeing the northern lights, but even if we didn't it would've been an unforgettable trip. We also need to mention that we found both Aurora zone and Torassieppi to be really LGBT+ friendly, and we felt really comfortable throughout to be ourselves and enjoy our honeymoon in the incredible landscape of northern Finland.
Read less
---
---