Overview
Experience one of the most evocative and breathtaking landscapes in the world during this seven-night tour to Yukon, Canada. Enjoy the wilderness by day and keep watch on the pitch-black sky at night for a hopeful viewing of the Northern Lights.
What's included?
ALL OF THE ACTIVITIES AND SERVICES LISTED BELOW ARE INCLUDED IN THE HOLIDAY PRICE
Flights: return flights between Whitehorse and Dawson City are included
Transfers: return airport transfers
Accommodation: 3 nights private cabin accommodation or guest room at Northern Lights Resort and Spa with double/twin, 2 nights' double/twin room at the Aurora Inn, 2 nights' double/twin room at Westmark Whitehorse. All rooms include an en-suite bathroom
Meals: 5 breakfasts, 5 dinners
The following activities and equipment are included: husky safari, free use of snowshoes at Northern Lights Resort and Spa, three guided Aurora photography evenings, guided walking tour of Dawson City, guided tour of Dempster Highway and Tombstone Mountains, snowmobiling safari, Aurora Yurt (please note that the order of activities is subject to change)
Winter clothing for the duration of your stay
Meet & greet on arrival
All ground transportation
Use of the sauna, gym and outdoor Jacuzzi at the Northern Lights Resort and Spa
Services of our expert local guides
Please note: international flights are not included. Please contact our Travel Experts for a quote.
---
It is said that in the Yukon 'north is not just a place, but a state of mind' and once you have experienced this breathtakingly vast and beautiful landscape it is easy to see why. The Yukon has very much a 'last frontier' feel to it. This is the place where the moose, caribou and bear population far outnumber the humans, where snow-topped mountain ranges tower above you, where the winter night sky is frequently illuminated by dancing Northern Lights and where the discovery of a single gold nugget in a creek sparked one of the biggest gold rushes ever known.
On this Northern Lights holiday, we offer a taste of this incredible landscape but, by the end of your stay, you will have enjoyed some of the unending wilderness that makes up the province as well as hopefully witnessing the unique phenomenon of the Aurora Borealis.
During your relaxed adventure, you will stay at three different accommodations. The first will be the remote and welcoming Northern Lights Resort and Spa where you will stay in a cosy cabin set in the snow, or a beautifully presented guest room attached to the main lodge. Here you will be able to not only relax by the fire but make the most of the spacious Aurora viewing area outside the hotel, which offers unobstructed views of the night sky. Your second accommodation will be in Dawson City, a gold rush town with a fascinating history and a delightful charm and from here you will head back to Whitehorse for your final nights in the provincial capital, with a wide range of shops, attractions and restaurants.
You will also have the enjoyable opportunity to try out one of the region's most beloved activities as you take the reign on a husky sled, travelling the way people have done for centuries and appreciating the landscape from an incomparable vantage point. On another day you will be given a tour up to Tombstone Park, a huge stretch of wilderness with some incredible panoramas to enjoy and a chance to glimpse some of the region's beautiful wildlife. To top it all off, you will take part in an exhilarating snowmobiling safari in the mountains that surround Whitehorse, as well as an evening searching for the Northern Lights in the famous Aurora Yurt.
Read more
Evenings at the Northern Lights Resort and Spa will be spent keeping watch for the Aurora, with your guide on hand to assist you in photographing the lights should they make an appearance and using their local knowledge to take you to the most promising viewpoint.
We have also included plenty of free time, allowing you to simply relax and absorb your surroundings or add on additional tours and excursions.
All in all, this is a wonderful trip that offers a truly memorable taste of the Yukon.
---
©Arctic Range Adventure Ltd, Government of Yukon & Robert Postma
View Gallery
Download Dossier
Key facts
| | |
| --- | --- |
| Duration: | 7 nights |
| Pace: | Balanced |
| Suitable for: | Ages 18+. Please see our terms for further information |
Make an enquiry
Agenda
Accommodation
Included in price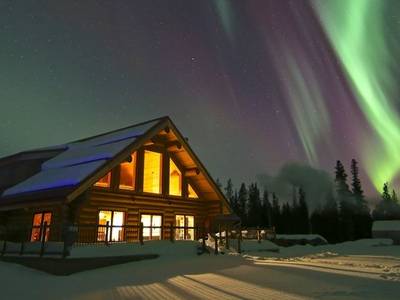 Northern Lights Resort and Spa
Nights:
1-3
With its ideal location close to some of The Yukon's most remarkable wilderness, the Northern Lights Resort and Spa is not only a prime location from which to seek out the Aurora but also an excellent starting point for some for the winter adventures which can be enjoyed here.
Located on a private 160 acres, the hotel resides around 20 minutes south of Whitehorse in quiet countryside close to the Yukon River and surrounded by pine forests and snow-capped mountains.
Hotel facilities
The hotel has a relaxing outdoor Jacuzzi as well as a wellness area with Finnish sauna, infrared sauna, gym and relaxation & massage area (treatments payable locally)
Guests can also warm up in front of the hotels' cosy fireplace or keep watch for the Northern Lights from the vantage point of the outdoor deck
Meals are home-cooked and served family-style, utilising fresh ingredients and sourcing local products as much as possible
Free Wi-Fi is available in the main lodge
Room options
Log cabins: Each of the chalet style log cabins is built from local Yukon timber and all are comfortably furnished with a double bed, en-suite bathroom, TV and hairdryer. They vary in size with some able to accommodate more than two adults. Please speak to our Travel Experts for full details of the individual cabins.
Guest room: Attached to the main lodge, the guest room is fitted with a queen bed and has the feel of a private log cabin. The room includes a large en-suite bathroom, as well as TV, hairdryer and a fridge.
---
Image credit: Northern Lights Resort & Spa
Read more
Read less
The Aurora Inn, Dawson City
Nights:
4-5
The Aurora Inn offers a friendly and personal service, alongside a quiet and relaxing atmosphere. The hospitable hosts of the Inn will be on hand to share their in-depth knowledge of the Dawson City region and history and strive to make the hotel feel like a home away from home.
The hotel has a favourable location ensuring that you are within easy walking distance to the numerous shops, attractions and restaurants of the city, yet also in a remote enough spot that should conditions be right you stand a high chance of seeing the Northern Lights.
Hotel facilities
The on-site restaurant dishes up a lovely range of food cooked by its European chefs and has a particular reputation for its sides and sauces. Its daily continental breakfast is also a treat and includes freshly baked bread
There is a common area with kitchen for guests to use should you be self-catering
Free Wi-Fi is available throughout
There is a fitness area for guest use
Hotel room options
Queen room: The Queen rooms have one queen-sized bed as well as an en-suite shower room. Room facilities include TV and hairdryer.
Read more
Read less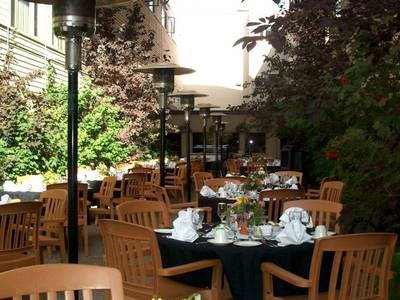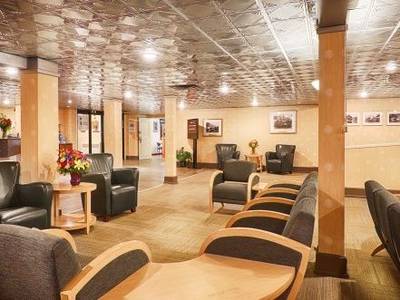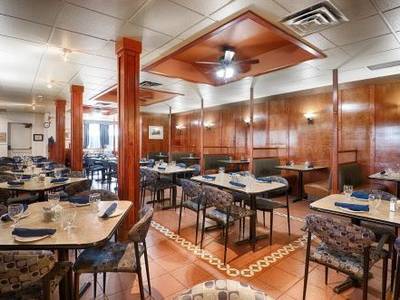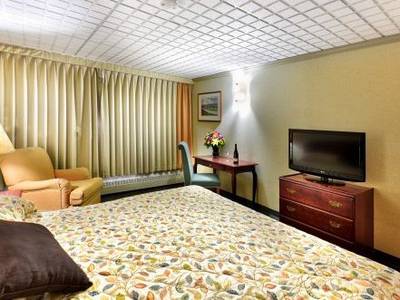 Westmark
Nights:
6-7
With its convenient location in the heart of downtown Whitehorse, the Westmark is within easy walking distance of the provincial capital's attractions, shops and restaurants.
Furnished in a simple but comfortable style, this hotel is an ideal base for Whitehorse as well as offering a relaxing and friendly welcome.
Hotel facilities
The full-service restaurant serves up a delicious range of options including local specialities including Yukon Salmon and Alaskan Halibut
There is a lovely on-site bar that is the perfect spot to enjoy your favourite craft cocktail or Yukon Brewing Company Beer
Wi-Fi is available throughout for a fee
The hotel has a small fitness centre and on-site shop
Hotel room options
Twin/double rooms: The hotel has 180 rooms and suites over three floors. All are comfortably furnished with double/twin beds, en-suite bathroom, coffee and tea making facilitates, TV and hairdryer. Suite upgrades are available. Please speak to one of our Travel Experts for more information.
---
Image credits: Arctic Range Adventures
Read more
Read less
Personalise
Personalise this tour
---
Our pick
Perhaps one of the best ways to appreciate the sheer scale and beauty of Yukon's vast wilderness is by air and this is a fabulous option for day three of your holiday. Hop on board a helicopter and enjoy a 25 munute flight taking inisights such as Miles Canyon, Mount Granger and Fish Lake. If you are lucky, you might be able to spot moose, caribou and even wolves.
Read more
You will be picked up from your hotel at approximately 1pm and be transferred to the nearby helipad. Gratuities are not included in the price. The tour lasts around one and a half hours including transfers.
Please note that this tour requires a minimum of two people to operate and is available daily from the 1st December to 15th April.
Please note that if you are doing this activity from one of our out of town locations, a transfer supplement will apply.
Image credits: Arctic Range Adventure Ltd
---
Other options
Activities
Ice fishing, Whitehorse
From: £110pp
The Yukon is home to some of Canada's best fishing in both summer and winter. Lake trout, rainbow trout, northern pike, Arctic grayling and Arctic char can be found in abundance here. Heading out to one of the many beautiful frozen lakes close to Whitehorse is a great option for Day 3 of your holiday.
Read more about this activity
At the lake, you will be shown how to drill into the ice and the best technique to try and attract the fish. If you're lucky enough to land a catch, your guide will prepare it and cook it on an open fire for you to enjoy.
You will be picked up from your hotel at around 1 pm and the tour will last for around 4 hours. Hot drinks and light snacks are also included.
Please note that this tour requires a minimum of two people to operate and is available daily from the 1st December to the 31st March.
Please note that if you are doing this activity from one of our out of town locations, a transfer supplement will apply.
Image credits: Arctic Range Adventure Ltd
Mount Sima skiing and snowboarding
From: £138pp
During your free day why not take advantage of the small, but action packed Mount Sima which is only a short drive away.
During this 3.5 hour tour, you will be collected from your hotel at around 12 pm and driven to the nearby hire shop where you can pick up your equipment and hire any clothing that you require.
Read more about this activity
Mount Sima has 10 pistes in total, including a beginners' slope and two terrain parks with jumps, as well as a ski/boarder cross racing track. The pistes are lined with trees and you can enjoy wonderful views out to the rolling countryside beyond.
Guided transportation, ski/snowboard rental and a half day ski pass are included in the price. If you want to hire additional clothing, you will need to pay for this locally.
Please note that this tour requires a minimum of two people to operate and is available from the 16th December to 31st March, Friday to Sunday.
Please note that if you are doing this activity from one of our out of town locations, a transfer supplement will apply.
Image credits: Arctic Range Adventure Ltd
Trip Extensions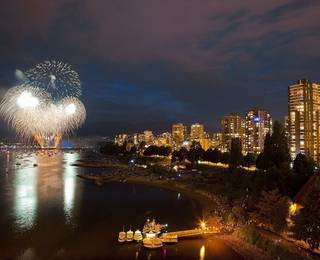 North American extension
Why not extend your stay and visit a North American city of your choosing. With its dramatic mountainous backdrop, Vancouver is only a two and a half hour flight away. Seattle is also within easy reach, as are Calgary and Edmonton. Please speak to our Travel Experts for further advice and a full quotation.
Image credit: Canadian Tourism Commission
Extend your stay in Whitehorse
From: £43pp
If you would like to extend your stay in the charming town of Whitehorse, then why not add on another night or two at the Westmark Whitehorse. With more time in Whitehorse, you can enjoy a variety of winter activities, such as skiing, snowshoeing or even a helicopter tour.
The price is based on two people sharing a standard room and meals are not included.
Image credits: Arctic Range Adventure Ltd
Dates & Prices
Price Comparison Guarantee
Expertise and knowledge are key to witnessing the Northern Lights. We've been running Aurora hunting holidays longer than any company in the UK and with no lead in prices, no hidden costs and more included, we're confident our tours will come out on top.
Single supplement: Price based on a single traveller in their own room but sharing a snowmobile on day 7. If you would like to drive your own snowmobile please speak to a Travel Expert for a quotation.
Prices
Next season's pre-sale dates and prices
To secure your holiday for next season, you can make a pre-sale booking and fix the price of your trip at the pre-sale price displayed below. Simply by paying an initial deposit of £50pp, you will protect yourself from any package price increases. The departure dates and itineraries remain preliminary and we will contact you when the final dates and itineraries are confirmed, you will then have 14 days to decide if you would like to go ahead. A further deposit payment of £350pp is due by 01 April 2019 or at the time of us confirming the trip details to you, whichever is sooner. If you decide not to travel, we will refund your full deposit payment. We reserve the right to charge supplements where there are significant changes to an itinerary or increases in flight costs. Any non-package rates remain subject to change.
Departure dates between

Fri 30 Nov 2018
to
Sun 07 Apr 2019

Enquire

Adults

£ 2,500
Terms
For our full booking terms and conditions please click here
Holiday group size (approximate)
Minimum 2 and maximum 24 people (approximately)
GROUP SIZE
We always try to provide an approximation of the group size you can expect to be with for the duration of each of our holidays. It may be that you are joined by others for parts of your holiday (such as transfers and particular activities) but the above number reflects those you can normally expect to be with from beginning to end. If group size is something which is particularly important to you, please speak to our Travel Experts and they can suggest the best holidays for you.
Tailor-made holiday group sizes will vary for all activities as will the group size for any additional activities you book.
MINIMUM NUMBERS REQUIRED FOR A HOLIDAY TO OPERATE
Some of our holidays require a minimum number of participants to operate (as listed in the 'Group Size' section). If your holiday departure has not yet reached the minimum number, you will be told at the time of booking. In the unlikely event that your chosen date is not guaranteed by nine weeks before your scheduled departure date, we will contact you to discuss the available options as per our booking conditions.
Itinerary amendments
The order of activities is always subject to change and guests will be provided with their final itinerary upon arrival.
SINGLE SUPPLEMENT
Please note that some of our holidays may incur a single supplement. Please speak to one of our Travel Experts who will provide you with a quotation.
Medical History and advice
We want our holidays to be accessible as they can be and will do our best to accommodate any special requests and requirements where possible. We have a wide range of holidays and destinations and so our travel experts will help find the best holiday for you.
In order to give us the best possible chance to do this, we ask that if you or any member of your party has any medical condition or disability which may affect your holiday or has any special requirements, that you tell us at the time of enquiry or booking. You must also promptly advise us if any medical condition or disability which may affect your holiday develops after your booking has been confirmed. You may need to provide a doctor's note and proof of insurance in some cases as the health and safety of our clients is absolutely paramount.
In providing this information you are allowing us to work with our expert local partners to ensure that your whole party can enjoy the holiday. By letting us know in advance we can discreetly work with you to adapt any part of the holiday which may potentially be challenging. Being able to prepare for this in advance makes an incredible difference to what we can offer and minimises any impact on your party and the rest of the group.
Unfortunately, if you choose not to share this information with us in advance then it may limit some or all of the itinerary you have booked, and we cannot be held accountable for any additional costs or missed activities resulting from this.
PREGNANCY
If you are pregnant at the time of booking your holiday or you discover you are pregnant prior to your departure, firstly – congratulations! Secondly – please tell us as soon as possible. This situation does arise, and we are able to advise you both from our own first-hand experience and from discussing this at length with our expert local partners who have experience in this area. The more notice you can give us the better, in order to suggest any adaptions to the itinerary you have booked which will reduce the risk to both mother and baby. Please contact our customer service team at This email address is being protected from spambots. You need JavaScript enabled to view it. for more information.
INSURANCE
Insurance is not included in your holiday, but it is a pre-requisite to travelling with us. You will need to ensure that you have cover for all the activities that you will be participating in during your holiday.
It is extremely important that you take out a suitable travel insurance policy at the time of booking. Plans do sometimes change, and you will need this policy should you need to cancel your holiday.
If you are struggling to find a suitable policy then details of our preferred provider, who will cover you for all the activities we offer, can be found on our website by clicking here. Please note that this policy is available to EU residents under the age of 75 only.
Reduced Mobility
If you have a reduced level of mobility, then please contact our travel experts to discuss the suitability of this holiday in relation to your requirements.
Experience and fitness
We offer a vast choice of holidays which range from 'relaxed' to 'active' so there really is something for everyone and our holidays can be filtered by how active they are. Regardless of the chosen holiday, all activities will include tuition from a beginner's level and no prior experience is assumed.
If you are unsure about the physical demands of a particular holiday please contact us and our expert team will be happy to help.
See our booking conditions for further information.
Guides and safety
It is absolutely essential when partaking in any activity that you listen very closely to, and abide by, the instructions provided.
If there is anything that you are unsure of during a safety briefing or that you would like to clarify with the guides please make this clear to them immediately before starting the activity.
Our guides' word on activities is always final and your safety is their principal concern at all times, please respect their decisions. By following their instructions, your safety and enjoyment during each activity will be greatly enhanced.
See our booking conditions for further information.
Booking activities locally
Additional activities can be booked locally in almost all our destinations. However, as per our booking conditions, we cannot be held responsible for any injury or loss incurred through participation in activities which are booked at your destination outside of our holiday itinerary (see our 'Terms and Conditions' for further details).
When arranging any such activity please always ensure that safety is your primary concern. In some of our destinations, you can borrow or hire equipment for use in your free time.
You do so entirely at your own risk. You must ensure that you are properly prepared, have the necessary equipment and knowledge (maps, etc) and ensure that where applicable, you follow marked routes. We recommend discussing your plans with the local teams who will be able to advise on the most suitable options for you.
Always let the reception/guide know where you are planning to go and take a torch and mobile phone (with the hotel/guide's phone number stored). It is also a good idea to leave your contact number and the time you expect to return to the hotel should the hotel need to contact you.
Car Hire
If your trip includes car hire the named driver must have a credit card registered in their name which they can present when they collect their car along with their driving licence, as a deposit will be held on the credit card. Please see your trip dossier for full details.
Our clients' safety is at the centre of everything we do, and our operations team continually assesses and monitors the destinations we feature. We carry out thorough risk assessments and work closely with all of our suppliers to continually follow best practice. For up to date travel advice the UK government offers its Travel Aware website as well as the advice detailed below.
FLIGHT SCHEDULE CHANGES AND CONNECTING TRANSPORTATION
On your documentation, we will confirm your flight schedule. Sometimes the flight number, routing and timings might change prior to your departure. If the change is classed as a significant change then we will contact you to discuss this. Please see our booking conditions for details.
Flight schedule changes can impact on your pre and post-holiday travel arrangements if these have been booked separately to your holiday. We strongly recommend that you do not book transport (such as trains or transfers), car parking or non-connecting flights to the departure point for your holiday until you have received your final confirmed travel times when your final travel documents are issued. We are not responsible for the effect of any schedule change on your pre or post travel arrangements. We strongly recommend that you do not purchase non-flexible or non-refundable tickets to avoid cancellation and penalty charges.
BOOKING YOUR OWN FLIGHTS - CANCELLATION DISCLAIMER
If you have chosen to book your own flights, then you will need to wait until we confirm to you that the holiday departure has met the minimum numbers required to run (if applicable to your chosen holiday). Once the holiday is guaranteed to run, you will be informed and you can then make your arrangements.
If transfers are included in your holiday, please ensure that any potential flights will be met by our standard transfers (speak to one of our Travel Experts for advice) otherwise private transfer supplements may be applicable. Once your flights are booked, please send us a copy of your detailed flight itinerary.
Please be aware that most tickets are non-refundable in the case of cancellation. For this reason, we strongly advise you check the rules of the ticket and check the limitations of your cancellation insurance before booking. We cannot be held liable, in the unlikely eventuality that we should be forced to cancel or amend your trip, for losses incurred relating to any flight booking you have made.
THE FOREIGN AND COMMONWEALTH OFFICE ADVICE
We receive all updates from the Foreign and Commonwealth Office (FCO) with regards to travel advice and we always ensure that we follow this advice in our operations. The FCO issues travel advisories for countries based on a very wide range of factors. They may provide notification about things as simple as a football match and crowds, or they may go so far as to advise against all travel to a region. We ask all our clients to refer to the relevant Travel Advice by Country for the destinations they are visiting in order to make an informed decision on the safety of the destination based on the details provided. It also provides vital information regarding entry requirements, embassy information, local laws and customs as well as specific safety and health. Guests should take responsibility for keeping themselves up to date with this advice. Please also ensure that, if you are transiting through another country, you have read the advice and meet the entry requirements for that destination too.
The FCO travel advice is applicable to British Passport Holders. Most governments will issue their own travel advice for a region and, if you are not a UK resident then you can find some helpful links below:
Australian Department of Foreign Affairs and Trade http://www.smartraveller.gov.au/
New Zealand Ministry of Foreign Affairs and Trade http://www.safetravel.govt.nz/
Canadian Consular Affairs Bureau http://voyage.gc.ca/
The U.S. Bureau of Consular Affairs http://travel.state.gov/content/travel/english.html
If the FCO deems that there is an unacceptable level of risk for UK citizens then, together with the government, they may issue an advisory against all travel to a region or country. If such an advisory is published, then we will act accordingly, and this may require the cancellation, curtailment or amendment of a holiday itinerary. These decisions are made on the basis of ensuring our clients' safety and will affect all clients on the holiday, regardless of their nationality.
If one of our local experts suggests an amendment due to a situation which develops locally then we may also take the decision to amend an itinerary appropriately.
If we have to cancel your holiday prior to departure you will be offered the option of an alternative trip (where any price difference will either be refunded to or covered by you) or a full refund of the monies paid.
If we have to curtail a holiday, then you will be refunded for any costs for the elements we have been unable to deliver, where we have been able to secure a refund from our suppliers. If we must reroute a holiday, then any basis for refund is determined on a case by case basis and dependent on whether the central holiday experience was provided or not.
Payment and cancellation terms:
Please note that the following payment and cancellation terms supersede in part those mentioned in sections 2 and 6 of our general booking terms and conditions.
Payment terms
- A deposit of £400pp or 15% (whichever is higher) of the total holiday cost is required at the time of booking. Full payment is required 70 days/10 weeks prior to departure.
Cancellation terms
- After booking and more than 70 days prior to departure = loss of deposit
- 70-50 days prior to departure = 40%
- 49-34 days prior to departure = 60%
- 33-15 days prior to departure = 80%
-14 days or less = 100%
Reviews
Traveller Reviews
Seeing the Northern Lights was amazing
29 January 2017
by Patrica and Edward Slaughter
Seeing the Northern Lights was amazing - (we had) a knock on the door at 3 am because the Aurora was moving - but getting up and getting dressed was worth it!! The activity that we enjoyed the most was dog sledding.
---
---