Overview
This 7-night holiday to Harriniva takes you to the depths of Lapland and into Aurora territory. Your base is the Harriniva Wilderness Hotel and we've left the days free for you to tailor your time with exceptional Arctic activities. At night, we've included dedicated Aurora hunts to complete your winter escape.
What's included?
The activities and services listed below are all included in the holiday price
Flights: return flights between London and Kittilä (either direct or via Helsinki depending on departure date).
Transfers: return airport transfers
Accommodation: 7 nights' accommodation in a double Hotel room, upgrade to Aurora Dome and snow igloo available on request (subject to availability)
The following activities are all included: Northern Lights workshop, Aurora snowshoe, Northern Lights hot tub, cross-country ski hire for half a day (order of activities is subject to change)
Meals: 7 breakfasts, 7 dinners
Cold weather clothing for the duration of your stay
Fully qualified wilderness guides and instructors during activities
Dedicated representative at Harriniva
Aurora alert mobile app until approximately 1am
---
This Northern Lights holiday provides exceptional value for money and offers the chance for you to spend seven nights in the heart of The Aurora Zone.
The itinerary contains some excellent Aurora excursions and activities including; an informative workshop which will provide an insight into the science behind the Northern Lights and a snowshoe search for the Aurora that will see your expert guide leading you to an ideal viewpoint. We have also included an Aurora hot tub session for our guests, the most relaxing of all Northern Lights hunting activities, as you enjoy the outdoor hot tub with great views of the night sky.
During your stay, you will also have the chance to upgrade and spend the night in one of the snow rooms at Torassieppi Winter Village, or one of the amazing Aurora domes at either Hotel Jeris or Torassieppi, two of Harriniva's sister properties (the location of your dome will be confirmed on arrival). You can read more about these wonderful tented dome rooms in the 'Accommodation' section, but they are exceptionally cosy with their own log burning stove and feature a wall of clear panels allowing you to curl up and look out into your Arctic winter wonderland and (fingers crossed!) onto the Northern Lights.
As Harriniva offers a wealth of activity options for guests to enjoy during their stay, we have left your days free so you can create your ideal itinerary which suits your own budget and desires. You can take part in as many or as few activities as you choose but Harriniva certainly has something for everyone. Whether you want to simply try a short husky safari or take part in a real adventure, whether you want to enjoy a taste of snowmobiling or the thrill of a long safari; the choice is yours. For many guests, relaxing with a good book, taking walks along the river bank or into the village of Muonio and enjoying the company of the other guests is enough.
Cross-country ski hire is included for half a day during your stay so that you can explore independently and enjoy the trails that surround the hotel. If you don't have experience of cross-country skiing then we recommend booking a lesson at the start of your stay so you can maximise the use of your ski hire.
---
©Antti Pietikainen
Agenda
Accommodation
Included in price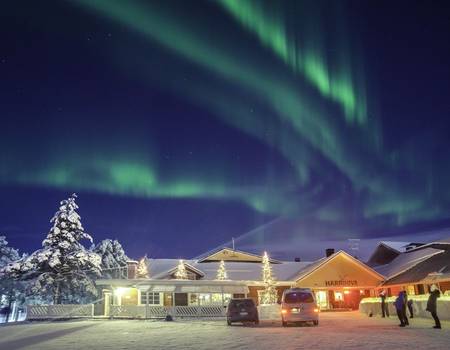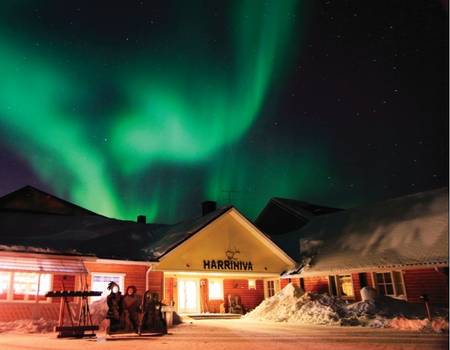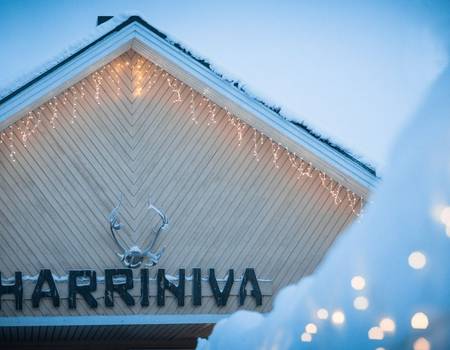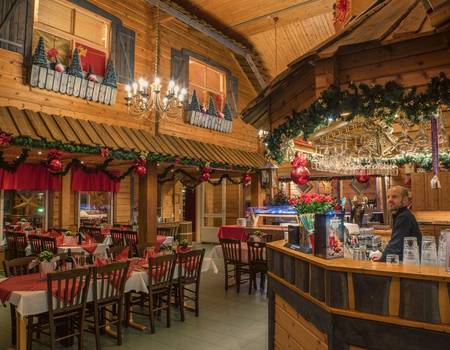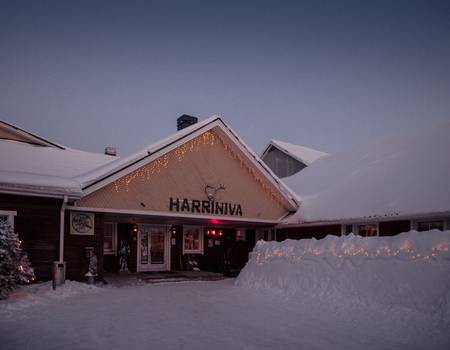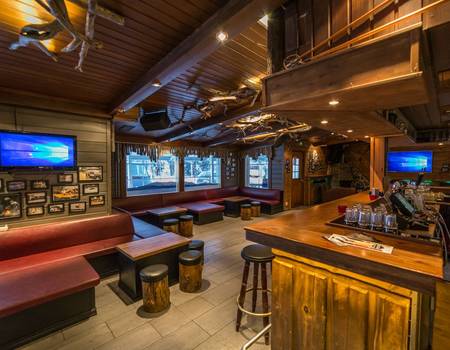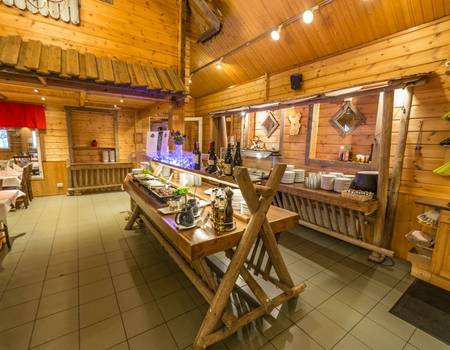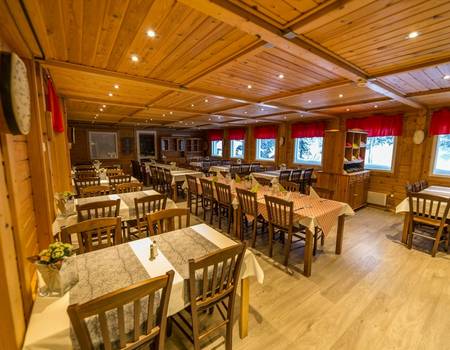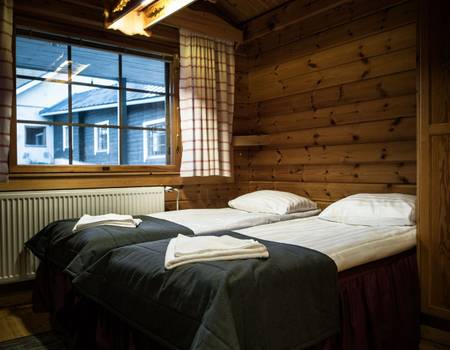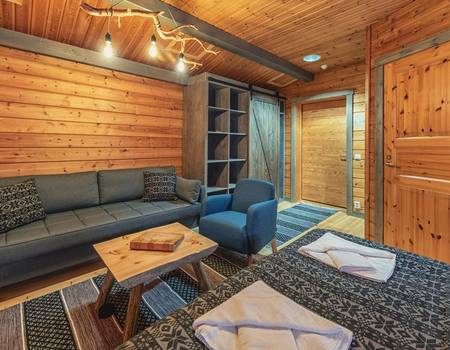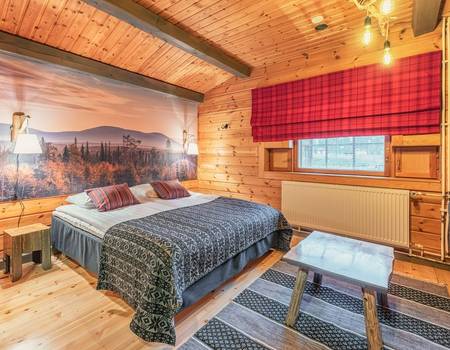 Harriniva Wilderness Hotel
Nights:
1-7
Ideally located in the north-west corner of Finland, high above the Arctic Circle and in the very heart of the Aurora Zone, Harriniva Wilderness Hotel serves as a perfect base for your adventure holiday.
Owned and run by the Pietikäinen family, the hotel has developed a growing reputation for its warm ambience and a large range of enjoyable activities on offer.
Hotel facilities
The hotel has a range of facilities that have been designed to make your stay here as enjoyable as possible.
There is free Wi-Fi throughout the main building for guest use, in our experience, we have found it works best in the main reception and dining area
The hotel restaurant has a lively, buzzing atmosphere as people excitedly discuss the adventures they have taken part in that day. The meals are served in a buffet style with two or three choices for each course. The food here is hearty and wholesome
The hotel also has a pub serving a range of beers, wines and spirits - this is the perfect place to unwind and relax with your fellow guests in the evening
Tea and coffee are available free of charge throughout the day in the hotel restaurant / bar area.
In the main reception area of the hotel, you will find a small gift shop selling a range of postcards, soft toys and handcrafted products. There is also a selection of snacks that can be purchased
A sauna is available for guest use with separate facilities for men and women. This is free of charge and is heated every evening for around three hours
The hotel also has an Aurora Wellness Centre (situated a short walk away on the riverbank), where you can enjoy a range of therapies such as facials or massages. A real treat after a day of soaking up the pristine wilderness! During peak periods, we would strongly recommend booking therapies in advance through reception (all payable locally and we recommend booking in advance if possible)
Snowshoes and cross country skis are available to hire for a small charge and there are marked trails surrounding the hotel for those with some experience. For those interested in downhill skiing, reception will be able to arrange a taxi to the nearby ski resort of Olos (payable locally)
Room types
Wilderness plus rooms
Decorated in traditional Scandinavian style, these bedrooms were refurbished in 2018. The rooms include double/twin beds and an unfolding sofa suitable for 1 adult or 2 children. All rooms have an en-suite shower room and a hairdryer, as well as a small seating area.
Double/twin rooms
Harriniva has 64 guest bedrooms which consist of twin or double rooms. Triple rooms are also available on request. Decorated in traditional Scandinavian style, all rooms have an en-suite shower room and a hairdryer.
Wilderness Suite
Spacious wilderness style room, decorated in traditional Scandinavian style, these rooms were refurbished in 2018. Located on the ground floor, close to reception these rooms include double/twin beds and an unfolding sofa suitable for 1 adult or 2 children. All rooms have an en-suite shower room and a hairdryer, as well as a small seating area.
Safari House
For those travelling on our longer husky or snowmobile experiences, your nights at the hotel will be spent in shared accommodation in one of Harriniva's Safari Houses. Each has sleeping facilities, a shower room, toilet and a sauna. Some safari houses are on site, whereas others are located 3km from the hotel. If you are staying off-site, you will be transferred to and from the hotel for meals.
---
Image credits Emmi Kähkönen - Harriniva Hotels & Safaris
Read more
Read less
---
Other options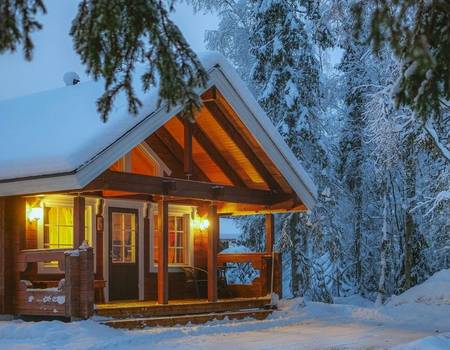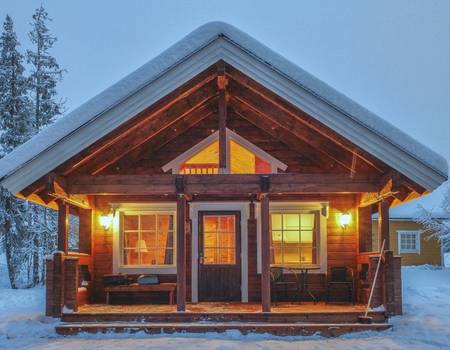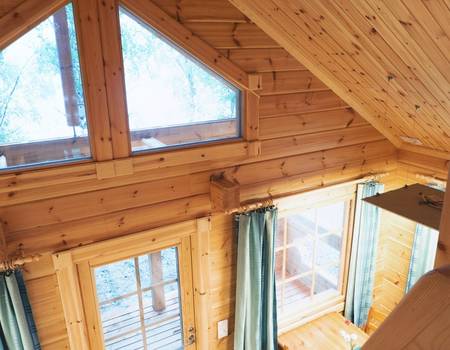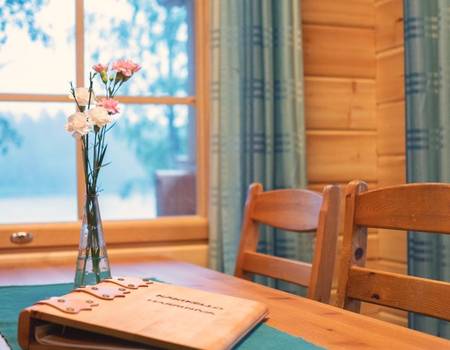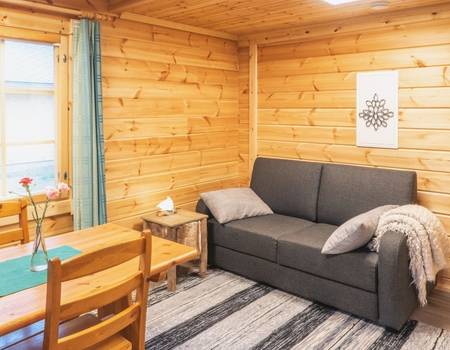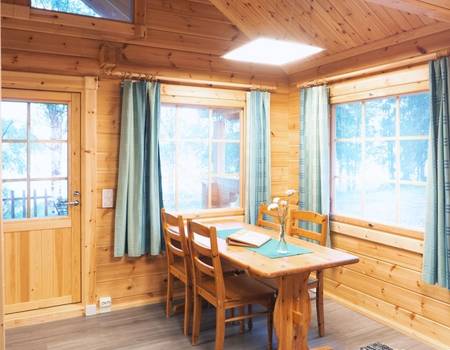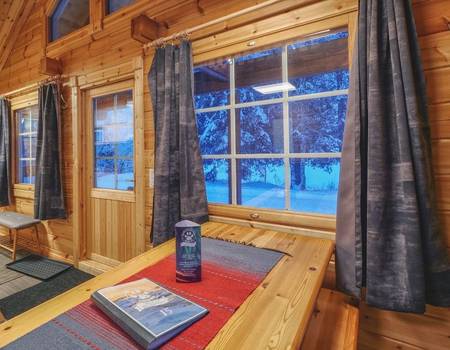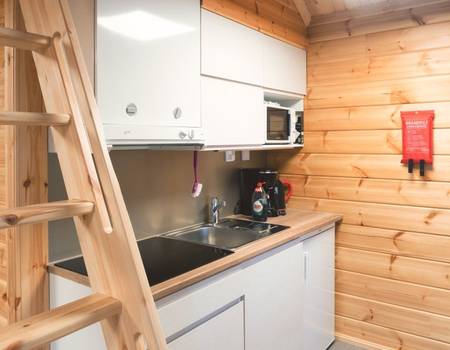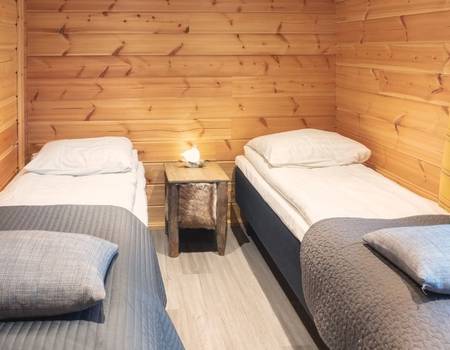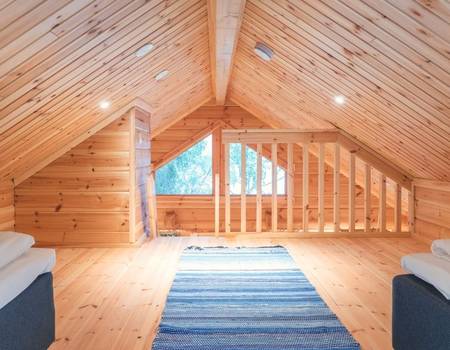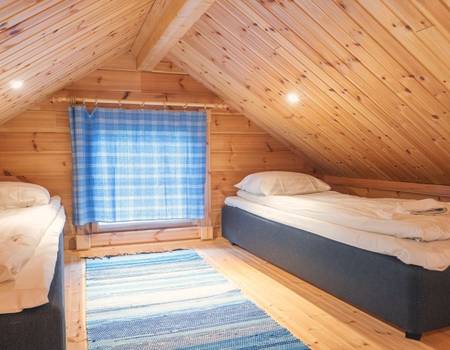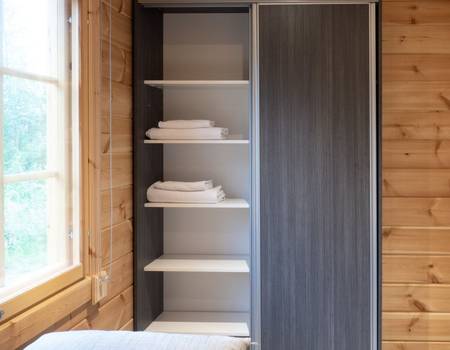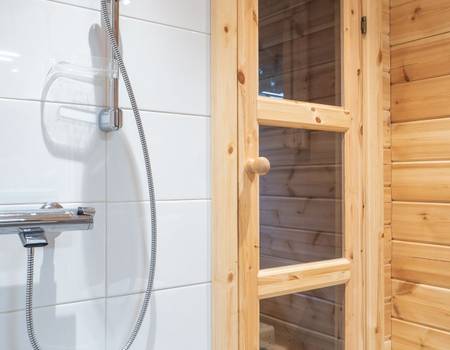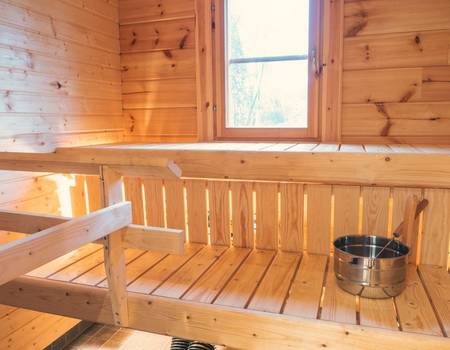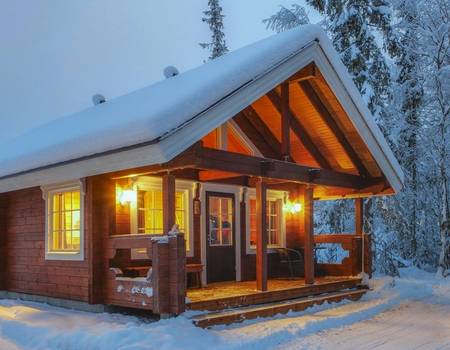 Harriniva Riverside Cabins
Set in a picturesque, riverside location and ranging from 39m² to 47m², Harriniva's Riverside Cabins are ideal for larger groups, or those wanting a little more space and privacy during their trip. Each cabin sleeps five people in total, with a main bedroom for two people, a lower ceilinged loft area (accessible by a steep ladder) sleeping a further two people and a pull out sofa bed in the lounge. Fully-equipped with kitchen facilities, including a stove, dishwasher and fridge, and with a cosy living room, you can relax and enjoy your own space in complete comfort. Each cabin even has its own private sauna, perfect for keeping warm after a long day out in the cold.
---
Credit: Antti Pietikainen
---
Special Nights
Personalise
Personalise this tour
---
Our pick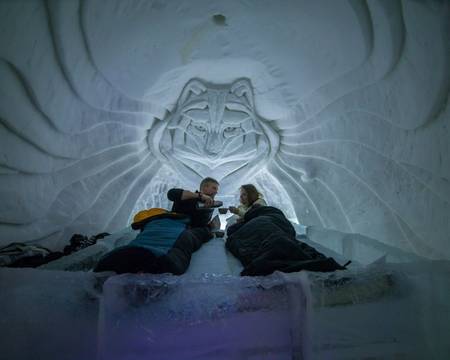 Overnight at Torassieppi Winter Village
Spend a memorable night in a traditional snow igloo room within Torassieppi Winter Village. Snow structures and igloos have been used for centuries as a form of protection from the Arctic weather and whilst the outside temperatures can plummet, inside they remain more moderate.
Your surroundings may be made of snow and ice, but the thick sleeping bag and mattress will ensure a warm night.
Any required transfers, sleeping bag, hot drink and breakfast are all included. You will enjoy your evening meal at your hotel prior to transferring to your snow igloo room in the evening at approximately 8:30/9pm. The toilet and sauna facilities are approximately 200 metres' walk away. You will check out after breakfast
Available: Monday to Sunday at 8.30/9pm
Read more
Please note: that as activity schedules can be subject to change we may be unable to confirm the exact night that you will spend at Torassieppi although every effort will be made to accommodate specific requests they cannot be guaranteed. Your final itinerary including confirmation of the date of your stay at Torassieppi will be confirmed upon arrival in Finland.
Prices are based on you spending the first or last night of your holiday in this unique accommodation and not keeping your original accommodation. If you would like to do this on any other night during your holiday you will need to keep your accommodation and supplements will apply.
---
Image credit: Antti Pietikäinen
---
Other options
Activities
Little Extras
Cross-country ski hire
From: £9pp
Book out some cross-country skis and try your skills out on Harriniva's surrounding trails.
---
Image credit: William Lynds
You can hire snowshoes and go for a trek at your own pace over the snow.
---
Image credit: William Lynds
Special Nights
Dates & Prices
Price Comparison Guarantee
Expertise and knowledge are key to witnessing the Northern Lights. We've been running Aurora hunting holidays longer than any company in the UK and with no lead in prices, no hidden costs and more included, we're confident our tours will come out on top.
Prices
Next season's pre-sale dates and prices
To secure your holiday for next season, you can make a pre-sale booking and fix the price of your trip at the pre-sale price displayed below. Simply by paying an initial deposit of £100pp, you will protect yourself from any package price increases. The departure dates and itineraries remain preliminary and we will contact you when the final dates and itineraries are confirmed, you will then have 14 days to decide if you would like to go ahead. A further deposit payment will be due at the time of us confirming the trip details to you. If you decide not to travel, we will refund your full deposit payment. We reserve the right to charge supplements where there are significant changes to an itinerary or increases in flight costs. Any non-package rates remain subject to change.
Dates

Sun 02 Jan 2022
to
Sun 09 Jan 2022

Enquire

Adults

£ 1,485

Sun 09 Jan 2022
to
Sun 16 Jan 2022

Enquire

Adults

£ 1,510

Sun 16 Jan 2022
to
Sun 23 Jan 2022

Enquire

Adults

£ 1,485

Sun 23 Jan 2022
to
Sun 30 Jan 2022

Enquire

Adults

£ 1,510

Sun 30 Jan 2022
to
Sun 06 Feb 2022

Enquire

Adults

£ 1,565

Sun 06 Feb 2022
to
Sun 13 Feb 2022

Enquire

Adults

£ 1,565

Sun 13 Feb 2022
to
Sun 20 Feb 2022

Enquire

Adults

£ 1,900

Sun 20 Feb 2022
to
Sun 27 Feb 2022

Enquire

Adults

£ 1,655

Sun 27 Feb 2022
to
Sun 06 Mar 2022

Enquire

Adults

£ 1,540

Sun 06 Mar 2022
to
Sun 13 Mar 2022

Enquire

Adults

£ 1,510

Sun 13 Mar 2022
to
Sun 20 Mar 2022

Enquire

Adults

£ 1,485

Sun 20 Mar 2022
to
Sun 27 Mar 2022

Enquire

Adults

£ 1,395

Sun 27 Mar 2022
to
Sun 03 Apr 2022

Enquire

Adults

£ 1,395

Sun 03 Apr 2022
to
Sun 10 Apr 2022

Enquire

Adults

£ 1,395
Please note: our holiday prices are based on the lowest available airline fares. These fares can sell out quickly and, as a result, prices may increase and supplements may be applicable. We recommend booking at the earliest opportunity to secure the best possible fares and flight times.
Terms
For our full booking terms and conditions please click here
The Specifics
Holiday group size (approximate)
Minimum 2 people (during activities the maximum group size is approximately 24 people)
Group Size
We always try to provide an approximation of the group size you can expect to be with for the duration of each of our holidays. It may be that you are joined by others for parts of your holiday (such as transfers and particular activities) but the above number reflects those you can normally expect to be with from beginning to end. If group size is something which is particularly important to you, please speak to our Travel Experts and they can suggest the best holidays for you.
Tailor-made holiday group sizes will vary for all activities as will the group size for any additional activities you book.
Minimum numbers required for a holiday to operate
Some of our holidays require a minimum number of participants to operate (as listed in the 'Group Size' section). If your holiday departure has not yet reached the minimum number, you will be told at the time of booking. In the unlikely event that your chosen date is not guaranteed by nine weeks before your scheduled departure date, we will contact you to discuss the available options as per our booking conditions.
Minimum and maximum age
If a specific minimum age applies to this holiday, it can be found in the Key Facts box on the holiday Overview page.
Unless otherwise stated in the Key Facts box on the holiday Overview page, the minimum age for participation in an Aurora Zone holiday is typically 12 years old (there may be younger children in some destinations who have booked with other companies). If an adult-only environment is important to you, then please contact our Travel Experts and they will advise on the best dates and destinations for you. If you are looking for a holiday designed specifically for families then please see our sister company www.activitiesabroad.com.
Itinerary amendments
The order of activities listed in this agenda is provided for guidance only, your final and detailed itinerary will be provided either with your final travel documents (which are uploaded into your online account around a week prior to departure) or upon arrival.
Medical History and Advice
We want our holidays to be accessible as they can be and will do our best to accommodate any special requests and requirements where possible. We have a wide range of holidays and destinations and so our travel experts will help find the best holiday for you.
In order to give us the best possible chance to do this, we ask that if you or any member of your party has any medical condition or disability which may affect your holiday or has any special requirements, that you tell us at the time of enquiry or booking. You must also promptly advise us if any medical condition or disability which may affect your holiday develops after your booking has been confirmed. You may need to provide a doctor's note and proof of insurance in some cases as the health and safety of our clients is absolutely paramount.
In providing this information you are allowing us to work with our expert local partners to ensure that your whole party can enjoy the holiday. By letting us know in advance we can discreetly work with you to adapt any part of the holiday which may potentially be challenging. Being able to prepare for this in advance makes an incredible difference to what we can offer and minimises any impact on your party and the rest of the group.
Unfortunately, if you choose not to share this information with us in advance then it may limit some or all of the itinerary you have booked, and we cannot be held accountable for any additional costs or missed activities resulting from this.
Insurance
Insurance is not included in your holiday, but it is a pre-requisite to travelling with us. You will need to ensure that you have cover for all the activities that you will be participating in during your holiday.
It is extremely important that you take out a suitable travel insurance policy at the time of booking. Plans do sometimes change, and you will need this policy should you need to cancel your holiday.
If you are struggling to find a suitable policy then details of our preferred provider, who will cover you for all the activities we offer, can be found on our website by clicking here. Please note that this policy is available to EU residents under the age of 75 only.
Booking Activities Locally
Additional activities can be booked locally in almost all our destinations. However, as per our booking conditions, we cannot be held responsible for any injury or loss incurred through participation in activities which are booked at your destination outside of our holiday itinerary (see our 'Terms and Conditions' for further details).
When arranging any such activity please always ensure that safety is your primary concern.
In some of our destinations, you can borrow or hire equipment for use in your free time. You do so entirely at your own risk. You must ensure that you are properly prepared, have the necessary equipment and knowledge (maps, etc) and ensure that where applicable, you follow marked routes. We recommend discussing your plans with the local teams who will be able to advise on the most suitable options for you.
Always let the reception/guide know where you are planning to go and take a torch and mobile phone (with the hotel/guide's phone number stored). It is also a good idea to leave your contact number and the time you expect to return to the hotel should the hotel need to contact you.
The UK Foreign Office Advice
Our clients' safety is at the centre of everything we do, and our operations team continually assesses and monitors the destinations we feature. We carry out thorough risk assessments and work closely with all of our suppliers to continually follow best practice. For up to date travel advice the UK government offers its Travel Aware website as well as the advice detailed below.
The Foreign and Commonwealth Office Advice
We receive all updates from the Foreign and Commonwealth Office (FCO) with regards to travel advice and we always ensure that we follow this advice in our operations. The FCO issues travel advisories for countries based on a very wide range of factors. They may provide notification about things as simple as a football match and crowds, or they may go so far as to advise against all travel to a region. We ask all our clients to refer to the relevant Travel Advice by Country for the destinations they are visiting in order to make an informed decision on the safety of the destination based on the details provided. It also provides vital information regarding entry requirements, embassy information, local laws and customs as well as specific safety and health. Guests should take responsibility for keeping themselves up to date with this advice. Please also ensure that, if you are transiting through another country, you have read the advice and meet the entry requirements for that destination too.
The FCO travel advice is applicable to British Passport Holders. Most governments will issue their own travel advice for a region and, if you are not a UK resident then you can find some helpful links below:
Australian Department of Foreign Affairs and Trade http://www.smartraveller.gov.au/
New Zealand Ministry of Foreign Affairs and Trade https://www.mfat.govt.nz/
Canadian Consular Affairs Bureau http://voyage.gc.ca/
The U.S. Bureau of Consular Affairs https://travel.state.gov/content/travel/en/international-travel.html
If the FCO deems that there is an unacceptable level of risk for UK citizens then, together with the government, they may issue an advisory against all travel to a region or country. If such an advisory is published, then we will act accordingly, and this may require the cancellation, curtailment or amendment of a holiday itinerary. These decisions are made on the basis of ensuring our clients' safety and will affect all clients on the holiday, regardless of their nationality.
If one of our local experts suggests an amendment due to a situation which develops locally then we may also take the decision to amend an itinerary appropriately.
If we have to cancel your holiday prior to departure you will be offered the option of an alternative trip (where any price difference will either be refunded to or covered by you) or a full refund of the monies paid.
If we have to curtail a holiday, then you will be refunded for any costs for the elements we have been unable to deliver, where we have been able to secure a refund from our suppliers. If we must reroute a holiday, then any basis for refund is determined on a case by case basis and dependent on whether the central holiday experience was provided or not.
Brexit information for British Passport holders
For the most up to date information on how the UK's departure from the EU may affect your holiday please click here to view our Brexit information for British Passport holders.
Flight schedule changes and connecting transportation
On your documentation, we will confirm your flight schedule. Sometimes the flight number, routing and timings might change prior to your departure. If the change is classed as a significant change then we will contact you to discuss this. Please see our booking conditions for details.
Flight schedule changes can impact on your pre and post-holiday travel arrangements if these have been booked separately to your holiday. We strongly recommend that you do not book transport (such as trains or transfers), car parking or non-connecting flights to the departure point for your holiday until you have received your final confirmed travel times when your final travel documents are issued. We are not responsible for the effect of any schedule change on your pre or post travel arrangements. We strongly recommend that you do not purchase non-flexible or non-refundable tickets to avoid cancellation and penalty charges.
Booking your own flights - cancellation disclaimer
If you have chosen to book your own flights, then you will need to wait until we confirm to you that the holiday departure has met the minimum numbers required to run (if applicable to your chosen holiday). Once the holiday is guaranteed to run, you will be informed and you can then make your arrangements.
If transfers are included in your holiday, please ensure that any potential flights will be met by our standard transfers (speak to one of our Travel Experts for advice) otherwise private transfer supplements may be applicable. Once your flights are booked, please send us a copy of your detailed flight itinerary.
Please be aware that most tickets are non-refundable in the case of cancellation. For this reason, we strongly advise you check the rules of the ticket and check the limitations of your cancellation insurance before booking. We cannot be held liable, in the unlikely eventuality that we should be forced to cancel or amend your trip, for losses incurred relating to any flight booking you have made.
Terms and Conditions
Our full booking terms and conditions can be found on our website: https://www.theaurorazone.com/booking-conditions
Reviews
Traveller Reviews
We could not fault one tiny thing
12 February 2020
by Patricia and Stephen Riches
Our holiday was amazing from the minute we stepped off the plane. Everyone at both locations were so helpful. Lowryt took us ice fishing one morning and then snowmobiling in the afternoon and then made time to cook a fish I had caught and shared it with us; that just made our day! He was amazing and also a big shout out to Maria. Everything was very well organised and the guides were constantly…
Read more checking we were ok and not too cold. The food was very nice and plentiful. The Aurora Dome was a fabulous experience and our log cabin overlooking the frozen river was very comfortable. I could go on and on about this holiday - it was truly magical. It is very hard to pick a favourite moment but I really enjoyed driving the huskies, we did a night trip and a day one. For my husband, he really enjoyed the snowmobiling. We were very lucky to see the Northern Lights, however even if we hadn't, this has been the most amazing holiday which will be hard to top.
Read less
Harriniva - Aurora Escape
05 January 2020
by Victor & Claire Hiscock
Overall the holiday was good and we are pleased we went. Actually caught the lights on two occasions.
Easily the best holiday we have ever had - can't wait to experience something like it again.
05 January 2020
by Jonothan Booth and Siobhan Lovatt
Hard to choose between seeing the aurora, going husky sledding or the snowmobiles. All were great fun in their own way and a great way to spend our time. The guides were super friendly and really knew what they were doing so we always felt comfortable and confident.
The customer service from The Aurora Zone has been excellent
03 March 2019
by Anna & Christopher Carpenter
The food, activities and accommodation were all excellent. There were some really lovely staff at the accommodation too including an excellent barman at Harriniva. We would definitely recommend booking through The Aurora Zone! The customer service from The Aurora Zone has been excellent, along with our really helpful and friendly guide Katrina.
Overall a fantastic experience
06 February 2018
by Jane and Neil Bates
We originally booked to see the Northern Lights but that became secondary to all the great activities. We did see the lights just not in full technicolour.... Next time... All our guides were great, friendly, helpful and worked really hard to ensure everything ran as smoothly as possible. We had a couple of extremely cold days (-35 ish) and the guides ensured we kept moving to warm up and checked…
Read more on us frequently. In addition, flights with Finnair were great. Good service, on time, clean and friendly.
Read less
Fab Holiday
03 February 2018
by Charlene Skinner & Joe Hutton
To be honest from the moment we stepped off the plane to the moment we left everything we did from walking to huskies to skiing everything was so much fun! Fab Holiday, Fab staff at the hotel, the guides. Everyone made our holiday amazing. We saw the Northern lights 4 times but underneath them by Boyfriend proposed. The Food was amazing and we couldn't have wished for a more perfect time away.…
Read more I've said to everyone that booking thru Aurora Zone is a most and traveling to Lapland is a bucket list that shouldn't be ignored. DO it, its really worth it.
Read less
Finland is amazing
01 February 2018
by Neil and Barbara Boulton
Cannot fault the hotel, food, rep, guides or hotel staff at all. Finland is amazing, the people are friendly and the staff and guides couldn't do enough for us and they are passionate about the country. Really enjoyed the dog sledding and reindeer sleigh ride. Sleigh ride as it was done at night, under the moon and stars with two of us in a sleigh. Very romantic. Sledding as it was a faster pace,…
Read more lovely to see the dogs and how they work.
Read less
Perfect holiday - thank you so much
31 January 2018
by Charlene Skinner and Joe Hutton
The holiday from start to finish was amazing and we can't pick a favourite memory because, in all honesty, the holiday was perfect. We had amazing service from all the staff, amazing food and all the activities were so much fun and very well organised. My boyfriend proposed to me under the Northern Lights, so this is also an amazing memory for us but the little gift left by the rep and the hotel…
Read more staff just completed it. Thank you to everyone and we will defiantly return. Don't change a thing because everything you did and will continue to do was ideal.
Read less
We thought everything was lovely
30 January 2018
by Clive and Lesley Hollingsworth
We thought everything was lovely with very attentive Reception staff at the hotel probably the best Reception staff we have encountered anywhere.The Auora Workshop was expertly led by a wonderful guide from Chile, named Alan. He led us in the evening on an adventurous trail through the forest with a wonderful prize at the end of a campfire and hot drinks and biscuits.
10 out of 10 just isn't enough to say how much we enjoyed our experience
30 January 2018
by Donna Redford and Stephen Baker
Pre holiday info and booking easy to follow and the staff I spoke to were helpful and knowledgeable. On arrival at the airport - Greta was on hand to guide us and welcome us to Lapland. The hotel was comfortable, warm and the staff were friendly, helpful and knowledgeable and went above and beyond to make our stay incredible, especially Laura and Eve. There aren't enough stars to rate them 10 out…
Read more of 10 just isn't enough to say how much we enjoyed our experience. Meeting the huskies and getting to hug them was great. As I was unable to ride the sleigh due to back problems, they gave us a tour of the compound and a talk so I could experience a little of the tour. However the tour was great and the guides were phenomenal. We had a FAB time and will be returning soon. The staff and guides were incredible and we wish to thank them all.
Read less
Thank you to all the staff for a wonderful holiday
24 January 2018
by Janice and Stephen Aldridge, Ainsley Smith and Angel Child-Dixon
Thououghly enjoyed this holiday. Probably one of the best I have ever had. The activities are amazing and catered for all ages. Our party of four ranged from 19-68. We didn't have an unenjoyable activity. It was such an amazing holiday. We even saw the Northern Lights which was such a bonus as there was a lot of clouds. I have been on lots of holidays but this was undoubtedly one of the best. The…
Read more staff were amazing and friendly and couldn't do enough for you. All the activities were worth paying for. Not a holiday to be sitting around doing nothing. There's always something to do. The pancakes cooked over the open fire were amazing. I would recommend a visit here for anybody any age. The Northern Lights really made the holiday that extra special. Brought a tear to the eye, it's something I never thought I would see. If your thinking of visiting Finnish Lapland then Harriniva is definitely the place to go. Thank you to all the staff for a wonderful holiday.
Read less
Holiday was absolutely amazing
16 January 2018
by The Hunter Family
The overall holiday was absolutely amazing. We all had a great time. The support and help received at the time of booking was extremely good and helpful with all questions and queries answered. Without a doubt the snowmobile safari was a favourite and we must put a special shout out for our guide Jenni. She was brilliant. She took photos of us all and then whatsapp'd them to us which made the…
Read more whole experience more meaningful and gave us a sense that she wanted us to enjoy our experience as well. She also cooked our pancakes for the Aurora workshop and was our guide for our snowshoe trek. She always stopped and chatted to us, without a doubt a very valued person. I would def book again and have given the link to your site to a few people as highly recommended it :-)
Read less
We will go back
22 January 2017
by Peter and Louise Stone
The holiday was really good and we had a fantastic time, Finland and the people were really warm and friendly and we will go back. Many of the reps were really good in their communication and very helpful. Katrina - resort rep was great and very useful, she could not have done a better job.
First class experience
15 January 2017
by John and Julie Hammond
Everything about the holiday could not be faulted one of our best ever holidays. Your company was recommended to us by experienced travellers and our whole holiday was a first class experience and we have already recommended you to others.
Katarina our guide was fantastic
08 January 2017
by Zoe Richards and Duncan Louca
Katrina our guide was fantastic - when one of our activities was delayed by 45 mins, she left a bottle of wine behind the bar for us to have with dinner as a way of apologising. She was always around to offer tips and advice during our stay. The guides and hotel staff were also fantastic and helped make our trip very enjoyable. We got engaged on the first day there - and we were soon getting lots…
Read more of congratulations from all of the staff whenever they saw us. Most enjoyable activity: "It's a husky day" - it was great to get to work closely with the dogs, harnessing them up and feeding them as well as getting to take them out with the sledge. Least enjoyable activity: Probably the ice fishing - as there were no fish and we got rather cold. Not the fault of The Aurora Zone or the guides - they made it as comfortable and enjoyable as they possibly could.
Read less
Nellim
31 January 2016
by Ross & Jacqueline Campbell
Brilliant holiday thanks, and one that we will be recommending to all of our friends.
Wow, where do I even begin on this one!
31 January 2016
by Alistair Bowditch
Wow, where do I even begin on this one! I went on a holiday to show my wife the Aurora Borealis (the Northern Lights) which I had been fortunate enough to have seen previously. In the event, we had such a fantastic time that the fabulous light show we eventually witnessed was a total bonus. The obvious emphasis of the holiday is understandably the Aurora, but the truth was that the fabulous…
Read more activities on offer (and we tried them all) kept us fully occupied from first thing in the morning to last thing at night! This could have been more accurately sold as an 18-60 (a spin-off of the old 18-30 holidays). Due to the nature of the activities, this was an adult only holiday which was a bonus we hadn't expected. There really was so much to do. In a brief and very packed week we went on snowmobile safaris, dog sledge safaris, (and husky flatulence is something that has to be experienced to be believed), ice fishing, late-night snowshoe walks, cross-country skiing (several times – wow that was hard work), late-night sauna and hot tub, at -15C staring up at the stars, walks into Muonio (twice) and across to Sweden via the river bridge, lunch in the "Ice Palace" and an unbelievable evening in the Aurora Dome down on the river – but a fantastic venue, then someone turned on the Northern Lights for 3 ½ hours! You should change the name from Aurora Zone to Aurora Euphoria!!! Despite what you might hear about Scandinavia, Finland IS NOT expensive. Beer and food is the same as the UK, fuel was the same price as in England, and the two supermarkets in Muonio (only a short walk away) sold everything that the tourist needed. The staff in the hotel were fabulous and without exception, it is the best holiday I have ever had! I really can't suggest anything to better what was on offer at Harriniva.
Read less
This trip certainly exceeded expectations in many ways
17 January 2016
by Sharon Bolton
I would like to thank the team out in Torassieppi for helping make my Birthday celebrations even more spectacular than I expected. This trip certainly exceeded expectations in many ways and with a few sightings of the Aurora Borealis what more could I ask for? Each activity was special in its own way. I enjoyed them all immensely but the one that stands out and brought tears to my eyes was…
Read more returning back to base over a frozen lake with the sun setting, not a sound around except the glide on the ice 'mushing' with a husky pack- truly memorable! The Guides certainly know their job well and were such friendly people too. I would personally like to thank the team: Katrina (rep), Carly (reception), Piia, Valtteri,Scotty (guides & transfer), Eve, Lasse, Topi (amazing chefs) - nothing was too much trouble for this team, they were absolutely brilliant! I do hope to return another time and take up a husky safari as I had a truly magical day 'mushing' with my team of dogs. So many wonderful memories to treasure, thank you so very much to all the Aurora Zone Team (the wine for my birthday was a lovely gesture too).
Read less
First class
03 January 2016
by John Evans
Katrina your rep at Harriniva was brilliant, as were all the Harriniva staff and activity leaders we met. Loved the hotel, loved the food, and once again, both your staff and all the folk at Harriniva were absolutely first class.
---
Gallery
Photos (7)
Videos (1)
---