Overview
This seven-night trip amongst the fells of Lapland offers amazing opportunities to see the Northern Lights. Every evening takes you on a new adventure - you will be husky sledding, reindeer sleighing, snowshoeing and snowmobiling through the Arctic night. This means that every night you can admire the stars whilst you chase the magical Aurora during some thrilling activities. You also have access to the hotel spa and snowshoe and cross-country ski equipment, which you can make use of in your free time.
What's included?
ALL OF THE ACTIVITIES AND SERVICES LISTED BELOW ARE INCLUDED IN THE HOLIDAY PRICE
Flights: Return flights from London to Kittilä. Either direct or via Helsinki depending on date(flight routes subject to change)
Transfers: Return airport transfers
Accommodation: 7 nights in double/twin hotel rooms or Northern Lights cabin accommodation
Meals: 7 breakfasts, 7 dinners
The following activities are included in the holiday: Secret of the Northern Lights workshop, Aurora adventure snowmobiles, Northern Lights explorer by minibus, husky night adventure, reindeer Aurora experience, Northern Lights bonus hunt, Aurora snowshoeing, daily hotel sauna (the order of activities is subject to change)
One unguided rental of snowshoe and cross-country ski equipment
Aurora App which you can download to your phone for the duration of the trip (normally works until 1am)
Snowshoe and cross-country ski equipment hire
Warm winter clothing for the duration of the trip
Fully qualified guides and instructors during activities
Dedicated representative at Harriniva
---
This trip offers the ultimate Northern Lights experience. Set in Harriniva, amongst the beautiful fells of Western Lapland and surrounded by the wild, rugged landscape, this is an ideal location for a week of winter activities and Northern Lights hunting.
Every night of this trip is dedicated to optimising your chances of seeing the Lights, and each activity that is included takes place in the evening, to ensure that you can combine some spectacular experiences with the magic of escaping the light pollution and chasing the Aurora into the night. You will speed over the fells on a snowmobile, reindeer sleigh ride through the forests and husky sled into the night, all in search of the Northern Lights. Also included in your holiday package is hunting the Northern Lights by Minibus and also a guided Snowshoe tour. You will certainly not be bored on this evening with a huge variety or Aurora hunting throughout your stay.
Read more
Routes and distances for your chases will depend on the weather and Aurora activity on the day, heightening your chances of spotting the enchanting Aurora Borealis.
The days have been left free for you to tailor your trip to suit your wishes and your budget. Staying in your cosy accommodation in Harriniva, you can use this time to unwind, utilising your free daily access to the hotel sauna, trying a traditional Finnish pastime while basking in relaxation. You may want to take yourself out and on to the rolling fells of Harriniva, making use of the day's snowshoeing and cross-country skiing equipment that is available to you.
Or you can choose from the wide range of optional activities that are offered on this trip (see details under the 'Personalise' tab).
This seven-night holiday promises many one-of-a-kind experiences in a stunning location and the best possible chance of viewing the phenomenal Northern Lights.
---
©Antti Pietikainen
View Gallery
Download Dossier
Key facts
| | |
| --- | --- |
| Duration: | 7 nights |
| Pace: | Balanced |
| Suitable for: | Ages 15+. See our terms for further information |
Make an enquiry
Agenda
Accommodation
Included in price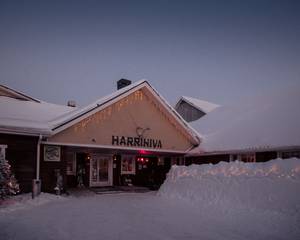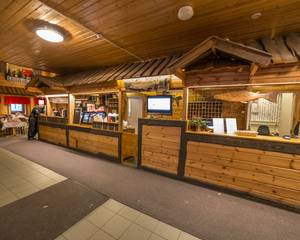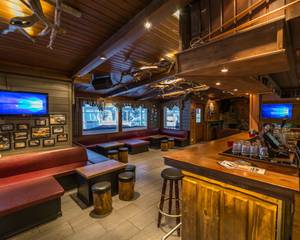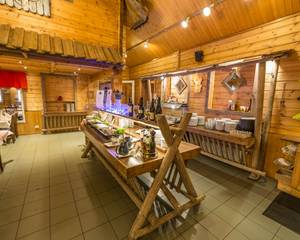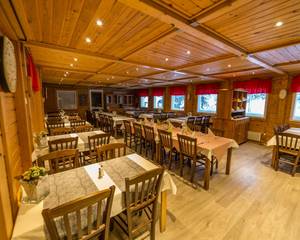 Harriniva Wilderness Hotel
Nights:
1-7
Ideally located in the north-west corner of Finland, high above the Arctic Circle and in the very heart of the Aurora Zone, Harriniva Wilderness Hotel serves as a perfect base for your adventure holiday.
Owned and run by the Pietikäinen family, the hotel has developed a growing reputation for its warm ambience and a large range of enjoyable activities on offer.
Hotel facilities
The hotel has a range of facilities that have been designed to make your stay here as enjoyable as possible.
There is free Wi-Fi throughout the main building for guest use, in our experience, we have found it works best in the main reception and dining area
The hotel restaurant has a lively, buzzing atmosphere as people excitedly discuss the adventures they have taken part in that day. The meals are served in a buffet style with two or three choices for each course. The food here is hearty and wholesome
The hotel also has a pub serving a range of beers, wines and spirits - this is the perfect place to unwind and relax with your fellow guests in the evening
Tea and coffee are available throughout the day at reception, but it is not free of charge, so we would recommend taking a travel kettle if this is of particular importance to you
In the main reception area of the hotel, you will find a small gift shop selling a range of postcards, soft toys and handcrafted products. There is also a selection of snacks that can be purchased
A sauna is available for guest use with separate facilities for men and women. This is free of charge and is heated every evening for around three hours
The hotel also has an Aurora Wellness Centre (situated a short walk away on the riverbank), where you can enjoy a range of therapies such as facials or massages. A real treat after a day of soaking up the pristine wilderness! During peak periods, we would strongly recommend booking therapies in advance through reception (all payable locally and we recommend booking in advance if possible)
Snowshoes and cross country skis are available to hire for a small charge and there are marked trails surrounding the hotel for those with some experience. For those interested in downhill skiing, reception will be able to arrange a taxi to the nearby ski resort of Olos (payable locally)
Room types
Double/twin rooms
Harriniva has 64 guest bedrooms which consist of twin or double rooms. Triple rooms are also available on request. Decorated in traditional Scandinavian style, all rooms have an en-suite shower room and a hairdryer.
Northern Lights cabins
The hotel has a small number of cabins available on the riverbank, which offer a more secluded accommodation option. The cabins have double or twin beds, a private sauna, an en-suite shower room with a hairdryer, a small kitchen and a lounge area.
Safari House
For those travelling on our longer husky or snowmobile experiences, your nights at the hotel will be spent in shared accommodation in one of Harriniva's Safari Houses. Each has sleeping facilities, a shower room, toilet and a sauna. Some safari houses are on site, whereas others are located 3km from the hotel. If you are staying off-site, you will be transferred to and from the hotel for meals.
---
Image credits Emmi Kähkönen - Harriniva Hotels & Safaris
Read more
Read less
Personalise
Personalise this tour
---
Our pick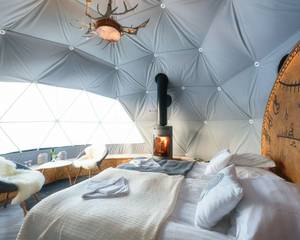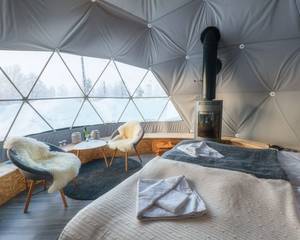 Overnight in an Aurora Dome
The remarkable Aurora Domes are situated at both Torassieppi and Jeris, a location just a short transfer away, and offer a unique experience for overnight guests. These dome-shaped tents are filled with cosy features and are simple in style, with fantastic views looking out to the frozen lake beyond. The domes have been designed so that one wall is see through and therefore provides views of the night sky and, with luck, the Northern Lights.
Read more
The domes are equipped with a double bed and a wood burning stove, as well as an electric heater. Although the stove and heater will keep the dome in a warm state, we do recommend keeping additional layers to hand, in case you find yourself in need of extra warmth should the fire burn out. The toilet, shower and sauna facilities are located a short walk away (50-100m, approximately).
Clients may be allocated to either destination on arrival. Any required transfers and breakfast are included. For December dates at Torassieppi, you will have dinner at your hotel, prior to transferring to your dome at approximately 8:30/9pm; from early January onwards, you will check-in at approximately 4 pm and have dinner at Torassieppi. If you are staying at an Aurora Dome in Jeris, check-in is approximately 4 pm throughout the season and you will have dinner at Jeris as well.
At both locations, you will check-out after breakfast.
Please note: the price shown is based on your spending the first or final night of your stay in a dome and therefore not requiring a hotel room or cottage. Should you wish to spend an alternative night glamping then additional supplements will apply. Please contact one of our team for a quote.
---
Image credit: Antti Pietikäinen
---
Other options
Dates & Prices
We include more, no hidden costs
On each of our holidays, you will see a clear outline of exactly what's included in the price of your holiday. We never use 'headline' or 'lead-in' prices like so many tour operators, as we prefer to include as much as we can, rather than see our clients incur considerable additional costs in our destinations.
Prices
Next season's provisional dates and prices
To secure places for next season, you can make a provisional booking and fix the cost of your holiday at the provisional package price displayed online. Simply by paying a deposit, you will protect yourself from any package price increases. The departure dates and itineraries remain subject to change and we will contact you when the final dates and itineraries are confirmed. You will have 14 days to decide if you would like to go ahead. If you decide not to travel we will refund your deposit. We reserve the right to charge supplements where there are significant changes to an itinerary or increases in flight costs. Any non-package rates remain subject to change.
Dates

Sun 06 Jan 2019
to
Sun 13 Jan 2019

Enquire

Adults

£ 1,645

Single Adult

£ 1,966

Sun 13 Jan 2019
to
Sun 20 Jan 2019

Enquire

Adults

£ 1,645

Single Adult

£ 1,966

Sun 20 Jan 2019
to
Sun 27 Jan 2019

Enquire

Adults

£ 1,645

Single Adult

£ 1,966

Sun 27 Jan 2019
to
Sun 03 Feb 2019

Enquire

Adults

£ 1,665

Single Adult

£ 1,986

Sun 03 Feb 2019
to
Sun 10 Feb 2019

Enquire

Adults

£ 1,735

Single Adult

£ 2,056

Sun 10 Feb 2019
to
Sun 17 Feb 2019

Enquire

Adults

£ 1,815

Single Adult

£ 2,136

Sun 17 Feb 2019
to
Sun 24 Feb 2019

Enquire

Adults

£ 2,075

Single Adult

£ 2,396

Sun 24 Feb 2019
to
Sun 03 Mar 2019

Enquire

Adults

£ 1,845

Single Adult

£ 2,166

Sun 03 Mar 2019
to
Sun 10 Mar 2019

Enquire

Adults

£ 1,725

Single Adult

£ 2,046

Sun 10 Mar 2019
to
Sun 17 Mar 2019

Enquire

Adults

£ 1,725

Single Adult

£ 2,046

Sun 17 Mar 2019
to
Sun 24 Mar 2019

Enquire

Adults

£ 2,025

Single Adult

£ 2,346

Sun 24 Mar 2019
to
Sun 31 Mar 2019

Enquire

Adults

£ 1,885

Single Adult

£ 2,206

Sun 31 Mar 2019
to
Sun 07 Apr 2019

Enquire

Adults

£ 1,885

Single Adult

£ 2,206

Sun 07 Apr 2019
to
Sun 14 Apr 2019

Enquire

Adults

£ 1,885

Single Adult

£ 2,206

Sun 05 Jan 2020
to
Sat 12 Jan 2019

Enquire

Adults

£ 1,760

Single Adult

£ 2,105

Sun 12 Jan 2020
to
Sun 19 Jan 2020

Enquire

Adults

£ 1,760

Single Adult

£ 2,105

Sun 19 Jan 2020
to
Sun 26 Jan 2020

Enquire

Adults

£ 1,760

Single Adult

£ 2,105

Sun 26 Jan 2020
to
Sun 02 Feb 2020

Enquire

Adults

£ 1,780

Single Adult

£ 2,125

Sun 02 Feb 2020
to
Sun 09 Feb 2020

Enquire

Adults

£ 1,855

Single Adult

£ 2,200

Sun 09 Feb 2020
to
Sun 16 Feb 2020

Enquire

Adults

£ 1,940

Single Adult

£ 2,290

Sun 16 Feb 2020
to
Sun 23 Feb 2020

Enquire

Adults

£ 2,220

Single Adult

£ 2,570

Sun 23 Feb 2020
to
Sun 01 Mar 2020

Enquire

Adults

£ 1,975

Single Adult

£ 2,325

Sun 01 Mar 2020
to
Sun 08 Mar 2020

Enquire

Adults

£ 1,845

Single Adult

£ 2,195

Sun 08 Mar 2020
to
Sun 15 Mar 2020

Enquire

Adults

£ 1,845

Single Adult

£ 2,195

Sun 15 Mar 2020
to
Sun 22 Mar 2020

Enquire

Adults

£ 2,165

Single Adult

£ 2,515

Sun 22 Mar 2020
to
Sun 29 Mar 2020

Enquire

Adults

£ 2,015

Single Adult

£ 2,365

Sun 29 Mar 2020
to
Sun 05 Apr 2020

Enquire

Adults

£ 2,015

Single Adult

£ 2,365

Sun 05 Apr 2020
to
Sun 12 Apr 2020

Enquire

Adults

£ 2,015

Single Adult

£ 2,365
Terms
For our full booking terms and conditions please click here
Holiday group size (approximate)
Minimum group size 4; maximum group size 22 (approximately)
Group sizes and minimum numbers
Most of our holidays require a minimum number of participants to operate. Minimum numbers are detailed on each holiday page and are always approximate. Group sizes for tailor made holidays will vary for each of the activities. For private departures you may also be joined by other guests during the activities unless you have discussed specific private activities with us.
If your selected date has not yet reached minimum numbers you will be informed at the time of booking. In the unlikely event that your chosen date has not reached the required minimum numbers nine weeks before your scheduled departure date we will contact you and discuss the various options available to you. We will always do all we can to operate a holiday and in some cases we may be able to operate the holiday by combining your itinerary with that of other guests for some activities (this may mean that the maximum group size is increased but this will be discussed in full with you).
If we are unable to operate the holiday then you will be offered the chance to transfer to an alternative holiday or date (subject to availability). If the alternative is more expensive you will be asked to pay the difference, if it is cheaper then you will be reimbursed. You will also be offered the option to cancel and receive a full refund of all monies paid.
See our booking conditions for further information.
Order of activities
The order of activities is always subject to change and you will be provided with your final itinerary upon arrival at your destination
Medical History and advice
If you or any member of your party is pregnant or has any medical condition or disability which may affect your holiday or has any special requirements as a result of any medical condition or disability (including any which affect the booking process), please tell us before you confirm your booking so that we can assist you in considering the suitability of the arrangements and/or making the booking. In any event, you must give us full details in writing at the time of booking and whenever any change in the condition or disability occurs. You must also promptly advise us if you become pregnant or any medical condition or disability which may affect your holiday develops after your booking has been confirmed.
See our booking conditions for further information.
Experience and fitness
We offer a vast choice of holidays which range from 'relaxed' to 'active' so there really is something for everyone and our holidays can be filtered by how active they are. Regardless of the chosen holiday, all activities will include tuition from a beginner's lever and no prior experience is assumed.
If you are unsure about the physical demands of a particular holiday please contact us and our expert team will be happy to help.
See our booking conditions for further information.
Guides and safety
It is absolutely essential when partaking in any activity that you listen very closely to, and abide by, the instructions provided.
If there is anything that you are unsure of during a safety briefing or that you would like to clarify with the guides please make this clear to them immediately before starting the activity.
Our guides' word on activities is always final and your safety is their principal concern at all times, please respect their decisions. By following their instructions, your safety and enjoyment during each activity will be greatly enhanced.
See our booking conditions for further information.
Booking activities locally
In almost all of our destinations you can book and pay for additional activities locally. Please note that we cannot be held responsible for any injury or loss that occurs through any activities that are booked in your destination (see our terms and conditions for further details).
Please always ensure that your safety is your primary concern when arranging any such activity.
Car Hire
If your trip includes car hire the named driver must have a credit card registered in their name which they can present when they collect their car along with their driving licence, as a deposit will be held on the credit card. Please see your trip dossier for full details.
Reviews
Traveller Reviews
The trip was amazing
06 March 2018
by Gillian McDonnell and Tracy Partridge
The trip was amazing. It was such a magical place, the air was so pure, the scenery stunning. We had a glimpse of the lights which made the trip. The guides, accommodation, staff etc at the Wilderness Hotel were fantastic, I didn't want to come home
---
---