Sommarøy
Known as 'Summer Island' to the locals because of its white sandy beaches and clear blue waters, Sommarøy makes for a great backdrop to any Aurora hunt.
About
Once you have visited Sommarøy you will understand why the small island of only 300 inhabitants is also referred to as 'Summer Island'. With its white sandy beaches and clear waters, even in the winter when the area is covered with a layer of snow, you will be able to appreciate the beauty of this remote island.
The name Sommarøy itself goes back to a time when most people lived on the nearby Hillesøya Island, with the land at Sommarøy being used as grazing for their cows in the summer months. However, with the arrival of motorboats and larger vessels, it wasn't long before this island became one of the busiest fishing villages in the county of Troms that we find today.
Speak to our Aurora Experts
01670 785012
Spectacular Views
The island is situated around 35km from the city of Tromsø and is, therefore, an excellent place to venture after a stay in the city. The views from Sommarøy are some of the best around.
To the north, many of the small islands of the Troms County can be seen, with the highest point amongst these being Håja which rises 486 metres out of the water. Many locals believe it to resemble the Arctic cathedral in Tromsø, something you can judge for yourself on our Tromsø - Aurora Dome Glamping in the Arctic Mountains.
To the south of Sommarøy, you can see all the way to the Kjølva headland beyond the shoreline of Senja. If you look inland and towards the east, you will be able to spot the Kvaløya mountains, with Storhavet lying to the west. What is important to remember is that no matter which direction you are facing Sommarøy offers up some views to savour.
A Wealth of Wildlife
Besides the amazing Aurora displays that frequently make an appearance over Sommarøy, the other main draw to the island are the boat trips.
Every year between November and January the waters surrounding the island are filled with visiting whales such as Orca, humpback whales and fin whales as well as dolphins and seals, attracted to the waters by the large numbers of herring that come to the area to spawn. This makes the area very popular with those visitors who wish to see these majestic creatures in their natural habitat.
In fact, our Tromsø - Autumn on Sommarøy and New Year Lights at Sommarøy tours, both let you head out onto the water in search of the amazing marine life and the many seabirds in this area for yourselves, something that is a firm favourite with our guests.
Image credits: Sommarøy Arctic hotel,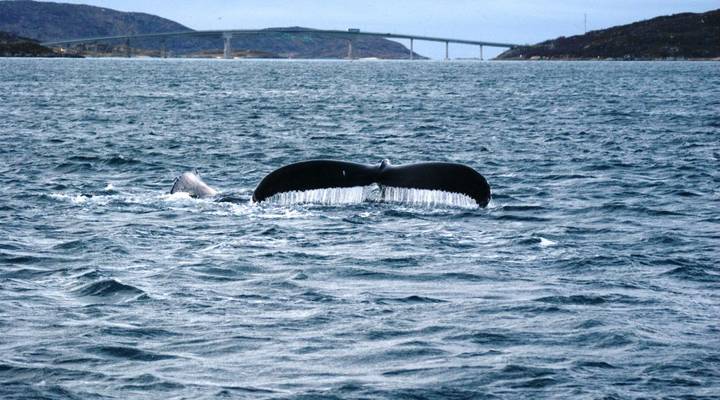 Popular holidays to Sommarøy
Holidays
Accommodation