Oslo
The capital of Norway, Oslo is a vibrant cosmopolitan city with an abundance of bars, restaurants, museums, shops and galleries ready to be explored.
About
As Norway's capital and most populated city, Oslo is a flourishing and friendly place and has much to offer its visitors.
First founded around 1000AD the city somewhat lagged behind its sister cities of Stockholm and Helsinki but its strategic position for maritime trade led to a steady growth. From the 1950s, the city saw a transformation and began to develop into the enterprising and cosmopolitan commercial hub that it is today. Architecturally speaking, it is often referred to as the melting pot of Norway and visitors can see a great variety of beautiful buildings showcasing neoclassicism, functionalism and the emergence of a brand-new style of contemporary architecture.
Oslo today is one of the fastest growing cities in Europe with a population of around half a million. Set between the Oslofjord and the forests, the borders of the city stretch out into the surrounding nature, making it one of the most diverse capitals and also the largest capitals in the world by ground area, covering around 453 square kilometres. Behind the city's main residential area, forest scenery extends out and is home to an extraordinary range of trees and wildlife including moose and wolves.
Speak to our Aurora Experts
01670 785012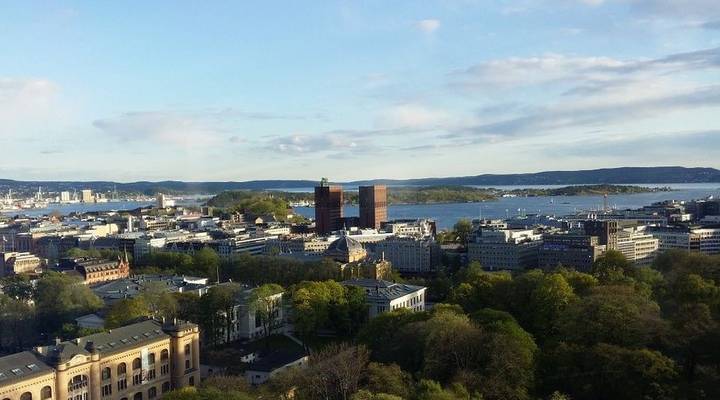 Lots to see and do
For those enjoying a stopover in Oslo, there is much to enjoy. For example, our Kirkenes and Nellim – The Ultimate Aurora Trail gives you the chance to experience the café culture and restaurant scene for yourself, which is known for being diverse and inventive and visitors can enjoy some delicious nouveau Norwegian cuisine.
Key attractions in the city include The National Art Gallery, which features thousands of pieces of world-famous art including Edvard Munch's 'The Scream' and the Vigeland sculpture park in the city's Frogner Park which is home to more than 200 sculptures by Gustav Vigeland in bronze, granite and cast iron. Visitors might also enjoy the Viking Ship Museum which is home to two of the world's best-preserved Viking ships dating back to the 9th-century or the Norsk Folkemuseum, one of the world's oldest and largest open-air museums.
Visitors might also be interested in the world-famous Holmenkollbakken Ski Jump which features the world's oldest ski museum and a brilliant observation deck offering panoramic views of this wonderful city.
Whether you are here for just a day or a weekend, Oslo is a welcoming and intriguing city and you can be sure to find something to appreciate.
Image credits: Terje Borud & Bjørn Jørgensen - Visitnorway.com, Innovation Norway
Read more
Read less
Holidays
Accommodation