About
With its wilderness surroundings and dramatic landscape, Narvik is a wonderful port town with a strong connection to nature.
The dark skies here make it an ideal location for Northern Lights hunting and though it is possible to see the green dancing lights from town, Narvik's cable car offers an even better view. Taking you over 600m high, you'll be away from artificial light and closer to the dark polar skies. If conditions are favourable, you're likely to be in for a truly dazzling display.
Speak to our Aurora Experts
01670 785012
Deep history and natural wonders
Narvik is a tale of two towns. On one side, you have the majestic mountains, dramatic fjords and stunning island views - making it a brilliant place to get back to nature. However, Narvik is also an important industrial town due to its ice-free port and has a rich history, particularly from the WW2 era. At the Narvik War Museum, you can discover the large role the town played during the war with brilliant and insightful exhibitions.
The town also still holds a very strong connection to nature. It is in the process of being certified as a 'Sustainable Destination' as it is working to reduce the negative impacts of tourism. Narvik is dedicated to providing visitors with a wonderful experience while preserving the local nature, culture and environment.
Narvik is also renowned for its ski resort, offering some of the best alpine skiing in Norway - it even features one of Scandinavia's largest drop heights.
Our Northern Lights Holiday to Narvik
Narvik is included in our 'Two Country Tour – ICEHOTEL, Fjords and Arctic Circle Train' holiday. Having spent three days exploring Swedish Lapland, you will take the scenic train ride to Narvik and start exploring immediately with the cable car ride up to hopefully witness the Northern Lights. Also on the agenda is a wonderfully insightful Sámi experience where you will learn all about the culture as well as search the skies for the Northern Lights. Lastly, you will visit the Polar Park - the world's most northern animal park to see a range of Arctic animals.
For your chance to experience the wonderful town of Narvik, speak to our Aurora Travel Experts today on 01670 785 012.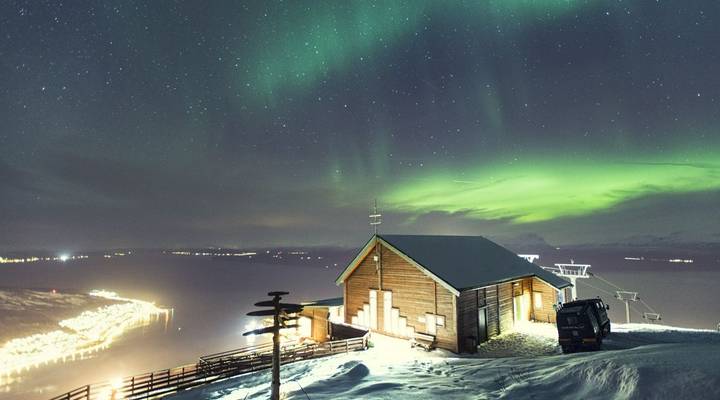 Holidays