Reykjavik
The world's northernmost capital might be a small city but it packs a great punch, making it one of Europe's 'must-see' cities for any budding traveller.
About
Reykjavik proudly bears its distinction as the world's northernmost capital and is a vibrant, exciting and dynamic city. Its relaxed, open-minded and energetic culture makes it home to art impressive art and music scene, creating a laid-back and welcoming atmosphere that oozes from the city.
While winter-time in Reykjavik is renowned for its short days, it is far from a dark city. The sun never rises to a high point during the day, which creates a soft, warm glow that covers the city until the sun sets again. The late sunrise and early sunset also mean that there are more opportunities to view the Northern Lights. The lights can be seen in Iceland for almost eight months in the year, and Reykjavik is one of the most highly recommended places to see them.
Speak to our Aurora Experts
01670 785012
A City of Culture
In 871 AD, the city was merely a small collection of farm buildings and remained this way until the 17th - century. Only when the economy began to develop did the city itself begin to thrive, as weaving, tanning and wool dying factories became solid foundations for the city's financial security. During World War II, Reykjavik acted as a base for British and US troops. This rapidly increased the development of an already expanding city, as cultural diversity enhanced the society further.
Now, although it is only a small city, Reykjavik is extremely cosmopolitan and offers an array of striking architecture, a flourishing café and restaurant culture, lively nightlife and a number of charming art galleries. In particular, it presents an impressive contemporary art scene and is viewed as the main hub for much of Iceland's art community.
Although the city is a metropolis in every sense of the word, it has been crafted around a number of parks and recreational areas, where nature is protected and carefully preserved – an urban homage to the incredible landscapes which can be found in the wilderness.
Our Trips
As a city is not the best place from which to search for the Northern Lights due to the large amount of light pollution, Reykjavik acts as more of a hub from which to explore this beautiful country from.
This is the case with our Reykjavik & Golden Circle Northern Lights Tour which takes you out of the city to Videy Island and to some stunning viewpoints in pursuit of the ever-elusive Auroras.
For those looking to see as much of Iceland as possible in a short space of time, we strongly recommend our Autumn Northern Lights Cruise in Iceland. This cruise gives you time to explore this wonderful city before setting sail to the beautiful Snaefellsnes and Westfjords peninsulas. There is also the opportunity to explore Skjálfandi Bay and its famed volcanic Lake Mývatn before enjoying a trip in search of various whales and wildlife that surround the waters of Iceland.
For those wanting to see in the New Year in style, what could be better than experiencing our trip to see the Northern Lights in Iceland at New Year? This trip allows you to explore the city as well as hunt for the Northern Lights by boat and super jeep and of course there are always the New Year celebrations to enjoy!
---
Image credit: Visitreyjavik.is
Read more
Read less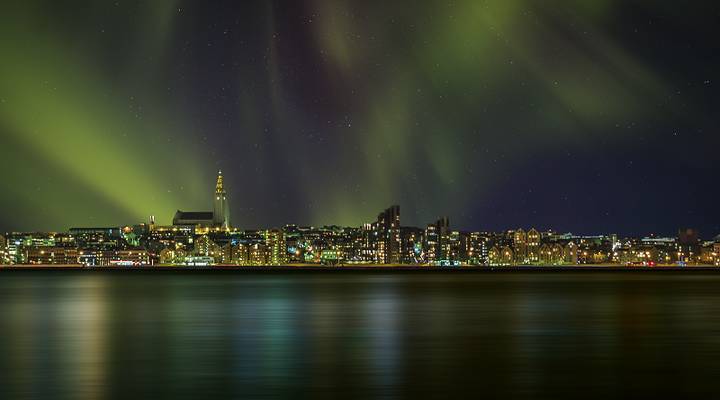 Popular holidays to Reykjavik
Holidays
Accommodation