Iceland's South Shore
With a dramatic backdrop of volcanoes, glaciers, geysers and hot springs, Iceland's South Shore is an awe-inspiring place to watch the Aurora.
About
Iceland's starkly beautiful South Coast is known for its wealth of natural wonders, geological spectacles and intriguing history. This phenomenal region is characterised by cascading waterfalls, inviting lagoons as well as black sandy beaches and moss lava fields set against a scenery of volcanoes and glaciers.
Here at The Aurora Zone, we understand that seeing the Northern Lights is usually everyone's top priority but our Northern Lights adventures to the South Coast of Iceland not only take you to the best places to hunt the Aurora but also to the best places to experience these incredible geological wonders.
Speak to our Aurora Experts
01670 785012
Natural Splendour
Two of the most well-known waterfalls of the south shore are Seljalandsfoss and Skogafoss. At Seljalandsfoss you can walk behind the curtain of water and appreciate a wonderful viewpoint, whilst Skogafoss is a breathtaking natural spectacle. At 25 metres wide and with a drop of around 60m it is one of the biggest on the island and is frequently used as a filming location.
Another highlight of the south shore is the incredible glacier Myradalsjökull, Iceland's fourth largest ice cap. It spreads over 700 square kilometres and covers Katla, a huge active volcano that has been recorded as erupting roughly twice each century with its last eruption in 1918. It is here that you can really appreciate the gigantic scale of Iceland's powerful natural forces.
Also, on the south coast, you will find Eyjafjallajökull, the volcano whose ash cloud caused a great deal of travel disruption a few years ago. Whilst the volcano is very calm these days, the small nearby museum has a delightful exhibition on how the eruption affected the local people and the neighbouring farmlands. Hekla, one of the islands most active volcanoes is also close by. Our Iceland - Natural Wonders and Northern Lights holiday lets you experience these many natural wonders for yourself as well as giving you opportunities to hunt for the Northern Lights.
South Coast Accommodation
Due to the remote nature of the south coast and the surrounds of Hotel Ranga which is the main holiday base we offer here, the light pollution is minimal, ensuring that the potential for Northern Lights is exceptionally high.
Indeed, Hotel Ranga offers an excellent Aurora wakeup call service in which they will wake you up should the Northern Lights be spotted. Of course, nothing can be guaranteed, but here on the south coast, should the skies be clear you may see a spectacular Aurora display light up the sky.
---
Image credits: Iceland Pro Travel & Hotel Ranga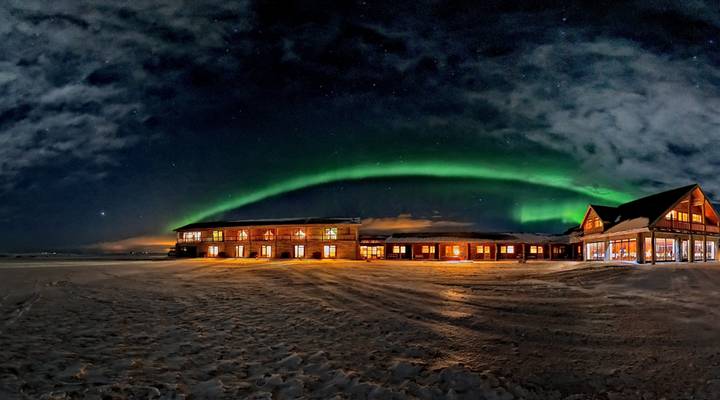 Popular holidays to Iceland's South Shore
Holidays
Accommodation