Saariselkä
Saariselkä's Northern Lights Village is the brainchild of one of the world's most enthusiastic Northern Lights photographers. There aren't many places where you can potentially watch the Aurora from the comfort of your own bed!
About
Saariselkä sits nestled amongst the fells and forests of North East Finnish Lapland, the small ski resort is a popular destination with the Finns and equally so with our guests and staff. Many of our team have gazed in awe at the Northern Lights from the wilderness surrounding the resort as it is in prime Aurora territory.
Saariselkä itself is a great place for some souvenir shopping and for those who fancy some downhill skiing action, there are some great slopes. However, our primary base here is tucked away around 1 km from the centre, far from any light pollution and is one of our most popular destinations. The Northern Lights Village is a truly remarkable place and it is the only destination we feature which is dedicated solely to glass-roofed Aurora Cabin accommodation.
Not only can you spend your nights gazing at the skies from your duvet, but you can participate in a huge range of winter activities and experiences. We offer a wide range of options here from our 3-night Glass Igloo Aurora Escape and our four-night Window to the Northern Lights (both of which have Christmas and New Year departures) to our tailor-made holidays which allow you to fully tailor your time either during the autumn or winter months.
Speak to our Aurora Experts
01670 785012
Winter days; Aurora nights
The town of Saariselkä may be known for its skiing, but we are far more concerned with the activities which take place in the surrounding wilderness. Our holidays at the Northern Lights Village provide opportunities for a wealth of unforgettable options.
You don't have to wait for the snow to fall to make the most of your time here as our Autumn Tailor Made holiday offers some incredible Aurora activities which do not require any of the white stuff! We have daytime hikes and husky rides using a wheeled cart and we have cultural delights such as a visit to the Sámi Siida Museum and even gold panning! At night, the activities include dedicated Aurora hunts and Aurora Camps in some of the region's best viewpoints.
Once the snow has arrived things can get a bit livelier and our holidays include a variety of unforgettable options such as dog sledding and snowmobiling. There are reindeer encounters to be had and ice fishing trips to be enjoyed amongst many other options, including downhill skiing of course.
At night it is all about the Northern Lights though and here and you can search for them on snowmobiles, on snowshoes, and in minibuses. There are Aurora Camps to be visited both on lake shores and near the Russian Border.
One of the unique elements of the activities here is that all the Aurora hunts provide the chance for guests to learn how to capture the lights on camera as your guide will be able to provide tuition. Even if you don't have all the kit needed, it can be hired locally. This all gives you the chance to take home the most memorable souvenir from your holiday.
Aurora Accommodation Each Night
As you may imagine, a destination which is solely focused on Northern Lights accommodation does it well! The Aurora Cabins at the Northern Lights Village are wonderful, and they have been built specifically for the job. Each of the cabins faces North and the half glass roof points your gaze directly towards the sky. There are 80 cabins in the Village, but each are well spaced, and all retain their charm as they are built from wood and have some very Finnish touches inside.
Very importantly when hunting the Northern Lights from your duvet, is the clever timer switch which can be used to melt any snow on the roof within 10-15 mins, so there is no need for you to have to leave your cosy accommodation to sweep the roof.
One of the great things about the Village is that so many of the facilities are on site. The large kota (wooden tepee) restaurant is the central hub of course but many of the activities also begin here.
There is a reindeer farm and paddock and most snowmobile and Aurora activities start at the Village too, making life nice and easy.
The fells and forests surrounding the accommodation offer an immediate escape into the wilderness and you can get some truly stunning views from the elevated ground around the region. Some of our staff have seen spectacular displays of the Northern Lights from these fells.
You are just 1 km from the town and can also take advantage of the shops and downhill ski slopes during your stay should you wish to do so. This is especially easy if you try our Tailor Made itinerary as you can plan your time according to how active you wish to be.
---
Photography by Markku Inkila
Read more
Read less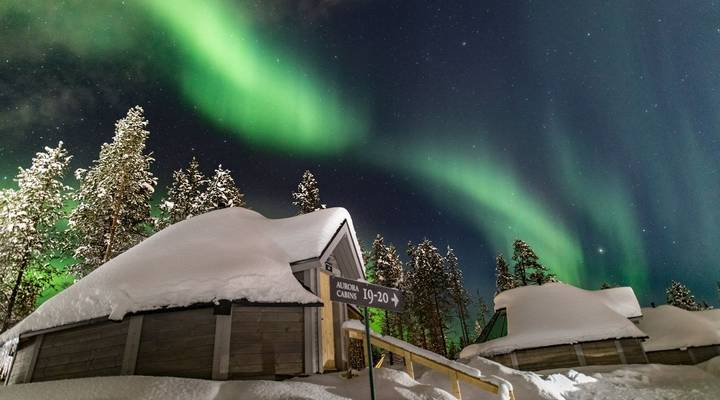 Popular holidays to Saariselkä
Holidays
Accommodation