Muotka
Surrounded by the Finnish fells and Taiga forest, Muotka offers a tranquil shelter of stunning nature right in the wilds of the Arctic.
About
Muotka is an idyllic winter destination hiding deep within the Taiga Forest in North-East Lapland. The location of this forest-veiled wilderness hotel is ideal for witnessing the spectacular Northern Lights.
Whether you're looking for a relaxed winter experience hunting for dancing Auroras, an Arctic adventure equipped with snowmobiles and huskies, or a combination of both, Muotka has it all. The hotel's homely rooms and cabins provide instant relaxation upon your return from an evening hunting for the Northern Lights beneath the darkest, star-filled skies in Europe.
Muotka is owned and operated by our good friends Jouko and Mari Lappalainen. We have worked together with this hard-working couple for over a decade at Muotka's sister hotel Nellim and Muotka has since become one of our most popular destinations (both with staff and guests alike).
---
Speak to our Aurora Experts
01670 785012
Our activities and experiences
Muotka's superb location allows us to offer a varied range of holiday options. We have created our itineraries with our local experts to show you the best of this stunning spot and its surroundings, during the day and at night.
For those looking to embrace their adventurous side, we offer a fantastic range of activities that will get your adrenaline flowing. Our Muotka – Northern Lights Adventure is an active break including snowshoe treks, snowmobiling, a husky safari and the all-important Aurora hunts.
Fellside Auroras offers a balance of free time and activities and the hunts tend to be at a more leisurely pace but no less effective. The holiday includes two minibus hunts for the lights providing you with the mobility to hopefully evade any localised cloud cover.
For those looking for a longer holiday in this pristine environment then look no further than our week-long Search for the Northern Lights at Muotka. We also provide the chance for you to combine your time in Muotka with some nights at Nellim Wilderness Hotel.
For those who want to create their own Aurora hunting holiday then we even offer a tailor-made option - giving you control of the duration and content of your all-important break.
We also offer special versions of most of our holidays over and in between Christmas and New Year.
Our accommodation at Muotka
Wilderness Hotel Muotka receives exceptional reviews and sits amongst the best-rated Finnish hotels outside of Helsinki.
The accommodation at Muotka offers a wide range of different rooms to suit every guest. With rooms and a variety of cabins available (some are very special indeed).
Mari has painstakingly chosen the interior features of the rooms and takes inspiration from the surrounding area and the indigenous Sámi culture. The rustic charm and cosy atmosphere of the interiors create a relaxed environment inside, where you feel protected from the Arctic elements.
If you would like to upgrade your stay then you can choose from cosy log cabins and the incredible Aurora Cabins. Both are fabulous but the Aurora Cabins have large windows in the roof to allow you to keep an eye out for an Aurora display from within your cosy accommodation.
The hotel restaurant follows the same welcoming interior design as the rooms, with a fully-stocked bar available. Dinner is served buffet style with many international flavours and you can also try some local favourites including Arctic ingredients such as reindeer and cloudberries. The food is hearty and ideal for sustaining you during your Arctic adventures.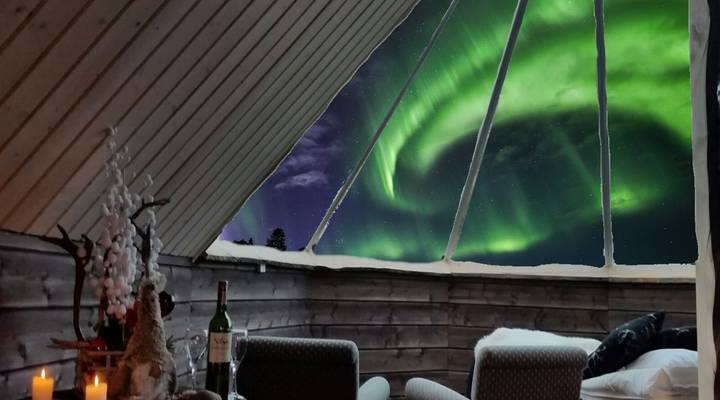 Popular holidays to Muotka
Holidays
Accommodation