Menesjärvi
Menesjärvi's human population is outnumbered by reindeer and as a result, there is very, very little light pollution making this isolated hotel a perfect Aurora chasing base.
About
Some parts of Finnish Lapland have become quite commercial especially in December when the search for Santa is in full flow. That is very definitely not the case in Menesjärvi, a tiny reindeer herding village some 300km north of the Arctic Circle.
Menesjärvi is everything that you would imagine Lapland to be: snowy forests and frozen lakes in winter and all those burnished autumnal colours in September and October.
What's more, hardly anybody lives here which means that light pollution is at an absolute minimum. As we all know, dark skies are absolutely key to seeing the Northern lights in their full glory and there can be few locations better than Menesjärvi in this respect.
Menesjärvi is about an hour's drive from Ivalo Airport down increasingly rural roads. Just when you thought you couldn't get any more remote, you arrive at the accommodation on the shore of Lake Menesjärvi (Järvi means lake in Finnish).
Getting out of your transfer vehicle you will immediately appreciate that you have arrived somewhere very special indeed. This holiday is all about exploring the snowy wilderness by day and gazing at the pitch black sky at night. Basically, if you want to do just that in a genuinely Lappish environment then Menesjärvi is the place for you.
---
Speak to our Aurora Experts
01670 785012
The season of Menesjärvi
Autumn turns the wilderness that surrounds Menesjärvi into a riot of colour. The landscape is bathed in red, orange, yellow and all those colours you would associate with the Fall. Once darkness descends, the night sky is regularly ignited by the swirling Aurora whose majestic light is often reflected in the still, open waters of Lake Menesjärvi. Autumn is also a much warmer time of year so, if you enjoy some great hiking and warmer weather then our Autumn Wilderness Auroras could be the trip for you.
Winter brings deep, deep snow to Menesjärvi and a winter-white blanket covers the hills, lakes and frozen forests. This is a great time to explore the wilds of Lapland with dogs, snowmobiles and snowshoes and to see the local Sámi reindeer herders at work.
It is also a great time to see the Aurora. The lakes freeze providing the perfect viewing platforms for Aurora gazing. To stand on the thick ice of a Lappish lake and witness the full glory of the Aurora Borealis is one of life's breathtaking moments.
Our four-night Northern Lights Adventure covers all those winter activities as well as exploring the local Sámi culture but with the focus always on seeing the Northern Lights. If you fancy a festive getaway in Lapland then take a look at our week-long Christmas trip at Menesjärvi or how about spending New Year somewhere very, very different indeed?
Accommodation at Menesjärvi
The hotel is a former schoolhouse situated on the shore of Lake Menesjärvi. What's more, the school was built outside the village (originally with neither a road nor electricity!) so there is virtually no light pollution. Stroll down to the lake and you get wide, expansive and, most importantly, dark Arctic skies in the very centre of Northern Scandinavia's Auroral zone.
We see a lot of Northern Finland but, it has to be said that the countryside and landscapes surrounding the hotel are some of the most attractive we have seen. There is no better way to enjoy the colours of autumn than on a gentle walk or to marvel at the pristine winter landscapes during a dog sledding or snowmobiling safari.
There's so much to like about Menesjärvi but its people deserve a very, very special mention. The hotel is run by Anne and Timo, a couple who have truly found both their place and their vocations.
Anne runs the hotel and looks after our guests while Timo is an outdoorsman through and through. His photography and wilderness skills are invaluable here in the Arctic.
You can spot Anne by her vibrant clothing which always embraces the bright colours of the Sámi people. Timo is immediately identifiable by the fact that he almost invariably wears the kind of jumper you might get from your granny at Christmas. Mention this to him when you meet him, it always gets a laugh.
---
Photography by Timo Halonen
Read more
Read less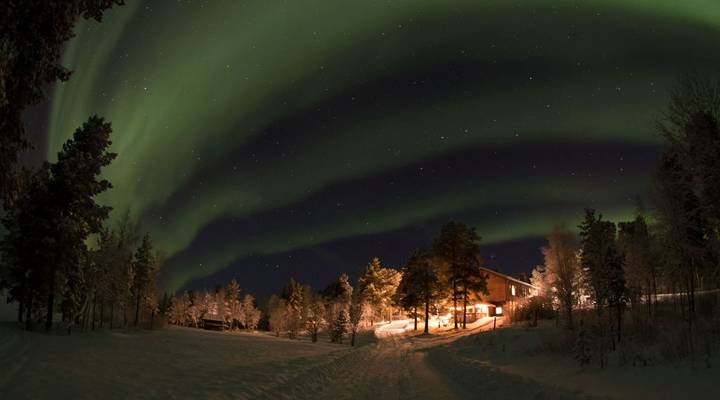 Popular holidays to Menesjärvi
Holidays
Accommodation