Luosto
Luosto is a great choice if you want a relaxing Northern Lights holiday or fancy trying both downhill skiing and Nordic activities.
About
A small ski resort, the inviting location of Luosto can be found at the very heart of Finnish Lapland, bordered by the magnificent backdrop of the Pyhä-Luosto National Park.
Having worked with our team at Luosto for many years, we've created a number of holidays which highlight the best of the destination and Nordic activities, as well as enhancing your chance of seeing the Aurora Borealis.
Speak to our Aurora Experts
01670 785012
Beyond the Northern Lights...
Whilst Luosto is well-known for its Northern Lights potential, the real highlight is that it successfully combines genuine Lappishness with a modern, small-scale tourist destination.
There are seven downhill ski slopes, covering around 150km of trails for visitors to enjoy as well as easy access to a range of much-loved Arctic activities. Here, you can spend a day on the cross-country trails, enjoy a thrilling snowmobile trip across the idyllic fells and experience the sheer thrill of being pulled across the snow-topped landscape by a team of eager huskies.
The bordering Pyhä-Luosto National Park is an important wild forest and reindeer herding ground that also has an important logging history. The park and its surroundings became a sought-after tourist spot from the 1960s with visitors attracted to its clean air and minimal light pollution which ensured the park was an ideal point to seek out the Northern Lights. The 35km long fell chain here is a remnant of one of the oldest mountain ranges on earth, formed over 200 million years ago.
As well as being a prime location for both Northern Lights and Arctic activities, the location of Luosto also has some very unique characteristics. One of these is a wonderful Amethyst Mine – the only working one in Europe. Amethyst is a rare violet form of quartz and it is mined here on the Lampivaara Fell. Visitors can't go inside the actual mine itself, but they can go to the visitor's section and try their hand at digging in a small surface mine. Another highlight of visiting the top of the Lampivaara Fell is the stunning views on a cloudless day across the national park.
Staying in Luosto
The village of Luosto is best described as a log cabin village – home to a handful of shops and cafés as well as a small number of hotels. This makes it the ideal spot for an Aurora Zone experience as visitors have access to local amenities and there is ample opportunity to explore the village. The small-scale location and minimal light pollution ensures that your prospects for Aurora hunting remain high!
The village has a wide variety of accommodation, from cosy log cabins to our two chosen hotels; Hotel Aurora and Luosto Tunturi. Additionally, The Aurora Zone guests have the opportunity to tick something truly unique off their bucket list - a night in an Arctic View Room where you can sleep under the night sky.
---
Photography by Miika Hämäläinen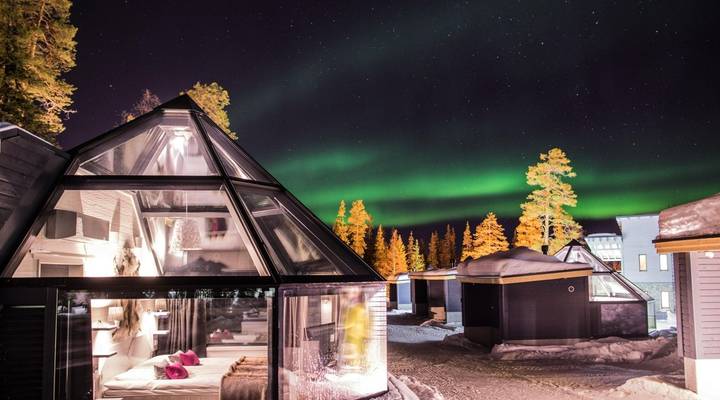 Holidays
Accommodation