Harriniva
With far stretches of untouched wilderness and excellent Northern Lights potential, it's no wonder Harriniva is one of our original and most-loved destinations.
About
Harriniva Wilderness Hotel sits on the banks of the Muonio River, deep in the Arctic and on Finland's border with Sweden. Owned and managed by the Pietikainen family, Harriniva is our longest standing destination and is as popular now as it ever has been.
Ideally situated in The Aurora Zone, the hotel has become famous as an exceptional Northern Lights destination and a centre for Arctic activities. The Pietakainens love to show their guests the wild North of Finnish Lapland and life is made wonderfully simple here as the hotel offers a comprehensive range of safaris on site. They even have their own Arctic Sled Dog Centre in the grounds with over 400 eager huskies, waiting to whisk you off on an adventure.
Harriniva sits on the outskirts of Muonio village, but do not fear that there is any light pollution to impact your Aurora hunting. Indeed, the municipality has a population density of just over one person per square kilometre meaning you are more likely to see a reindeer than a person here! It's perfect Aurora hunting territory and our holidays at Harriniva will make sure you maximise your viewing opportunities.
Speak to our Aurora Experts
01670 785012
The Harriniva Experience
Harriniva has so much to offer and we have made sure that our holidays show you all the highlights.
Three of our most popular Harriniva holidays are our Aurora Escape, Best of the Northern Lights and our Northern Lights Quest.
The Aurora Escape is a 7-night holiday designed for those who want to keep things simple with a week at the hotel and some leisurely Northern Lights activities included. The rest of your time is available for you to tailor your stay and you can make it as active or relaxed as you like.
The Best of Northern Lights holiday follows a similar pattern but includes a wider range and more numerous Aurora hunts for those who want to cram things in a little more.
The Northern Lights Quest is a carefully designed active holiday which includes all the key activities such as dog sledding and snowmobiling along with Aurora activities. Here your hunts include a magical Aurora reindeer-sleigh ride which is magical whether the lights appear overhead or not.
For anyone who wants a festive foray into Finland then we also have a special Christmas Northern Lights Quest and a New Year version too. For those who want to fill the gap between Christmas Day and New Year's Eve we also offer our Northern Lights Hunter holiday, one of our special Betwixmas trips.
The Perfect Backdrop
Harriniva is surrounded by what is effectively one big adventure playground and the beauty of this location is that so many of the activities start from within the hotel's grounds, so you can really maximise your time here.
The hotel itself oozes Finnish charm and is clad in warm wooden throughout; it looks like one giant cabin. It is a cosy retreat from the chill of the outdoors and a place from which like-minded individuals explore The Great Outdoors and gather to share their experiences at night.
The accommodation is in either hotel rooms or Northern Lights Cabins which are just a short walk from the main hotel building.
Local, home cooked dishes in Harriniva Wilderness Hotel's restaurant and its pub offers a place for guests to wind down after their activities.
We can also offer guests the chance to visit Torassieppi Winter Village for a night in a snow igloo room, or the famous Aurora Domes at Torassieppi Reindeer Farm which is one of Harriniva's sister properties. The domes provide unadulterated views out across the landscape and allow you to watch the sky from indoors; it's serious Aurora glamping.
---
Photography by Antti Pietikainen
Read more
Read less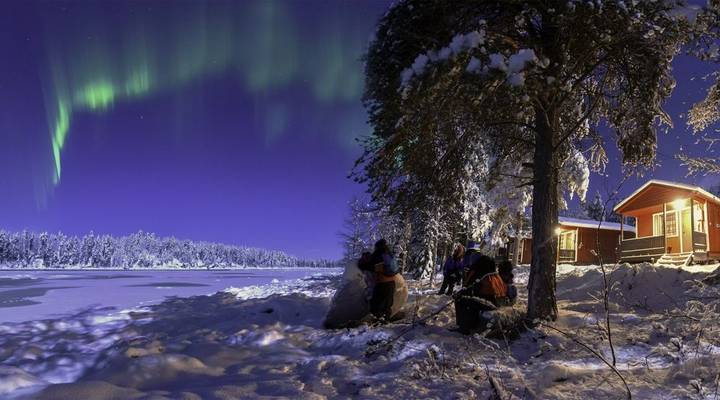 Popular holidays to Harriniva
Holidays
Accommodation