Overview
Wilderness Hotel Inari sits on the shores of Lake Inari and enjoys breathtaking views, Narnia-esque landscapes and wonderfully dark skies. This 4-night break includes a range of dedicated Northern lights hunts, as well as popular winter activities such as dog sledding and a reindeer encounter.
What's included?
ALL OF THE ACTIVITIES AND SERVICES LISTED BELOW ARE INCLUDED IN THE HOLIDAY PRICE
Flights:return from London to Ivalo (either direct or via Helsinki depending on departure date). Regional and non-UK departures available on request. (flight routes are subject to change)
Transfers: return airport transfers
Accommodation: 4 nights in twin/double hotel room. Options to upgrade.
Meals: 4 breakfasts, 3 lunches and 4 dinners
Clothing: cold weather clothing for the duration of your stay
The following activities are included in the holiday: husky safari, reindeer farm visit, cross country skiing, Aurora snowshoeing, snowmobile safari, Aurora camp, Aurora hunting by car or minibus
Fully qualified guides and instructors during activities
Aurora alert until approximately 1 am
---
Lake Inari is a mystical and spiritual place, particularly for the indigenous Sámi people. Wilderness Hotel Inari is located on its shores, and it is no surprise that some otherworldly Northern Lights displays have been witnessed here, which have contributed to the legends and myths surrounding the Aurora.
Scientifically speaking the location is ideal. It is 250km above the Arctic Circle and in an area of very little light pollution. The lake freezes in winter and the vast outlook offers unobstructed views of the northern sky. These conditions contribute to spectacular Auroral displays and we have made sure to include dedicated hunting opportunities with local and knowledgeable guides.
During your holiday you will hunt the Northern Lights from the cosy warmth of a minibus or car, enjoy a peaceful snowshoe walk and visit a strategically placed Aurora camp, which is located on the southern shores of the lake.
No trip to Lapland would be complete without exploring the pristine winter landscapes which surround the hotel. Most of us have only seen snow like this on television, but in reality, nothing can prepare you for the crispness of the air and the magnificent sea of white which stretches out on the frozen lake. This picture-perfect, winter backdrop is an ideal setting for a host of our most popular winter activities.
Your daytime activities allow you to immerse yourself in the pristine winter environment with cross-country skiing, snowmobiling, reindeer encounters, and a thrilling dog sled safari all included in the holiday.
The activities outlined will all be included in your holiday, however, the order listed in the agenda is for guidance only, and your final timetable will be confirmed on arrival.
---
Image credits: Wilderness Hotel Inari, Inari-Saariselkä Tourism Ltd, Matt Robinson, Visit Finland and Jorma Luhta Leuku
Agenda
Accommodation
Included in price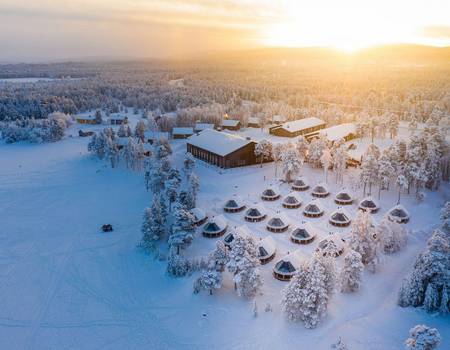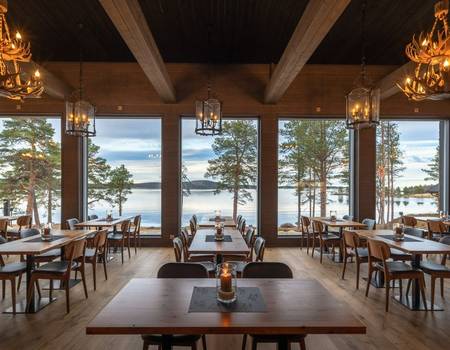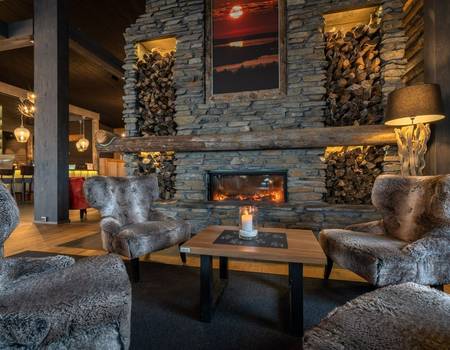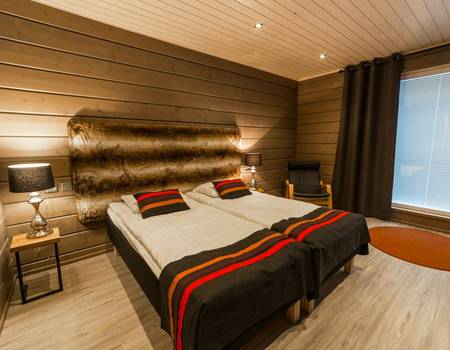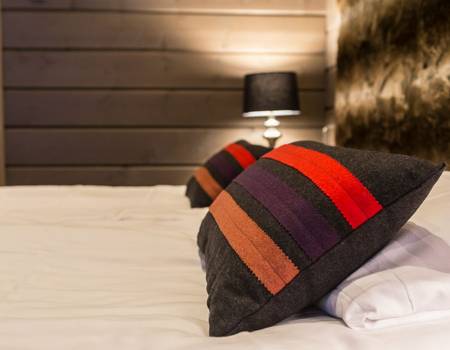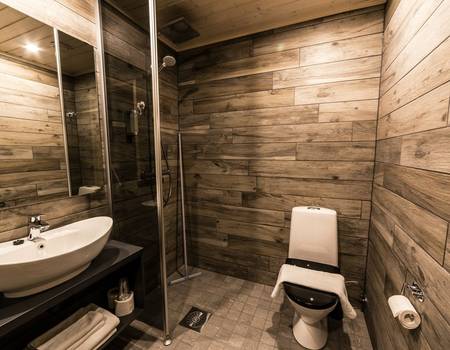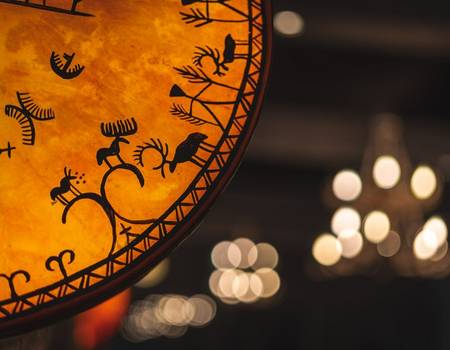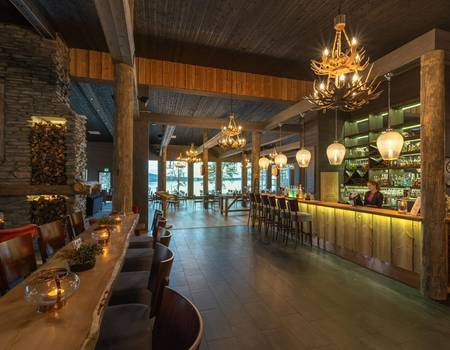 Wilderness Hotel Inari
Nights:
1-4
Situated on Lake Inari's shores, Wilderness Hotel Inari is one of the most spectacular destinations we feature. Offering excellent levels of comfort and some serious 'wow factor', it is the latest addition to the Wilderness Hotels owned by our good friends Jouko and Mari Lappalianen.
Importantly it is also slap, bang in the middle of the world's best Aurora hunting territory and the hotel has implemented some innovative Northern Lights features to help maximise your viewing potential.
Wilderness Hotel Inari is ideally located around 40 minutes' drive from Ivalo Airport and just five minutes from Inari Village, which is the centre of Sámi culture in Finland.
There is a variety of accommodation on offer here, including cabins, Aurora cabins and hotel rooms, all of which are separate to (but within very easy reach of), the central restaurant building.
The hotel provides modern accommodation with décor which combines both comfort and charm. A huge amount of thought has gone into creating this very special place to stay.
Hotel Facilities
The focal point of the hotel is the main reception, bar, lounge and restaurant building. There will be gasps of delight from the moment you walk in and are confronted with exceptional views out towards the lake.
All meals are served in the restaurant and the quality of the food has been excellent in our experience.
Breakfast offers a continental selection of meats, breads, cheese, fish and pastries as well as hot options including bacon and eggs. There are fresh fruit and yoghurts to compliment
A.t lunch and evening meals, an array of fresh salads and a soup is followed by a choice of two main dishes prepared by the chefs. Options will typically include some local flavours as well as international dishes. In the evening these are accompanied by a pudding. Tea, coffee and water are included in your stay and any additional drinks can be added to your bill.
The restaurant is beautifully decorated, with local art and woodwork creating a great atmosphere. The fantastic north facing panoramic windows running the length of the room offer views out onto Lake Inari. We certainly expect a few evening meals to be abandoned as the Aurora becomes visible during dinner (the chefs get used to it)!
The bar area is fully stocked so you can enjoy a drink with your meal or relax in the lounge area by the roaring fire.
Free Wi-Fi is available in the main hotel building and rooms (it is less strong in the Aurora cabins and the log cabins but 3G reception should work on your phone).
The crowning 'Northern Lights glory' here is the glass-roofed sauna which is housed by the lake in a modified Aurora Cabin. Guests can book the sauna at the reception in hour long slots for private use (free of charge) and so if you strike lucky, you can witness the Northern Lights from inside, which is a very special experience.
---
Room Type
Hotel bedrooms
The bedrooms are located in two separate buildings around 50 metres from the main building.
Each room has been decorated in a traditional Arctic style with inspiration taken from the local environment. They are around 30m² and have either a queen-sized bed or twin beds. Coffee and tea making facilities are provided in your room as well as either a comfortable sofa or two armchairs. If you can't face being detached from the "real world", the rooms also come with free Wi-Fi. Every bedroom is en-suite and comes complete with hairdryer and toiletries.
These rooms are designed for two people to share but a third person can be accommodated on a camp bed or pull-out sofa (supplements apply).
---
Image credits:

Inari Wilderness Hotel, Matt Robinson
Read more
Read less
---
Other options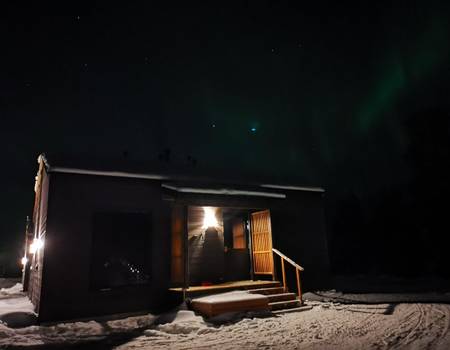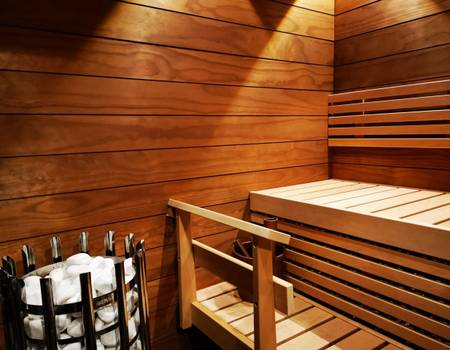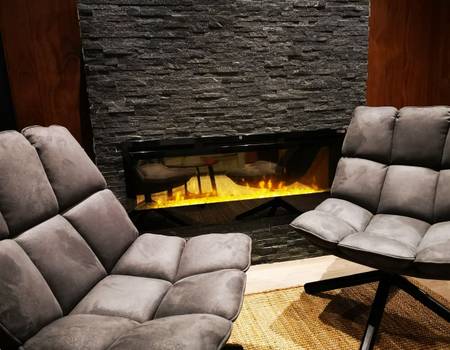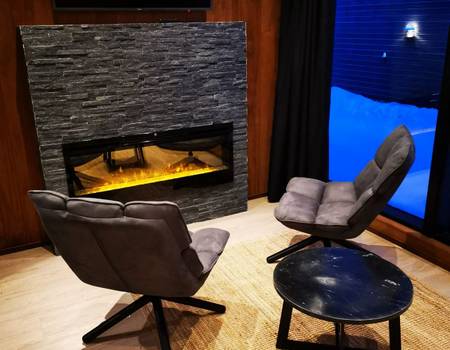 Wilderness Hotel Inari - Arctic Chalets
Supplements from: £376pp
These semi-detached, designer chalets, are a new addition to Inari's range of impressive accommodation options. They are designed to offer couples an air of Arctic luxury in their own holiday hideaway.
The modern interiors are sleek and beautifully designed. Each features a bedroom with an en-suite shower, private sauna room and king size bed. The separate living area is well equipped with a warming log fire, ideal following a day of adventures and the stunning landscape is framed by full-height windows, offering views towards the lake. Each also offers a sofa bed which can sleep an additional two people, but we recommend keeping these chalets for just the two of you.
Please note that this accommodation option requires an upgrade supplement. Please contact our Aurora Experts for a quotation.
---
Image credits: Wilderness Hotel Inari
Read more
Read less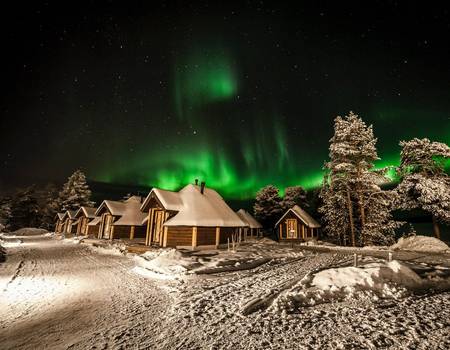 Wilderness Hotel Inari - Aurora Cabins
Supplements from: £455pp
With the potential of seeing the Northern Lights above, you won't want to take your eyes off the Arctic sky. Luckily, with the Wilderness Hotel Inari's Aurora Cabins, you won't have to. These amazing structures are all equipped with an expansive heated glass roof to give you unobstructed views of the northern skies at all times. Whether you want to lie back in your bed or on the sofa, you can go on the hunt for the Aurora right from the comfort of your accommodation.
These cosy cabins come with twin beds (which can be pushed together), a sofa or armchairs in the small living area and an ensuite shower room (toiletries and hairdryer are provided). You will also have coffee and tea making facilities. Some of the cabins will also accommodate an extra person on a sofa bed. The cabins are 34m² in size. The Wi-Fi signal isn't as strong in the cabins so you may need to use the main restaurant, or use the time to switch off!
The cabins are between 20 and 50 metres from the main building.
Please note that this accommodation option requires an upgrade supplement. Please contact our Travel Experts for a quotation.
---
Credit: Wilderness Hotel Inari, Matt Robinson
Read more
Read less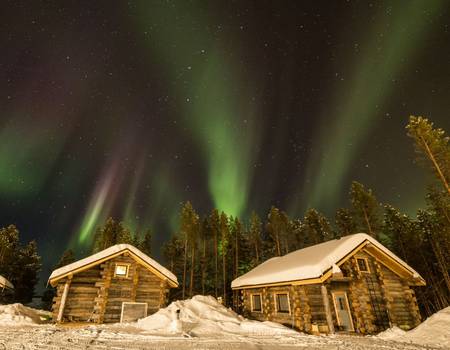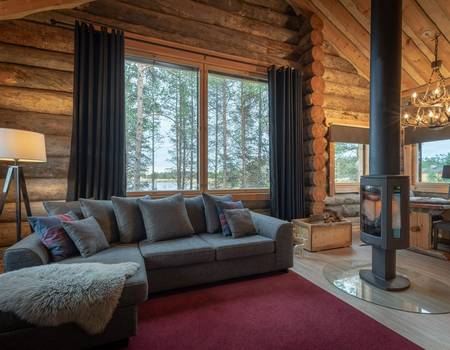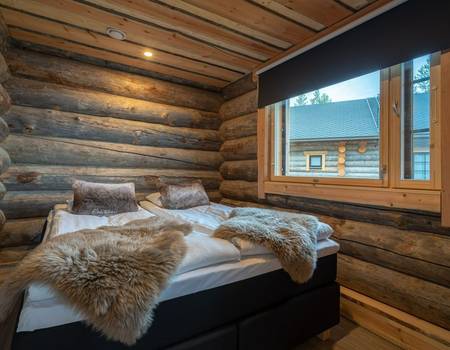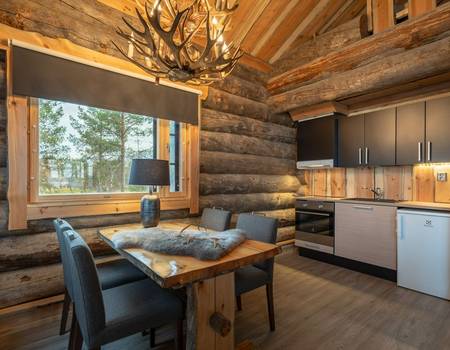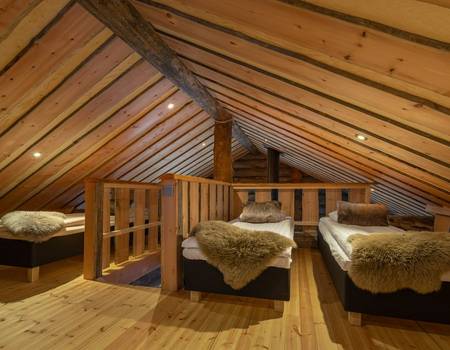 Wilderness Hotel Inari - Log Cabins
Supplements from: £480pp
These cosy cabins are built in the traditional way, with walls constructed from huge logs and plenty of space inside. The ground floor covers 70m² and the loft area offers an additional 20m².
On the ground floor, you'll find a spacious dining/living room, comfy seating, and a wood burning stove which can be turned to face where you are sitting. There is also the main bedroom with a queen-sized bed. There is also a kitchenette and dining area, although all your meals are provided in the restaurant. The cabins also provide free Wi-Fi although the signal is not strong in all of them. It can, however, be used in the lounge area of the main building if needed.
The bathroom and toilet (hairdryer and toiletries are provided) are also on the ground floor and the cabin comes with the luxury of a private sauna.
The loft area upstairs can accommodate three more single beds and, thanks to the pull-out sofa in the living area, the capacity of these cabins ranges from two to six people (although we would recommend a maximum of 4 adults). They are ideal for couples looking for a very romantic hideaway or for small groups of friends or family.
The cabins are between 15m and 100m from the main building.
Please note that this accommodation option requires an upgrade supplement. Please contact our Travel Experts for a quotation.
---
Image credits: Matt Robinson
Read more
Read less
Dates & Prices
Price Comparison Guarantee
Expertise and knowledge are key to witnessing the Northern Lights. We've been running Aurora hunting holidays longer than any company in the UK and with no lead in prices, no hidden costs and more included, we're confident our tours will come out on top.
Prices
Next season's pre-sale dates and prices
To secure your holiday for next season, you can make a pre-sale booking and fix the price of your trip at the pre-sale price displayed below. Simply by paying an initial deposit of £50pp, you will protect yourself from any package price increases. The departure dates and itineraries remain preliminary and we will contact you when the final dates and itineraries are confirmed, you will then have 14 days to decide if you would like to go ahead. A further deposit payment will be due at the time of us confirming the trip details to you. If you decide not to travel, we will refund your full deposit payment. We reserve the right to charge supplements where there are significant changes to an itinerary or increases in flight costs. Any non-package rates remain subject to change.
Dates

Sun 29 Nov 2020
to
Thu 03 Dec 2020

Enquire

Adults

£ 1,990

Sun 06 Dec 2020
to
Thu 10 Dec 2020

Enquire

Adults

£ 1,990

Sun 13 Dec 2020
to
Thu 17 Dec 2020

Enquire

Adults

£ 1,970

Sun 03 Jan 2021
to
Thu 07 Jan 2021

Enquire

Adults

£ 1,830

Sun 10 Jan 2021
to
Thu 14 Jan 2021

Enquire

Adults

£ 1,830

Sun 17 Jan 2021
to
Thu 21 Jan 2021

Enquire

Adults

£ 1,830

Sun 24 Jan 2021
to
Thu 28 Jan 2021

Enquire

Adults

£ 1,830

Sun 31 Jan 2021
to
Thu 04 Feb 2021

Enquire

Adults

£ 1,830

Sun 07 Feb 2021
to
Thu 11 Feb 2021

Enquire

Adults

£ 1,910

Sun 14 Feb 2021
to
Thu 18 Feb 2021

Enquire

Adults

£ 1,970

Sun 21 Feb 2021
to
Thu 25 Feb 2021

Enquire

Adults

£ 1,830

Sun 28 Feb 2021
to
Thu 04 Mar 2021

Enquire

Adults

£ 1,855

Sun 07 Mar 2021
to
Thu 11 Mar 2021

Enquire

Adults

£ 1,855

Sun 14 Mar 2021
to
Thu 18 Mar 2021

Enquire

Adults

£ 1,845

Sun 21 Mar 2021
to
Thu 25 Mar 2021

Enquire

Adults

£ 1,845

Sun 28 Mar 2021
to
Thu 01 Apr 2021

Enquire

Adults

£ 1,990
Please note: our holiday prices are based on the lowest available airline fares. These fares can sell out quickly and, as a result, prices may increase and supplements may be applicable. We recommend booking at the earliest opportunity to secure the best possible fares and flight times.
Terms
For our full booking terms and conditions please click here
The Specifics
Holiday group size (approximate)
This holiday requires a minimum of 2 people to run, however, we require a minimum of 8 people for our flight allocation. Maximum 24 people (approximately). Please speak to our Travel Experts for further information.
Group Size
We always try to provide an approximation of the group size you can expect to be with for the duration of each of our holidays. It may be that you are joined by others for parts of your holiday (such as transfers and particular activities) but the above number reflects those you can normally expect to be with from beginning to end. If group size is something which is particularly important to you, please speak to our Travel Experts and they can suggest the best holidays for you.
Tailor-made holiday group sizes will vary for all activities as will the group size for any additional activities you book.
Minimum numbers required for a holiday to operate
Some of our holidays require a minimum number of participants to operate (as listed in the 'Group Size' section). If your holiday departure has not yet reached the minimum number, you will be told at the time of booking. In the unlikely event that your chosen date is not guaranteed by nine weeks before your scheduled departure date, we will contact you to discuss the available options as per our booking conditions.
Minimum and maximum age
If a specific minimum age applies to this holiday, it can be found in the Key Facts box on the holiday Overview page.
Unless otherwise stated in the Key Facts box on the holiday Overview page, the minimum age for participation in an Aurora Zone holiday is typically 12 years old (there may be younger children in some destinations who have booked with other companies). If an adult-only environment is important to you, then please contact our Travel Experts and they will advise on the best dates and destinations for you. If you are looking for a holiday designed specifically for families then please see our sister company www.activitiesabroad.com.
Itinerary amendments
The order of activities listed in this agenda is provided for guidance only, your final and detailed itinerary will be provided either with your final travel documents (which are uploaded into your online account around a week prior to departure) or upon arrival.
Medical History and Advice
We want our holidays to be accessible as they can be and will do our best to accommodate any special requests and requirements where possible. We have a wide range of holidays and destinations and so our travel experts will help find the best holiday for you.
In order to give us the best possible chance to do this, we ask that if you or any member of your party has any medical condition or disability which may affect your holiday or has any special requirements, that you tell us at the time of enquiry or booking. You must also promptly advise us if any medical condition or disability which may affect your holiday develops after your booking has been confirmed. You may need to provide a doctor's note and proof of insurance in some cases as the health and safety of our clients is absolutely paramount.
In providing this information you are allowing us to work with our expert local partners to ensure that your whole party can enjoy the holiday. By letting us know in advance we can discreetly work with you to adapt any part of the holiday which may potentially be challenging. Being able to prepare for this in advance makes an incredible difference to what we can offer and minimises any impact on your party and the rest of the group.
Unfortunately, if you choose not to share this information with us in advance then it may limit some or all of the itinerary you have booked, and we cannot be held accountable for any additional costs or missed activities resulting from this.
Insurance
Insurance is not included in your holiday, but it is a pre-requisite to travelling with us. You will need to ensure that you have cover for all the activities that you will be participating in during your holiday.
It is extremely important that you take out a suitable travel insurance policy at the time of booking. Plans do sometimes change, and you will need this policy should you need to cancel your holiday.
If you are struggling to find a suitable policy then details of our preferred provider, who will cover you for all the activities we offer, can be found on our website by clicking here. Please note that this policy is available to EU residents under the age of 75 only.
Booking Activities Locally
Additional activities can be booked locally in almost all our destinations. However, as per our booking conditions, we cannot be held responsible for any injury or loss incurred through participation in activities which are booked at your destination outside of our holiday itinerary (see our 'Terms and Conditions' for further details).
When arranging any such activity please always ensure that safety is your primary concern.
In some of our destinations, you can borrow or hire equipment for use in your free time. You do so entirely at your own risk. You must ensure that you are properly prepared, have the necessary equipment and knowledge (maps, etc) and ensure that where applicable, you follow marked routes. We recommend discussing your plans with the local teams who will be able to advise on the most suitable options for you.
Always let the reception/guide know where you are planning to go and take a torch and mobile phone (with the hotel/guide's phone number stored). It is also a good idea to leave your contact number and the time you expect to return to the hotel should the hotel need to contact you.
The UK Foreign Office Advice
Our clients' safety is at the centre of everything we do, and our operations team continually assesses and monitors the destinations we feature. We carry out thorough risk assessments and work closely with all of our suppliers to continually follow best practice. For up to date travel advice the UK government offers its Travel Aware website as well as the advice detailed below.
The Foreign and Commonwealth Office Advice
We receive all updates from the Foreign and Commonwealth Office (FCO) with regards to travel advice and we always ensure that we follow this advice in our operations. The FCO issues travel advisories for countries based on a very wide range of factors. They may provide notification about things as simple as a football match and crowds, or they may go so far as to advise against all travel to a region. We ask all our clients to refer to the relevant Travel Advice by Country for the destinations they are visiting in order to make an informed decision on the safety of the destination based on the details provided. It also provides vital information regarding entry requirements, embassy information, local laws and customs as well as specific safety and health. Guests should take responsibility for keeping themselves up to date with this advice. Please also ensure that, if you are transiting through another country, you have read the advice and meet the entry requirements for that destination too.
The FCO travel advice is applicable to British Passport Holders. Most governments will issue their own travel advice for a region and, if you are not a UK resident then you can find some helpful links below:
Australian Department of Foreign Affairs and Trade http://www.smartraveller.gov.au/
New Zealand Ministry of Foreign Affairs and Trade
Canadian Consular Affairs Bureau http://voyage.gc.ca/
The U.S. Bureau of Consular Affairs http://travel.state.gov/content/travel/english.html
If the FCO deems that there is an unacceptable level of risk for UK citizens then, together with the government, they may issue an advisory against all travel to a region or country. If such an advisory is published, then we will act accordingly, and this may require the cancellation, curtailment or amendment of a holiday itinerary. These decisions are made on the basis of ensuring our clients' safety and will affect all clients on the holiday, regardless of their nationality.
If one of our local experts suggests an amendment due to a situation which develops locally then we may also take the decision to amend an itinerary appropriately.
If we have to cancel your holiday prior to departure you will be offered the option of an alternative trip (where any price difference will either be refunded to or covered by you) or a full refund of the monies paid.
If we have to curtail a holiday, then you will be refunded for any costs for the elements we have been unable to deliver, where we have been able to secure a refund from our suppliers. If we must reroute a holiday, then any basis for refund is determined on a case by case basis and dependent on whether the central holiday experience was provided or not.
Brexit information for British Passport holders
For the most up to date information on how the UK's departure from the EU may affect your holiday please click here to view our Brexit information for British Passport holders.
Flight schedule changes and connecting transportation
On your documentation, we will confirm your flight schedule. Sometimes the flight number, routing and timings might change prior to your departure. If the change is classed as a significant change then we will contact you to discuss this. Please see our booking conditions for details.
Flight schedule changes can impact on your pre and post-holiday travel arrangements if these have been booked separately to your holiday. We strongly recommend that you do not book transport (such as trains or transfers), car parking or non-connecting flights to the departure point for your holiday until you have received your final confirmed travel times when your final travel documents are issued. We are not responsible for the effect of any schedule change on your pre or post travel arrangements. We strongly recommend that you do not purchase non-flexible or non-refundable tickets to avoid cancellation and penalty charges.
Booking your own flights - cancellation disclaimer
If you have chosen to book your own flights, then you will need to wait until we confirm to you that the holiday departure has met the minimum numbers required to run (if applicable to your chosen holiday). Once the holiday is guaranteed to run, you will be informed and you can then make your arrangements.
If transfers are included in your holiday, please ensure that any potential flights will be met by our standard transfers (speak to one of our Travel Experts for advice) otherwise private transfer supplements may be applicable. Once your flights are booked, please send us a copy of your detailed flight itinerary.
Please be aware that most tickets are non-refundable in the case of cancellation. For this reason, we strongly advise you check the rules of the ticket and check the limitations of your cancellation insurance before booking. We cannot be held liable, in the unlikely eventuality that we should be forced to cancel or amend your trip, for losses incurred relating to any flight booking you have made.
Terms and Conditions
Our full booking terms and conditions can be found on our website: https://www.theaurorazone.com/booking-conditions
Reviews
Traveller Reviews
Felt really blessed that we got to see the northern lights 3 out of the 4 nights
16 February 2020
by Gail & Geoffrey Lindhorst
Felt really blessed that we got to see the northern lights 3 out of the 4 nights with some of the guides saying the second night was even more special with it starting so early on in the evening and lasting quite late
Amazing holiday, fabulous activities, food amazing, accommodation and staff were amazing
16 February 2020
by Maria Bird
Can I just say this holiday excelled in my expectations. Thankyou Aurora Zone.
A truly excellent experience
10 February 2020
by Jonathan Bunn & Family
A truly excellent experience. Clearly, seeing the Northern Lights is the highlight, but the other activities created a well-rounded and hugely enjoyable holiday. Snowmobiling was extremely popular with my family, but we enjoyed each activity very much.
Magical seeing the lights 3/4 nights was incredible!
02 February 2020
by Kerry Frisby & Lee Williams
We had a fabulous holiday and lots of friends have been admiring our FB posts and asking about booking - we've passed on your details!
We would (and will) do it again
04 January 2020
by Chris and Glacira Strike
Excellent trip - the Northern Lights (Aurora) performed and were stunning, lucky enough to see 3 nights of display including, curtains, ribbons, reds, greens and even a snatch of blue. The Wilderness Hotel was extremely comfortable and warm (it needed to be -16deg C !!), the food was some of the best we have experienced in numerous activity trips, the staff were on the ball, knowledgeable,…
Read more flexible and quick with updates and flagging the fire in the sky, the outdoor clothing is essential - it gets flipping cold. The Uk staff of Aurora Zone were brilliant, kept us up to date, helped when my Luddite PC skills failed and ensured we were well looked after. Thank you Aurora Zone and Wilderness Hotel - we would (and will) do it again.
Read less
The holiday was amazing overall. The place was magical, the staff were very friendly and accommodating and the food was lovely.
15 December 2019
by Lauren & Daniel Berry
I loved the reindeer farm visit the most and my husband loved the husky visit the most. I loved the reindeer because it was magical, peaceful and you got to do a good variety of activities and learned a lot about the culture and the reindeer themselves. My husband loved the huskies because he loves dogs and getting to drive the sleigh over beautiful scenery was breathtaking. Also, on the last…
Read more night we booked the use the glass top sauna which was stunning and we were lucky enough to catch a glimps of the northern lights whilst in there! Overall the holiday was amazing. It was very surreal and we kept having to pinch ourselves that we were actually there. The hotel, the food, the staff were all amazing and the activities the hotel offered were very good with something to suit everyone. We were lucky enough to see the aurora at the hotel on our last night which just topped off an amazing holiday.
Read less
Holiday made completely perfect by seeing the Northern Lights twice on our last day!
15 December 2019
by Lisa & Kevin Keenan
We have just returned from Inari and had the holiday of a lifetime. Everything from my first holiday enquiry, through to the holiday, hotel staff, hotel, activities....everything! was amazing. I will be recommeding you to anyone wanting this type of holiday. Thank you for everything!
We cannot think of any improvement needed. Please switch on the Northern Lights every night!
24 March 2019
by Ah Mun Kuan & Marion Bond
We liked the husky dog sledging because we experienced the energy of the working dogs pulling the sledge. We were very happy to see the Northern Lights on our last night of our holiday, from the frozen Lake Inari near the hotel. Booking the holiday with your firm was easy with no hassle. The transfer between airport and hotel was efficient and the activities were well organised. We had an…
Read more enjoyable holiday without any worries. The guides were very knowledgable and attentive to our needs. The hotel staff were very friendly and helpful. The warm clothing provided was essential to keep us warm.
Read less
Inari - Auroras by the frozen lake
03 March 2019
by Elisabeth & Simon Greenland
We enjoyed the relaxed atmosphere in the hotel and the running buffet worked very well.I also felt there was the right amount of time to ourselves to explore Inari etc and it was always so nice to come back to a warm room after our activities.All the guides were really passionate and knowledgable which made each activity so interesting and enjoyable.
Wilderness Hotel Inari - Auroras by the frozen lake
03 March 2019
by Kevin & Lena Linklater
They were all fantastic, but for us the snowmobile Aurora hunt in our final night was fantastic due to the amazing display of lights we saw. Miko the guide was brilliant, he was enthusiastic and knowledgeable, he really made the trip a great memorable experience.
Inari - Auroras by the frozen lake
03 February 2019
by Barbara Bullard-Smith & Victoria Pugh
Dog-sledding. Wonderful to see such enthusiasm in animals! They were well-trained and, Peter, the man in charge, made sure we were safe and warm at all times. The weather was perfect Finnish winter on that day. The snow-shoe trek came a close second. Mikko was an excellent guide, having everything in his massive rucksack that any of us might need. He was careful about our safety and well-being,…
Read more hugely knowledgeable and genuinely enthusiastic about his native countryside.
Read less
Auroras by the frozen lake
03 February 2019
by Mary & Peter Lewis
We really enjoyed our Inari Wilderness experience. I found the enthusiasm and knowledge of the activity guides particularly positive.
Inari - Auroras by the frozen lake
20 January 2019
by Sheila Sullivan & Kevin Jones
This was an excellent holiday. The guides were very enthusiastic and knew their stuff. They were very kind and helpful as well. The staff at the hotel were very friendly and helpful.
The holiday was fantastic
20 January 2019
by Jan & Helen Wyglendacz
We were incredibly lucky to see the Northern Lights on 3 nights with a phenomenal display on our final night. It was everything we had hoped for.
The whole trip was fantastic and incredibly enjoyable
20 January 2019
by John and Katherine Hudson
The nighttime snowmobiling trip was stunning, we stopped in a moonlit clearing to watch the Aurora and then a herd of Reindeer joined us, it was truly magical. The Aurora the following night were spectacular - the most awe-inspiring thing I've ever seen. The husky sledding, so peaceful and beautiful out on the frozen lake. Thank you, I can't wait to go back to Northern Finland, it is…
Read more such a beautiful place.
Read less
Inari - Auroras by the frozen lake
06 January 2019
by Tina & David Gough
Would highly recommend this break to anyone and have been doing so since returning - well done!
Auroras by the frozen lake
30 March 2018
by Jacqueline Mears
The whole holiday experience has been fantastic
27 March 2018
by Julia & Timothy Haycocks
The whole holiday experience has been fantastic, from booking with your very helpful team, to the flights, hotel, transfers and everyone we met along the way. Couldn't fault a thing. Seeing the Northern Lights was certainly the most spectacular, but I'd have to say dog sledding was my favourite activity. What a wonderful experience! The dogs were great, and the lady who looked after us was so…
Read more personable and friendly. I just wish I could have spent all day with the dogs - feeding them, getting them ready etc. Some comments I read on Trip Advisor said that the food was limited and not to their tastes, but I just want to say that I thought it was excellent! Buffet style is perfect for this sort of holiday and I couldn't fault any of the food. I tried everything on offer too! Hats off to the chefs. Also, the log cabin was amazing - boiling hot, but that was just what we needed! We had a little sneaky peek in the Aurora Cabins too and would definitely recommend the log cabin over those. The log cabins have huge windows overlooking the lake so you get just as good of a view if you have all the lights off. We actually rearranged our furniture as the sofa had the back to the window and was pointing at the TV when we arrived. We promptly turned it around to look out the big window. Who watches TV on these trips?! Crazy! Absolutely loved every second of this holiday and I'm gutted to be home. I couldn't recommend it enough. Thank you!
Read less
We loved both the huskies and the snowmobiling
26 March 2018
by Susan & Robert Scott
We loved both the huskies and the snowmobiling at night through the forest especially as we had a great Northern Light showing that night too. All the staff at the hotel were excellent especially Nora who's enthusiasm and knowledge was exceptional.
Everything from start to finish in relation to this holiday was first class.
16 March 2018
by Rebecca Swain & Susan Bamford
I have to say that everything from start to finish in relation to this holiday was first class. The booking procedure was pain-free, the pre-holiday information and portal were incredibly useful. The accommodation was first class and the staff were always on hand to help. The food was brilliant and the activities were just fabulous. To top it off, we saw the Northern Lights really well on 2…
Read more nights.
Read less
Loved the whole experience
15 March 2018
by Lyndsay & Brian Long
Very well organised, action packed holiday. The hotel is excellent and staff very friendly. Equipment was really good. Loved the food. Hotel has a great sauna with a view of the lake. A good place to do independent walks around the lake and into the village.
This was one of the best holidays ever
15 March 2018
by Jane & Paul Walker
All the personnel involved in our holiday from drivers/receptionists/bartenders/waiters/activity guides where all very helpful, friendly and informative, They all seemed to generally enjoy their job, nothing was too much trouble. We very quickly felt at home and ready for our adventure...which it truly was... three packed days of great experiences. For my husband and I, this was one of the best…
Read more holidays ever. Great activities/great people/ good equipment/ good food, comfy accommodation. Beautiful country. So thank you and all the staff
Read less
Auroras by the frozen lake
13 March 2018
by Dashiell Rae
Couldn't fault anything
06 February 2018
by Michael and Marion Hampel
Couldn't fault anything. Hotel was great. Staff friendly and helpful, food very tasty and rooms clean and warm. Snow suits and boots excellent. Activity guides were brilliant very knowledgeable and informative. Activities were great fun there wasn't anything I didn't enjoy..
---
Gallery
Photos (11)
Videos (1)
---