Overview
Explore Northern Norway at your own pace during this 4-night self-drive autumn holiday. Beginning in Tromsø, the 'Capital of the Arctic', you'll also visit Sommarøy, the mesmerising island of Senja and the spectacular fjords surrounding the Lyngen Alps. At night, you'll take part in dedicated Aurora hunts.
What's included?
ALL OF THE ACTIVITIES AND SERVICES LISTED BELOW ARE INCLUDED IN THE HOLIDAY PRICE
Rental Car: based on two people sharing an Economy Class car
Accommodation: 1 night at Clarion Collection Hotel Aurora, 1 night at Sommarøy Arctic Hotel, 1 night at Hamn i Senja, 1 night in a Crystal Lavvo
Meals: 4 breakfasts, 1 light evening meal* and 3 dinners

The following activities and equipment are included in the price: Northern Lights minibus hunt, Aurora Camp, Northern Lights workshop, hot tub and sauna (the order of activities is subject to change)
Roadmap and route description
---
This four-night Autumn self-drive holiday takes you to some of Northern Norway's most spectacular spots. You will go from one of the liveliest cities in the Arctic to quieter island communities with stunning backdrops, all of which offer a warm welcome and unforgettable experiences. Given the time of year and the fact that the places you will visit are ideally located for watching the Northern Lights, we have included Aurora activities to improve your chances of seeing a display.
Your first stop will be the city of Tromsø, widely referred to as the 'Capital of the Arctic'. It is an excellent place to get a dose of culture, with impressive 19th-Century architecture and a history tied to Arctic exploration, which is documented in a selection of museums. There are also cosmopolitan shops and restaurants to enjoy and our Travel experts will happily provide some recommendations. The mountain views surrounding this mainly island-based city are spectacular.
From Tromsø, you will head to the peace and calm of Sommarøy, an island with quaint fishing villages and pristine white sandy beaches. You will spend a night here, before continuing to the island of Senja where you will stay in a small hotel, right on the water's edge. Senja offers an idyllic setting, particularly when bathed in the colours of autumn and your trip here will include a relaxed outdoor hot tub and sauna experience amidst the spectacular mountain backdrop.
Read more
Your final stop before heading back to Tromsø will be the Lyngen Peninsula. The fjordic landscapes are breath-taking and during your time here you will spend an evening in a Crystal Lavvo (a traditional cabin with a glass Aurora viewing roof). The cabins are heated by a cosy fireplace and are set in the heart of the stunning natural surroundings of the Lyngen Alps.
To maximise your chances of viewing the Northern Lights, your holiday will include three Aurora activities. To begin, you will search for the lights from Tromsø, using a minibus to reach dark skies and hopefully outrun any localised cloud cover - if you travel in November then you can upgrade this to a Northern Lights dinner cruise - please see our 'Personalise' section for further details. Following this, you will enjoy a visit to an Aurora camp in Sommarøy and an Aurora workshop in the Lyngen Alps. Both areas have very little light pollution and are known for some spectacular Autumn Aurora displays.
In short, this self-drive autumn holiday offers the perfect introduction to the jaw-dropping and varied landscapes of Northern Norway whilst also providing plenty of opportunities to hopefully witness the Aurora Borealis.
---
©Hamn i Senja, Ricardo Torrescredit, Francisco Damm & Tromsø Adventure
Agenda
Accommodation
Personalise
Personalise this tour
---
Our pick
Tromsø – Northern Lights Dinner Cruise
Leave the shore and light pollution behind to search for the Aurora on the waters around Tromsø. Take in views of the city and look to the skies for the Northern Lights as friendly guides share their knowledge of the region and the Aurora. A typical Northern Norwegian fish dinner, complete with dessert and hot drinks, is included. Warm clothing is provided, but be sure to still wear plenty of layers.
This excursion is available from October onwards. You can upgrade to do this instead of the Northern Lights minibus hunt on Day 1 or add it as an additional excursion if you choose to extend your stay in Tromsø.
---
Image credit: Francisco Damm
---
Other options
Activities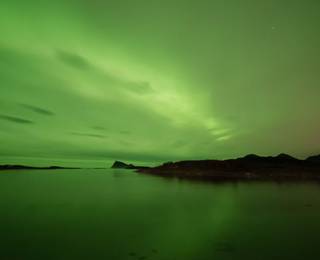 Northern Lights Husky Hike
From: £125pp
You will be transferred to a local husky farm, where you will be introduced to its many furry residents. Following that, you will take some of the dogs for a walk, wandering through the outdoors and admiring the surrounding nature. Be prepared, as the Northern Lights might make an appearance at any time!
You will reach a campfire where you can sit and wait for a display. A traditional Sámi meal will be served inside a comfy tent, and you will have a chance to watch short films - one about the Northern Lights, the other about how the huskies from this farm have participated in the 1000-mile Iditarod, the longest dogsledding race on earth.
Read more about this activity
Duration: Around 5 hours
Available: 1st September until the 22nd October
Puppy training
From: £112pp
The Tromsø Villmarkssenter (Tromsø Wilderness Centre) is an adventure group that invests a lot of time in training huskies for dogsledding. Getting puppies ready to work in a racing team is essential work and this activity gives you a close-up look at the process. Spend time with the puppies as they are taken through the various steps to becoming seasoned racing dogs – a must for canine-lovers!
Lunch is included.
Available until the 30th September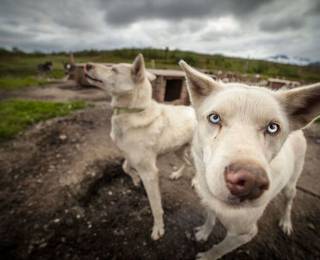 Visit a husky centre outside of Tromsø and meet the sled dogs which are synonymous with the Arctic. A tour of the centre will introduce you to the lives of the mushers and their dogs both historically and during the present day. You will be given an insight into dogsledding and how it has become an important part of the Arctic culture. This will include a film from Iditarod, the world's greatest sled race, where the owner actually participated in 2006 and won "most inspirational musher" award.
Read more about this activity
Obviously, no visit to the husky centre would be complete without meeting the dogs themselves and on arrival, you will no doubt be greeted with a chorus of barks. They will be eager to meet you and there are usually puppies as well so have your camera ready. You can cuddle as many of the dogs as you want during this 3-hour tour and you will leave with a greater knowledge of their lives north of the Arctic Circle.
Departure transfers will take place at 2.30pm from the Radisson Blu Hotel. Hot drinks and biscuits are included.
Availability: Every day from 08 Sept to 30 November
Minimum numbers: 2 people
Duration: 3 hours
Dates & Prices
Price Comparison Guarantee
Expertise and knowledge are key to witnessing the Northern Lights. We've been running Aurora hunting holidays longer than any company in the UK and with no lead in prices, no hidden costs and more included, we're confident our tours will come out on top.
Prices
Next season's pre-sale dates and prices
To secure your holiday for next season, you can make a pre-sale booking and fix the price of your trip at the pre-sale price displayed below. Simply by paying a deposit of £400pp, you will protect yourself from any package price increases. The departure dates and itineraries remain preliminary and we will contact you when the final dates and itineraries are confirmed, you will then have 14 days to decide if you would like to go ahead. If you decide not to travel, we will refund your full deposit payment. We reserve the right to charge supplements where there are significant changes to an itinerary or increases in flight costs. Any non-package rates remain subject to change.
Departure dates between

Sun 01 Sep 2019
to
Sat 30 Nov 2019

Enquire

Adults

£ 1,090
Terms
For our full booking terms and conditions please click here
Holiday group size (approximate)
GROUP SIZE
We always try to provide an approximation of the group size you can expect to be with for the duration of each of our holidays. It may be that you are joined by others for parts of your holiday (such as transfers and particular activities) but the above number reflects those you can normally expect to be with from beginning to end. If group size is something which is particularly important to you, please speak to our Travel Experts and they can suggest the best holidays for you.
Tailor-made holiday group sizes will vary for all activities as will the group size for any additional activities you book.
MINIMUM NUMBERS REQUIRED FOR A HOLIDAY TO OPERATE
Some of our holidays require a minimum number of participants to operate (as listed in the 'Group Size' section). If your holiday departure has not yet reached the minimum number, you will be told at the time of booking. In the unlikely event that your chosen date is not guaranteed by nine weeks before your scheduled departure date, we will contact you to discuss the available options as per our booking conditions.
Itinerary amendments
The order of activities is always subject to change and guests will be provided with their final itinerary upon arrival.
SINGLE SUPPLEMENT
Please note that some of our holidays may incur a single supplement. Please speak to one of our Travel Experts who will provide you with a quotation.
Medical History and advice
We want our holidays to be accessible as they can be and will do our best to accommodate any special requests and requirements where possible. We have a wide range of holidays and destinations and so our travel experts will help find the best holiday for you.
In order to give us the best possible chance to do this, we ask that if you or any member of your party has any medical condition or disability which may affect your holiday or has any special requirements, that you tell us at the time of enquiry or booking. You must also promptly advise us if any medical condition or disability which may affect your holiday develops after your booking has been confirmed. You may need to provide a doctor's note and proof of insurance in some cases as the health and safety of our clients is absolutely paramount.
In providing this information you are allowing us to work with our expert local partners to ensure that your whole party can enjoy the holiday. By letting us know in advance we can discreetly work with you to adapt any part of the holiday which may potentially be challenging. Being able to prepare for this in advance makes an incredible difference to what we can offer and minimises any impact on your party and the rest of the group.
Unfortunately, if you choose not to share this information with us in advance then it may limit some or all of the itinerary you have booked, and we cannot be held accountable for any additional costs or missed activities resulting from this.
PREGNANCY
If you are pregnant at the time of booking your holiday or you discover you are pregnant prior to your departure, firstly – congratulations! Secondly – please tell us as soon as possible. This situation does arise, and we are able to advise you both from our own first-hand experience and from discussing this at length with our expert local partners who have experience in this area. The more notice you can give us the better, in order to suggest any adaptions to the itinerary you have booked which will reduce the risk to both mother and baby. Please contact our customer service team at This email address is being protected from spambots. You need JavaScript enabled to view it. for more information.
INSURANCE
Insurance is not included in your holiday, but it is a pre-requisite to travelling with us. You will need to ensure that you have cover for all the activities that you will be participating in during your holiday.
It is extremely important that you take out a suitable travel insurance policy at the time of booking. Plans do sometimes change, and you will need this policy should you need to cancel your holiday.
If you are struggling to find a suitable policy then details of our preferred provider, who will cover you for all the activities we offer, can be found on our website by clicking here. Please note that this policy is available to EU residents under the age of 75 only.
Reduced Mobility
If you have a reduced level of mobility, then please contact our travel experts to discuss the suitability of this holiday in relation to your requirements.
Experience and fitness
We offer a vast choice of holidays which range from 'relaxed' to 'active' so there really is something for everyone and our holidays can be filtered by how active they are. Regardless of the chosen holiday, all activities will include tuition from a beginner's level and no prior experience is assumed.
If you are unsure about the physical demands of a particular holiday please contact us and our expert team will be happy to help.
See our booking conditions for further information.
Guides and safety
It is absolutely essential when partaking in any activity that you listen very closely to, and abide by, the instructions provided.
If there is anything that you are unsure of during a safety briefing or that you would like to clarify with the guides please make this clear to them immediately before starting the activity.
Our guides' word on activities is always final and your safety is their principal concern at all times, please respect their decisions. By following their instructions, your safety and enjoyment during each activity will be greatly enhanced.
See our booking conditions for further information.
Booking activities locally
Additional activities can be booked locally in almost all our destinations. However, as per our booking conditions, we cannot be held responsible for any injury or loss incurred through participation in activities which are booked at your destination outside of our holiday itinerary (see our 'Terms and Conditions' for further details).
When arranging any such activity please always ensure that safety is your primary concern. In some of our destinations, you can borrow or hire equipment for use in your free time.
You do so entirely at your own risk. You must ensure that you are properly prepared, have the necessary equipment and knowledge (maps, etc) and ensure that where applicable, you follow marked routes. We recommend discussing your plans with the local teams who will be able to advise on the most suitable options for you.
Always let the reception/guide know where you are planning to go and take a torch and mobile phone (with the hotel/guide's phone number stored). It is also a good idea to leave your contact number and the time you expect to return to the hotel should the hotel need to contact you.
Car Hire
If your trip includes car hire the named driver must have a credit card registered in their name which they can present when they collect their car along with their driving licence, as a deposit will be held on the credit card. Please see your trip dossier for full details.
Our clients' safety is at the centre of everything we do, and our operations team continually assesses and monitors the destinations we feature. We carry out thorough risk assessments and work closely with all of our suppliers to continually follow best practice. For up to date travel advice the UK government offers its Travel Aware website as well as the advice detailed below.
FLIGHT SCHEDULE CHANGES AND CONNECTING TRANSPORTATION
On your documentation, we will confirm your flight schedule. Sometimes the flight number, routing and timings might change prior to your departure. If the change is classed as a significant change then we will contact you to discuss this. Please see our booking conditions for details.
Flight schedule changes can impact on your pre and post-holiday travel arrangements if these have been booked separately to your holiday. We strongly recommend that you do not book transport (such as trains or transfers), car parking or non-connecting flights to the departure point for your holiday until you have received your final confirmed travel times when your final travel documents are issued. We are not responsible for the effect of any schedule change on your pre or post travel arrangements. We strongly recommend that you do not purchase non-flexible or non-refundable tickets to avoid cancellation and penalty charges.
BOOKING YOUR OWN FLIGHTS - CANCELLATION DISCLAIMER
If you have chosen to book your own flights, then you will need to wait until we confirm to you that the holiday departure has met the minimum numbers required to run (if applicable to your chosen holiday). Once the holiday is guaranteed to run, you will be informed and you can then make your arrangements.
If transfers are included in your holiday, please ensure that any potential flights will be met by our standard transfers (speak to one of our Travel Experts for advice) otherwise private transfer supplements may be applicable. Once your flights are booked, please send us a copy of your detailed flight itinerary.
Please be aware that most tickets are non-refundable in the case of cancellation. For this reason, we strongly advise you check the rules of the ticket and check the limitations of your cancellation insurance before booking. We cannot be held liable, in the unlikely eventuality that we should be forced to cancel or amend your trip, for losses incurred relating to any flight booking you have made.
THE FOREIGN AND COMMONWEALTH OFFICE ADVICE
We receive all updates from the Foreign and Commonwealth Office (FCO) with regards to travel advice and we always ensure that we follow this advice in our operations. The FCO issues travel advisories for countries based on a very wide range of factors. They may provide notification about things as simple as a football match and crowds, or they may go so far as to advise against all travel to a region. We ask all our clients to refer to the relevant Travel Advice by Country for the destinations they are visiting in order to make an informed decision on the safety of the destination based on the details provided. It also provides vital information regarding entry requirements, embassy information, local laws and customs as well as specific safety and health. Guests should take responsibility for keeping themselves up to date with this advice. Please also ensure that, if you are transiting through another country, you have read the advice and meet the entry requirements for that destination too.
The FCO travel advice is applicable to British Passport Holders. Most governments will issue their own travel advice for a region and, if you are not a UK resident then you can find some helpful links below:
Australian Department of Foreign Affairs and Trade http://www.smartraveller.gov.au/
New Zealand Ministry of Foreign Affairs and Trade http://www.safetravel.govt.nz/
Canadian Consular Affairs Bureau http://voyage.gc.ca/
The U.S. Bureau of Consular Affairs http://travel.state.gov/content/travel/english.html
If the FCO deems that there is an unacceptable level of risk for UK citizens then, together with the government, they may issue an advisory against all travel to a region or country. If such an advisory is published, then we will act accordingly, and this may require the cancellation, curtailment or amendment of a holiday itinerary. These decisions are made on the basis of ensuring our clients' safety and will affect all clients on the holiday, regardless of their nationality.
If one of our local experts suggests an amendment due to a situation which develops locally then we may also take the decision to amend an itinerary appropriately.
If we have to cancel your holiday prior to departure you will be offered the option of an alternative trip (where any price difference will either be refunded to or covered by you) or a full refund of the monies paid.
If we have to curtail a holiday, then you will be refunded for any costs for the elements we have been unable to deliver, where we have been able to secure a refund from our suppliers. If we must reroute a holiday, then any basis for refund is determined on a case by case basis and dependent on whether the central holiday experience was provided or not.
Travelling in the Autumn requires a degree of flexibility. This period is a time of change in the far North and the arrival of the first snowfall can be very unpredictable.
Autumn activities: The daytime activities included in this holiday may be amended to accommodate the arrival of winter's first snows (an unpredictable science!). Walks may become snowshoe treks and guests may need to be flexible in their approach. This is unlikely to be the case in September but changes become more likely in October and November. Your Aurora hunting activities should be unaffected.
If cold weather clothing is required and will make your stay more comfortable then this will be included and issued to you upon arrival. If you would like to borrow any additional equipment then please just speak to one of the local guides. For more information please see the trip dossier.
Minimum age
The minimum age for participation in our itinerary is 8 years old, however, for some activities and transfers, you may be joined by other guests and this may include some of a younger age than stated. Any younger participants will be fully supervised and the guides will ensure that their participation takes place only if the activities will be unaffected.
Very few hotels have a minimum age and there may be families staying at them with younger children, especially during the holiday periods. We do have some itineraries and destinations which are guaranteed to be adult-only, so if this is important to you please speak to one of our Travel Experts.
To drive a snowmobile you must have a full driving licence and be over 18 years old.
---
---