Overview
Enjoy three nights at Pine Bay Lodge on the edge of the stunning Luleå Archipelago. This short but exciting trip to Sweden incorporates some firm activity favourites including snowmobiling and dog sledding. In the evenings, keep watch for the Northern Lights from this prime Aurora location.
What's included?
ALL OF THE ACTIVITIES AND SERVICES LISTED BELOW ARE INCLUDED IN THE HOLIDAY PRICE
Flights: For 19th December and 26th December departure dates, return flights are included from London Gatwick to Lulea via Stockholm. For all other departure dates flights are not included. *
Transfers: return airport transfers
Accommodation: 3 nights in a twin or double room at Pine Bay Lodge
Meals: 3 breakfasts, 2 lunches, 3 dinners
The following activities and equipment are included: snowmobile tour of the archipelago or snowmobile forest tour **, husky safari, and Northern Lights snowshoeing (the order of activities is subject to change)
Cold weather clothing is provided for the duration of your stay
Services of our expert local guides
---
This experience in Swedish Lapland has been designed to be varied and active, incorporating some exciting and distinctive excursions that will allow you to explore the incredible landscape of the Luleå Archipelago. Here the multitude of small islands offers a backdrop of pack ice and snow-topped forests for you to explore both by day and night.
During your three nights, you will be based at the homely and traditional Pine Bay Lodge, a log-built building built in the classic Swedish style and located on the coastal edge of the archipelago. The lodge has a cosy and welcoming feel and features a lounge area with large open fire, making it the ideal location in which to relax after a day in the Arctic wilderness. The accommodation here is far more ski chalet in format than a hotel, with guests all dining and relaxing in the central lounge. It is a real home from home experience and your hosts provide guests with exceptional meals and hospitality throughout.
The activities on this trip have been designed to ensure that you really make the most of this unique environment and explore the remarkable landscape of the archipelago to its outer reaches. You will head out on snowmobiles for a tour of the tiny islands, travelling out to where the pack ice can develop into formations of up to 10 metres high. You will also travel across the snow-topped ice fields as you control your own team of huskies during a safari – a real favourite with guests.
Read more
Should conditions be favourable, Lulea is a region where the Northern Lights can often be seen filling the sky with a swirling array of colours. You will also search for the Northern Lights during an Aurora snowshoe walk with your guide leading you into the neighbouring Brando Forest to one of their most favoured viewpoints.
Luleå is not only an incredible setting for a wilderness adventure but also offers some once in a lifetime experiences to explore the incredible vista of snow and ice that make up the archipelago.
---
*A note on flights: flights are only included for the two departure dates in December. For all other dates, the best possible fares and schedule can be found at the time of booking. There are low cost and scheduled flights operating this route and our Travel Experts will happily provide a quotation and arrange the flights as part of the package.
**Please Note: The 4-hour snowmobile tour of the archipelago is not available until January. For those travelling in December, a 2-hour snowmobile forest tour will be included in your agenda instead.
---
Image credits: Graeme Richardson and Fredrik Broman
View Gallery
Download Dossier
Key facts
| | |
| --- | --- |
| Duration: | 3 nights |
| Pace: | Active |
| Suitable for: | Ages 18+. Please see our terms for further information |
Make an enquiry
Agenda
Accommodation
Included in price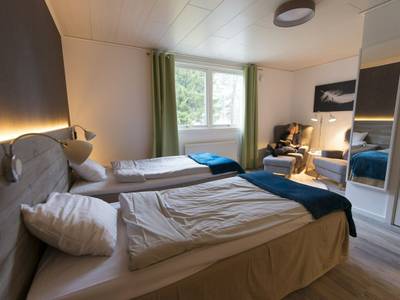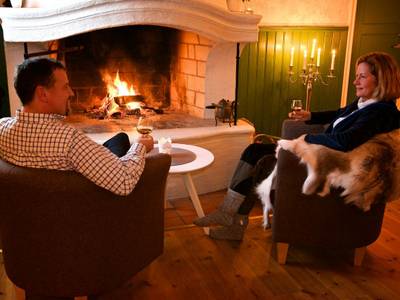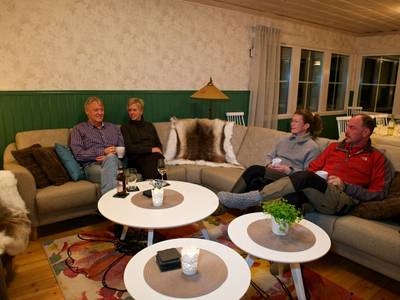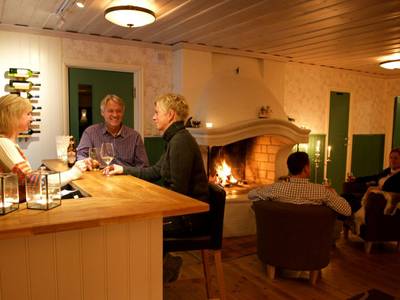 Pine Bay Lodge
Nights:
1-3
The lodge is located on the coastal edge of the Luleå Archipelago offering views across the frozen sea and surrounding snow-clad forests. There is minimal light pollution here, resulting in the night sky producing stunning displays of the Northern Lights if conditions are right.
The words homely and charming immediately spring to mind when describing Pine Bay Lodge (Furufjärden in Swedish). It offers a 'home from home' style of accommodation, which is comparable to that of a ski chalet.
Pine Bay is the kind of place that makes you feel like you want to curl up by the fire and relax with your slippers on; highly recommended after a day of adventures.
Our good friend Göran Widén, who owns the lodge, recently told us: "If I come into the lodge and find someone fast asleep on the sofa in front of the open fire, it is the ultimate compliment. For people to be so relaxed and comfortable in the lodge shows I have been successful in creating the atmosphere I had in mind when dreaming of how I wanted my guests to feel during their holiday."
Hotel facilities
The lodge is centred on the main lounge area, where the open fire beckons guests to the cosy sofas
The open plan dining area offers views of the surrounding countryside and at night the chance to keep a watchful eye out for the Northern Lights (many a meal has been interrupted here)
The kitchen at the lodge is a real highlight and every evening a delicious menu of local produce is carefully prepared for all guests
A sauna is available to book locally and we do encourage all guests to enjoy the traditional roll in the snow afterwards. This will help you understand the real meaning of the word refreshing!
Guest bedrooms
The lodge has only eight guest bedrooms in the main building, all with en-suite shower rooms. There is also a family suite of rooms in a small annexe adjacent to the main building. You really could describe this as an 'exclusive destination'. The rooms are very comfortable and provide a peaceful place to lay your head after a day of adventures.
---
Image credits: Fredrik Broman &
Graeme Richardson
Read more
Read less
Personalise
Personalise this tour
---
Our pick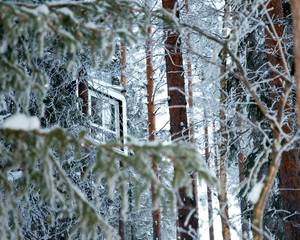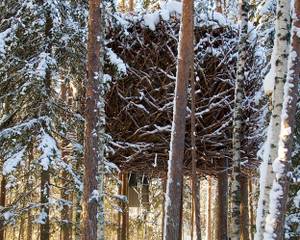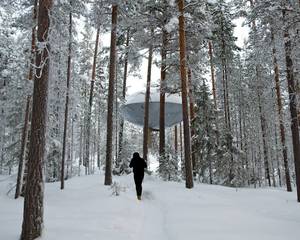 The Treehotel is unique and surreal. We can arrange for you to spend the night amidst the treetops of Swedish Lapland in one of the most inventive bedrooms on the planet. It is an experience, unlike any other and one that we don't feel that you should miss. Each of the seven architect-designed rooms is cutting edge.
The bedroom options include The UFO, Mirror Cube, Bird's Nest, Blue Cone and The Cabin. Each room is spectacular in its own right and totally unique and no matter which option you choose you will experience an unforgettable night. It is possible to upgrade to a night in The Dragonfly or the 7th Room - please ask if you would like a quote for this option.
Your stay includes lunch, dinner and breakfast at Britta's Guesthouse which is approximately a 10-minute walk from the tree rooms. This is a characterful and quirky place to dine, in contrast with the ultra modern Treehotel, with old world charm and hearty home cooking.
Read more
This is exclusive accommodation as there are only six rooms, so we recommend booking as soon as possible to avoid disappointment.
In the morning after your breakfast, your transfers will be arranged to take you back to the airport for your return flights home.
Please contact us for a full quotation based on your transfer and rooming requirements.
---
Image Credits: Graeme Richardson
---
Other options
Activities
Northern Lights hunt via sled
From: £90pp
This excursion offers the opportunity to seek out the Aurora whilst also enjoying the scenic beauty of the Archipelago.
You will travel in a sled pulled by your guide's snowmobile, heading out into the dark Arctic night, with reindeer skins and blankets to keep you warm. Your guide will lead the way across the frozen sea as you move from island to island, enjoying the scenic beauty of the pack ice.
Read more about this activity
Whilst they cannot be guaranteed, you are in the best possible hands for witnessing an Aurora display and your knowledgeable local guide will lead the way to vantage points far from any light pollution. Here you can keep watch on the starry sky with the hope that the Northern Lights will make an appearance above you.
Duration: 2 hours
Kota dinner on ice
From: £175pp
Whilst the title may sound fairly self-explanatory, we absolutely love the concept of 'Dinner on Ice'.
You will dine in a traditional lávvu (tent) which has been erected on the frozen sea ice. The setting is hand-picked by the local team each evening and is normally reached on foot (with the help of snowshoes) or, on occasion, your guide may take you via a snowmobile-pulled sleigh if the camp is further from your accommodation. The size of the tent will depend on the number of diners on any given evening.
Read more about this activity
On arrival at the tent, you will be welcomed with a warm drink and can take a seat on one of the reindeer skin clad benches and the charming rustic tables. The menu will feature local dishes and ingredients. These may include the likes of salmon, reindeer, elk and bilberries. Drinks will be chilling in a hole cut into the icy floor and are available to purchase ( you can add the cost on to your room bill).
Whilst it would be very easy to get caught up in the atmosphere of the evening we recommend regularly taking a look outside to see if the Northern Lights have appeared in the night sky. If there is an Aurora display we can think of few places we would rather be.
Duration: 2.5 hours
Hovercraft excursion
From: £215pp
This region is the only place we feature where guests can explore the wilds in a hovercraft. These machines perfectly suit the ever-changing seasons here and are exceptionally good fun.
You will each be given an intercom headset in order for the pilot to be able to communicate with you and impart his local knowledge.
During this two and a half hour tour, you will set off across the ice and islands and head out to the island of Brändöskär which is typically close to the edge of the frozen sea. You will disembark and take a walk on the ice where depending on the weather conditions, you may witness some of the vast natural sculptures which form as the pack ice gradually shifts and cracks.
A light lunch is included and you will be served warm drinks before returning to the lodge.
---
Image credit: Graeme Richardson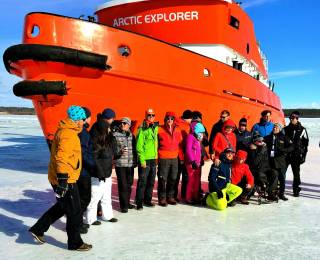 The frozen sea is a sight to behold. A vast, thick sheet of shimmering white, stretching out far into the distance, it is hard to believe that the ocean lies below. The ship then cuts through the ice with apparent ease and suddenly the water is revealed. Shards of Ice surround the boat and you would be forgiven for wondering whether you are on an expedition to Antarctica. The title of the ship 'Arctic explorer' conjures up images of historic voyages and when you get out onto the open ocean it is difficult not to feel a sense of adventure.
Read more about this activity
You will take a 35-minute transfer to Luleå from your accommodation at Brändön Lodge or Pinebay Lodge, before picking up a second transfer from Luleå to Piteå, which takes approximately 50 minutes. Following an introduction and safety briefing by the ship's captain, the journey will begin in Pitsundskanalen, which is where the mouth of the river Piteälven meets the open sea. A mere 100 yards ahead of this point, the ocean opens out and there is a seemingly endless display of ice, which is easily broken by the 'Arctic Explorer'. The ship leaves a trail of ocean behind and this makes it possible to bathe in the freezing water.
You will be given survival suits which will provide protection from the cold and also prevents you from getting wet. Following this, you will have the opportunity to float on the water. It is an invigorating experience, and when you are lowered into the ocean you may have feelings of trepidation, but this soon replaced by delight. You can also experience walking upon the thick Ice of the frozen sea, which is a surreal experience, particularly if you imagine the contrast of a summer's day, where the water is flowing freely.
A hot drink and survival suits are included.
Duration: 2 hours
---
Image credit: Graeme Richardson
Trip Extensions
Stockholm City break
With our trips to Swedish Lapland primarily connecting through Stockholm, guests have the perfect excuse to stop for a night and enjoy this wonderful capital city.
Frequently described as one of the most beautiful cities in the world, the cityscape is unparalleled and consists of 14 islands and islets that are connected by over 50 bridges.
The bright elegance of the city is a combination of its old town (Gamla Stan) with its narrow medieval alleyways and sturdy cobbled streets, its harbourside locations, and its central metropolis complete with bustling commercial heart.
Read more about this activity
Accommodation is varied and plentiful in the city and we can arrange accommodation of all styles and to suit all budgets so please contact our Travel Experts for their recommendations and suggestions on where to stay.
There is much to enjoy here. For a taste of history and culture, guests can visit the Nobel Prize Museum which showcases previous recipients or visit Drottningham Palace, the grand homestead of the Swedish Royal family. The UNESCO-listed Woodland Cemetery (Skogskyrkogården) is also a recommended architectural attraction as is the island of Bjorko which is an important trading centre dating back to the Viking era.
Stockholm is an easy city to walk around and relax in, with over 30% made up of waterways and another 30% made up of green spaces. The city also has remarkably efficient public transport – the Metro which opened in 1950 is well known for its decorated stations and is often referred to as the longest art gallery in the world.
When it comes to food and drink, visitors can sample traditional Swedish food (husmanskost) such as meatballs and reindeer but can also sample some of the modern trends of nouveau Nordic cuisine featured in several unique restaurants throughout the capital.
This is a vibrant capital city and it is well worth dedicating some time to enjoying all it has to offer.
---
Image credit: Helena Wahlman & imagebank.sweden. se
Dates & Prices
Price Comparison Guarantee
Expertise and knowledge are key to witnessing the Northern Lights. We've been running Aurora hunting holidays longer than any company in the UK and with no lead in prices, no hidden costs and more included, we're confident our tours will come out on top.
Flights are not included in the holiday price so that the best possible fares and schedule can be found at the time of booking. There are low cost and scheduled flights operating this route and our travel experts will happily provide a quotation and arrange the flights as part of the package.
---
Single adult price: based on single room accommodation only (transfers are shared). Should you wish to drive your own husky team or snowmobile please ask our Travel Experts for a quotation.
Prices
Next season's pre-sale dates and prices
To secure your holiday for next season, you can make a pre-sale booking and fix the price of your trip at the pre-sale price displayed below. Simply by paying a deposit of £400pp, you will protect yourself from any package price increases. The departure dates and itineraries remain preliminary and we will contact you when the final dates and itineraries are confirmed, you will then have 14 days to decide if you would like to go ahead. If you decide not to travel, we will refund your full deposit payment. We reserve the right to charge supplements where there are significant changes to an itinerary or increases in flight costs. Any non-package rates remain subject to change.
Dates

Wed 18 Dec 2019
to
Sat 21 Dec 2019

Enquire

Adults

£ 1,645

Thu 26 Dec 2019
to
Sun 29 Dec 2019

Enquire

Adults

£ 1,770

Fri 31 Jan 2020
to
Mon 03 Feb 2020

Enquire

Adults

£ 1,215

Fri 21 Feb 2020
to
Mon 24 Feb 2020

Enquire

Adults

£ 1,215

Thu 05 Mar 2020
to
Mon 09 Mar 2020

Enquire

Adults

£ 1,215

Fri 13 Mar 2020
to
Mon 16 Mar 2020

Enquire

Adults

£ 1,215
Terms
For our full booking terms and conditions please click here
Holiday group size (approximate)
Minimum 2 and maximum 24 people (approximately)
GROUP SIZE
We always try to provide an approximation of the group size you can expect to be with for the duration of each of our holidays. It may be that you are joined by others for parts of your holiday (such as transfers and particular activities) but the above number reflects those you can normally expect to be with from beginning to end. If group size is something which is particularly important to you, please speak to our Travel Experts and they can suggest the best holidays for you.
Tailor-made holiday group sizes will vary for all activities as will the group size for any additional activities you book.
MINIMUM NUMBERS REQUIRED FOR A HOLIDAY TO OPERATE
Some of our holidays require a minimum number of participants to operate (as listed in the 'Group Size' section). If your holiday departure has not yet reached the minimum number, you will be told at the time of booking. In the unlikely event that your chosen date is not guaranteed by nine weeks before your scheduled departure date, we will contact you to discuss the available options as per our booking conditions.
Itinerary amendments
The order of activities is always subject to change and guests will be provided with their final itinerary upon arrival.
SINGLE SUPPLEMENT
Please note that some of our holidays may incur a single supplement. Please speak to one of our Travel Experts who will provide you with a quotation.
Medical History and advice
We want our holidays to be accessible as they can be and will do our best to accommodate any special requests and requirements where possible. We have a wide range of holidays and destinations and so our travel experts will help find the best holiday for you.
In order to give us the best possible chance to do this, we ask that if you or any member of your party has any medical condition or disability which may affect your holiday or has any special requirements, that you tell us at the time of enquiry or booking. You must also promptly advise us if any medical condition or disability which may affect your holiday develops after your booking has been confirmed. You may need to provide a doctor's note and proof of insurance in some cases as the health and safety of our clients is absolutely paramount.
In providing this information you are allowing us to work with our expert local partners to ensure that your whole party can enjoy the holiday. By letting us know in advance we can discreetly work with you to adapt any part of the holiday which may potentially be challenging. Being able to prepare for this in advance makes an incredible difference to what we can offer and minimises any impact on your party and the rest of the group.
Unfortunately, if you choose not to share this information with us in advance then it may limit some or all of the itinerary you have booked, and we cannot be held accountable for any additional costs or missed activities resulting from this.
PREGNANCY
If you are pregnant at the time of booking your holiday or you discover you are pregnant prior to your departure, firstly – congratulations! Secondly – please tell us as soon as possible. This situation does arise, and we are able to advise you both from our own first-hand experience and from discussing this at length with our expert local partners who have experience in this area. The more notice you can give us the better, in order to suggest any adaptions to the itinerary you have booked which will reduce the risk to both mother and baby. Please contact our customer service team at This email address is being protected from spambots. You need JavaScript enabled to view it. for more information.
INSURANCE
Insurance is not included in your holiday, but it is a pre-requisite to travelling with us. You will need to ensure that you have cover for all the activities that you will be participating in during your holiday.
It is extremely important that you take out a suitable travel insurance policy at the time of booking. Plans do sometimes change, and you will need this policy should you need to cancel your holiday.
If you are struggling to find a suitable policy then details of our preferred provider, who will cover you for all the activities we offer, can be found on our website by clicking here. Please note that this policy is available to EU residents under the age of 75 only.
Reduced Mobility
If you have a reduced level of mobility, then please contact our travel experts to discuss the suitability of this holiday in relation to your requirements.
Experience and fitness
We offer a vast choice of holidays which range from 'relaxed' to 'active' so there really is something for everyone and our holidays can be filtered by how active they are. Regardless of the chosen holiday, all activities will include tuition from a beginner's level and no prior experience is assumed.
If you are unsure about the physical demands of a particular holiday please contact us and our expert team will be happy to help.
See our booking conditions for further information.
Guides and safety
It is absolutely essential when partaking in any activity that you listen very closely to, and abide by, the instructions provided.
If there is anything that you are unsure of during a safety briefing or that you would like to clarify with the guides please make this clear to them immediately before starting the activity.
Our guides' word on activities is always final and your safety is their principal concern at all times, please respect their decisions. By following their instructions, your safety and enjoyment during each activity will be greatly enhanced.
See our booking conditions for further information.
Booking activities locally
Additional activities can be booked locally in almost all our destinations. However, as per our booking conditions, we cannot be held responsible for any injury or loss incurred through participation in activities which are booked at your destination outside of our holiday itinerary (see our 'Terms and Conditions' for further details).
When arranging any such activity please always ensure that safety is your primary concern. In some of our destinations, you can borrow or hire equipment for use in your free time.
You do so entirely at your own risk. You must ensure that you are properly prepared, have the necessary equipment and knowledge (maps, etc) and ensure that where applicable, you follow marked routes. We recommend discussing your plans with the local teams who will be able to advise on the most suitable options for you.
Always let the reception/guide know where you are planning to go and take a torch and mobile phone (with the hotel/guide's phone number stored). It is also a good idea to leave your contact number and the time you expect to return to the hotel should the hotel need to contact you.
Car Hire
If your trip includes car hire the named driver must have a credit card registered in their name which they can present when they collect their car along with their driving licence, as a deposit will be held on the credit card. Please see your trip dossier for full details.
Our clients' safety is at the centre of everything we do, and our operations team continually assesses and monitors the destinations we feature. We carry out thorough risk assessments and work closely with all of our suppliers to continually follow best practice. For up to date travel advice the UK government offers its Travel Aware website as well as the advice detailed below.
FLIGHT SCHEDULE CHANGES AND CONNECTING TRANSPORTATION
On your documentation, we will confirm your flight schedule. Sometimes the flight number, routing and timings might change prior to your departure. If the change is classed as a significant change then we will contact you to discuss this. Please see our booking conditions for details.
Flight schedule changes can impact on your pre and post-holiday travel arrangements if these have been booked separately to your holiday. We strongly recommend that you do not book transport (such as trains or transfers), car parking or non-connecting flights to the departure point for your holiday until you have received your final confirmed travel times when your final travel documents are issued. We are not responsible for the effect of any schedule change on your pre or post travel arrangements. We strongly recommend that you do not purchase non-flexible or non-refundable tickets to avoid cancellation and penalty charges.
BOOKING YOUR OWN FLIGHTS - CANCELLATION DISCLAIMER
If you have chosen to book your own flights, then you will need to wait until we confirm to you that the holiday departure has met the minimum numbers required to run (if applicable to your chosen holiday). Once the holiday is guaranteed to run, you will be informed and you can then make your arrangements.
If transfers are included in your holiday, please ensure that any potential flights will be met by our standard transfers (speak to one of our Travel Experts for advice) otherwise private transfer supplements may be applicable. Once your flights are booked, please send us a copy of your detailed flight itinerary.
Please be aware that most tickets are non-refundable in the case of cancellation. For this reason, we strongly advise you check the rules of the ticket and check the limitations of your cancellation insurance before booking. We cannot be held liable, in the unlikely eventuality that we should be forced to cancel or amend your trip, for losses incurred relating to any flight booking you have made.
THE FOREIGN AND COMMONWEALTH OFFICE ADVICE
We receive all updates from the Foreign and Commonwealth Office (FCO) with regards to travel advice and we always ensure that we follow this advice in our operations. The FCO issues travel advisories for countries based on a very wide range of factors. They may provide notification about things as simple as a football match and crowds, or they may go so far as to advise against all travel to a region. We ask all our clients to refer to the relevant Travel Advice by Country for the destinations they are visiting in order to make an informed decision on the safety of the destination based on the details provided. It also provides vital information regarding entry requirements, embassy information, local laws and customs as well as specific safety and health. Guests should take responsibility for keeping themselves up to date with this advice. Please also ensure that, if you are transiting through another country, you have read the advice and meet the entry requirements for that destination too.
The FCO travel advice is applicable to British Passport Holders. Most governments will issue their own travel advice for a region and, if you are not a UK resident then you can find some helpful links below:
Australian Department of Foreign Affairs and Trade http://www.smartraveller.gov.au/
New Zealand Ministry of Foreign Affairs and Trade http://www.safetravel.govt.nz/
Canadian Consular Affairs Bureau http://voyage.gc.ca/
The U.S. Bureau of Consular Affairs http://travel.state.gov/content/travel/english.html
If the FCO deems that there is an unacceptable level of risk for UK citizens then, together with the government, they may issue an advisory against all travel to a region or country. If such an advisory is published, then we will act accordingly, and this may require the cancellation, curtailment or amendment of a holiday itinerary. These decisions are made on the basis of ensuring our clients' safety and will affect all clients on the holiday, regardless of their nationality.
If one of our local experts suggests an amendment due to a situation which develops locally then we may also take the decision to amend an itinerary appropriately.
If we have to cancel your holiday prior to departure you will be offered the option of an alternative trip (where any price difference will either be refunded to or covered by you) or a full refund of the monies paid.
If we have to curtail a holiday, then you will be refunded for any costs for the elements we have been unable to deliver, where we have been able to secure a refund from our suppliers. If we must reroute a holiday, then any basis for refund is determined on a case by case basis and dependent on whether the central holiday experience was provided or not.
Minimum age
The minimum age for participation in our itinerary is 18 years old, however, for some activities and transfers, you may be joined by other guests and this may include some of a younger age than stated. Any younger participants will be fully supervised and the guides will ensure that their participation takes place only if the activities will be unaffected.
Very few hotels have a minimum age and there may be families staying at them with younger children, especially during the holiday periods. We do have some itineraries and destinations which are guaranteed to be adult-only, so if this is important to you please speak to one of our Travel Experts.
To drive a snowmobile you must have a full driving licence and be over 18 years old.
---
---