Overview
This trip allows guests to experience the real highlights of this remote and spectacular region in a more relaxed fashion. Your evenings are still dedicated to the quest for the Northern Lights but your days offer exceptional experiences and activities, as well as time to enjoy the peace of Lapland.
What's included?
ALL OF THE ACTIVITIES AND SERVICES LISTED BELOW ARE INCLUDED IN THE HOLIDAY PRICE
Flights: return flights from London to Ivalo (either direct or via Helsinki depending on departure date). Flight routes are subject to change
Transfers: return airport transfers
Accommodation: 3 nights' accommodation in twin/double hotel rooms
Meals: 3 breakfasts, 2 lunches, 3 dinners
The following activities and equipment are included: Aurora workshop, two Aurora hunts in a minibus, husky safari, Aurora camp and snowmobile safari (the order of activities is subject to change)
Cold weather clothing for the duration of your stay
Services of our expert local guides
Aurora alert until approximately 1 am
---
Muotka is simply delightful. This small and remote lodge is surrounded by the forests of North East Lapland. The region is a veritable feast for anyone looking to enjoy a comprehensive experience of Lapland whilst looking for a retreat from the every day and a more relaxed pace of life.
You will enjoy true 'bucket list' activities such as an unforgettable dog sled safari in the wilds of the Arctic and an exciting snowmobile safari to the fells.
Your evenings are dedicated to the hunt for the Aurora Borealis and these excursions typically use engines to do all of the hard work, allowing you to focus on the task at hand. During two evenings you will hunt for the Northern Lights using the mobility of a minibus. Your expert local guides will use their incredible local knowledge and the latest weather forecasts to aid your search. Your third Aurora evening uses a snowmobile-pulled sleigh as your method of transport as you will be heading out to one of the Aurora camps.
Read more
We can also arrange for you to upgrade to the epitome of Aurora accommodation for either part or all of your holiday and book you into one of Muotka's wonderful Aurora Kotas. Details of all of these special upgrades can be found in the 'Accommodation' and 'Personalise' sections of the holiday page.
---
©Jouko Lappalainen, Matt Robinson & Markku Inkila
View Gallery
Download Dossier
Key facts
| | |
| --- | --- |
| Duration: | 3 nights |
| Pace: | Balanced |
| Suitable for: | Ages 15+. See our terms for further information |
Make an enquiry
Agenda
Accommodation
Included in price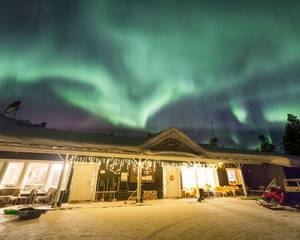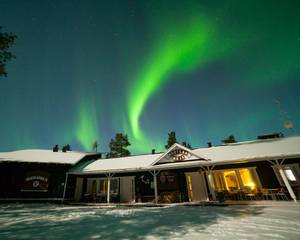 Muotka Wilderness Lodge
Nights:
1-3
Muotkan Maja Wilderness Lodge resides around 40km from the main town of Ivalo, tucked away in the corner of North-East Finland. Recently renovated and restored it is owned and run by the same couple as the popular Nellim Wilderness Hotel, Mari and Jouko Lappalainen. They run the lodge with the same hard-working ethos and it exudes the same warmth and charm for its much-welcomed guests.
The lodge boasts some wonderful scenery, tucked away in the forested-fells with roaming reindeer frequently seen amongst the trees. It consists of two main accommodation buildings, one with the majority of the bedrooms and another with hosts additional bedrooms, the main restaurant and the reception area.
Hotel facilities
The focal point of the main building is the restaurant which is where you will have the majority of your meals. Food will be served buffet style with a variety of continental and cooked food for breakfast and the choice of two or three options for each course at dinner. The menu has been designed with a focus on both traditional and international cuisine using fresh, locally-sourced ingredients
There is a bar which is usually open until 1 am and serves a variety of spirits, wines and beers and a lounge area with comfortable armchairs to relax in during your free time
There is a sauna in the main building which is heated daily for guest use
Free Wi-Fi is available in the main building (at the bar and in the restaurant)
In the main building, you will also find two fireplaces, games and books, which makes it a perfect place to relax
The rooms do not have tea and coffee making facilities but tea and coffee are available free of charge and available in the restaurant area
Hairdryers are available from the main hotel reception.
Room types
There are 12 double and twin rooms in the main building and 11 in the additional building just across the courtyard. All rooms are en-suite with shower room, wardrobe, hairdryer and nightstand and can be made up as either a double or twin. They have also been recently renovated and offer lovely Scandinavian décor and charm.
---
Image credits: Jouko Lappalainen, Markku Inkila
Read more
Read less
---
Other options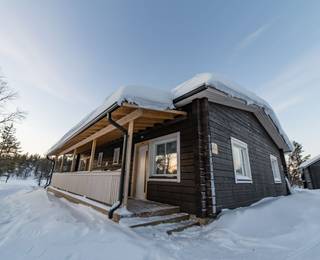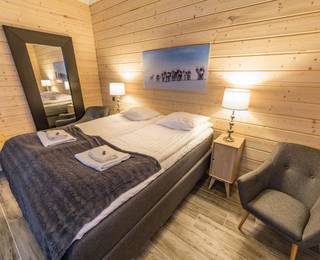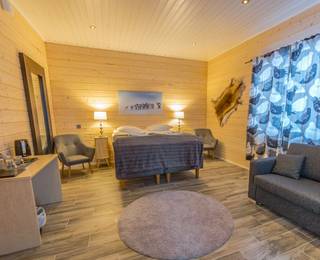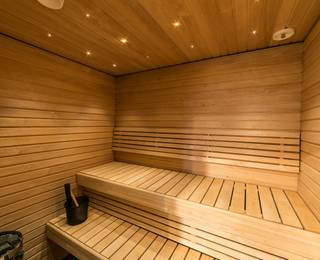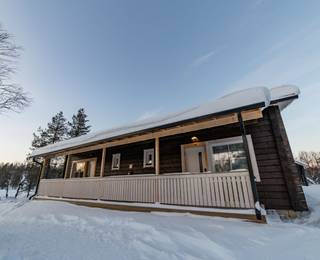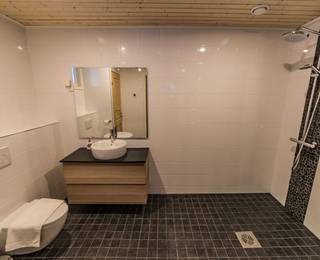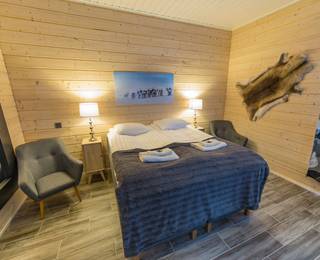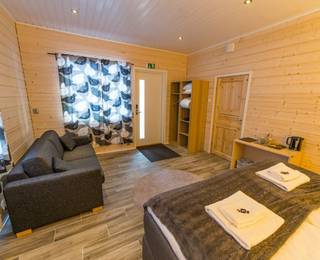 Muotka superior sauna rooms
Supplements from: £136pp
Muotka Wilderness Lodge has 16 Superior Sauna rooms, located a short distance from the main hotel building. These rooms are designed to offer rustic luxury and are ideal for small families and groups or those that simply wish for more space to relax in during their stay at Muotka. The rooms are approximately 33m² and each separate building has four superior sauna rooms inside.
Facilities
All rooms will contain their own private sauna, sofa and electric kettle to make your stay as comfortable as possible
Each has a queen-size bed within and space for 1-2 extra beds
All meals will be served in the hotel restaurant which is just a short walk away

Hairdryers are available from the main hotel reception
Read more
Read less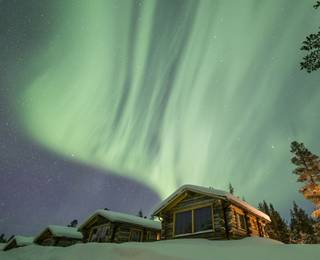 Muotka Log Cabins
Supplements from: £240pp
Situated not far from the main hotel, the log cabins at Muotka are a wonderful upgrade option for those looking for a little more space during their stay or if you are travelling as a small group or family.
Each log cabin is approximately 50m² and is fully equipped to make your stay cosy and comfortable.
Log cabin facilities
All cabins will contain their own log burner and private sauna - ideal for warming up after a day in the snow!
Each has a double bed and space for 1-2 extra beds
All cabins have a small kitchenette and a kettle
The log cabins are equipped with large north facing windows so you can easily keep watch for a potential Aurora display
All meals will be served in the hotel restaurant which is just a short walk away

Hairdryers are available from the main hotel reception
Read more
Read less
Personalise
Personalise this tour
---
Our pick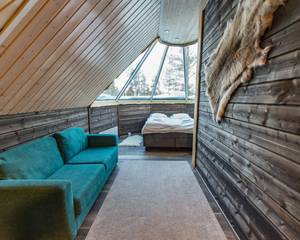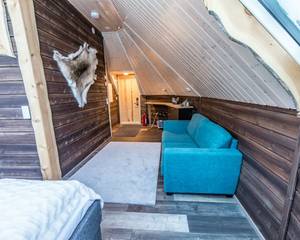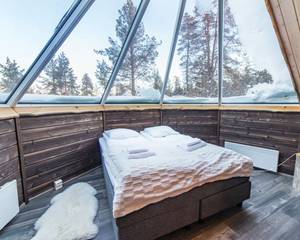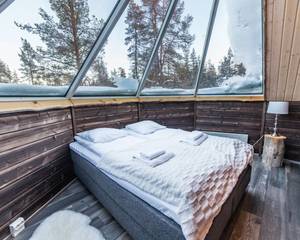 A night in an Aurora Kota
As ever, Muotka leads the way in Aurora viewing innovation and we are therefore proud to offer our guests the chance to spend the night in one of only 20 magnificent Aurora Kotas. These stunning, part-cabin, part-glass tepee buildings, offer guests an exceptional overnight Aurora hunting experience.
Guests get the space and feel of a cabin during the day and the Aurora viewing benefits of a glass igloo at night, as you sleep under a glass tepee. This means that you are provided with the most wonderful views of the night sky from the comfort of your bed.
These part-cabin and part-glass tepee buildings, are self-contained and situated a short distance from the hotel, next to the annexe. They combine the space and atmosphere of a cosy cabin with a glass roof above the bed. Each Kota faces north so ideal for guests to gaze upon the night sky every night of their holiday, from the comfort of their duvet. The Kotas are all 25m² with their own private sauna, double bed and en-suite bathroom, making them an excellent base.
Read more
Please note an additional supplement will apply on our Christmas and New Year departures and that all prices are based on guests spending their final night in a Kota and checking out of their hotel room the day before departure.
---
Please note: prices are based on you spending the first or last night of your holiday in this unique accommodation and not keeping your original accommodation. If you would like to do this on any other night during your holiday you will need to keep your accommodation and supplements will apply.
Credit: Anthony Oberlin and Minttu Mantynen
---
Other options
Trip Extensions
Helsinki city break
With our destinations being so remote, the majority of flights to Finnish Lapland are operated by Finnair and therefore involve connecting through Helsinki Airport. Many of our guests choose to extend this stop and spend some time in the Finnish capital, either at the start or end of their holiday.
We can arrange a wide variety of city centre hotel accommodation for guests to choose from and some options closer to the airport should you prefer. We know that everyone tends to be looking for something different so please contact our travel experts for their opinion on the hotels which may best suit you and your party.
Read more about this activity
Located on the peninsula of the Baltic Sea, Helsinki enjoys a charming coastal location and has much to offer its guests. This thriving city has a rich culture and arts scene with many museums and galleries to enjoy alongside the exciting gastronomy.
Despite its cool urbanism and a reputation for cutting-edge design, Helsinki also retains its charm and visitors will enjoy this city's very friendly atmosphere.
In the city itself, Senate Square is the main feature, showcasing neoclassical architecture and offering easy access to the surrounding shops. With Helsinki once part of the duchy of Russia, it offers similar striking architecture, with wide streets and bold facades. For those looking for more of an insight into the city's past, we would suggest visiting the Ateneum Art Museum which houses over 20,000 pieces of art, or the Helsinki Design Museum which showcases the history of design in the country from traditional folklore to postmodernism.
A 15-minute ferry ride from the main city is the UNESCO-listed Suomenlinna Sea Fortress which was constructed in 1748. As well as being a unique monument, it is also a lovely day trip, as the island has numerous shops and parks to explore.
Helsinki's food scene has seen a recent evolution, with a growth in street food which showcases the city's multicultural population. Helsinki is famed also for its specialist dishes of seafood and Russian cuisine so there is much to sample!
Finland is famed for its coffee consumption so you can be sure of a thriving café culture here. Be sure to include an obligatory stop for a coffee and a cinnamon roll during your explorations!
Whether you add your city break onto the start or the end of your holiday, spending a night or two in Helsinki is not something that you will regret.
Please contact our Travel Experts for a full quotation. All city breaks are subject to flight availability.
Image credit: VisitFinland
Extend your stay in Saariselka
Following on from your holiday, we can arrange for you to extend your stay in Lapland and spend two nights in the ski village of Saariselka. This extension is ideal for those who want to combine their initial Arctic adventures with some downhill skiing or those who want some time to explore independently.
There are lots of things to see and do from your comfortable and well-equipped hotel in the village centre. We can arrange for you to add in additional activities, hire downhill or cross-country skiing equipment or you can simply explore at your own pace and enjoy the shops and restaurants. The choice of how you spend your time here is yours, however, our Travel Experts will help you plan the perfect extension and provide a full quotation.
Dates & Prices
We include more, no hidden costs
On each of our holidays, you will see a clear outline of exactly what's included in the price of your holiday. We never use 'headline' or 'lead-in' prices like so many tour operators, as we prefer to include as much as we can, rather than see our clients incur considerable additional costs in our destinations.
Prices
Dates

Thu 13 Dec 2018
to
Sun 16 Dec 2018

Book

Adults

£ 1,365

Single Adult

£ 1,465

Thu 27 Dec 2018
to
Sun 30 Dec 2018

Book

Adults

£ 1,515

Single Adult

£ 1,615

Thu 03 Jan 2019
to
Sun 06 Jan 2019

Book

Adults

£ 1,515

Single Adult

£ 1,615

Thu 17 Jan 2019
to
Sun 20 Jan 2019

Book

Adults

£ 1,335

Single Adult

£ 1,435

Thu 31 Jan 2019
to
Sun 03 Feb 2019

Book

Adults

£ 1,335

Single Adult

£ 1,435

Thu 14 Feb 2019
to
Sun 17 Feb 2019

Book

Adults

£ 1,515

Single Adult

£ 1,615

Thu 21 Feb 2019
to
Sun 24 Feb 2019

Book

Adults

£ 1,515

Single Adult

£ 1,615

Thu 28 Feb 2019
to
Sun 03 Mar 2019

Book

Adults

£ 1,335

Single Adult

£ 1,435

Thu 14 Mar 2019
to
Sun 17 Mar 2019

Book

Adults

£ 1,335

Single Adult

£ 1,435

Thu 28 Mar 2019
to
Sun 31 Mar 2019

Book

Adults

£ 1,385

Single Adult

£ 1,485

Thu 11 Apr 2019
to
Sun 14 Apr 2019

Book

Adults

£ 1,385

Single Adult

£ 1,485
Please note: our holiday prices are based on the lowest available airline fares. These fares can sell out quickly and, as a result, prices may increase and supplements may be applicable. We recommend booking at the earliest opportunity in order to secure the best possible fares and flight times.
Next season's provisional dates and prices
To secure places for next season, you can make a provisional booking and fix the cost of your holiday at the provisional package price displayed online. Simply by paying a deposit, you will protect yourself from any package price increases. The departure dates and itineraries remain subject to change and we will contact you when the final dates and itineraries are confirmed. You will have 14 days to decide if you would like to go ahead. If you decide not to travel we will refund your deposit. We reserve the right to charge supplements where there are significant changes to an itinerary or increases in flight costs. Any non-package rates remain subject to change.
Dates

Thu 12 Dec 2019
to
Sun 15 Dec 2019

Enquire

Adults

£ 1,460

Single Adult

£ 1,565

Thu 26 Dec 2019
to
Sun 29 Dec 2019

Enquire

Adults

£ 1,620

Single Adult

£ 1,725

Thu 02 Jan 2020
to
Sun 05 Jan 2020

Enquire

Adults

£ 1,620

Single Adult

£ 1,725

Thu 16 Jan 2020
to
Sun 19 Jan 2020

Enquire

Adults

£ 1,430

Single Adult

£ 1,535

Thu 30 Jan 2020
to
Sun 02 Feb 2020

Enquire

Adults

£ 1,430

Single Adult

£ 1,535

Thu 13 Feb 2020
to
Sun 16 Feb 2020

Enquire

Adults

£ 1,620

Single Adult

£ 1,725

Thu 20 Feb 2020
to
Sun 23 Feb 2020

Enquire

Adults

£ 1,620

Single Adult

£ 1,725

Thu 27 Feb 2020
to
Sun 01 Mar 2020

Enquire

Adults

£ 1,430

Single Adult

£ 1,535

Thu 12 Mar 2020
to
Sun 15 Mar 2020

Enquire

Adults

£ 1,430

Single Adult

£ 1,535

Thu 26 Mar 2020
to
Sun 29 Mar 2020

Enquire

Adults

£ 1,480

Single Adult

£ 1,585

Thu 09 Apr 2020
to
Sun 12 Apr 2020

Enquire

Adults

£ 1,480

Single Adult

£ 1,585
Terms
For our full booking terms and conditions please click here
Holiday group size (approximate)
Minimum 8 people, maximum 20.
Group sizes and minimum numbers
Most of our holidays require a minimum number of participants to operate. Minimum numbers are detailed on each holiday page and are always approximate. Group sizes for tailor made holidays will vary for each of the activities. For private departures you may also be joined by other guests during the activities unless you have discussed specific private activities with us.
If your selected date has not yet reached minimum numbers you will be informed at the time of booking. In the unlikely event that your chosen date has not reached the required minimum numbers nine weeks before your scheduled departure date we will contact you and discuss the various options available to you. We will always do all we can to operate a holiday and in some cases we may be able to operate the holiday by combining your itinerary with that of other guests for some activities (this may mean that the maximum group size is increased but this will be discussed in full with you).
If we are unable to operate the holiday then you will be offered the chance to transfer to an alternative holiday or date (subject to availability). If the alternative is more expensive you will be asked to pay the difference, if it is cheaper then you will be reimbursed. You will also be offered the option to cancel and receive a full refund of all monies paid.
See our booking conditions for further information.
Order of activities
The order of activities is always subject to change and you will be provided with your final itinerary upon arrival at your destination
Medical History and advice
If you or any member of your party is pregnant or has any medical condition or disability which may affect your holiday or has any special requirements as a result of any medical condition or disability (including any which affect the booking process), please tell us before you confirm your booking so that we can assist you in considering the suitability of the arrangements and/or making the booking. In any event, you must give us full details in writing at the time of booking and whenever any change in the condition or disability occurs. You must also promptly advise us if you become pregnant or any medical condition or disability which may affect your holiday develops after your booking has been confirmed.
See our booking conditions for further information.
Experience and fitness
We offer a vast choice of holidays which range from 'relaxed' to 'active' so there really is something for everyone and our holidays can be filtered by how active they are. Regardless of the chosen holiday, all activities will include tuition from a beginner's lever and no prior experience is assumed.
If you are unsure about the physical demands of a particular holiday please contact us and our expert team will be happy to help.
See our booking conditions for further information.
Guides and safety
It is absolutely essential when partaking in any activity that you listen very closely to, and abide by, the instructions provided.
If there is anything that you are unsure of during a safety briefing or that you would like to clarify with the guides please make this clear to them immediately before starting the activity.
Our guides' word on activities is always final and your safety is their principal concern at all times, please respect their decisions. By following their instructions, your safety and enjoyment during each activity will be greatly enhanced.
See our booking conditions for further information.
Booking activities locally
In almost all of our destinations you can book and pay for additional activities locally. Please note that we cannot be held responsible for any injury or loss that occurs through any activities that are booked in your destination (see our terms and conditions for further details).
Please always ensure that your safety is your primary concern when arranging any such activity.
Car Hire
If your trip includes car hire the named driver must have a credit card registered in their name which they can present when they collect their car along with their driving licence, as a deposit will be held on the credit card. Please see your trip dossier for full details.
Aurora alerts
During your stay, you will be supplied with an Aurora alert. This is typically a mobile phone system to which the staff will send a text should the Northern Lights be sighted. The alerts generally operate until 1 am but it is best to confirm with your guide as times may vary.
The alerts are designed as an aid to Aurora hunting and, although every effort will be made to issue an alert should the conditions seem conducive to a display, things can change very quickly so you should not rely solely on them and should also keep an eye on the sky yourself.
Minimum age
The minimum age for participation in our itinerary is 15 years old, however, for some activities and shared transfers, our guests may be joined by others and these may include those of a younger age. Any younger participants will be fully supervised by an adult and the guides will ensure that they are only able to participate if there will be no effect on the activity experience. None of the hotels we feature have a minimum age and so there may be families staying at them with younger children, especially during the holiday periods.
To drive a snowmobile you must have a full driving licence and be over 18 years old.
Reviews
Traveller Reviews
I would definitely recommend booking with The Aurora Zone
30 March 2018
by Louise & Grayham Churchouse and Kim Drury
My husband and I decided to go on another trip with The Aurora Zone (this was our third!). My mum had never experienced a cold holiday and was keen for a Northern Lights trip, so we suggested a short break in Muotka, and came along! Muotka has grown a lot since our last trip in 2015, but has not in any way lost any of the charm that made us fall in love with it the first time! It is homely, warm…
Read more and welcoming. Everything is extremely well organised, and the staff and guides could not be happier to help. The meals provided were of a great quality, and there was always something yummy on offer! There was a great little bar area there with a nice selection of drinks available...I would suggest trying the pear cider! The gear provided is sure to keep you nice and warm, and is very comfortable! The activities were fantastic as always, with thorough briefings given by the guides beforehand. We stayed for three nights, and were actually lucky enough on each of the nights to see the Northern Lights! It really made the short break that little bit more special. I would definitely recommend booking with The Aurora Zone. Although we have only gone to Finland, I have no doubt that any one of their holidays will be fantastic, and of a great quality!
Read less
We liked all the other activities
05 March 2018
by Judith Pallot and Julia Fairbank
It is obvious that a lot of effort is put into taking visitors to places where there was maximum chance of seeing them. We liked all the other activities and we liked the combination of physical activities (cross country skiing) and less energetic activities, like snowmobiles. The huskies were great, as usual.
Something totally different
26 February 2018
by Keith and Judith Mitchell
The husky safari was great. Something totally different to the norm, the right balance of adrenalin required to turn fear into excitement and enjoyment. An added bonus is the beauty of the otherwise inaccessible routes you get to see.
A wonderful holiday
25 February 2018
by Michael and Dian Slay
The whole experience was fantastic with excellent guides and informative staff.
Would rebook with your company
23 February 2018
by Graham and Susan Willis
Would rebook with your company, the reps from the hotel/lodge are amazing and made the holiday, they were excellent and attentive. Great credit to the operations
Fantastic holiday with no complaints
08 February 2018
by Peter & Lynda Hollies
An excellent holiday with good food and good equipment provided. Booking and information provided was very good.
Overall an excellent trip
08 February 2018
by Susan and Robert Morris
Overall an excellent trip; we saw the Aurora every night - it was magical. The guides at Muotka were fabulous, friendly and helpful. The hotel was warm and extremely comfortable, with great staff.
Awesome - some of our frients have already booked on this on our recommendation!
01 February 2018
by Matthew Briggs and Joanna Charsley
Really good - all the guides were so enthusiatsic and knowledgeable. It really felt as if everyone was there to make this a memorable trip. The Aurora Camp (with Northern Lights!) was exceptional, awesome environment for photos but the snowmobiling and Husky sledding were both great - I think an absolute must to fill the days and make it worthwhile trip even if you miss out on the aurora. Awesome…
Read more - some of our friends have already booked on this on our recommendation!
Read less
So much fun
31 January 2018
by Sophie Buttigieg and Andrew Panteli
The husky safari was brilliant its such an experience and so much fun
I really hope to use you again!
31 January 2018
by James and Nina Purkiss
The whole experience from location accommodation and activities were beyond our expectation. I really hope to use you again.
A fabulous holiday in every respect
30 January 2018
by Carol Edmonds, Rachel Yates and Hannah Bodek
It was a fabulous holiday in every respect. Seeing the northern lights was amazing!
I had an amazing time on my trip
16 January 2018
by Amanda Hameon
I did this trip by myself but felt extremely welcomed by friendly staff and met another girl travelling by herself as well. Someone dared me to go into the icebath so I did. ????? I would recommend this trip to everyone! My favourite part was sledding with the huskies. ? I could have done that all day!
We thought this was a fantastic holiday
08 January 2018
by Christine & Frederick Wicker
We thought this was a fantastic holiday
Well organised, great guides.
07 January 2018
by The Greenhalgh Family
The huskies and skidoos were fantastic. Well organised, great guides.
Loved the Huskies
12 March 2017
by Lorna and Bernard Walker & Janet and Christopher Jones
It was brilliant. Just loved the huskies, fun, exciting and wonderful for animal lovers, although my husband a confirmed non animal lover was quite taken too. Snow hole fishing. Fun idea and so unique to the culture, it had to be done. The holiday was well planned with free time increasing towards the end as we got more tired. The local guides were exceptional, they were very friendly and…
Read more extremely skilled in assessing the group and making sure everyone was comfortable with the level of activity without making slower or less fit members feel they were holding the group up. They also went out of their way to answer questions, lighten the moment and make sure everyone got maximum value from the experience.
Read less
Best holiday experience
12 March 2017
by Angela Kelly
This has been the best holiday experience that I have ever had. I got to tick so many things off my bucket list. I was travelling solo but was never left out of any of the activities due to this, the staff made sure that I was included in everything… The husky Safari, outside with nature going over the frozen lakes, forests, and through the snow! What more could you ask for. The holiday…
Read more was so well planned out. All the staff were friendly and helpful, full of advice. This was from the moment I booked the trip to the driver that took us back to the airport. What a fantastic team of professional people.
Read less
Fantastic guides
12 March 2017
by Jill & Peter Evans
The activities i.e. snow mobiles which we paid extra for as it wasn't part of our trip, snow shoe safari in a snow storm in the Pallas National Park, the husky trip, and the ice fishing were made even better (if that is possible) by the fantastic guides we had they were knowledgeable enthusiastic really helpful and fun to be with. The staff in the hotel were also really great as well.
Guides were excellent
12 March 2017
by Melodie & Ian Henry
Everything was done well and the log cabin was very good! The guides were excellent. Very helpful and kind.
Nothing like I have ever experienced before
12 March 2017
by Rebecca Smedley
I enjoyed all of the activities immensely and for different reasons. The reindeer farm was so interesting and the reindeer sledging was so pleasant. The huskies were just adorable and, even though it was a little bit daunting at first, the ride was a lot of fun even when one of the dogs decided to go number 2 on the run! The Aurora hunts were great (even the one where it was snowing and we didn't…
Read more see anything) because the scenery was so beautiful and nothing like I've ever experienced before.
Read less
It was ALL excellent
19 February 2017
by Kevin and Leslie Crosbie
The guides are helpful, enthusiastic, friendly and knowledgeable. We don't think there's anything you could improve on. The Kota and sauna were spot-on and the champagne was a nice touch. We slept really well as the bed was very comfortable.
An amazing holiday/experience - thank you!
12 February 2017
by Elizabeth Ellis
The clouds pictured were polar stratospheric clouds which I'm told are highly unusual and was a real highlight of the trip as the locals ran out and grabbed their cameras to see them.
The most magical, unforgettable holiday
18 January 2017
by Gillian Butler and Wendy Butterworth
Nothing to add except "Excellent"! All the activities I participated in were really enjoyable and well led by knowledgeable and friendly guides. If I had to choose one, it would be the Aurora Camp simply because we were treated to an amazing 'light show'! All the staff, without exception, were great - friendly, helpful and extremely knowledgeable. The Lodge itself is fabulous too. I have just…
Read more returned from the most magical, unforgettable holiday.
Read less
The guides were all wonderful
21 February 2016
by Gail & Angharad Pitty
The guides were all wonderful, but I wanted to especially mention Vesa who took us to the Sámi Museum in Inari. He entertained us on the journey with some great stories about the area and his life, and was a very informative guide around the museum itself. We really loved the dog sledding, and are looking at a husky safari for next year because it was so enjoyable. We also enjoyed the…
Read more snowshoeing.
Read less
Every day was filled with the most amazing experiences ticking many of our bucket list items!!
31 January 2016
by John White
Your sales team/admin team were fantastic and extremely helpful especially Amy and Dawn. Thanks for sorting out twin beds in the Kota. Am so pleased we chose the Kota rather than the hotel - well worth the extra - thanks Amy for that advice and "nudge"!! The husky trip was the best - the reindeers would have topped this had the ride been longer. That was my wife's view! I loved the snowmobile trip…
Read more with Juoko, with the huskies a very close second! All were brilliant and amazing!! All of it was exceptional and enjoyed them all! We have travelled to many places but for such a short trip every day was filled with the most amazing experiences ticking many of our bucket list items!! It completely surpassed all of our expectations. We really had no idea what to expect and strangely the Northern Lights became secondary! However, we loved seeing them even though they weren't that spectacular because of the cloud cover but because of the other trips we weren't as disappointed as we thought we might have been when we first arrived.
Read less
What a magical experience
18 March 2015
by Brian Bentley
What a magic experience. Even though the Aurora Lights did not appear the package was an excellent offering. I would have stayed an additional day, time allowing, to experience the snowmobile ride. The husky dog sled ride was top notch. To be in charge of a team of six huskies was an experience not forgotten easily.
Really found the staff at the hotel delightful
11 March 2015
by Halina Szutowicz
Really found the staff at the hotel delightful. They were enthusiastic, knowledgeable, hard working and seemed to be able to turn their hands to anything that needed done in the lodge. I'd go back like a shot for a longer time. Loved all activities, best was probably husky sledding which was much more fun than expected and none of us fell off!
Fantastic holiday
20 February 2015
by Kylie Dow
Couldn't have asked for a better trip - well-organised, lovely staff, comfortable accommodation, great activities and three sightings of the Aurora. Perfect balance of activities and time to relax.
Muotka was superb
06 November 2014
by Brian Goodall
The welcome at Muotka was superb and I can't think of anything else they could have done. We really had a fantastic time and on the last night we saw the Lights which we thought were totally wonderful - much more so than I had expected, indeed I find it hard to put into words how very special I thought they were. We really loved Finland and enjoyed the activities which were very extensive although…
Read more we particularly enjoyed the Husky sledge driving. Red squirrels appeared outside the window most mornings whilst I was eating my breakfast and they were absolutely enchanting and quite different to our red squirrels. We were very impressed by our guide Santo - his knowledge of the area was encyclopedic and he worked tirelessly, indeed I'm not sure when he slept. All of the staff could not do enough to help - we were really impressed - the additional outer clothing provided was great and absolutely essential. All in all it was just fabulous and I really hope to go again!
Read less
We saw the Aurora twice
08 April 2014
by Peter Drummond
Overall an excellent holiday. We saw the Aurora twice, the second time a fantastic display.
First rate trip
31 March 2014
by Richard Butler
We just wanted to let you know how very impressed we all were with all the arrangements and clothing for our recent four days at the Muotka Wilderness Lodge. Everything went very smoothly and was well and safely organised—though heaven knows what an energetic tour must be like! We arrived around 11.30pm to find a delicious soup available and things were just as good and better than we dared hope…
Read more for all four days and we even saw the Aurora on our last night – at minus 27C. Our guide Mantuu was superb and always interesting and knowledgeable whilst all the background info you provided was first rate. Many thanks
Read less
We had a really great time on our recent holiday
17 February 2014
by Irene Blake
What can I say, but we had a really great time on our recent holiday organised by your team. Our party of eight were hosted by some really enthusiastic people when we stayed in Finland. ALL the activities were enormously enjoyed by us and we learnt such a lot from our guides. On each of the three nights that we went out Aurora hunting, the guides did their very best to find a clear part of…
Read more sky somewhere in Finland! We travelled even to the Russian boarder for a view. On our last night the skies cleared and Noora, our fantastic guide, took us up to an area in the North which provided us with the most stunning views. I think the Aurora spirits were on our side, as it was my birthday, and what a display we saw. Noora took many photos to include us in and made these available to us afterwards and these will be treasured by us all. Please pass on our many thanks to your team and to all those involved at the Wilderness Lodge, Finland, especially Noora.
Read less
Amazing time at Muotkan Maja in Lapland
27 March 2013
by Helen Purser
We are just back from an amazing time at Muotkan Maja in Lapland. All of the activities were brilliantly organised, our guides were enthusiastic and knowledgable. We did a lot in the time we were there, but at no point did the trip feel rushed or hurried, the pace was just right! Two of our four nights were very cloudy, limiting our chances of Aurora spotting, but on our last night the clouds…
Read more parted and the Northern Lights danced across the sky for us, both at the lodge and up on the fell at Kiilopaa - we stayed out on our last night until 2.30am in termperatures of -17c and it was well worth it! The accommodation was modern and comfortable, the food was tasty, plentiful and warming - just what we needed to keep us going!
Read less
This was an excellent and memorable holiday!
24 March 2013
by Brian Knight
This was an excellent and memorable holiday! It's hard to think of anything that could have improved our experience. Our days and evenings were completely filled with new and exciting activities, the hotel was cosy, the food was delicious, and we saw the Aurora on two nights out of four. Sanna and Santtu looked after us very well, and were very flexible in arranging activities and mealtimes to…
Read more suit everyone. We were lucky to share the trip with a great group of like-minded guests, and it was a pleasure to chat to them around a blazing fire over a cup of hot berry juice. Particularly special was snowmobiling through the starlit forest at midnight, as it was unlike anything we'd done before! Being propelled through a sunlit forest by enthusiatic huskies was equally thrilling!
Read less
The husky rides were just fantastic
22 March 2013
by Natalie Fearns
The husky rides were just fantastic. Even better when we got to hold the husky puppys. There wasn't anything that I didn't enjoy, or (would) change.
---
Gallery
Photos (7)
Videos (2)
---