Overview
This 4-night trip takes you to Menesjärvi, one of the wildest and most pristine locations we offer. With excellent Northern Lights viewing potential, incredible winter activities and the warmest of welcomes from hosts Anne and Timo, this is a very hard place to leave.
What's included?
ALL OF THE ACTIVITIES AND SERVICES LISTED BELOW ARE INCLUDED IN THE HOLIDAY PRICE
Flights: return flights from London to Ivalo (either direct or via Helsinki depending on departure date). Regional and non-UK departures available on request. Flight routes are subject to change
Transfers: return group airport transfers
Accommodation: 4 nights twin/double hotel rooms
Meals: 4 breakfasts, 3 lunches, 4 dinners
The following activities and equipment are included in the price: snowmobile safari and winter fishing, Aurora workshop and Aurora snowshoe, morning with a reindeer herder, Aurora snowmobile safari, husky safari, visit to the Sámi Siida Museum, Aurora dinner (the order of activities is subject to change)
Cold weather clothing is provided for the duration of your stay
Free use of snowshoes, cross-country skis, kicksleds and toboggans
Services of our expert local guides
---
With no light pollution and unobstructed views of the night sky from the lake, Menesjarvi offers visitors a high chance of witnessing the Northern Lights at their spectacular best.
Your base for your four nights here is Hotel Korpikartano, a wonderfully welcoming hotel which, as a former boarding school, has a unique charm and is full of character. The accommodation is rustic and simple, but being in the middle of nowhere, it is the perfect wilderness location for an Aurora trip.
This Northern Lights holiday is designed to keep you nicely busy, with great opportunities to try out snowshoeing and cross-country skiing during your free time, and explore this stunning scenery at your own pace. One of our personal highlights is the morning with a reindeer herder: a genuine experience where you can gain an insight into one of the most important industries in this corner of the world. You will also get the chance to take the reins on an exciting husky safari and to enjoy the thrill of snowmobiling. Evenings are of course spent trying to witness a spectacular sighting of the Aurora while taking part in a snowshoe walk, an Aurora snowmobiling session and an evening dinner outside in a traditional wooden kota.
Read more
There are many reasons why we love this location, but the real draw lies in its location and the people who will be looking after you. Anne and Timo are wonderfully welcoming hosts and with their team, they make everyone feel at home.
In the evenings when you are not enjoying activities, guests often gather to light a fire in one of the hotel's kotas, enjoying the warmth and company whilst awaiting the Northern Lights. If a display is visible then guests can typically be found on the frozen lake enjoying the view.
This destination is about meeting the real people who live in the region and getting to know them, as well as getting to experience their culture and the landscape in which they live. Of course, it is also designed to ensure you have the best chance of witnessing one of the greatest spectacles on the planet.
---
Image credits: Timo Halonen & Ville Heimonen
View Gallery
Download Holiday Overview
Download Trip Notes
Key facts
| | |
| --- | --- |
| Duration: | 4 nights |
| Pace: | Active |
| Suitable for: | Ages 15+. See our terms for further information. |
Make an enquiry
Agenda
Accommodation
Included in price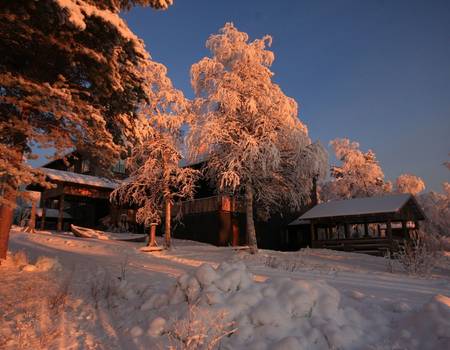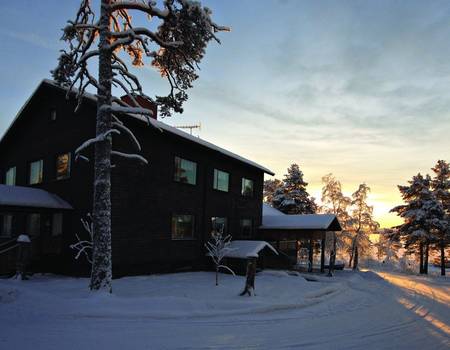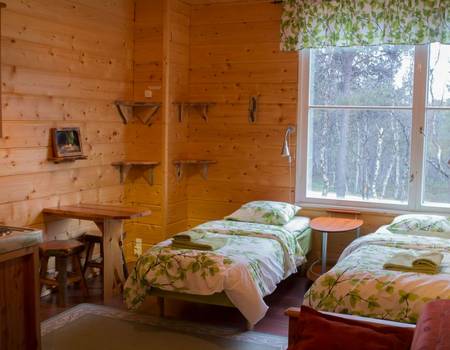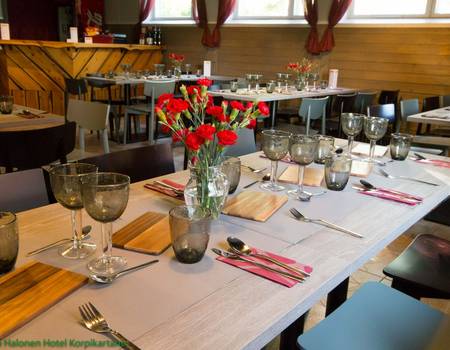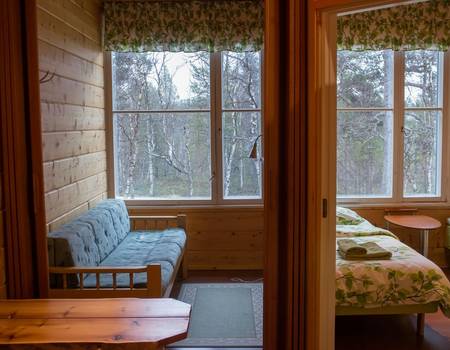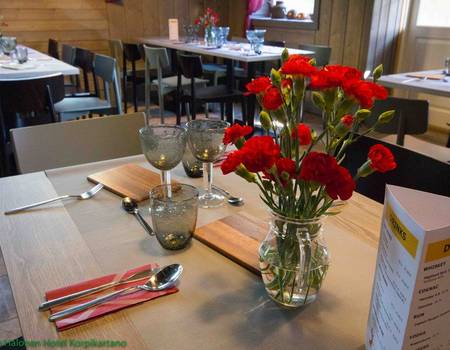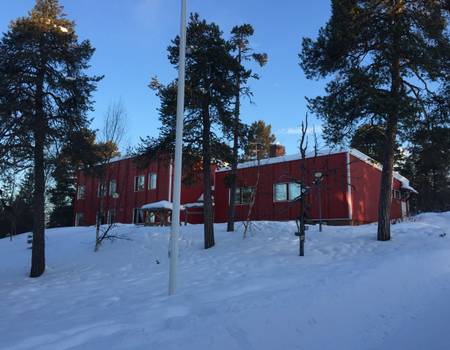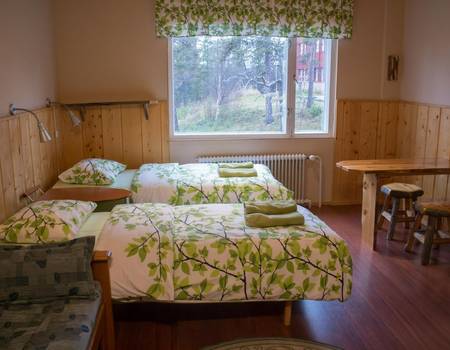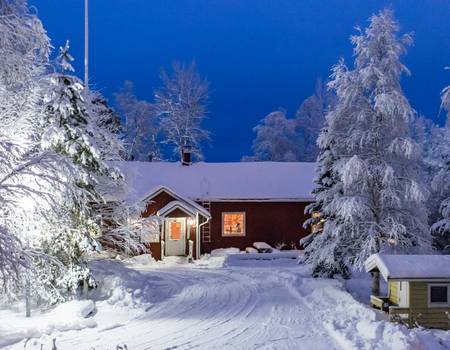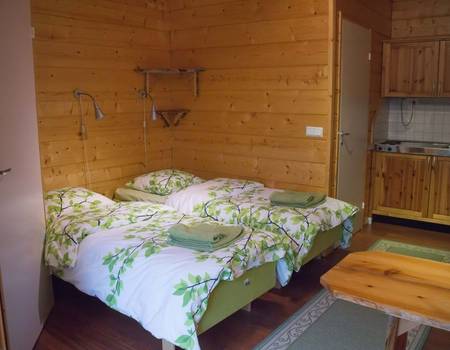 Hotel Korpikartano
Nights:
1-4
Hotel Korpikartano is a very special place in a breath-taking location in Finnish Lapland. Its situation could not be more idyllic, with a fantastic outlook over Lake Menesjärvi and the remote wilderness beyond. The lack of artificial light in the area ensures that if the Aurora appears, then you can enjoy amazing displays from very close to the hotel.
Hotel Korpikartano was originally a boarding school for those growing up in this remote part of the world and is, therefore, full of quirks, character and charm. The welcome provided by the owners, Anne and Timo (Timo is retired but still makes regular appearances to take Aurora photos here), creates a wonderful atmosphere and their passion for the region is infectious.
The staff and guides have a huge passion for this landscape and for providing guests with a truly memorable stay.
The hotel comprises of two main buildings. The first houses the dining room and a number of bedrooms. A separate annexe building (a very short walk away) houses the majority of the guest accommodation.
It is a place with great soul and which offers guests the chance to completely switch off from the everyday and relax in a wild and beautiful environment. You are likely to leave feeling very privileged to have experienced this wonderful place.
Hotel facilities
Traditional home cooking is the order of the day in the hotel's dining room. The food can be described as 'simple, tasty and hearty' and is very much designed to fuel you up for your outdoor adventures. In many cases, the evening's set menu will contain local ingredients such as fresh fish that Timo has caught, berries Anne has foraged, or meat purchased from the local reindeer herders. The set meals are all self-service. Breakfast is a buffet of breads, meat, cheese and fish with the addition of porridge and fruit. Lunch and evening meals start with a salad and bread, a set main and then a pudding which is often a local speciality. Please let us know at the time of booking if you have any dietary requirements so these can be accommodated.
You can also purchase a range of wine, beer and spirits to accompany your meal.
Obviously, saunas are a pre-requisite in these parts and there are two, one in each building. They can each be booked privately by guests each day in hour long slots.
There is an outdoor wood-burning sauna and rustic hot tub. Should you request the use of the outdoor sauna (a local charge will apply), don't forget that a dip in the lake (in autumn) or a roll in the snow (in winter) is almost obligatory (as long as you are in a good physical condition).
The simple lounge (near the reception) provides tea and coffee making facilities. Consider this to be the perfect spot to relax by the stove with a book but remember to keep your eyes peeled for the Northern Lights as the windows face north!
There is free Wi-Fi for guests to use throughout both buildings and there is a PC available at reception.
Books and games are also available to borrow from reception.
If you are travelling in the winter then the hotel offers free use of snowshoes, cross-country skis, kick sleds and toboggans so there is also something for those who love the great outdoors and want to explore independently between activities. There are marked trails across the stunning frozen lake and maps are available at reception.
If you want to send a memento home, then there are postcards available to purchase and some of Timo's Aurora photography is for sale. Anne also knits cosy woollen socks for charity and these can usually be purchased at reception.
There is a lakeside Kota (wooden tepee) which is open for all guests during the evening. Here you can light a fire and warm up in between forays out onto the lake in search of the Northern Lights.
Room types
The 28 guest bedrooms vary in size and shape as you may expect from a former school. They are cosy, comfortable and decorated with locally-sourced wood. Some of the furnishings have been crafted by Timo's own hand.
All guest bedrooms have an en-suite bathroom with shower and a hairdryer. Cups and kettles are provided in each bedroom and a variety of teas and coffee is available in each building for you to take to your room.
---
Image credit: Timo Halonen, Matt Robinson (please note: The images depicted show the hotel during both the winter and autumn months)
Read more
Read less
Personalise
Personalise this tour
---
Our pick
Cross-country skiing is remarkably good fun and is an efficient way to travel and explore the terrain surrounding the hotel. Gliding across a frozen lake or through a snow-laden forest helps you understand why people get addicted to this pastime. Your guide will give instructions and lead you through the forest on a short ski trip. The skis will then be yours for the remainder of the day should you wish to further enhance your skills. This is an excellent option for your first full day in Lapland.
Duration: 1 – 1.5 hrs (ski hire for the day)
---
Other options
Activities
Additional Aurora snowshoe session
From: £55pp
Wandering around on snowshoes is a classic way of getting around in Lapland, taking you into some truly quiet natural spaces. Why not add another to your holiday for an extra session of therapeutic walking, looking out to see if the Aurora are dancing in the skies above?
Duration: 2 hours
Image credit: Timo Halonen
Riding one person per snowmobile
From: £40pp
Driving a snowmobile over the open whiteness is utterly electrifying, so it is well worth upgrading to drive your own snowmobile for the whole activity, rather than going two per vehicle.
Trip Extensions
Helsinki city break
With our destinations being so remote, the majority of flights to Finnish Lapland are operated by Finnair and therefore involve connecting through Helsinki Airport. Many of our guests choose to extend this stop and spend some time in the Finnish capital, either at the start or end of their holiday.
We can arrange a wide variety of city centre hotel accommodation for guests to choose from and some options closer to the airport should you prefer. We know that everyone tends to be looking for something different so please contact our travel experts for their opinion on the hotels which may best suit you and your party.
Read more about this activity
Located on the peninsula of the Baltic Sea, Helsinki enjoys a charming coastal location and has much to offer its guests. This thriving city has a rich culture and arts scene with many museums and galleries to enjoy alongside the exciting gastronomy.
Despite its cool urbanism and a reputation for cutting-edge design, Helsinki also retains its charm and visitors will enjoy this city's very friendly atmosphere.
In the city itself, Senate Square is the main feature, showcasing neoclassical architecture and offering easy access to the surrounding shops. With Helsinki once part of the duchy of Russia, it offers similar striking architecture, with wide streets and bold facades. For those looking for more of an insight into the city's past, we would suggest visiting the Ateneum Art Museum which houses over 20,000 pieces of art, or the Helsinki Design Museum which showcases the history of design in the country from traditional folklore to postmodernism.
A 15-minute ferry ride from the main city is the UNESCO-listed Suomenlinna Sea Fortress which was constructed in 1748. As well as being a unique monument, it is also a lovely day trip, as the island has numerous shops and parks to explore.
Helsinki's food scene has seen a recent evolution, with a growth in street food which showcases the city's multicultural population. Helsinki is famed also for its specialist dishes of seafood and Russian cuisine so there is much to sample!
Finland is famed for its coffee consumption so you can be sure of a thriving café culture here. Be sure to include an obligatory stop for a coffee and a cinnamon roll during your explorations!
Whether you add your city break onto the start or the end of your holiday, spending a night or two in Helsinki is not something that you will regret.
Please contact our Travel Experts for a full quotation. All city breaks are subject to flight availability.
Image credit: VisitFinland
Dates & Prices
Price Comparison Guarantee
Expertise and knowledge are key to witnessing the Northern Lights. We've been running Aurora hunting holidays longer than any company in the UK and with no lead in prices, no hidden costs and more included, we're confident our tours will come out on top.
Prices
Dates

Sun 19 Jan 2020
to
Thu 23 Jan 2020

Book

Adults

£ 1,395

Wed 29 Jan 2020
to
Sun 02 Feb 2020

Book

Adults

£ 1,445

Sun 09 Feb 2020
to
Thu 13 Feb 2020

Book

Adults

£ 1,445

Sun 16 Feb 2020
to
Thu 20 Feb 2020

Book

Adults

£ 1,475

Sun 01 Mar 2020
to
Thu 05 Mar 2020

Book

Adults

£ 1,445

Sun 08 Mar 2020
to
Thu 12 Mar 2020

Book

Adults

£ 1,495

Sun 15 Mar 2020
to
Thu 19 Mar 2020

Book

Adults

£ 1,445

Sun 29 Mar 2020
to
Thu 02 Apr 2020

Book

Adults

£ 1,475
Please note: our holiday prices are based on the lowest available airline fares. These fares can sell out quickly and, as a result, prices may increase and supplements may be applicable. We recommend booking at the earliest opportunity to secure the best possible fares and flight times.
Next season's pre-sale dates and prices
To secure your holiday for next season, you can make a pre-sale booking and fix the price of your trip at the pre-sale price displayed below. Simply by paying an initial deposit of £50pp, you will protect yourself from any package price increases. The departure dates and itineraries remain preliminary and we will contact you when the final dates and itineraries are confirmed, you will then have 14 days to decide if you would like to go ahead. A further deposit payment will be due at the time of us confirming the trip details to you. If you decide not to travel, we will refund your full deposit payment. We reserve the right to charge supplements where there are significant changes to an itinerary or increases in flight costs. Any non-package rates remain subject to change.
Dates

Sun 29 Nov 2020
to
Thu 03 Dec 2020

Enquire

Adults

£ 1,655

Sun 13 Dec 2020
to
Thu 17 Dec 2020

Enquire

Adults

£ 1,685

Sun 03 Jan 2021
to
Thu 07 Jan 2021

Enquire

Adults

£ 1,545

Sun 10 Jan 2021
to
Thu 14 Jan 2021

Enquire

Adults

£ 1,495

Sun 17 Jan 2021
to
Thu 21 Jan 2021

Enquire

Adults

£ 1,495

Sun 07 Feb 2021
to
Thu 11 Feb 2021

Enquire

Adults

£ 1,545

Sun 14 Feb 2021
to
Thu 18 Feb 2021

Enquire

Adults

£ 1,580

Sun 28 Feb 2021
to
Thu 04 Mar 2021

Enquire

Adults

£ 1,545

Sun 14 Mar 2021
to
Thu 18 Mar 2021

Enquire

Adults

£ 1,545

Sun 28 Mar 2021
to
Thu 01 Apr 2021

Enquire

Adults

£ 1,580
Terms
For our full booking terms and conditions please click here
The Specifics
Holiday group size (approximate)
This holiday requires a minimum of 2 people to run, however, on some dates, we require a minimum of 8 people for our flight allocation. Maximum 24 people (approximately). Please speak to our Travel Experts for further information.
Group Size
We always try to provide an approximation of the group size you can expect to be with for the duration of each of our holidays. It may be that you are joined by others for parts of your holiday (such as transfers and particular activities) but the above number reflects those you can normally expect to be with from beginning to end. If group size is something which is particularly important to you, please speak to our Travel Experts and they can suggest the best holidays for you.
Tailor-made holiday group sizes will vary for all activities as will the group size for any additional activities you book.
Minimum numbers required for a holiday to operate
Some of our holidays require a minimum number of participants to operate (as listed in the 'Group Size' section). If your holiday departure has not yet reached the minimum number, you will be told at the time of booking. In the unlikely event that your chosen date is not guaranteed by nine weeks before your scheduled departure date, we will contact you to discuss the available options as per our booking conditions.
Minimum and maximum age
If a specific minimum age applies to this holiday, it can be found in the Key Facts box on the holiday Overview page.
Unless otherwise stated in the Key Facts box on the holiday Overview page, the minimum age for participation in an Aurora Zone holiday is typically 12 years old (there may be younger children in some destinations who have booked with other companies). If an adult-only environment is important to you, then please contact our Travel Experts and they will advise on the best dates and destinations for you. If you are looking for a holiday designed specifically for families then please see our sister company www.activitiesabroad.com.
Itinerary amendments
The order of activities is always subject to change and guests will be provided with their final itinerary upon arrival. The trip dossier is standard to the holiday and does not account for any amends, additions or personalisation to an itinerary. Clients should refer to their booking documents for this information.
The order of activities listed in this agenda is provided for guidance only, your final itinerary will be provided on arrival.
Medical History and Advice
We want our holidays to be accessible as they can be and will do our best to accommodate any special requests and requirements where possible. We have a wide range of holidays and destinations and so our travel experts will help find the best holiday for you.
In order to give us the best possible chance to do this, we ask that if you or any member of your party has any medical condition or disability which may affect your holiday or has any special requirements, that you tell us at the time of enquiry or booking. You must also promptly advise us if any medical condition or disability which may affect your holiday develops after your booking has been confirmed. You may need to provide a doctor's note and proof of insurance in some cases as the health and safety of our clients is absolutely paramount.
In providing this information you are allowing us to work with our expert local partners to ensure that your whole party can enjoy the holiday. By letting us know in advance we can discreetly work with you to adapt any part of the holiday which may potentially be challenging. Being able to prepare for this in advance makes an incredible difference to what we can offer and minimises any impact on your party and the rest of the group.
Unfortunately, if you choose not to share this information with us in advance then it may limit some or all of the itinerary you have booked, and we cannot be held accountable for any additional costs or missed activities resulting from this.
Insurance
Insurance is not included in your holiday, but it is a pre-requisite to travelling with us. You will need to ensure that you have cover for all the activities that you will be participating in during your holiday.
It is extremely important that you take out a suitable travel insurance policy at the time of booking. Plans do sometimes change, and you will need this policy should you need to cancel your holiday.
If you are struggling to find a suitable policy then details of our preferred provider, who will cover you for all the activities we offer, can be found on our website by clicking here. Please note that this policy is available to EU residents under the age of 75 only.
Booking Activities Locally
Additional activities can be booked locally in almost all our destinations. However, as per our booking conditions, we cannot be held responsible for any injury or loss incurred through participation in activities which are booked at your destination outside of our holiday itinerary (see our 'Terms and Conditions' for further details).
When arranging any such activity please always ensure that safety is your primary concern.
In some of our destinations, you can borrow or hire equipment for use in your free time. You do so entirely at your own risk. You must ensure that you are properly prepared, have the necessary equipment and knowledge (maps, etc) and ensure that where applicable, you follow marked routes. We recommend discussing your plans with the local teams who will be able to advise on the most suitable options for you.
Always let the reception/guide know where you are planning to go and take a torch and mobile phone (with the hotel/guide's phone number stored). It is also a good idea to leave your contact number and the time you expect to return to the hotel should the hotel need to contact you.
The UK Foreign Office Advice
Our clients' safety is at the centre of everything we do, and our operations team continually assesses and monitors the destinations we feature. We carry out thorough risk assessments and work closely with all of our suppliers to continually follow best practice. For up to date travel advice the UK government offers its Travel Aware website as well as the advice detailed below.
The Foreign and Commonwealth Office Advice
We receive all updates from the Foreign and Commonwealth Office (FCO) with regards to travel advice and we always ensure that we follow this advice in our operations. The FCO issues travel advisories for countries based on a very wide range of factors. They may provide notification about things as simple as a football match and crowds, or they may go so far as to advise against all travel to a region. We ask all our clients to refer to the relevant Travel Advice by Country for the destinations they are visiting in order to make an informed decision on the safety of the destination based on the details provided. It also provides vital information regarding entry requirements, embassy information, local laws and customs as well as specific safety and health. Guests should take responsibility for keeping themselves up to date with this advice. Please also ensure that, if you are transiting through another country, you have read the advice and meet the entry requirements for that destination too.
The FCO travel advice is applicable to British Passport Holders. Most governments will issue their own travel advice for a region and, if you are not a UK resident then you can find some helpful links below:
Australian Department of Foreign Affairs and Trade http://www.smartraveller.gov.au/
New Zealand Ministry of Foreign Affairs and Trade
Canadian Consular Affairs Bureau http://voyage.gc.ca/
The U.S. Bureau of Consular Affairs http://travel.state.gov/content/travel/english.html
If the FCO deems that there is an unacceptable level of risk for UK citizens then, together with the government, they may issue an advisory against all travel to a region or country. If such an advisory is published, then we will act accordingly, and this may require the cancellation, curtailment or amendment of a holiday itinerary. These decisions are made on the basis of ensuring our clients' safety and will affect all clients on the holiday, regardless of their nationality.
If one of our local experts suggests an amendment due to a situation which develops locally then we may also take the decision to amend an itinerary appropriately.
If we have to cancel your holiday prior to departure you will be offered the option of an alternative trip (where any price difference will either be refunded to or covered by you) or a full refund of the monies paid.
If we have to curtail a holiday, then you will be refunded for any costs for the elements we have been unable to deliver, where we have been able to secure a refund from our suppliers. If we must reroute a holiday, then any basis for refund is determined on a case by case basis and dependent on whether the central holiday experience was provided or not.
Brexit information for British Passport holders
We have no reason to believe that our holidays will be impacted after Brexit and so it is business as usual for us. The European Commission has stated that no aircraft will be grounded, even if no deal is reached between the EU and the UK.
However, the Foreign Office is advising people take the following steps so please review this information and take any necessary action.
The relevant points include:
check your passport
get travel insurance which covers your healthcare
If the UK leaves the EU with no deal, the rules for travel to most countries in Europe will change. If your adult passport was issued over 9 years ago, you may be affected. You should use this tool to check your passport is still valid for your trip before booking travel.
Adult and child passports should have at least 6 months' validity remaining on your date of travel. If you renewed your passport early, extra months would have been added to your new passport. Any extra months on an adult passport will not count towards the validity requirement, so some passport holders will need to have more than 6 months remaining in order to travel.
You will also need to double-check your travel insurance as after Brexit there is no guarantee your European Health Insurance Card (EHIC) will be accepted.
Flight schedule changes and connecting transportation
On your documentation, we will confirm your flight schedule. Sometimes the flight number, routing and timings might change prior to your departure. If the change is classed as a significant change then we will contact you to discuss this. Please see our booking conditions for details.
Flight schedule changes can impact on your pre and post-holiday travel arrangements if these have been booked separately to your holiday. We strongly recommend that you do not book transport (such as trains or transfers), car parking or non-connecting flights to the departure point for your holiday until you have received your final confirmed travel times when your final travel documents are issued. We are not responsible for the effect of any schedule change on your pre or post travel arrangements. We strongly recommend that you do not purchase non-flexible or non-refundable tickets to avoid cancellation and penalty charges.
Booking your own flights - cancellation disclaimer
If you have chosen to book your own flights, then you will need to wait until we confirm to you that the holiday departure has met the minimum numbers required to run (if applicable to your chosen holiday). Once the holiday is guaranteed to run, you will be informed and you can then make your arrangements.
If transfers are included in your holiday, please ensure that any potential flights will be met by our standard transfers (speak to one of our Travel Experts for advice) otherwise private transfer supplements may be applicable. Once your flights are booked, please send us a copy of your detailed flight itinerary.
Please be aware that most tickets are non-refundable in the case of cancellation. For this reason, we strongly advise you check the rules of the ticket and check the limitations of your cancellation insurance before booking. We cannot be held liable, in the unlikely eventuality that we should be forced to cancel or amend your trip, for losses incurred relating to any flight booking you have made.
Terms and Conditions
Our full booking terms and conditions can be found on our website: https://www.theaurorazone.com/booking-conditions
Reviews
Traveller Reviews
We had a fabulous time!
05 January 2020
by Kelly Ornell & Friends
We took a 4-night vacation to Hotel Korpikartano outside the town of Inari. There were 6 women friends. We booked through The Aurora Zone. The whole vacation went off without any problems from start to finish. We had a fabulous time! We will be talking about this vacation for years to come. We did snowshoeing, snowmobiling, ice fishing, a husky safari and a visit…
Read more with a reindeer herder, as well as a visit to a Sami Culturally Center. Staff was friendly, knowledgeable and on schedule. The local food was delicious. For our accommodations, we booked a "suite" with three twin beds bedrooms, which were very spacious. We shared two bathrooms and a living space. It was a great place for us to gather during downtime. We did happen to see the Northern Lights on one of the evenings. It was gorgeous! The other three nights were cloudy. We went into this trip knowing we may not see the lights. We all said afterwards we still enjoyed all the activities and would not have been disappointed had we not seen the Northern Lights. My friends and I highly recommend Hotel Korpikartano and The Aurora Zone!
Read less
A really fantastic trip.
17 March 2019
by Louise and Richard Holman
Well organised; great activities; delicious food; friendly & helpful staff; good hotel location literallly beside the frozen lake. Met some great like-minded people and we saw the Northern Lights. Thank you so much!
Menesjarvi – Wilderness Auroras
17 March 2019
by Kenneth & Carolyn Morrison
Just to say the holiday went like clockwork and can't think of anything that we could possibly help you with to improve. Apart from seeing a wonderful Aurora display, the husky sledding was the outstanding experience. Thank you for a beautifully organised experience.
Menesjarvi - Wilderness Auroras
10 March 2019
by Thea Lahti
I loved the visit with Petri, the reindeer herder, and of course the Northern Lights. Hard to choose - I enjoyed everything. ALL the guides were TOP notch. Informed, helpful, pleasant and accommodating. Even your cook was just great.
Menesjarvi - Wilderness Auroras
10 March 2019
by Allison & Stephen Bucknell
I went on a holiday to enjoy the activities in the snow and to hopefully see the Northern Lights. I did both. Cannot and will not complain!
Activities and guides were amazing
03 February 2019
by Eyall & Lesley Gelbart
The meeting with the reindeer herder. It was amazing to listen and understand the way the Sami people live and his passion for the environment. Never to be forgotten.
Everything was outstanding
20 January 2019
by Jane & Brenden Harrison
Husky dog driving it was the best experience I have ever had in my life the guide and his wife and dogs were amazing. The whole experience was amazing loved every minute , food was home made, gluten free choice was outstanding, hotel clean, staff friendly and helpful, I want to go and do it all again.
It was a fantastic holiday to me, it was a good memory
20 January 2019
by Pooi Leng Law
Managed to witness the Aurora for 2 nights, strongly believe Hotel Korpikartano has the best location (best spot) for chasing the Northern Lights. Special thanks to the hotel staff member James on his kind assistance on re-arranging the snowmobiling for me.
We enjoyed all of the activities.
29 March 2018
by Lynette Jones & Melinda Howlin
We enjoyed all of the activities. The people we met at the accommodation and during the activities added to making out stay special
This holiday,although short,was magical! The variety of activities on offer were all very attractive and I had a go at everything!
26 March 2018
by Beatrice Lasseron
Watching the Auroras from the frozen lake below the hotel and being able to go backwards and forward between the lake and a blazing log fire burning in the hotel's Kota. I also tremendously enjoyed the morning we spent with the lovely Sami herder and his reindeer. On that day it was extremely cold but the sun was shining, the sky was bright blue, the forest pristine and listening to the herder's…
Read more stories was enough to put a glow in our hearts. The staff at the hotel and the local people were all very friendly and helpful.
Read less
We did enjoy the trip a lot
15 March 2018
by Martin & Phyllis Hatfull
Hotel staff were friendly and helpful. We saw Timo twice and he was friendly but did not see the owner, Anne. Overall the activities were very good and the care over the provision of warm clothing etc was excellent. The Aurora briefing was very good too. Apart from the Aurora, the reindeer herder visit was great. Fascinating insights and a well informed and engaged guide. Overall, we did enjoy the…
Read more trip a lot and felt the balance of activities and free time was good. And we were lucky enough to see the aurora 3 nights out of 4!
Read less
Fabulous holiday
15 March 2018
by Elizabeth & Geoffrey White
The hotel was very welcoming with large, comfortable and warm rooms. The food was tasty with several Finnish dishes which were just what we needed after the activities. The staff were helpful and our activity guide Mathius was outstanding being caring and thoughtful and explaining everything very well. All the activities were well planned. We really enjoyed the reindeer herding: being in the…
Read more forest drinking freshly brewed coffee surrounded by wild reindeer and listening to tales of Sámi life. The weather was fabulous with 4 days of cold (minus 34 at the lowest) bright sunshine and clear nights and what's more the Aurora made an appearance on 3 of the 4 nights.
Read less
Great experience
15 March 2018
by Steven Killick & Sarah Barnes
Great - all went smoothly - great experience thanks
Everything was amazing, nothing that disappointed at all.
04 March 2018
by David and Kathryn Emsley
What an experience. Everybody was so relaxed and obviously knew their areas of expertise. Would highly recommend this holiday and the company obviously. Certainly ticked the bucket list of a lot of activities.
A once-in-a-lifetime experience, which we will never forget!
01 March 2018
by Sarah and Ian Clark
Ian is a vegetarian and felt that the choice and quality of food were excellent. Some of the dishes were truly delicious and the chefs did very well. In fact, given that there was generally only one main on offer, it was excellent every time. The guides were all very friendly, knowledgeable and enthusiastic. They were all dedicated to giving us an exceptional holiday. The reindeer herding was…
Read more fantastic and we were very interested to hear about Petri's life and media activities! We felt honoured to spend time with him. We would class this holiday as a once-in-a-lifetime experience, which we will never forget. Having said that, we are thinking about doing another holiday with more husky sledding! The whole booking process was very easy and we appreciated your quick responses to our questions. We would like to thank everyone involved for making this a truly wonderful holiday.
Read less
We absolutely loved our trip to Finland
28 February 2018
by Steven and Carol Buckingham
All the activities were excellent and the snowshoe walk into the forest in search of Aurora Borealis was also fantastic especially as we were privileged enough to see a seriously good light show. Overall we absolutely loved our trip to Finland, the activities were excellent and the pace generally about right.
We loved the morning with the Reindeer herder
27 February 2018
by Norman and Susan Smith
We loved the morning with the Reindeer herder, sitting by a campfire in a forest surrounded by reindeer hearing all about the Sami way of life
Highly recommend to anyone
27 February 2018
by Teresa and Victor Cooper
The husky ride and reindeer herder day were the highlights for me. Not only were the whole events well organised but the information the guides gave us added to the whole experience. We had no expectations when we booked this holiday as it was our first 'cold' holiday. We both thoroughly enjoyed the whole experience and would highly recommend it to anyone. Thank you.
A fantastic trip all round
27 February 2018
by Amanda Edwards and Katy Hales
A fantastic trip all round
We loved our wilderness holiday
13 February 2018
by Janette and Paul Cottle
Our hosts were friendly and welcoming and the hotel was situated perfectly if you love peace and tranquillity. The social aspect of the holiday was sitting around at meal times with our slippers on and generally just relaxing and chilling out. We loved the reindeer farm, our host was excellent, he went to school at what is now our hotel Korpikartano and it was obvious that the reindeer, the land…
Read more and his family are his life. We also loved the husky safari and of course the snowmobiles.
Read less
A wonderful experience
05 February 2018
by Carole Barratt
A wonderful experience even though it was too cloudy to see any Northern lights. The hotel staff were very helpful and friendly. Food was really excellent.
guess I'll have to book another trip!
24 January 2018
by Julia Ward and Ann Owens
The hotel was charming and in a lovely position by the lake. The staff were helpful and provided us with a kettle for our room when asked. The winter clothing was excellent and needed! The local guides at the hotel were friendly and knowledgeable. We were a small group and all got on well. Enjoyed the activities provided. The only thing missing from the trip was seeing the Northern lights - guess…
Read more I'll have to book another trip!
Read less
We had such an amazing holiday
23 January 2018
by Lucy Bird and David Webb
So much was fantastic, the reindeer farm was a lovely morning, the culture and the guides wanting to share their way of life and the importance of their heritage was just lovely. We had such an amazing holiday. It was a lovely way to spend a birthday and the hotel providing a bottle of bubbles was a lovely touch.
Overall the place is amazing and we loved it.
10 January 2018
by Sarah and Rebecca Skinner
The most enjoyable trip for us was our first trip out to the Lake because we got to see the Northern Lights. Overall the place is amazing and we loved it.
We loved our trip
02 January 2018
by The Elsbury Family
Loved seeing the Aurora and having Matt happily take photos for us so that we could just be in the moment was fantastic! We loved the trip as it was a once-in-a-lifetime experience.
The guides were extremely helpful and knowledgeable
28 December 2017
by The Giles Family
The guides were extremely helpful and knowledgeable about their activity and the area. They made the trip! Really enjoyed spending time with Petri and seeing the reindeers so close. It was interesting to learn the Sámi culture and to learn the importance of reindeer to the community.
We found everything over and above our expectations
29 March 2017
by Valerie, Jesus and Rosemarie Balban
We really enjoyed everything we did - each activity in its own way - all the local guides really seemed to enjoy what they were doing. There really was no least enjoyable activity. Although the main reason we went on this holiday was to see the Aurora in the end it was just a bonus that we saw them on 2 out of the 4 nights - everything else was just great.
Had a great time!
12 March 2017
by Danielle & Michael Yurcheshen
I highly recommend this trip to everyone! Seeing the Northern Lights - is a reminder that we live on a giant magnet floating in space. Puts everything in perspective. Everything was perfect.
I think the holiday was very well organised.
12 March 2017
by Lynn Lovelock & Kieran Dyke
Although seeing the Northern Lights was the point of this trip, I think the husky safari was the most fun activity. I think the holiday was very well organised. Everything was clearly explained, and there was plenty of time to get ready for each of the activities offered. There was also a good balance between activities and rest time. Having someone to help with photographing the Aurora was an…
Read more absolute boon!
Read less
We thoroughly enjoyed our holiday
19 February 2017
by Jane & Michael Timms
We thoroughly enjoyed our holiday. As far as the Aurora Zone were concerned we could not fault them, they were helpful, professional and very efficient. The local guides were all excellent, friendly and professional. The activities were very well organised and enjoyable, we felt safe. We were lucky enough to see the Northern Lights and the talk and help with settings on our camera helped…
Read more immensely.
Read less
All the activities complemented each other
15 February 2017
by John & Linda Dixon
There was sufficient time to relax and enjoy ourselves. All the hotel staff were friendly and helpful. Our local guide, Matthias, in particular, was excellent. Even my husband who does not like dogs had to admit that the husky safari, led by Ossi, was excellent.
Perfectly planned
18 January 2017
by Sumangala Shetty
It gave sufficient time to relax and to do all the activities. The return trip was least enjoyable because we were leaving behind such an amazing place!
A well thought out holiday
18 January 2017
by Cameron Scott and Daniela Weate
Probably the best holiday we have been on - the staff at the hotel were very helpful and friendly - the range of activities were amazing - and all squeezed into 3 days. Difficult to pick a most enjoyable activity - huskies / reindeer / snowmobiling / 3 nights of Aurora action - all fantastic.
Enhanced massively by staff and guides
14 March 2016
by Anthony and Sarah Bacon
Both the reindeer herding and the husky safari were equally enjoyable maybe because we love animals. The whole experience was enhanced massively by the fact that all of the staff and guides loved what they were doing and where they lived so much and this proved infectious.
Everything was quite superb
14 March 2016
by Mary Piers
Everything was quite superb. From initial enquiries to final travel you were all wonderful and so considerate and helpful, a million thanks. Words are inadequate. My deepest gratitude to you all and I am looking to you to help me get to Nourgam next year! With my deepest gratitude.
Overall the holiday was excellent
21 February 2016
by Nigel Sellwood
Overall the holiday was excellent. The organisation was very good, including air flights and transfers. The hotel was comfortable and warm and the room adequate. The activities were very well thought through and the staff interested, keen and helpful. The eating arrangements were very good.
I would highly recommend this holiday destination and your company to others
16 February 2016
by Jenny Wright
I thoroughly enjoyed this holiday. This was the first holiday of this kind that I have taken. I would highly recommend this holiday destination and your company to others. The hotel was in a stunning location. The hotel staff were extremely warm, friendly and welcoming. The guides on the activities were friendly and professional. I would be most grateful if your company could pass on my sincere…
Read more thanks to the hotel staff for their wonderful hospitality. The pre-trip information was invaluable, especially the "what to take section regarding clothing".
Read less
We loved this holiday
16 February 2016
by Sharon Cox
We loved this holiday. We had so much fun and enjoyed the setting and the activities. Free use of skis and snowshoes was an added bonus.
I could write an essay praising the holiday and the people
19 January 2016
by Ann Griffiths
Everyone we met were extremely helpful and nothing was too much trouble. We had the warmest welcome we have ever had on holiday when we arrived at the hotel. All the activities were well organised and ran to schedule. The Aurora workshop was cut short because there was activity outside. The guide set up my camera in temperatures around minus 30 degrees C so that I could take some photos of the…
Read more Aurora for which I am very grateful. I hope his hands have thawed out. I could write an essay praising the holiday and the people.
Read less
We were lucky enough to see the Aurora every night, it was stunning.
13 December 2015
by Anne Cardwell
Food was very good and exactly what was needed in that environment. There was no choice of dishes, but that wasn't a problem. The husky safari was exciting, participative and a quiet way to enjoy the beautiful forest environment. We were lucky enough to see the Aurora every night, it was stunning. The location of Hotel Korpikartano is ideal, no light pollution so no need to travel to hunt the…
Read more Aurora, just stroll down the path to the lake. We enjoyed everything, the weather was perfect for all the activities. The staff and guides exceeded expectations. We were made to feel welcome and special right up to the moment of departure at the airport. Hotel Korpikartano is professionally run by extremely knowledgeable owners. It operates smoothly with great attention to detail and the safety of their clients.
Read less
General atmosphere was very relaxed and genuinely welcoming
26 March 2015
by Rebecca Ship
The food was good home-cooking and I never came away feeling I needed more. The general atmosphere was very relaxed and genuinely welcoming. The evening snowshoe walk into the forest with our guide Ville - Wonderful. Snowmobiling (was) much harder than I expected, and nothing like driving a car. But I'm glad I did it! Also, ice fishing is not something I would particularly want to do again,…
Read more but the experience was interesting and our guide Marti was attentive and patient.
Read less
What a fantastic time I had in Finland
01 July 2014
by Karen Therese Patchett
I just wanted to e-mail to say what a fantastic time I had in Finland. Our guide Timo was excellent, he worked hard to make sure our stay was interesting and varied but relaxed (and he was very knowledgeable on just about everything Finnish). It was a lovely location and hotel, and the activities gave us a nice glimpse of Finland and its culture. What I liked most about Finland (apart from the…
Read more stunning scenery of course) is it is true to itself; if I had gone there and found a Disneyland-type set up I would have been deeply disappointed. And I had the best gluten free food I have had in the last place I expected it.
Read less
---
---