Overview
Autumn in Finnish Lapland is a fascinating time to explore, with the vibrant colours of September making way for the first snow of the year later in October and November. The Northern Lights displays can be exceptional and we include an Aurora hunt by boat or minibus as well as an evening at a dedicated camp in this three-night break. During the day you will learn about Sámi culture, get close to flora and fauna on a guided nature walk and meet some huskies at a sled dog centre.
What's included?
Flights: London Heathrow to Ivalo (via Helsinki). Flight routes subject to change
Transfers: return airport transfers
Accommodation: 3 nights in a standard double or twin hotel room
Meals: 3 breakfasts, 1 lunch and 3 dinners
The following activities are included in the holiday: Aurora workshop, Sámi Siida Museum, husky farm visit, Aurora camp, guided nature hike, Northern Lights boat tour or minibus Aurora hunt* (the order of activities is subject to change).
Fully qualified guides and instructors during activities.
*For those travelling after the 20th October, the Northern Lights boat tour will be replaced with a Northern Lights hunt by minibus due to ice forming on Lake Inari.
---
Located in the far north of Finland, on the shores of Lake Inari, you will find Inari village the centre of Sámi culture in Finland. The Sámi way of life is intertwined with Lapland's nature throughout the seasons and for any visitor to Lapland, autumn is a prime month in which to witness that natural world at its best. This time of year offers an ever-changing landscape and some fascinating experiences, all ahead of the winter crowds.
In September, the nights grow longer once again after the daylight hours of summer, and the Northern Lights return to the sky. The forest floor and canopy take on a golden and burnt orange glow during September as the leaves change. Then throughout October and November, the temperatures begin to drop, and the first snowfalls of winter arrive. Each change provides its own glimpse of how nature adapts in this challenging environment. This itinerary has been designed so you can explore and learn, experiencing the very best of Lapland during these transitional months.
One of the biggest draws of autumn in Lapland is the chance to witness some exceptional Northern Lights displays and of course, we will do all we can to maximise your viewing potential.
Before Lake Inari freezes, there is also the opportunity for you to hopefully witness the Aurora Borealis reflecting off its vast surface, before it gains a layer of ice around the end of October. This holiday includes a boat trip on the lake for earlier dates which is changed for those travelling after the 20th October to a minibus hunt for the Aurora.
Read more
You will also enjoy a guided hike to a carefully chosen Aurora Camp with spectacular views of the night sky. Scientific evidence suggests that solar activity is heightened during the autumnal equinox, so you may potentially witness some captivating displays.
During the day you will gain an insight into the Sámi culture. This includes a visit to the Sámi Siida Museum in Inari which has impressive exhibitions displaying the history of the indigenous people of Lapland and the natural world in which they live. If you wish, you can also learn about reindeer herding and add a visit to a Sámi family to your holiday. Please see the 'Personalise' section of the holiday page for further details.
You will also visit a nearby husky centre and meet the sled dogs, which are synonymous with the Arctic. Whilst the lack of snow means that you cannot go out on a sled, you can still learn a great deal about the lives of these working dogs and their mushers.
Autumn in Finland is known locally as 'Ruska' which refers to the vibrant colours which are typically displayed in September. A guided nature hike will lead you into the surrounding forest where you will assist your guide picking local berries or mushrooms before enjoying lunch around an open fire.
The weather in autumn can change very quickly and so an element of flexibility is required when travelling at this time of year. On the plus side, this does mean that you might witness the magical morning when the area awakens to the first dusting of snow.
---
Image Credits: Visit Inari.fi, Matt Robinson
Agenda
Accommodation
Included in price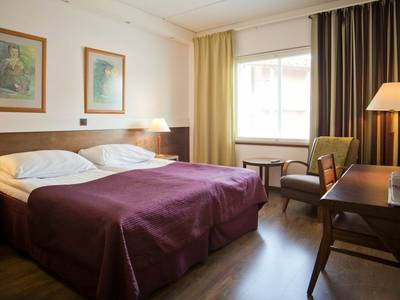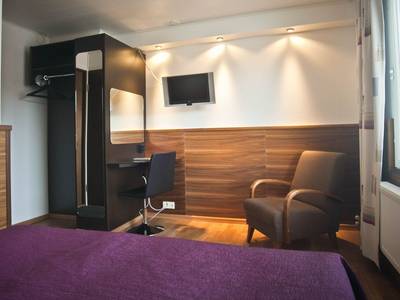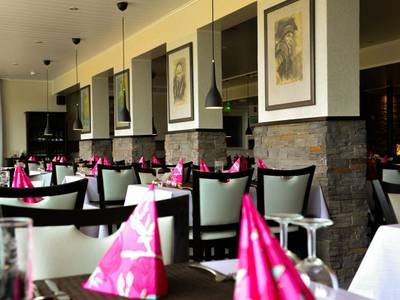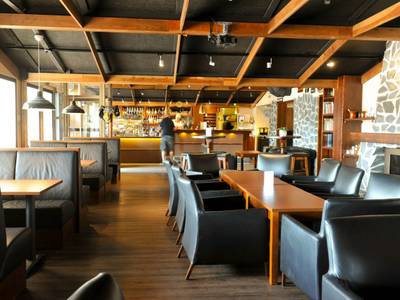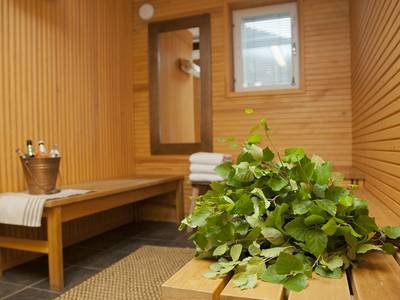 Hotel Inari Aurora Resort
Nights:
1-3
Hotel Inari Aurora Resort is ideally located at the heart of Inari Village on the shores of Finland's third largest lake. The hotel has 54 traditionally decorated rooms, including a superior option which has a private sauna and views of the lake.
The central location is ideal for visiting local interests such as the Sámi Siida Museum and there are a number of amenities within walking distance, including a supermarket and a Sámi gift shop.
A modern restaurant serves seasonal local dishes and is a fantastic place to unwind after a day of exploring.
Hotel Facilities
The central location of the hotel makes it a fantastic base for exploring the village of Inari.
The lakeside location offers breathtaking views and you can hunt the Northern Lights independently without having to venture too far.
Wind down after a day of exploring in the modern restaurant which serves a range of seasonal dishes, or in the more casual pub which serves local brews.
Free Wi-Fi is available throughout the hotel
Room Type
Standard Double/Twin: these simple, spacious rooms are equipped with two twin beds which can be made into a double. There is an en-suite bathroom with a shower and complimentary toiletries. The rooms are also equipped with a hairdryer, electric kettle, flat screen TV and free Wi-Fi.
---
Image Credits: VisitInari.fi
Read more
Read less
---
Other options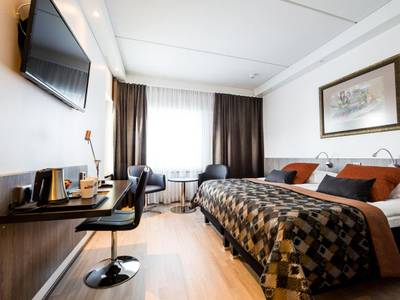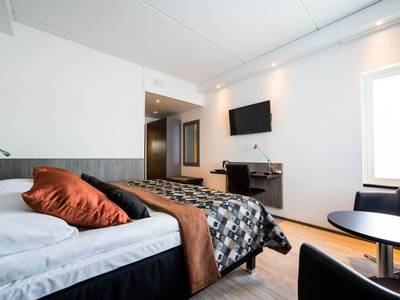 Hotel Inari Aurora Resort - Superior Sauna Room
These rooms are bright and spacious and are equipped with a private sauna. There are two twin beds which can be made into a double and an en-suite bathroom with complimentary toiletries. The rooms also have a flat-screen TV, hairdryer, free Wi-Fi, tea and coffee making facilities and most have a lake view.
Personalise
Personalise this tour
---
Our pick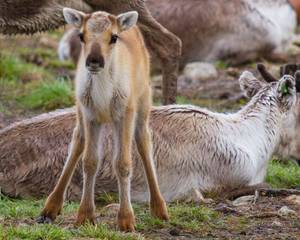 Reindeer and Sámi Culture Experience
Reindeer are synonymous with Lapland and an integral part of Sámi culture. This experience provides a wonderful insight into the realities of life for a local herder and also gives you the chance to learn a lot more about family life in a Sámi community.
You will be taken out towards Lemmonjoki National Park where you will visit a traditional homestead. Your Sámi host will greet you before giving you an introduction to reindeer herding and offering the chance for you to see some of the animals up close. You will then have the chance to see how reindeer skin boots are made and admire some of the amazing clothes used in traditional Sámi celebrations. There are also some local handicrafts for sale.
It is a fascinating activity which will give you a personal and authentic account of the life of a Sámi reindeer herding family.
---
Credit: Inari-Saariselka Tourism Ltd
---
Dates & Prices
Price Comparison Guarantee
Expertise and knowledge are key to witnessing the Northern Lights. We've been running Aurora hunting holidays longer than any company in the UK and with no lead in prices, no hidden costs and more included, we're confident our tours will come out on top.
Prices
Dates

Wed 17 Oct 2018
to
Sat 20 Oct 2018

Enquire

Adults

£ 1,295

Mon 22 Oct 2018
to
Thu 25 Oct 2018

Book

Adults

£ 1,225

Wed 24 Oct 2018
to
Sat 27 Oct 2018

Book

Adults

£ 1,225

Mon 29 Oct 2018
to
Thu 01 Nov 2018

Book

Adults

£ 1,125

Wed 31 Oct 2018
to
Sat 03 Nov 2018

Book

Adults

£ 1,125

Mon 05 Nov 2018
to
Thu 08 Nov 2018

Book

Adults

£ 1,105

Wed 07 Nov 2018
to
Sat 10 Nov 2018

Book

Adults

£ 1,205

Mon 12 Nov 2018
to
Thu 15 Nov 2018

Book

Adults

£ 1,125

Wed 14 Nov 2018
to
Sat 17 Nov 2018

Book

Adults

£ 1,205

Mon 19 Nov 2018
to
Thu 22 Nov 2018

Book

Adults

£ 1,125

Wed 21 Nov 2018
to
Sat 24 Nov 2018

Book

Adults

£ 1,105
Please note: our holiday prices are based on the lowest available airline fares. These fares can sell out quickly and, as a result, prices may increase and supplements may be applicable. We recommend booking at the earliest opportunity to secure the best possible fares and flight times.
Next season's pre-sale dates and prices
To secure your holiday for next season, you can make a pre-sale booking and fix the price of your trip at the pre-sale price displayed below. Simply by paying an initial deposit of £50pp, you will protect yourself from any package price increases. The departure dates and itineraries remain preliminary and we will contact you when the final dates and itineraries are confirmed, you will then have 14 days to decide if you would like to go ahead. Should you wish to proceed, the remaining deposit will be payable at this stage. If you decide not to travel, we will refund your initial £50pp payment. We reserve the right to charge supplements where there are significant changes to an itinerary or increases in flight costs. Any non-package rates remain subject to change.
Dates

Mon 02 Sep 2019
to
Thu 05 Sep 2019

Enquire

Adults

£ 1,450

Mon 09 Sep 2019
to
Thu 12 Sep 2019

Enquire

Adults

£ 1,450

Mon 16 Sep 2019
to
Thu 19 Sep 2019

Enquire

Adults

£ 1,375

Sat 21 Sep 2019
to
Tue 24 Sep 2019

Enquire

Adults

£ 1,375

Wed 25 Sep 2019
to
Sat 28 Sep 2019

Enquire

Adults

£ 1,375

Sat 28 Sep 2019
to
Tue 01 Oct 2019

Enquire

Adults

£ 1,450

Mon 30 Sep 2019
to
Thu 03 Oct 2019

Enquire

Adults

£ 1,375

Mon 07 Oct 2019
to
Thu 10 Oct 2019

Enquire

Adults

£ 1,450

Wed 09 Oct 2019
to
Sat 12 Oct 2019

Enquire

Adults

£ 1,450

Mon 14 Oct 2019
to
Thu 17 Oct 2019

Enquire

Adults

£ 1,450

Wed 16 Oct 2019
to
Sat 19 Oct 2019

Enquire

Adults

£ 1,450

Mon 21 Oct 2019
to
Thu 24 Oct 2019

Enquire

Adults

£ 1,375

Wed 23 Oct 2019
to
Sat 26 Oct 2019

Enquire

Adults

£ 1,375

Mon 28 Oct 2019
to
Thu 31 Oct 2019

Enquire

Adults

£ 1,260

Wed 30 Oct 2019
to
Sat 02 Nov 2019

Enquire

Adults

£ 1,260

Mon 04 Nov 2019
to
Thu 07 Nov 2019

Enquire

Adults

£ 1,240

Wed 06 Nov 2019
to
Sat 09 Nov 2019

Enquire

Adults

£ 1,350

Wed 13 Nov 2019
to
Sat 16 Nov 2019

Enquire

Adults

£ 1,350

Mon 18 Nov 2019
to
Thu 21 Nov 2019

Enquire

Adults

£ 1,260

Wed 20 Nov 2019
to
Sat 23 Nov 2019

Enquire

Adults

£ 1,240
Terms
For our full booking terms and conditions please click here
Holiday group size (approximate)
Minimum 2 and maximum 24 people (approximately)
Group sizes and minimum numbers
Most of our holidays require a minimum number of participants to operate. Minimum numbers are detailed on each holiday page and are always approximate. Group sizes for tailor-made holidays will vary for each of the activities. For private departures, you may also be joined by other guests during the activities unless you have discussed specific private activities with us.
If your selected date has not yet reached minimum numbers you will be informed at the time of booking. In the unlikely event that your chosen date has not reached the required minimum numbers nine weeks before your scheduled departure date, we will contact you and discuss the various options available to you. We will always do all we can to operate a holiday and in some cases, we may be able to operate the holiday by combining your itinerary with that of other guests for some activities (this may mean that the maximum group size is increased but this will be discussed in full with you).
If we are unable to operate the holiday then you will be offered the chance to transfer to an alternative holiday or date (subject to availability). If the alternative is more expensive you will be asked to pay the difference, if it is cheaper then you will be reimbursed. You will also be offered the option to cancel and receive a full refund of all monies paid.
See our booking conditions for further information.
Order of activities
The order of activities is always subject to change and you will be provided with your final itinerary upon arrival at your destination
SINGLE SUPPLEMENT
Please note that some of our holidays may incur a single supplement. Please speak to one of our Travel Experts who will provide you with a quotation.
Medical History and advice
If you or any member of your party is pregnant or has any medical condition or disability which may affect your holiday or has any special requirements as a result of any medical condition or disability (including any which affect the booking process), please tell us before you confirm your booking so that we can assist you in considering the suitability of the arrangements and/or making the booking. In any event, you must give us full details in writing at the time of booking and whenever any change in the condition or disability occurs. You must also promptly advise us if you become pregnant or any medical condition or disability which may affect your holiday develops after your booking has been confirmed.
See our booking conditions for further information.
Reduced Mobility
If you have a reduced level of mobility, then please contact our travel experts to discuss the suitability of this holiday in relation to your requirements.
Experience and fitness
We offer a vast choice of holidays which range from 'relaxed' to 'active' so there really is something for everyone and our holidays can be filtered by how active they are. Regardless of the chosen holiday, all activities will include tuition from a beginner's level and no prior experience is assumed.
If you are unsure about the physical demands of a particular holiday please contact us and our expert team will be happy to help.
See our booking conditions for further information.
Guides and safety
It is absolutely essential when partaking in any activity that you listen very closely to, and abide by, the instructions provided.
If there is anything that you are unsure of during a safety briefing or that you would like to clarify with the guides please make this clear to them immediately before starting the activity.
Our guides' word on activities is always final and your safety is their principal concern at all times, please respect their decisions. By following their instructions, your safety and enjoyment during each activity will be greatly enhanced.
See our booking conditions for further information.
Booking activities locally
In almost all of our destinations, you can book and pay for additional activities locally. Please note that we cannot be held responsible for any injury or loss that occurs through any activities that are booked in your destination (see our terms and conditions for further details).
Please always ensure that your safety is your primary concern when arranging any such activity.
Car Hire
If your trip includes car hire the named driver must have a credit card registered in their name which they can present when they collect their car along with their driving licence, as a deposit will be held on the credit card. Please see your trip dossier for full details.
Travelling in the Autumn requires a degree of flexibility. This period is a time of change in the far North and the arrival of the first snowfall can be very unpredictable.
Autumn activities: The daytime activities included in this holiday may be amended to accommodate the arrival of winter's first snows (an unpredictable science!). Walks may become snowshoe treks and guests may need to be flexible in their approach. This is unlikely to be the case in September but changes become more likely in October and November. Your Aurora hunting activities should be unaffected.
If cold weather clothing is required and will make your stay more comfortable then this will be included and issued to you upon arrival. If you would like to borrow any additional equipment then please just speak to one of the local guides. For more information please see the trip dossier.
Minimum age
The minimum age for participation in our itinerary is 15 years old, however, for some activities and transfers, you may be joined by other guests and this may include some of a younger age than stated. Any younger participants will be fully supervised and the guides will ensure that their participation takes place only if the activities will be unaffected.
Very few hotels have a minimum age and there may be families staying at them with younger children, especially during the holiday periods. We do have some itineraries and destinations which are guaranteed to be adult-only, so if this is important to you please speak to one of our Travel Experts.
To drive a snowmobile you must have a full driving licence and be over 18 years old.
---
---