Overview
Inari is the at the heart of Sámi Culture in Finnish Lapland and so if you want to gain a sense of the region's traditions there is no better place to be. This holiday provides a range of truly memorable activities which include snowmobiling, dog sledding and a reindeer safari. At night, there are three exceptional Aurora hunts included maximising your chances of witnessing this wonder.
What's included?
ALL OF THE ACTIVITIES AND SERVICES LISTED BELOW ARE INCLUDED IN THE HOLIDAY PRICE
Flights: return flights between London and Ivalo. Some dates include direct flights from Gatwick and others indirect flights from Heathrow (via Helsinki). Regional and non-UK departures available on request. Routings are subject to change
Transfers: return group airport transfers
Accommodation: 4 nights' accommodation in twin/double hotel rooms
Meals: 4 breakfasts, 3 lunches, 4 dinners
The following activities and equipment are included in the price: snowmobile safari, Aurora snowshoe, Sámi Siida Museum, reindeer farm visit, Aurora snowmobile husky safari and Aurora hunt (the order of activities is subject to change)
Cold weather clothing is provided for the duration of your stay
Services of our expert local guides
---
This Aurora Borealis holiday offers you the chance to really get to know the traditions and culture of the Sámi people of Lapland. Based in Inari, the hub of Sámi culture in this region, you can explore the traditions that underpin this remote corner of the world. Furthermore, this small village is surrounded by the wilds of the Arctic and is at the heart of the Aurora Zone. You will enjoy Aurora hunts on three of your nights here, helping to maximise your chances of catching a glimpse of the Northern Lights.
Our accommodation in Inari is a delight and our guests stay at the Kultahovi New River Hotel. The very comfortable rooms boast their own private sauna, a terrace or balcony and tea and coffee making facilities (a rarity in Finland). The Kultahovi is renowned for its food, with culinary delights such as Inari white fish and local reindeer appearing on the menu frequently.
Your daytime activities are well balanced and include some wonderful experiences. You will take in the region's beauty during a snowmobile safari, as well as taking control of a team of huskies as you try your hand at dog sledding. Your cultural encounters will include a visit to a reindeer farm as well as the chance to visit the Sámi Siida Museum, just a short walk from the hotel.
Your evening pursuits will be dedicated to seeking out the Aurora and hopefully witnessing a spectacular display. Travelling on foot during a snowshoe hunt, via snowmobiles and also via minibus, your guides on all of the evening activities will utilise their local knowledge to give you the best possible chance of seeing an Aurora display.
---
Image credit: VisitInari.fi, Inari-Saariselka Tourism

Agenda
Accommodation
Included in price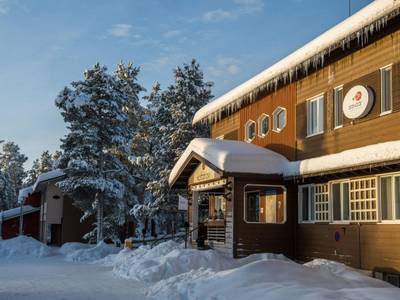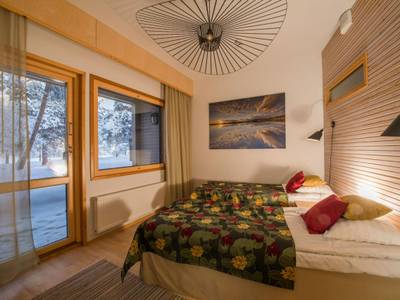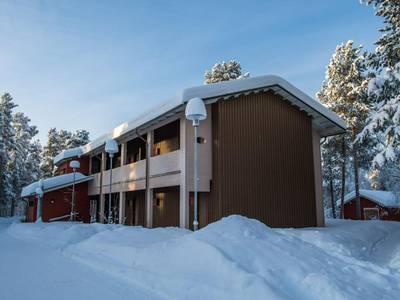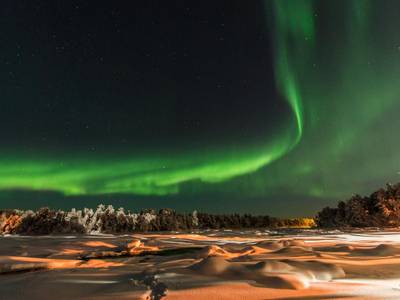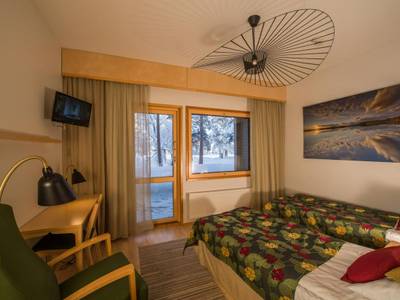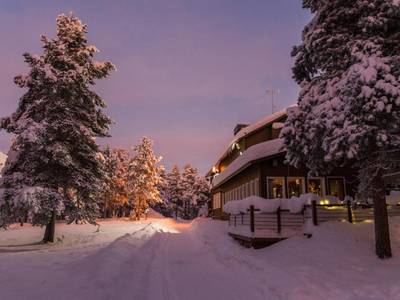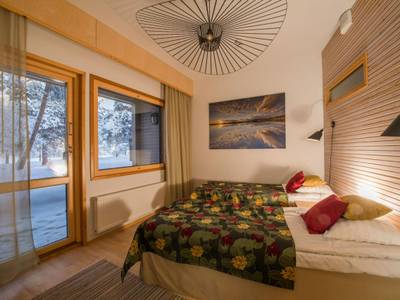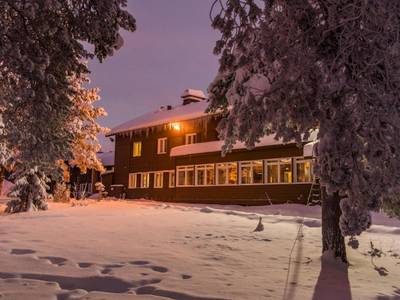 New River Hotel Kultahovi
Nights:
1-4
The Kultahovi New River Hotel resides in the northeast of Finland in the small town of Inari and offers views to the north over the River Juutua. It is owned and run by Kaisu and Heikki, a brother and sister with Sámi roots in Inari which goes back generations.
The original building was constructed in 1956 on the foundations of the original Tourist Hotel which was destroyed during the Second World War. Today it consists of two buildings – the Traditional Hotel which houses the newly renovated restaurant and older style rooms and the New River Hotel where you will stay during your time here.
Hotel facilities
The Kultahovi enjoys a deserved reputation for its wine and food with enthusiasm for local produce and traditional dishes with a modern flair. Guests enjoy a set menu, with the option to upgrade to the à la carte menu if you wish (payable locally). Dishes such as reindeer and whitefish are common, with a focus on flavour and style.
All meals will be served in the newly renovated restaurant which offers a wonderful view over the rapids of the river. Next to the restaurant, there is a wonderful lounge area with a central fireplace which is a lovely location to relax in the evening.
Other facilities include a drying cupboard and free wireless internet throughout. There is also a riverside sauna that is free for guests to use.
The hotel has a 360° camera on the roof which takes a photo of the sky once every minute. These photos are then projected onto the TVs in the bedrooms, lounge and bar area. The idea is that you get a real time update of the weather outside and can keep an eye should the Northern Lights appear. Should they make an appearance we would strongly recommend heading outside though as a photo can never do them justice.
Room types
Double/twin rooms
The New River Hotel has 16 rooms in total. These are over two floors so each has either a patio or balcony. Inside, they are decorated to a very high standard with a TV, hairdryer and tea/coffee making facilities. The highlight of these rooms though is that each has its own private sauna (with the exception of one room) - the ideal place to relax in the evening before heading out on your Aurora hunts.
Read more
Read less
Personalise
Personalise this tour
---
Our pick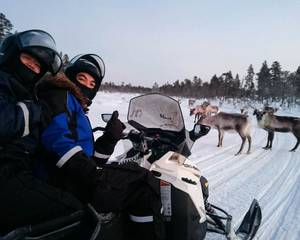 Snowmobile safari upgrade
Should you wish to upgrade your snowmobile tour on day 2 to a longer safari then this is possible for departures from January onwards.
This five-hour adventure (including transfers and lunch) focusses on the region's Sámi Culture and shows you some of the important local spots, including the wilderness church at Pielpajarvi and the island of Ukonkivi, an ancient sacrificial site. Travelling two people per snowmobile, the safari will last around three to four hours depending on conditions (any driver of a snowmobile must have a full driving licence, you will have the chance to swap driver should you wish to do so). Weather permitting you will also enjoy a picnic lunch in the wilderness.
---
Image credit: Visit Inari
---
Dates & Prices
Price Comparison Guarantee
Expertise and knowledge are key to witnessing the Northern Lights. We've been running Aurora hunting holidays longer than any company in the UK and with no lead in prices, no hidden costs and more included, we're confident our tours will come out on top.
Prices
Dates

Sun 02 Dec 2018
to
Thu 06 Dec 2018

Book

Adults

£ 1,855

Single Adult

£ 2,100

Sun 09 Dec 2018
to
Thu 13 Dec 2018

Book

Adults

£ 1,855

Single Adult

£ 2,100

Sun 16 Dec 2018
to
Thu 20 Dec 2018

Book

Adults

£ 1,855

Single Adult

£ 2,100

Sun 13 Jan 2019
to
Thu 17 Jan 2019

Book

Adults

£ 1,795

Single Adult

£ 2,040

Tue 19 Feb 2019
to
Sat 23 Feb 2019

Book

Adults

£ 2,025

Single Adult

£ 2,270

Sun 03 Mar 2019
to
Thu 07 Mar 2019

Book

Adults

£ 1,795

Single Adult

£ 2,040
Please note: our holiday prices are based on the lowest available airline fares. These fares can sell out quickly and, as a result, prices may increase and supplements may be applicable. We recommend booking at the earliest opportunity to secure the best possible fares and flight times.
Next season's pre-sale dates and prices
To secure your holiday for next season, you can make a pre-sale booking and fix the price of your trip at the pre-sale price displayed below. Simply by paying an initial deposit of £50pp, you will protect yourself from any package price increases. The departure dates and itineraries remain preliminary and we will contact you when the final dates and itineraries are confirmed, you will then have 14 days to decide if you would like to go ahead. Should you wish to proceed, the remaining deposit will be payable at this stage. If you decide not to travel, we will refund your initial £50pp payment. We reserve the right to charge supplements where there are significant changes to an itinerary or increases in flight costs. Any non-package rates remain subject to change.
Dates

Sun 01 Dec 2019
to
Thu 05 Dec 2019

Enquire

Adults

£ 1,985

Single Adult

£ 2,245

Sun 08 Dec 2019
to
Thu 12 Dec 2019

Enquire

Adults

£ 1,985

Single Adult

£ 2,245

Sun 15 Dec 2019
to
Thu 19 Dec 2019

Enquire

Adults

£ 1,985

Single Adult

£ 2,245

Sun 12 Jan 2020
to
Thu 16 Jan 2020

Enquire

Adults

£ 1,920

Single Adult

£ 2,180

Sun 16 Feb 2020
to
Thu 20 Feb 2020

Enquire

Adults

£ 2,165

Single Adult

£ 2,425

Sun 01 Mar 2020
to
Thu 05 Mar 2020

Enquire

Adults

£ 1,920

Single Adult

£ 2,180
Terms
For our full booking terms and conditions please click here
Holiday group size (approximate)
Minimum 4 people; maximum 12 (approximately)
Group sizes and minimum numbers
Most of our holidays require a minimum number of participants to operate. Minimum numbers are detailed on each holiday page and are always approximate. Group sizes for tailor-made holidays will vary for each of the activities. For private departures, you may also be joined by other guests during the activities unless you have discussed specific private activities with us.
If your selected date has not yet reached minimum numbers you will be informed at the time of booking. In the unlikely event that your chosen date has not reached the required minimum numbers nine weeks before your scheduled departure date, we will contact you and discuss the various options available to you. We will always do all we can to operate a holiday and in some cases, we may be able to operate the holiday by combining your itinerary with that of other guests for some activities (this may mean that the maximum group size is increased but this will be discussed in full with you).
If we are unable to operate the holiday then you will be offered the chance to transfer to an alternative holiday or date (subject to availability). If the alternative is more expensive you will be asked to pay the difference, if it is cheaper then you will be reimbursed. You will also be offered the option to cancel and receive a full refund of all monies paid.
See our booking conditions for further information.
Order of activities
The order of activities is always subject to change and you will be provided with your final itinerary upon arrival at your destination
SINGLE SUPPLEMENT
Please note that some of our holidays may incur a single supplement. Please speak to one of our Travel Experts who will provide you with a quotation.
Medical History and advice
If you or any member of your party is pregnant or has any medical condition or disability which may affect your holiday or has any special requirements as a result of any medical condition or disability (including any which affect the booking process), please tell us before you confirm your booking so that we can assist you in considering the suitability of the arrangements and/or making the booking. In any event, you must give us full details in writing at the time of booking and whenever any change in the condition or disability occurs. You must also promptly advise us if you become pregnant or any medical condition or disability which may affect your holiday develops after your booking has been confirmed.
See our booking conditions for further information.
Reduced Mobility
If you have a reduced level of mobility, then please contact our travel experts to discuss the suitability of this holiday in relation to your requirements.
Experience and fitness
We offer a vast choice of holidays which range from 'relaxed' to 'active' so there really is something for everyone and our holidays can be filtered by how active they are. Regardless of the chosen holiday, all activities will include tuition from a beginner's level and no prior experience is assumed.
If you are unsure about the physical demands of a particular holiday please contact us and our expert team will be happy to help.
See our booking conditions for further information.
Guides and safety
It is absolutely essential when partaking in any activity that you listen very closely to, and abide by, the instructions provided.
If there is anything that you are unsure of during a safety briefing or that you would like to clarify with the guides please make this clear to them immediately before starting the activity.
Our guides' word on activities is always final and your safety is their principal concern at all times, please respect their decisions. By following their instructions, your safety and enjoyment during each activity will be greatly enhanced.
See our booking conditions for further information.
Booking activities locally
In almost all of our destinations, you can book and pay for additional activities locally. Please note that we cannot be held responsible for any injury or loss that occurs through any activities that are booked in your destination (see our terms and conditions for further details).
Please always ensure that your safety is your primary concern when arranging any such activity.
Car Hire
If your trip includes car hire the named driver must have a credit card registered in their name which they can present when they collect their car along with their driving licence, as a deposit will be held on the credit card. Please see your trip dossier for full details.
Minimum age
The minimum age for participation in our itinerary is 15 years old, however, for some activities and transfers, you may be joined by other guests and this may include some of a younger age than stated. Any younger participants will be fully supervised and the guides will ensure that their participation takes place only if the activities will be unaffected.
Very few hotels have a minimum age and there may be families staying at them with younger children, especially during the holiday periods. We do have some itineraries and destinations which are guaranteed to be adult-only, so if this is important to you please speak to one of our Travel Experts.
To drive a snowmobile you must have a full driving licence and be over 18 years old.
Reviews
---
Gallery
Photos (8)
Videos (1)
---