Overview
Travel on the famed Arctic Circle Train to take your Northern Lights search across two countries. Your adventure begins in Sweden with an unforgettable night at the ICEHOTEL®, dog sledding and an Aurora hunt in the wilderness. The train will then take you to Norway, where two dedicated Northern Lights experiences await as well as a visit to the world's most northerly animal park.
What's included?
Transfers: scheduled shuttle pick up from Kiruna Airport to the ICEHOTEL, transfer to Björkliden, transfer to train station, transfer from Narvik train station to Scandic Narvik, private transfer to Evenes Airport. All activity transfers are also included.
Arctic Circle Train: 2nd class train tickets from Bjorkliden to Narvik
Accommodation: 1-night ICEROOM at the ICEHOTEL, 2 nights hotel room at the Hotel Fjallet, Björkliden and 2 nights standard room at the Scandic Narvik
Meals: 5 breakfasts, 1 lunch, 3 dinners
The following activities and equipment are included: guided tour of the ICEHOTEL, snowshoe walk to Northern Lights dinner experience, husky safari, Arctic Circle train, lights at the lodge, Polar Park visit, Northern Lights experience with a local Sámi family
Experienced guides and instructors for all activities
Cold weather clothing during activities only
A note on flights: while flights are not included in the holiday price, our team will happily provide a quote and arrange them for you. Simply ask one of our Travel Experts for details of the available options
---
Take your Northern Lights search on an adventure across two countries to discover the best of both northern regions. Travelling on the famed Arctic Circle Train, you'll journey to both Sweden and Norway for exciting Aurora hunts and memorable winter experiences.
First on the agenda is Sweden, where your holiday gets off to an unforgettable start with a night at the ICEHOTEL®. You'll have a drink in the ice bar, see the intricate sculptures and enjoy a five-course dinner which includes a selection of locally sourced ingredients served in a unique way. Following this, you will retire to your spectacular ice room. Don't worry, you'll keep warm with the special thermal bedding provided so you can lie back and enjoy one of the coolest hotels in the north. In the morning, you'll unwind with a sauna before trying your hand at carving an ice sculpture, so you can really see the work that goes into the magnificent hotel.
Your Swedish adventure continues with a transfer to the stunning mountain region of Björkliden. Here, you will take a snowshoe walk into the wilderness for a Northern Lights dining experience amongst nature and in prime Aurora territory. You will also try the most-loved Arctic activity of dog sledding as you ride as a passenger in the sled and admire the stunning winter scenes as they unfold around you.
Then it's time to take one of the best rail routes in the world. Onboard the Arctic Circle Train, you will journey from the Swedish mountains to the awe-inspiring fjords in Norway. Here, you will embark on two dedicated Northern Lights searches. One will take you 659m high to a brilliant vantage point of the city below and hopefully, the Auroras above. Another night will see you gain an authentic insight into the Sámi culture during a Northern Lights night around the campfire with a local family. During the day, you will visit the Polar Park to see an array of Arctic animals including bears, lynx and wolves.
For a Northern Lights journey that allows you to search for the magical display in unforgettable ways, a chance to travel between two stunning countries on the famed Arctic Circle Train and the opportunity to try the most sought-after winter experiences, this holiday covers it all.
---
Image credits: Asaf Kliger and Icehotel, imagebank.Sweden.Se, @ Bjorkliden, Arctic Range Adventure Ltd, @ Narvik & John-Inge Lund
Agenda
Accommodation
Included in price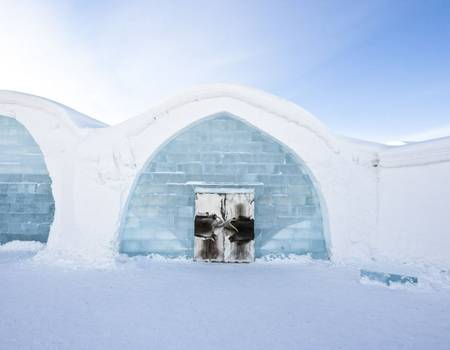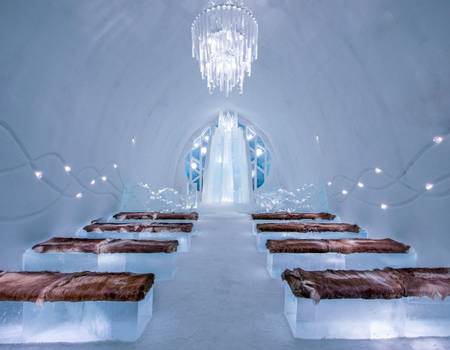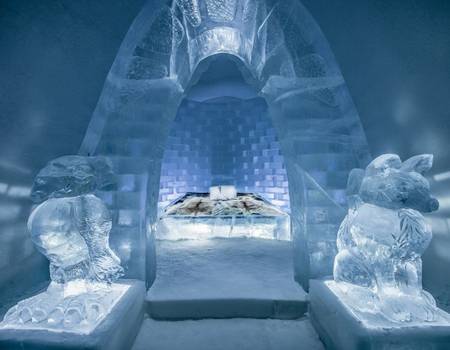 The ICEHOTEL®
Nights:
1
The original
The ICEHOTEL® at Jukkasjärvi has the impressive claim of being the world's first ice hotel and was developed from a concept beginning in 1989. A local entrepreneur by the name of Yngve Bergqvist who ran a thriving tourism business in the summer decided to attract tourists in the winter by offering ice carving workshops and creating a small ice igloo as a gallery to showcase these designs.
This igloo grew in scale each year until one night a group of guests, equipped with reindeer skins and sleeping bags asked to spend the night, creating the concept of the ice hotel in the process!
Although Ice and snow hotels can be found across Lapland, the ICEHOTEL® remains the original.
What's more, 2018 saw the ICEHOTEL® become the first-ever Nordic Swan Ecolabel hotel made completely of ice and snow.
The certification process looks at all areas, from energy and water consumption to waste management; understandably, this presented many challenges when measuring a hotel whose rooms melt away at the end of each winter season!
The eco-label adds to a growing list of certifications for the ICEHOTEL® who is also certified a Sustainable Arctic Destination. Certification ensures guests are choosing environmentally conscious products and the ICEHOTEL® are – rightly so - very proud to receive such recognition.
ICEHOTEL 365
The hotel now boasts ICEHOTEL 365, a permanent structure, allowing it to be a year-round destination to visitors who travel the world to sleep in a room of ice and snow. Containing deluxe rooms, art suites, an ice bar and a sculpture hall, this environmentally sustainable building is a construct of glass, metal and concrete, but with the same incredible standard and visual design of snow and ice on the inside, with cooling tubes to keep it at a temperature of around -5 at all times.
Alongside this is the classic ICEHOTEL® building, constructed purely of ice and snow and carefully crafted each December, utilising blocks from the nearby Torne River.
Home to ice rooms, winter suites and a chapel the structure is a marvel to see and, come summer, simply melts back into the river from which it came. Each year, architects, designers and artists submit designs for the hotel's features and a handful are chosen to go forward with their theme.
The hotel consists of several buildings including the main ice building and ICEHOTEL 365. We cannot guarantee which area our guests will stay in.
The rooms which are contained within the ice and snow building will not be available until after the 14th of December. Check-in time for the cold rooms is usually around 6 pm and for the warm rooms, it is approximately 3 pm. The ICEHOTEL® is open to members of the public for viewing between 10 am and 6 pm. You will check out after breakfast.
Hotel facilities
The reception is in the main warm building which also houses the lounge area, warm bar, dressing room, luggage room, restaurant and gift shop which sells a selection of ICEHOTEL® themed gifts and locally sourced handicrafts
Guests who are on a guided tour of the ICEHOTEL® will also visit the large warehouse where you can learn about how the hotel is constructed each season
The restaurant serves breakfast lunch and dinner which include some wonderful Swedish favourites. The restaurant operates fixed dinner seating times and we highly recommend that you make a reservation in advance with us
As an alternative, guests can eat at the Homestead Restaurant which is a smaller, rustic restaurant a short walk from the hotel
The classic ICEHOTEL® building is connected to a warm building which houses the toilets, showers and sauna. There are also lockers in here in which to store your valuables and clothes overnight
The warm building also has a small number of bunk beds in case you decide your ice room is not for you
Guest room types
The Cold Rooms: the inside of the cold rooms is kept at around -5°C but you will be equipped with arctic grade thermal sleeping bags so you will stay surprisingly warm!
Please take note that the cold rooms are accommodated in two separate buildings. ICEHOTEL 365 is a permanent building constructed of metal, glass and concrete with an ice and snow interior kept cool via cooling tubes. Some rooms are also in the classic ice building which is made wholly of ice and snow and constructed afresh each winter season. We cannot guarantee which area you will stay in.
Ice Rooms (in classic ice building) (only available after 14 December): the ice rooms are the simplest designed rooms which are usually booked as standard. These are made of ice and snow and each contains a mattress topped with reindeer skins and also some ice furniture and carvings. They are closed off from the corridors via thick curtains as opposed to doors, but the thick walls of ice and snow allow for great sound insulation. There are usually around 15 rooms available for guests.
Art Suites (in classic ice building) (only available after 14 December): these are uniquely and beautifully designed by chosen artists around the world each year and offer a wide variety of themes and include intricate sculptures and carvings to reflect this. As with the ice rooms, these have curtains instead of doors and there are around 15 in total for guests to book.
Deluxe Suites (in permanent ICEHOTEL 365 building): the unique and enchanting Deluxe Suites 365 are individually themed and hand-carved by artists commissioned throughout the world, with the designs changing each year. To spend a night amidst the lifelike and exquisite carvings is a surreal and magical experience. You are awoken by sparkling colours which reflect from the ice and cup of hot lingonberry juice at your bedside table. A sauna session then awaits you before you enjoy a delicious breakfast. The Deluxe Suites are part of the new concept ICEHOTEL 365, available all year round thanks to a new specially designed building which is run on solar power. There are three different types of Deluxe suite available.
Deluxe Suite Hilla: the Hilla Suites are beautifully decorated suites available throughout the year. They contain a bathroom, two comfortable armchairs, a shower and a sauna, which is directly connected to the bedroom. A comfortable bed decorated with reindeer hides and inclusive of a thermal sleeping bag lies at the centre. The design is a mixture of local culture and history created by Marjolein Vonk and Pia Sandgren. A heated relaxation area is available which provides storage for your belongings and the suite has doors which lock for your privacy.
Deluxe Suite Jáuvre: these majestic suites are furnished with comfortable Carpe Diem beds covered in reindeer hides and inclusive of a thermal sleeping bag. Inside the room, there is a bathroom, two comfortable armchairs, a shower, sauna and a bathtub. Similarly, to the other suites, the Jáuvre suites are designed with a combination of local culture and history by Marjolein Vonk and Pia Sandgren and they have a heated relaxation area from where you can store all your belongings and the suite has doors which lock for your privacy.
Deluxe Suite Johka: this spacious suite contains a comfortable double bed, a connecting bathroom, two comfortable armchairs and double waterfall showers, which are directly connected to the room. The design features a combination of local culture and history and was created by Marjolein Vonk and Pia Sandgren. A heated relaxation area provides storage for your belongings and the suite has doors which lock for your privacy.
Art Suites 365 (in permanent ICEHOTEL 365 building): these offer the same amenities as the art suites in the classic ice building but being part of the permanent building allows them to have a proper door. Each is independently and artistically designed by chosen artists and architects to reflect new carefully chosen themes each year. There are 12 art 365 suites in total.
The Warm Rooms: for those less keen on sleeping in low temperatures, the ICEHOTEL® also has a number of warm accommodation options:
Kaamos Hotel Room (standard): light and airy, these en-suite rooms have modern décor and furnishings. Each has a double bed or twin beds and TV.
Kaamos Hotel Room (superior): these rooms have the same amenities as the standard Kaamos rooms, however, they have recently been updated and decorated in a contemporary style.
Nordic Hotel Chalet: these are designed to accommodate up to four people. Each has one double/twin bedroom and one room with bunk beds, making them ideal for families or small groups of friends. Each has an ensuite bathroom with shower, small living room with a fridge and kettle and TV.
Arctic Chalet: these have a double and a single room so are best suited to three people. Each chalet is en-suite and has a shower room, a small living area, fridge, kettle, TV and telephone.
---
Image credits: ICEHOTEL, Jose Carlos, Cabello Millan, Javier Alvaro, Colomino Matassa & Asaf Kliger, Tjasa Gusfors, David Andren, AnnaSofia Maag, Anna Katrin Kraus, Hans Aesch, Rob Harding, Timsam Harding, Luc Voisin, Mathieu Brison, Petros Dermatas, Ellie Souti, Nicolas Triboulot, Cedric Alizard, Sebastian Scheller,Kristina Mockel, Jose Carlos, Cabello Millan, Javier Alvaro, Colomino Matassa, Peter Grant & Magnus Skoglöf & Martin Jakobsson & Imagebank.sweden.se
Read more
Read less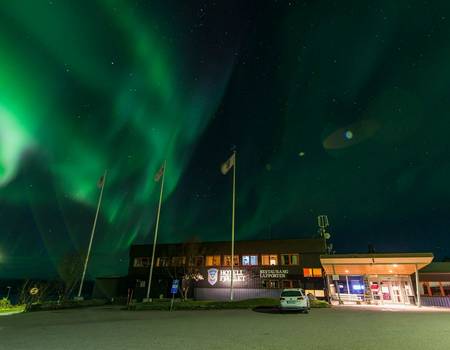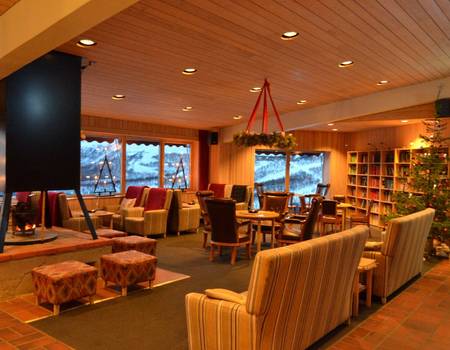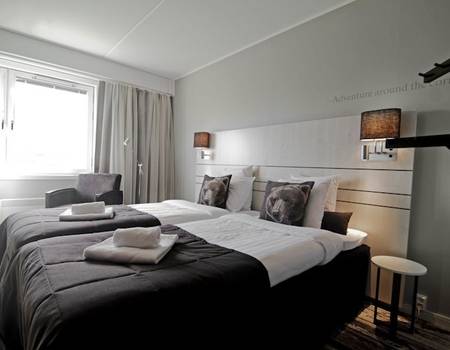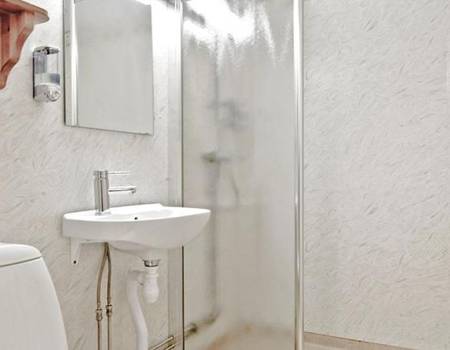 Hotel Fjallet
Nights:
2-3
Located 250km above the Arctic Circle, Hotel Fjallet is a brilliant northern base with exceptional views of the surrounding mountains and snowy scenes.
Hotel Facilities
Relax in the restaurant and bar after a day of winter adventures
Keep in touch with loved ones with free Wi-Fi in all rooms
Soak up the mountainous views from the lounge with panoramic windows
Room Facilities
DOUBLE OR TWIN ROOM: All rooms are decorated in a modern yet cosy style and come with a bathroom with shower and hairdryer, a work desk, armchair and free Wi-Fi.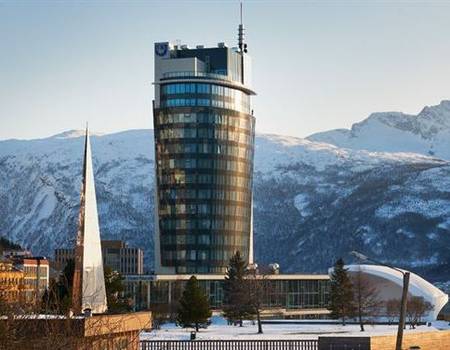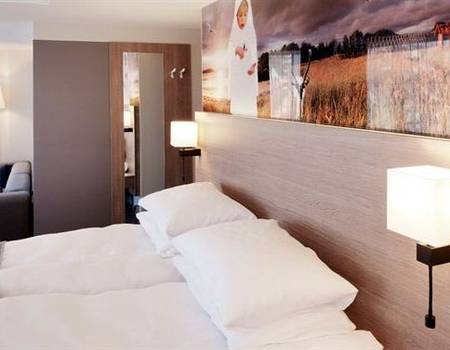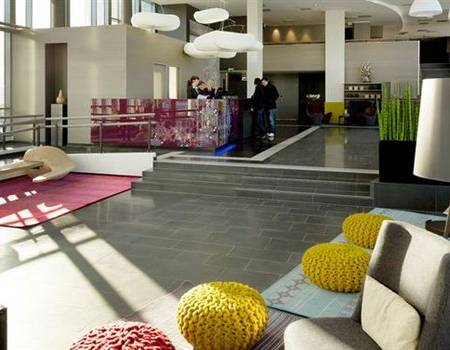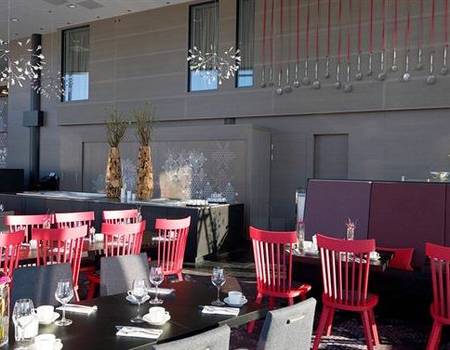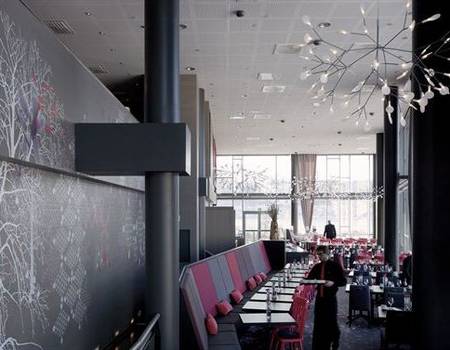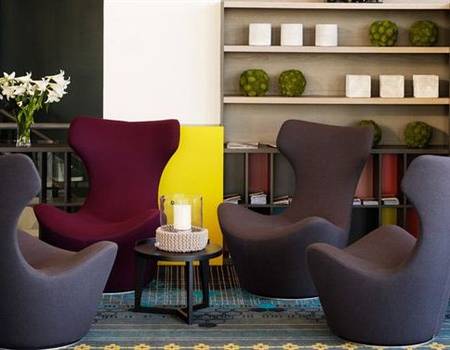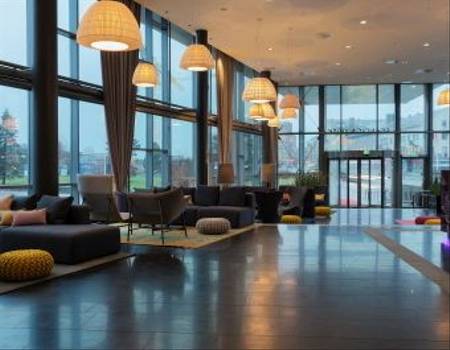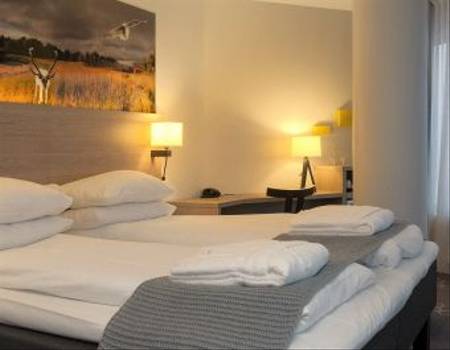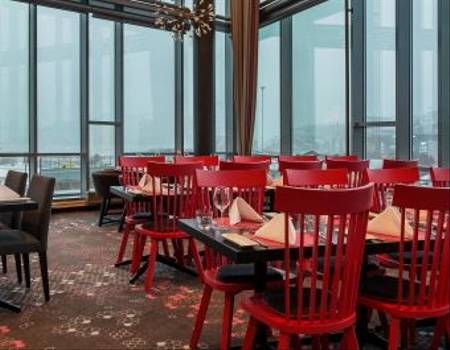 Scandic Narvik
Nights:
4-5
This award-winning hotel is situated in one of Northern Norway's tallest buildings. This gives you brilliant views of Narvik and the surrounding mountains and fjords.
Hotel Facilities
Experience the best of the views from the Totta Bar, located on the 15th floor
Try some of the delicious seasonal ingredients served in The Tind restaurant
Room Facilities
STANDARD ROOM (sleeps 2): All rooms are spacious and come with a queen-sized bed, bathroom with shower or bathtub, desk and chairs, free Wi-Fi, hairdryer, tea and coffee making facilities and TV.
Personalise
Personalise this tour
---
Our pick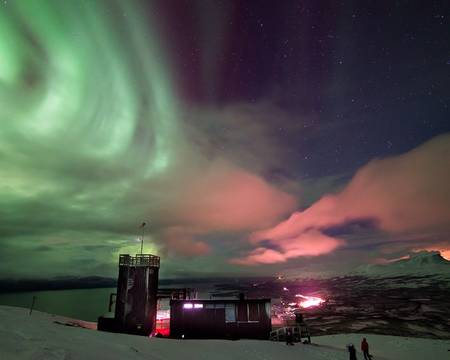 Aurora Sky Station Dinner
This exclusive dinner experience takes you to one of the world's best Northern Lights locations.
Your evening begins with a comfortable chairlift ride of around 20 minutes. You'll journey deep into the national park where dark skies and serene surroundings await.
Arriving at STF Aurora Sky Station, you will sit down for a three-course dinner of Northern Swedish cuisine, inspired by Sápmi's traditions and the wonderful surrounding environment. After dinner, you will learn all about the Northern Lights during a guided tour. You will head onto the large, outdoor terrace as well as the lookout tower where, if conditions are favourable, the Auroras and starry sky will shine above.
Duration: approximately 3 hours
---
Credits: Lightsoverlapland
---
Dates & Prices
Price Comparison Guarantee
Expertise and knowledge are key to witnessing the Northern Lights. We've been running Aurora hunting holidays longer than any company in the UK and with no lead in prices, no hidden costs and more included, we're confident our tours will come out on top.
Prices
Next season's pre-sale dates and prices
To secure your holiday place for next season, you can make a pre-reservation by paying a deposit of only £50pp. The provisional prices, departure dates, and itinerary remain subject to change. We will contact you when the final details are confirmed, and you will have 14 days to decide if you would like to go ahead. Should you wish to proceed then a further deposit will be payable at this stage. If you decide not to travel, we will refund your initial £50pp payment. Our Travel Experts will happily provide you with full terms and a complete quotation.
Dates

Sat 01 Jan 2022
to
Sun 13 Mar 2022

Enquire

Adults

£ 2,285
Please note: our holiday prices are based on the lowest available airline fares. These fares can sell out quickly and, as a result, prices may increase and supplements may be applicable. We recommend booking at the earliest opportunity to secure the best possible fares and flight times.
Terms
For our full booking terms and conditions please click here
The Specifics
Holiday group size (approximate)
Minimum 2 and maximum 12 people (approximately)
Group Size
We always try to provide an approximation of the group size you can expect to be with for the duration of each of our holidays. It may be that you are joined by others for parts of your holiday (such as transfers and particular activities) but the above number reflects those you can normally expect to be with from beginning to end. If group size is something which is particularly important to you, please speak to our Travel Experts and they can suggest the best holidays for you.
Tailor-made holiday group sizes will vary for all activities as will the group size for any additional activities you book.
Minimum numbers required for a holiday to operate
Some of our holidays require a minimum number of participants to operate (as listed in the 'Group Size' section). If your holiday departure has not yet reached the minimum number, you will be told at the time of booking. In the unlikely event that your chosen date is not guaranteed by nine weeks before your scheduled departure date, we will contact you to discuss the available options as per our booking conditions.
Minimum and maximum age
If a specific minimum age applies to this holiday, it can be found in the Key Facts box on the holiday Overview page.
Unless otherwise stated in the Key Facts box on the holiday Overview page, the minimum age for participation in an Aurora Zone holiday is typically 12 years old (there may be younger children in some destinations who have booked with other companies). If an adult-only environment is important to you, then please contact our Travel Experts and they will advise on the best dates and destinations for you. If you are looking for a holiday designed specifically for families then please see our sister company www.activitiesabroad.com.
Itinerary amendments
The order of activities listed in this agenda is provided for guidance only, your final and detailed itinerary will be provided either with your final travel documents (which are uploaded into your online account around a week prior to departure) or upon arrival.
Medical History and Advice
We want our holidays to be accessible as they can be and will do our best to accommodate any special requests and requirements where possible. We have a wide range of holidays and destinations and so our travel experts will help find the best holiday for you.
In order to give us the best possible chance to do this, we ask that if you or any member of your party has any medical condition or disability which may affect your holiday or has any special requirements, that you tell us at the time of enquiry or booking. You must also promptly advise us if any medical condition or disability which may affect your holiday develops after your booking has been confirmed. You may need to provide a doctor's note and proof of insurance in some cases as the health and safety of our clients is absolutely paramount.
In providing this information you are allowing us to work with our expert local partners to ensure that your whole party can enjoy the holiday. By letting us know in advance we can discreetly work with you to adapt any part of the holiday which may potentially be challenging. Being able to prepare for this in advance makes an incredible difference to what we can offer and minimises any impact on your party and the rest of the group.
Unfortunately, if you choose not to share this information with us in advance then it may limit some or all of the itinerary you have booked, and we cannot be held accountable for any additional costs or missed activities resulting from this.
Insurance
Insurance is not included in your holiday, but it is a pre-requisite to travelling with us. You will need to ensure that you have cover for all the activities that you will be participating in during your holiday.
It is extremely important that you take out a suitable travel insurance policy at the time of booking. Plans do sometimes change, and you will need this policy should you need to cancel your holiday.
If you are struggling to find a suitable policy then details of our preferred provider, who will cover you for all the activities we offer, can be found on our website by clicking here. Please note that this policy is available to EU residents under the age of 75 only.
Booking Activities Locally
Additional activities can be booked locally in almost all our destinations. However, as per our booking conditions, we cannot be held responsible for any injury or loss incurred through participation in activities which are booked at your destination outside of our holiday itinerary (see our 'Terms and Conditions' for further details).
When arranging any such activity please always ensure that safety is your primary concern.
In some of our destinations, you can borrow or hire equipment for use in your free time. You do so entirely at your own risk. You must ensure that you are properly prepared, have the necessary equipment and knowledge (maps, etc) and ensure that where applicable, you follow marked routes. We recommend discussing your plans with the local teams who will be able to advise on the most suitable options for you.
Always let the reception/guide know where you are planning to go and take a torch and mobile phone (with the hotel/guide's phone number stored). It is also a good idea to leave your contact number and the time you expect to return to the hotel should the hotel need to contact you.
The UK Foreign Office Advice
Our clients' safety is at the centre of everything we do, and our operations team continually assesses and monitors the destinations we feature. We carry out thorough risk assessments and work closely with all of our suppliers to continually follow best practice. For up to date travel advice the UK government offers its Travel Aware website as well as the advice detailed below.
The Foreign and Commonwealth Office Advice
We receive all updates from the Foreign and Commonwealth Office (FCO) with regards to travel advice and we always ensure that we follow this advice in our operations. The FCO issues travel advisories for countries based on a very wide range of factors. They may provide notification about things as simple as a football match and crowds, or they may go so far as to advise against all travel to a region. We ask all our clients to refer to the relevant Travel Advice by Country for the destinations they are visiting in order to make an informed decision on the safety of the destination based on the details provided. It also provides vital information regarding entry requirements, embassy information, local laws and customs as well as specific safety and health. Guests should take responsibility for keeping themselves up to date with this advice. Please also ensure that, if you are transiting through another country, you have read the advice and meet the entry requirements for that destination too.
The FCO travel advice is applicable to British Passport Holders. Most governments will issue their own travel advice for a region and, if you are not a UK resident then you can find some helpful links below:
Australian Department of Foreign Affairs and Trade http://www.smartraveller.gov.au/
New Zealand Ministry of Foreign Affairs and Trade https://www.mfat.govt.nz/
Canadian Consular Affairs Bureau http://voyage.gc.ca/
The U.S. Bureau of Consular Affairs https://travel.state.gov/content/travel/en/international-travel.html
If the FCO deems that there is an unacceptable level of risk for UK citizens then, together with the government, they may issue an advisory against all travel to a region or country. If such an advisory is published, then we will act accordingly, and this may require the cancellation, curtailment or amendment of a holiday itinerary. These decisions are made on the basis of ensuring our clients' safety and will affect all clients on the holiday, regardless of their nationality.
If one of our local experts suggests an amendment due to a situation which develops locally then we may also take the decision to amend an itinerary appropriately.
If we have to cancel your holiday prior to departure you will be offered the option of an alternative trip (where any price difference will either be refunded to or covered by you) or a full refund of the monies paid.
If we have to curtail a holiday, then you will be refunded for any costs for the elements we have been unable to deliver, where we have been able to secure a refund from our suppliers. If we must reroute a holiday, then any basis for refund is determined on a case by case basis and dependent on whether the central holiday experience was provided or not.
Brexit information for British Passport holders
For the most up to date information on how the UK's departure from the EU may affect your holiday please click here to view our Brexit information for British Passport holders.
Flight schedule changes and connecting transportation
On your documentation, we will confirm your flight schedule. Sometimes the flight number, routing and timings might change prior to your departure. If the change is classed as a significant change then we will contact you to discuss this. Please see our booking conditions for details.
Flight schedule changes can impact on your pre and post-holiday travel arrangements if these have been booked separately to your holiday. We strongly recommend that you do not book transport (such as trains or transfers), car parking or non-connecting flights to the departure point for your holiday until you have received your final confirmed travel times when your final travel documents are issued. We are not responsible for the effect of any schedule change on your pre or post travel arrangements. We strongly recommend that you do not purchase non-flexible or non-refundable tickets to avoid cancellation and penalty charges.
Booking your own flights - cancellation disclaimer
If you have chosen to book your own flights, then you will need to wait until we confirm to you that the holiday departure has met the minimum numbers required to run (if applicable to your chosen holiday). Once the holiday is guaranteed to run, you will be informed and you can then make your arrangements.
If transfers are included in your holiday, please ensure that any potential flights will be met by our standard transfers (speak to one of our Travel Experts for advice) otherwise private transfer supplements may be applicable. Once your flights are booked, please send us a copy of your detailed flight itinerary.
Please be aware that most tickets are non-refundable in the case of cancellation. For this reason, we strongly advise you check the rules of the ticket and check the limitations of your cancellation insurance before booking. We cannot be held liable, in the unlikely eventuality that we should be forced to cancel or amend your trip, for losses incurred relating to any flight booking you have made.
Terms and Conditions
Our full booking terms and conditions can be found on our website: https://www.theaurorazone.com/booking-conditions
---
---