Overview
Spend three nights in a wonderful whirlwind of activities by the shores of Lake Inari this winter. A short trip should never mean compromising on activities, therefore we have included all our favourite experiences in your itinerary. Head out on a husky safari, meet the local reindeer, try snowmobiling and strap on your snowshoes for a wilderness walk. You will, of course, search for the Northern Lights by night, on foot and during a trip to an Aurora Camp.
What's included?
ALL OF THE ACTIVITIES AND SERVICES LISTED BELOW ARE INCLUDED IN THE HOLIDAY PRICE
Flights: return from London to Ivalo (either direct or via Helsinki depending on departure date). Regional and non-UK departures available on request (flight routes are subject to change)
Transfers: return airport transfers
Accommodation: 3 nights in a twin/double hotel room
Meals: full board
The following activities are included in the holiday: dog sledding, visit a reindeer farm, snowshoeing, Aurora camp, snowmobiling lesson and Aurora snowshoeing (the order of activities is subject to change)
Fully qualified guides and instructors during activities
Cold weather clothing for the duration of your stay
Aurora alert until approximately 1 am
---
Venture 250km north of the Arctic Circle to the southern shores of Lake Inari in Northern Finland, and experience a short-but-sweet, Northern Lights hunting holiday.
The newly transformed adults-only Wilderness Hotel Nangu is just a total haven of peace and quiet and is tucked in the most incredible lakeside location in the depths of the wild. It is small scale and just oozes comfort and charm with its high-end décor and stunning log-built construction. The owners also happen to be our longstanding friends and suppliers, and we know that they offer nothing less than excellence. With this as your base, we can assure you that every free moment you have can be savoured and enjoyed. The hotel's proximity to Lake Inari means that, by night, there is a vast expanse of dark sky above you, ideal for Northern Lights hunting.
The lake and surrounding area also offer a base for a myriad of activities during your time here. Despite the short length of this trip, we have included all the "must-dos" when visiting Northern Finland. You will visit the village of Nellim for an incredible day which combines reindeer encounters and dog sledding, you'll explore the wilds on snowshoes and will have the chance to try snowmobiling. We have also included two Northern Lights hunts.
Read more
By night, you will spend one relaxed evening at an Aurora Camp which you will typically reach via a snowmobile-pulled sleigh. With your expert guide, you will sit around a warming fire in this prime viewpoint and will wait to see if the Northern Lights will appear. Your second trip will see you venture out on snowshoes as you head to an ideal viewpoint with your guide in the hope of catching a display.
So, go on, spare a few days from your hectic schedules this winter and escape to the remote wilderness of Northern Finland. Returning with memories that will last a lifetime and impressive stories to tell your friends and family, we know that you will not regret it.
---
Phototgraphy by Markku Inkila, Matt Robinson, and Inari- Saariselka Tourism
Agenda
Accommodation
Included in price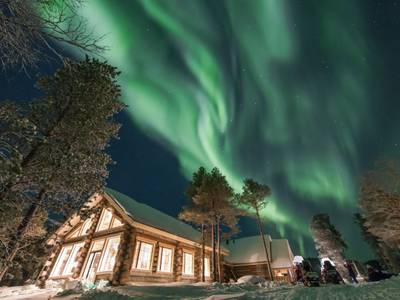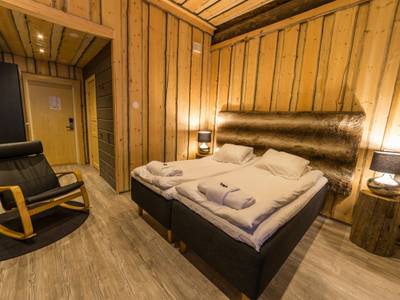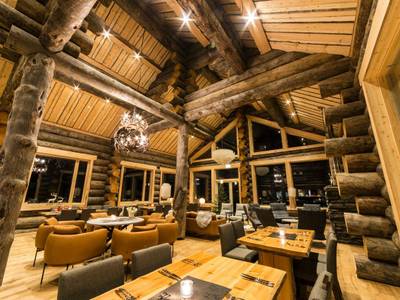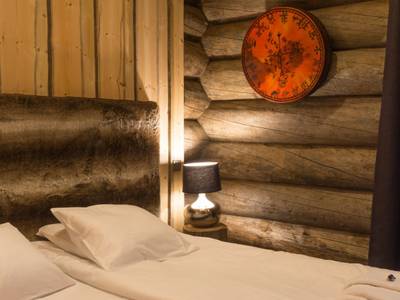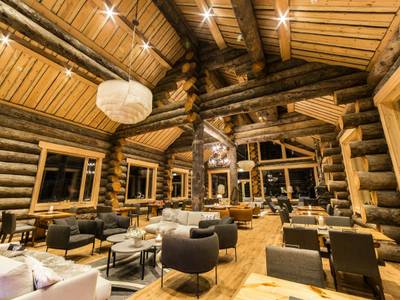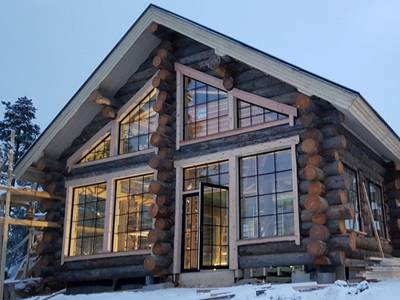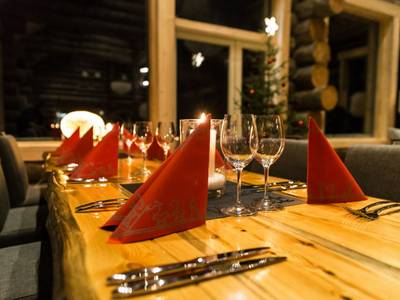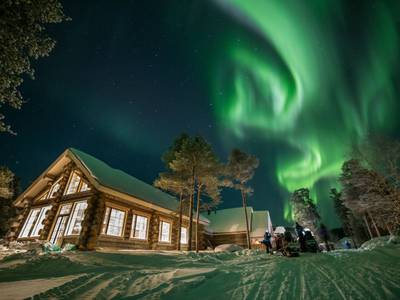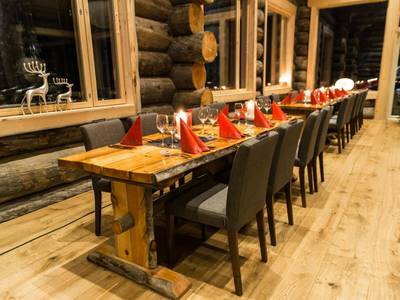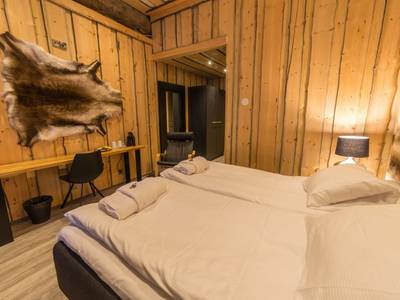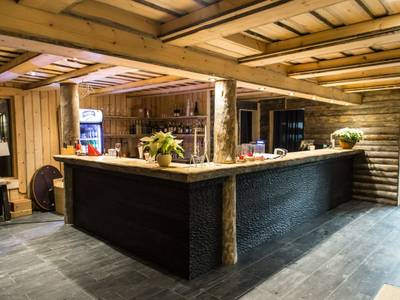 Wilderness Hotel Nangu
Nights:
1-3
Wilderness Hotel Nangu is an adult-only, boutique hotel tucked away in a secluded spot close to the shores of Lake Inari in North East Finnish Lapland. This is the ideal place for those wanting to escape to a real haven of peace and quiet which just oozes rustic style, charm and comfort. Think handmade wooden furniture, sheepskins, stunning log architecture, comfy chairs and roaring fires; all with a view over snow-laden trees and a vast frozen lake beyond.
The central log-built restaurant and reception building is a spectacular spot in which to dine and unwind and the elegant wooden buildings which contain the bedrooms are around 20-50 metres away.
The hotel was transformed in 2017 by our longstanding friends and partners Jouko and Mari and they have really put their heart and soul into making Wilderness Hotel Nangu the grown-up retreat that it is.
In prime Aurora territory and just a minute's walk from the shores of Lake Inari, this is really an incredible place in which to hunt the Northern Lights.
There are only 24 bedrooms here and so there is also a real exclusivity about this place and we would really recommend booking early to avoid disappointment.
Hotel Facilities
The wonderful main log building contains the reception, dining area and lounge where a roaring log fire and tasteful décor makes for a relaxed and welcoming atmosphere
We think the food at Nangu is delicious and the setting for your meals could not be more delightful. Breakfasts and lunches are both varied buffets with local and international flavours. Evening meals are served at your table and guests are provided with two or three choices each evening
There is a large sauna situated in one of the bedroom buildings and this is available for guests to reserve during their stay. The ideal way to relax after a day of activities
Free WiFi is available at Nangu, but really, other than checking the Aurora forecasts, we recommend that you just switch off from the outside world
Room types
Standard Wilderness Room (double or twin)
All rooms at Nangu are comfortable and elegantly decorated with a cosy and rustic, wooden interior, offering a traditional yet stylish Finnish ambience. The standard rooms accommodate two people, have a large window, an en-suite shower and toilet with hairdryer. They also include tea and coffee making facilities. Single rooms are also available which are slightly smaller and accommodate solo travellers.
---
Image credits: Matt Robinson
Read more
Read less
---
Other options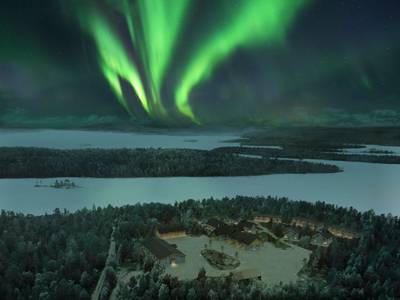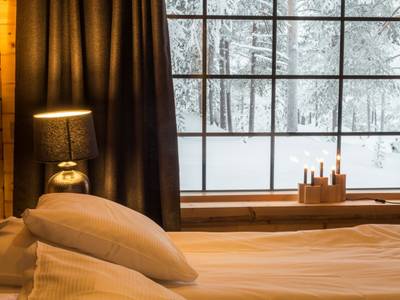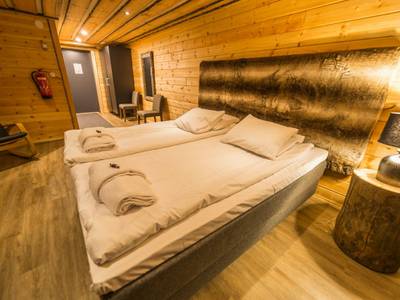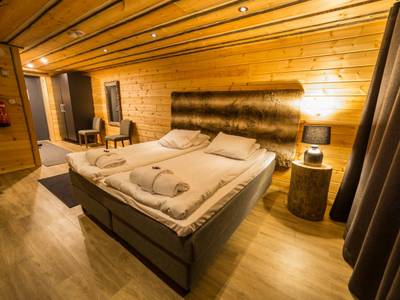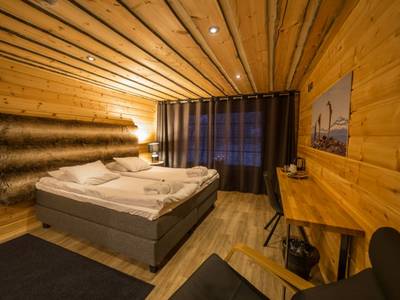 Superior room with panorama window
Supplements from: £70pp
These rooms provide extra space and are all equipped with double beds. They each have their own private entrance and a large panoramic window offering views towards Lake Inari. This means that it might even be possible to witness the Aurora from your room (although the views are much better outside!). All rooms are en-suite and equipped with a hairdryer and tea and coffee making facilities.
Dates & Prices
Price Comparison Guarantee
Expertise and knowledge are key to witnessing the Northern Lights. We've been running Aurora hunting holidays longer than any company in the UK and with no lead in prices, no hidden costs and more included, we're confident our tours will come out on top.
Prices
Dates

Thu 13 Dec 2018
to
Sun 16 Dec 2018

Book

Adults

£ 1,595

Single Adult

£ 1,675

Thu 03 Jan 2019
to
Sun 06 Jan 2019

Book

Adults

£ 1,920

Single Adult

£ 1,995

Thu 17 Jan 2019
to
Sun 20 Jan 2019

Book

Adults

£ 1,495

Single Adult

£ 1,575

Thu 31 Jan 2019
to
Sun 03 Feb 2019

Book

Adults

£ 1,495

Single Adult

£ 1,575

Thu 14 Feb 2019
to
Sun 17 Feb 2019

Book

Adults

£ 1,920

Single Adult

£ 1,995

Thu 28 Feb 2019
to
Sun 03 Mar 2019

Book

Adults

£ 1,495

Single Adult

£ 1,575

Thu 14 Mar 2019
to
Sun 17 Mar 2019

Book

Adults

£ 1,495

Single Adult

£ 1,575

Thu 28 Mar 2019
to
Sun 31 Mar 2019

Book

Adults

£ 1,545

Single Adult

£ 1,625

Thu 11 Apr 2019
to
Sun 14 Apr 2019

Book

Adults

£ 1,545

Single Adult

£ 1,625
Please note: our holiday prices are based on the lowest available airline fares. These fares can sell out quickly and, as a result, prices may increase and supplements may be applicable. We recommend booking at the earliest opportunity to secure the best possible fares and flight times.
Next season's pre-sale dates and prices
To secure your holiday for next season, you can make a pre-sale booking and fix the price of your trip at the pre-sale price displayed below. Simply by paying an initial deposit of £50pp, you will protect yourself from any package price increases. The departure dates and itineraries remain preliminary and we will contact you when the final dates and itineraries are confirmed, you will then have 14 days to decide if you would like to go ahead. Should you wish to proceed, the remaining deposit will be payable at this stage. If you decide not to travel, we will refund your initial £50pp payment. We reserve the right to charge supplements where there are significant changes to an itinerary or increases in flight costs. Any non-package rates remain subject to change.
Dates

Thu 12 Dec 2019
to
Sun 15 Dec 2019

Enquire

Adults

£ 1,710

Single Adult

£ 1,795

Thu 02 Jan 2020
to
Sun 05 Jan 2020

Enquire

Adults

£ 2,055

Single Adult

£ 2,135

Thu 16 Jan 2020
to
Sun 19 Jan 2020

Enquire

Adults

£ 1,600

Single Adult

£ 1,685

Thu 30 Jan 2020
to
Sun 02 Feb 2020

Enquire

Adults

£ 1,600

Single Adult

£ 1,685

Thu 13 Feb 2020
to
Sun 16 Feb 2020

Enquire

Adults

£ 2,055

Single Adult

£ 2,135

Thu 20 Feb 2020
to
Sun 23 Feb 2020

Enquire

Adults

£ 2,055

Single Adult

£ 2,135

Thu 27 Feb 2020
to
Sun 01 Mar 2020

Enquire

Adults

£ 1,600

Single Adult

£ 1,685

Thu 12 Mar 2020
to
Sun 15 Mar 2020

Enquire

Adults

£ 1,600

Single Adult

£ 1,685

Thu 26 Mar 2020
to
Sun 29 Mar 2020

Enquire

Adults

£ 1,650

Single Adult

£ 1,735

Thu 09 Apr 2020
to
Sun 12 Apr 2020

Enquire

Adults

£ 1,650

Single Adult

£ 1,735
Terms
For our full booking terms and conditions please click here
Group sizes and minimum numbers
Most of our holidays require a minimum number of participants to operate. Minimum numbers are detailed on each holiday page and are always approximate. Group sizes for tailor-made holidays will vary for each of the activities. For private departures, you may also be joined by other guests during the activities unless you have discussed specific private activities with us.
If your selected date has not yet reached minimum numbers you will be informed at the time of booking. In the unlikely event that your chosen date has not reached the required minimum numbers nine weeks before your scheduled departure date, we will contact you and discuss the various options available to you. We will always do all we can to operate a holiday and in some cases, we may be able to operate the holiday by combining your itinerary with that of other guests for some activities (this may mean that the maximum group size is increased but this will be discussed in full with you).
If we are unable to operate the holiday then you will be offered the chance to transfer to an alternative holiday or date (subject to availability). If the alternative is more expensive you will be asked to pay the difference, if it is cheaper then you will be reimbursed. You will also be offered the option to cancel and receive a full refund of all monies paid.
See our booking conditions for further information.
Order of activities
The order of activities is always subject to change and you will be provided with your final itinerary upon arrival at your destination
SINGLE SUPPLEMENT
Please note that some of our holidays may incur a single supplement. Please speak to one of our Travel Experts who will provide you with a quotation.
Medical History and advice
If you or any member of your party is pregnant or has any medical condition or disability which may affect your holiday or has any special requirements as a result of any medical condition or disability (including any which affect the booking process), please tell us before you confirm your booking so that we can assist you in considering the suitability of the arrangements and/or making the booking. In any event, you must give us full details in writing at the time of booking and whenever any change in the condition or disability occurs. You must also promptly advise us if you become pregnant or any medical condition or disability which may affect your holiday develops after your booking has been confirmed.
See our booking conditions for further information.
Reduced Mobility
If you have a reduced level of mobility, then please contact our travel experts to discuss the suitability of this holiday in relation to your requirements.
Experience and fitness
We offer a vast choice of holidays which range from 'relaxed' to 'active' so there really is something for everyone and our holidays can be filtered by how active they are. Regardless of the chosen holiday, all activities will include tuition from a beginner's level and no prior experience is assumed.
If you are unsure about the physical demands of a particular holiday please contact us and our expert team will be happy to help.
See our booking conditions for further information.
Guides and safety
It is absolutely essential when partaking in any activity that you listen very closely to, and abide by, the instructions provided.
If there is anything that you are unsure of during a safety briefing or that you would like to clarify with the guides please make this clear to them immediately before starting the activity.
Our guides' word on activities is always final and your safety is their principal concern at all times, please respect their decisions. By following their instructions, your safety and enjoyment during each activity will be greatly enhanced.
See our booking conditions for further information.
Booking activities locally
In almost all of our destinations, you can book and pay for additional activities locally. Please note that we cannot be held responsible for any injury or loss that occurs through any activities that are booked in your destination (see our terms and conditions for further details).
Please always ensure that your safety is your primary concern when arranging any such activity.
Car Hire
If your trip includes car hire the named driver must have a credit card registered in their name which they can present when they collect their car along with their driving licence, as a deposit will be held on the credit card. Please see your trip dossier for full details.
Aurora alerts
During your stay, you will be supplied with an Aurora alert. This is typically a mobile phone system to which the staff will send a text should the Northern Lights be sighted. The alerts generally operate until 1 am but it is best to confirm with your guide as times may vary.
The alerts are designed as an aid to Aurora hunting and, although every effort will be made to issue an alert should the conditions seem conducive to a display, things can change very quickly so you should not rely solely on them and should also keep an eye on the sky yourself.
Minimum age
The minimum age for participation in our itinerary is 18 years old, however, for some activities and transfers, you may be joined by other guests and this may include some of a younger age than stated. Any younger participants will be fully supervised and the guides will ensure that their participation takes place only if the activities will be unaffected.
Very few hotels have a minimum age and there may be families staying at them with younger children, especially during the holiday periods. We do have some itineraries and destinations which are guaranteed to be adult-only, so if this is important to you please speak to one of our Travel Experts.
To drive a snowmobile you must have a full driving licence and be over 18 years old.
Reviews
Traveller Reviews
A beautiful part of the world.
05 March 2018
by Peter & Victoria Newman
People were very kind, helpful and spoke good English. A beautiful part of the world.
The hotel and all staff were absolutely fantastic.
16 January 2018
by Hilary Baseley
The hotel and all staff were absolutely fantastic. We would like to thank our guide Jani in particular - he was friendly, knowledgeable, enthusiastic and a brilliant and safe driver. He helped make our trip.
---
Gallery
Photos (10)
Videos (1)
---