Overview
Spend Christmas in the wilds of Lapland during this active, week long holiday. With days full of exceptional activities, nights spent searching for the Northern Lights and a warm welcome at your wilderness hotel, there can be few better ways to enjoy the festive season.
What's included?
ALL OF THE ACTIVITIES AND SERVICES LISTED BELOW ARE INCLUDED IN THE HOLIDAY PRICE
Flights: direct from London Gatwick to Ivalo. Regional and non-UK departures available on request (flight routes are subject to change)
Transfers: return airport transfers are included
Accommodation: 7 nights accommodation in twin/double hotel rooms. Apartment/cabin upgrades available (supplements apply)
Meals: 7 breakfasts, 6 lunches, 7 dinners
The following activities and equipment are included: cross-country skiing, Aurora workshop, Northern Lights snowshoe, wilderness snowmobile safari, snowshoe trek, Aurora camp, snowmobile to a reindeer farm, Aurora snowmobile safari, husky safari, minibus hunt for the Northern Lights (the order of activities is subject to change)
Cold weather clothing for the duration of your stay
Services of our expert local guide and representative
Aurora alert until approximately 1 am
---
This festive edition of our hugely popular Aurora in the Wild trip is a thrilling wilderness adventure in a remarkably picturesque corner of Finnish Lapland. As one of our most active trips, it offers guests a busy schedule of exciting daytime activities complemented by Aurora hunting in the evening.

During your time here you will stay at Nellim Wilderness Hotel, a friendly retreat close to Lake Inari. The hotel is family run and annually charms its guests with its hearty meals, Nordic décor and enthusiastic guides. The staff here understand that, as well as celebrating Christmas, one of the main aims of your holiday is to seek out the Aurora, and they do all they can to make this happen. One of the benefits of the hotel is its remote location and minimal light pollution, which ensures a huge potential for Aurora viewing. The beautiful snow-covered wilderness location will also make you feel like you are stepping into a Christmas card.
Nellim increases your chances of catching a glimpse of the Northern Lights through the activities and facilities it offers its guests. With four nights dedicated to Aurora activities, an Aurora alert system and the chance to enjoy an Aurora sleigh ride or a night in an Aurora Bubble or Aurora Kota on site (see the 'Personalise' section for details) – Nellim leads the pack when it comes to innovative ways to seek out the Northern Lights.

Nellim isn't just about the evening activities, though, there is also much to see and do during the day with husky sledding, snowmobiling, a day with a reindeer herder and more.
Read more
Christmas is celebrated on the 24th December in Finland and the occasion is marked with a traditional Finnish Christmas dinner and festivities with the other guests.

We have loved Nellim for years and amongst our clients, it remains one of our most popular locations every season. We love it because its owners are two of the hardest working people in Northern Finland and are always striving to make their guests' experiences as enjoyable as possible. We love it for its incredible wilderness surroundings, frozen lakes and forested fells. Mostly, though, we love Nellim for its huge Aurora potential.
---
Image credits: Markku Inkila
View Gallery
Download Dossier
Key facts
| | |
| --- | --- |
| Duration: | 7 nights |
| Pace: | Active |
| Suitable for: | Ages 15+. See our terms for further information |
Make an enquiry
Agenda
Accommodation
Included in price
Nellim Wilderness Hotel
Nights:
1-7
Nellim Wilderness Hotel is a traditional and intimate family-run hotel, offering comfortable accommodation and wholesome home-cooked food.
All guests can expect a warm welcome from owners Jouko and Mari and their family, as well as being well taken care of by our dedicated Aurora Zone representative.
Hotel facilities
Formerly the village school, the building has been restored with a typically Scandinavian-style and décor offering a relaxed environment for guests to enjoy during their trip
The recently renovated restaurant is the focal point of the main building which serves hearty buffet-style food in a beautiful dining area
Tea and coffee facilities are also available in the restaurant for guests to access throughout their stay, although none are available in the room
There is one sauna for guest use, which you can book per room for private use
Wi-Fi is available for guests to use in the main hotel reception area
Room types
Hotel rooms
The 34 double or twin rooms are decorated in keeping with local surroundings and culture. All have an en-suite shower room and hairdryer. Some of these rooms are located in the main building and others are situated in separate annexe buildings, a short walk from the main building. There are also two hotel rooms with private sauna which can be booked, subject to a supplement and availability.
Read more
Read less
---
Other options
Nellim Apartments
Many guests like to upgrade to one of the six apartments at Nellim, all of which are situated in one of the annexe buildings across from the reception and restaurant. The apartments offer guests additional room and their own space in which to relax after a day or night of activities.
Each apartment varies in size and facilities. Apartments are allocated on a first come, first served basis according to the accommodation which best suits your party.
Please note that some of the apartments require a supplement. Please contact our Travel Experts for a quotation.
Please note these images display a range of the different types of apartment. Upgrade supplements may apply.
Apartment facilities
The one, two and three bedroom apartments are all equipped with living area, bathroom (with shower and hairdryer), kitchenette and/or electric kettle and TV
Some of the apartments offer a fireplace or a sauna but these facilities cannot be guaranteed, only requested
We recommend taking supplies of your favourite tea and coffee so you can enjoy warm drinks in your apartment
Please note that an upgrade supplement may apply. Please speak to our Travel Experts for a full quotation
---
Image credits: Markku Inkila
Read more
Read less
Nellim Cabins
Supplements from: £427pp
Nellim offers a variety of cabins which offer varying facilities and which are mainly within easy walking distance of the hotel. Cabins are allocated on a first come, first served basis, according to the accommodation which most suits your party and availability. Specific facilities cannot be guaranteed. Please contact our Travel Experts for a quotation.
Price is based on two adults sharing a log cabin. Please contact our Travel Experts for a quotation.
Cabin facilities
The standard cosy cabins are studio in style and offer a double bed, pull-out sofa bed, a small kitchenette, a shower room and en-suite toilet, a fireplace and a private sauna
The honeymoon cabin will be updated for the Winter 2017/18 season. The current plan is to change the arrangement of this cabin so that it is no longer split over three separate cabins and instead each of these cabins will become an individual unit with bedroom and en-suite bathroom. Once details have been confirmed, we will provide a complete description of this unique log cabin accommodation
A large lakeside cabin can be requested for larger groups but this is a few kilometres from the hotel and so transfers are provided for meals and activities
Two larger log cabins situated close to the hotel are available on request, however, these require a minimum of 4 people and sleep up to 8
Please note these images display a range of the different types of cabins.
Read more
Read less
Nellim Log Suites
Supplements from: £338pp
Located between 30-70 metres from the main building these log suites are designed to be the highest standard of accommodation Nellim offer. The suites are approximately 33m² and there are four suites in each of the separate log buildings.
Please contact our Travel Experts for a quotation.
Suite facilities
All suites have their own private sauna, electric kettle and mini-fridge to make your stay as comfortable as possible

The suites have a double bed downstairs as part of the open plan layout and a mezzanine level above which sleeps up to three more people

All meals will be served in the hotel restaurant which is just a short walk from the suites

These suites are perfect for those wishing to have more space to relax in during their downtime from activities
Read more
Read less
Personalise
Personalise this tour
---
Our pick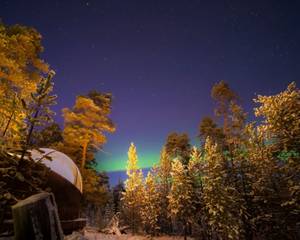 What a concept this is! These bubbles represent the absolute pinnacle in the increasingly sophisticated search for the Northern Lights.
Essentially, the Aurora Bubble brings the Arctic wilderness and the night sky into the comfort of your own bedroom. Each bubble has a heated bedroom with a large north-facing dome window, allowing you to gaze at the firmament from the comfort of your own bed!! This is Aurora hunting in style.
Read more
The bubbles are located in an area of minimal light pollution but within walking distance of the hotel should you wish to return to your room during the night. We can't imagine that you will as there is a toilet which means there is no need whatsoever to leave your comfortable bubble during the night.
Of course, we can neither guarantee that the Northern Lights will appear nor can we ensure cloud-free skies because Aurora hunting will always carry an element of luck. What we do know is that the Aurora Bubbles represent a genuinely unique and memorable experience.
---
Please note: Prices are based on you spending the first or last night of your holiday in this unique accommodation and not keeping your original accommodation. If you would like to do this on any other night during your holiday you will need to keep your accommodation and supplements will apply.
---
Other options
Activities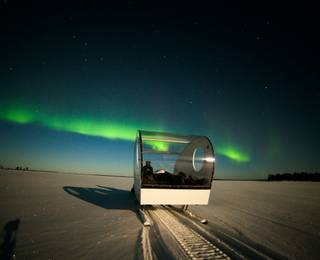 Heated Aurora Sleigh
From: £196pp
The wonderful Jouko and Mari at Nellim have once again come up with an innovation in Aurora hunting, ensuring that guests are in total comfort throughout. They have created a heated Aurora sleigh: a private, intimate and toasty warm experience that has been thrilling visitors to Nellim during the winter.
Read more about this activity
This is the way to travel in the Arctic! Climb into your private Aurora-viewing cocoon which will be pulled behind a snowmobile driven by a local guide. The sleigh has large transparent windows to the front, back and, most importantly upwards, hence providing a fantastic view of the night sky. As they are heated, it could be -30C outside and you will be reclined in comfort hopefully gazing at the fabulous Northern Lights.
This safari lasts about two and a half hours (departing around 8 pm) and takes you onto the frozen expanses of mystical Lake Inari some 250km north of the Arctic Circle in prime Aurora hunting territory. Your English-speaking guide will take you to some of the best vantage points where you can choose to get out (or not!), take photos and walk on the ice. You will also be served warm drinks.
We cannot guarantee that the Aurora Borealis will come out to play but regardless, the Aurora Sleigh is a fantastic way to experience the Arctic in the dead of night.
Unsurprisingly the sleigh rides have seen many marriage proposals over the past months and for anyone thinking about popping the question, this is a very stylish way in which to do it – sadly we cannot guarantee the answer, but this setting should give you an excellent chance!
Private Aurora sleigh ride including dinner: please speak to our Travel Experts for a quote
Special Nights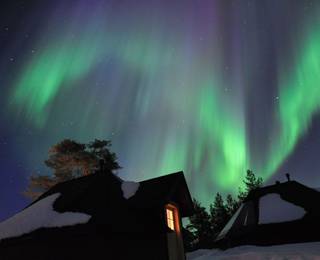 A night in an Aurora Kota
From: £187pp
The team at Nellim are world-experts when it comes to Northern Lights viewing, and frequently devise creative new ways to appreciate this natural phenomenon. The Aurora Kotas at Nellim and Muotka are well in keeping with such a tradition: combining a cabin structure with glass tepee elements, they provide a large glass roof above the sleeping area, allowing visitors to lose themselves in the magic of night-time Northern Lights displays.
Read more about this activity
Each Kota contains a double bed and being a bit larger than an Aurora Bubble, it has room for a third person on a sofa bed. The 18m² space has simple and inviting décor, as well as pleasant lighting which illuminates the area without disrupting aurora-watching experiences. Linking to their natural setting, the majority of the Kotas do not have a shower- even so, each includes a toilet and small sink. Two of the Kotas do have a shower and are slightly larger at 29m².
---
Please note: prices are based on you spending the first or last night of your holiday in this unique accommodation and not keeping your original accommodation. If you would like to do this on any other night during your holiday you will need to keep your accommodation and supplements will apply. Prices are based on the Kotas without showers; if you would like to stay in a Kota with a shower, please speak to our Travel Experts for a full quote, as they attract a higher cost.
Dates & Prices
We include more, no hidden costs
On each of our holidays, you will see a clear outline of exactly what's included in the price of your holiday. We never use 'headline' or 'lead-in' prices like so many tour operators, as we prefer to include as much as we can, rather than see our clients incur considerable additional costs in our destinations.
Prices
Dates

Sun 23 Dec 2018
to
Sun 30 Dec 2018

Book

Adults

£ 2,465

Single Adult

£ 2,700
Please note: our holiday prices are based on the lowest available airline fares. These fares can sell out quickly and, as a result, prices may increase and supplements may be applicable. We recommend booking at the earliest opportunity in order to secure the best possible fares and flight times.
Next season's provisional dates and prices
To secure places for next season, you can make a provisional booking and fix the cost of your holiday at the provisional package price displayed online. Simply by paying a deposit, you will protect yourself from any package price increases. The departure dates and itineraries remain subject to change and we will contact you when the final dates and itineraries are confirmed. You will have 14 days to decide if you would like to go ahead. If you decide not to travel we will refund your deposit. We reserve the right to charge supplements where there are significant changes to an itinerary or increases in flight costs. Any non-package rates remain subject to change.
Dates

Sun 22 Dec 2019
to
Sun 29 Dec 2019

Enquire

Adults

£ 2,640

Single Adult

£ 2,890
Terms
For our full booking terms and conditions please click here
Holiday group size (approximate)
Minimum 2 people, maximum 24 people (approximately)
Group sizes and minimum numbers
Most of our holidays require a minimum number of participants to operate. Minimum numbers are detailed on each holiday page and are always approximate. Group sizes for tailor made holidays will vary for each of the activities. For private departures you may also be joined by other guests during the activities unless you have discussed specific private activities with us.
If your selected date has not yet reached minimum numbers you will be informed at the time of booking. In the unlikely event that your chosen date has not reached the required minimum numbers nine weeks before your scheduled departure date we will contact you and discuss the various options available to you. We will always do all we can to operate a holiday and in some cases we may be able to operate the holiday by combining your itinerary with that of other guests for some activities (this may mean that the maximum group size is increased but this will be discussed in full with you).
If we are unable to operate the holiday then you will be offered the chance to transfer to an alternative holiday or date (subject to availability). If the alternative is more expensive you will be asked to pay the difference, if it is cheaper then you will be reimbursed. You will also be offered the option to cancel and receive a full refund of all monies paid.
See our booking conditions for further information.
Order of activities
The order of activities is always subject to change and you will be provided with your final itinerary upon arrival at your destination
Medical History and advice
If you or any member of your party is pregnant or has any medical condition or disability which may affect your holiday or has any special requirements as a result of any medical condition or disability (including any which affect the booking process), please tell us before you confirm your booking so that we can assist you in considering the suitability of the arrangements and/or making the booking. In any event, you must give us full details in writing at the time of booking and whenever any change in the condition or disability occurs. You must also promptly advise us if you become pregnant or any medical condition or disability which may affect your holiday develops after your booking has been confirmed.
See our booking conditions for further information.
Experience and fitness
We offer a vast choice of holidays which range from 'relaxed' to 'active' so there really is something for everyone and our holidays can be filtered by how active they are. Regardless of the chosen holiday, all activities will include tuition from a beginner's lever and no prior experience is assumed.
If you are unsure about the physical demands of a particular holiday please contact us and our expert team will be happy to help.
See our booking conditions for further information.
Guides and safety
It is absolutely essential when partaking in any activity that you listen very closely to, and abide by, the instructions provided.
If there is anything that you are unsure of during a safety briefing or that you would like to clarify with the guides please make this clear to them immediately before starting the activity.
Our guides' word on activities is always final and your safety is their principal concern at all times, please respect their decisions. By following their instructions, your safety and enjoyment during each activity will be greatly enhanced.
See our booking conditions for further information.
Booking activities locally
In almost all of our destinations you can book and pay for additional activities locally. Please note that we cannot be held responsible for any injury or loss that occurs through any activities that are booked in your destination (see our terms and conditions for further details).
Please always ensure that your safety is your primary concern when arranging any such activity.
Car Hire
If your trip includes car hire the named driver must have a credit card registered in their name which they can present when they collect their car along with their driving licence, as a deposit will be held on the credit card. Please see your trip dossier for full details.
Minimum age
The minimum age for participation in our itinerary is 15 years old, however, for some activities and shared transfers, our guests may be joined by others and these may include those of a younger age. Any younger participants will be fully supervised by an adult and the guides will ensure that they are only able to participate if there will be no effect on the activity experience. None of the hotels we feature have a minimum age and so there may be families staying at them with younger children, especially during the holiday periods.
To drive a snowmobile you must have a full driving licence and be over 18 years old.
Aurora alerts
During your stay, you will be supplied with an Aurora alert. This is typically a mobile phone system to which the staff will send a text should the Northern Lights be sighted. The alerts generally operate until 1 am but it is best to confirm with your guide as times may vary.
The alerts are designed as an aid to Aurora hunting and, although every effort will be made to issue an alert should the conditions seem conducive to a display, things can change very quickly so you should not rely solely on them and should also keep an eye on the sky yourself.
Reviews
Traveller Reviews
Great Christmas
22 February 2018
The most amazing trip ever
23 January 2018
by Litong Liu
I have been to 16 countries, and this trip to Nellim has become my favourite. The hotel is beautifully decorated, the food served in the restaurant were very very delicious. We had a wide range to choose from, meat, seafood, vegetables and soup. The bed in the room was very comfortable. I had so much fun during the activities. The reindeer day was my favourite, which includes snowmobiling, visit…
Read more the reindeer farm, ice fishing, visit a local church, had a lunch around an open fire and tried the very delicious reindeer soup. Husky safari was a long ride so make sure to wear as much as you can. Cross-country skiing was a hard work but a very different experience to try. We were out to hunt for northern lights every night by different transport and had a hot drink around the open fire. We had grilled marshmallow on our final night. The tour guides are so knowledgeable and helpful with everything. They set up my camera to take the most amazing aurora photos, also helped me with wearing the shoes, helmet and everything. Every penny I spent on this trip was definitely worthy and every second in Nellim was a memory maker. Thank you.
Read less
The dogs are just amazing!
03 January 2018
by Monique Glass and Kayla Okkonen
Reindeer day - It combined a bunch of activities into the one day i.e. snowmobilling, feeding reindeer, ice fishing etc. Husky Sledding - The dogs are just amazing!
I enjoyed everything
29 December 2017
by Scott Jarvis
I enjoyed everything. Snowmobiles - got plenty of time on them and plenty of exploration; Reindeer Day - plenty of time, feeding reindeers, the farm, ice fishing, husky safari - nice to be at one with the animals and the landscape.
The guides were extremely helpful and knowledgeable
28 December 2017
by The Giles Family
The guides were extremely helpful and knowledgeable about their activity and the area. They made the trip! Really enjoyed spending time with Petri and seeing the reindeers so close. It was interesting to learn the Sámi culture and to learn the importance of reindeer to the community.
We will be using Artisan Travel Company for other annual family trips too
19 December 2016
by Aylwyn and Sharon Soo
I would like to send my congratulations and compliments for providing such a wonderful holiday to me and my family. We travelled to Finland joining the "Nellim Christmas Aurora in the Wild" tour from 19th - 26th Dec 2016. It was really an amazing trip as Nellim Hotel is located at one of the most picturesque locations we have seen! We didn't expect to receive onsite support from Artisan…
Read more Travel Company surprisingly there was an Agency representative "Kat" was there to receive us when we arrived after a long flight. She quickly introduced herself and ushered us to the lunch buffet before providing us with more information. Throughout the trip, she was always readily available onsite at Nellim Wilderness Lodge Hotel and ready to jump into assisting us should we face any issues/problems. Her performance is certainly outstanding as a tour agency representative and she sets the gold standard for it! You guys have really chosen a good site and well-planned tour activities. If you guys could inform the owners Jouko and Mari that they have the best staff onsite and the food provided each day had its variety with a different flavour to it which allows us to enjoy after a day out in the wild. From the kitchen crew to the guides, I believe Nellim Hotel has given us a deep positive impression too. Please, send our regards to Kat on her well-done job and we will be using Artisan Travel Company for other annual family trips too in the near future too.
Read less
Loved the whole experience from start to finish
02 January 2015
by Sarah Wilson
Loved the whole experience from start to finish. Other than seeing the Aurora the local activity guides and hotel staff were the best part of the holiday. They made each activity and indeed the overall experience extremely enjoyable and looked after their guests extremely well. We loved the huskies, the snowmobiles and the bubble. We would highly recommend the holiday, the hotel and your company -…
Read more thank you.
Read less
---
Gallery
Photos (11)
Videos (1)
---