Overview
Situated in a beautiful forest setting, the Arctic Circle Wilderness Lodge is an authentic Finnish escape just 20 minutes from Lapland's capital. As this is also prime Aurora territory, you'll take part in three evening activities in the hope of capturing the lights, as well as amazing daytime experiences such as dog sledding and snowmobiling.
What's included?
All of the experiences and services listed below are included in the holiday price
Flights: direct return from London Gatwick to Rovaniemi. Regional and non-UK departures available on request (flight routes are subject to change)
Transfers: return airport transfers
Accommodation: 4 nights in Stella House log cabin. Upgrades available subject to availability and supplement.
Meals: 4 breakfasts, 4 dinners
The following activities and equipment are included: snowmobile safari, Northern Lights snowmobile, evening snowshoe hike, husky safari, Aurora reindeer safari (order subject to change)
Cold weather clothing for the duration of your stay
---
It may only be a short transfer away from the airport, but Arctic Circle Wilderness Lodge is nestled in a pristine wilderness landscape.
Overlooking the river rapids and snowy forest, the setting is beautiful and feels a long way from the city of Rovaniemi, despite the transfer only being 20 minutes. As night falls and the pitch-black skies appear overhead, you'll see why this is one of the best Aurora viewing locations in the area. We have an array of night-time activities planned to give you an unforgettable adventure, and to help you fulfil your goal of witnessing the Northern Lights. From an Aurora snowmobile and evening snowshoe to a reindeer sleigh ride under the night sky, the activities are unforgettable.
The lodge also offers the exceptional Northern Lights flight as an optional extra. During the flight, you will climb above low-lying clouds and will hopefully witness an Aurora display from an incredible vantage point, should conditions be favourable.
After exploring the Arctic at night, you'll need somewhere to lay your head. Your holiday is based in traditional Finnish log cabin style accommodation, but we can also arrange upgrades for you to the Panorama Huts or the spacious Riverside Apartments.
After a hearty breakfast, we, of course, want to make the most of the daylight hours here too, which is why we include many different daytime activities. You'll see even more of the natural surroundings during an exciting snowmobile safari, then let a team of huskies take you on a dog sledding adventure. There's also plenty of time to relax. Unwind as the locals do in the large riverside sauna or take in the beauty of the Arctic with a dip in the hot tub (payable locally).
The Arctic Circle Wilderness Lodge is an ideal base from which to explore the enchanting Arctic and keep watch for the Aurora. With a short transfer time, and an itinerary full of activities, you'll be able to really make the most of your holiday.
---
Image Credits: Juho Kuva, Visit Rovaniemi Tourism & Marketing LTD
Agenda
Accommodation
Included in price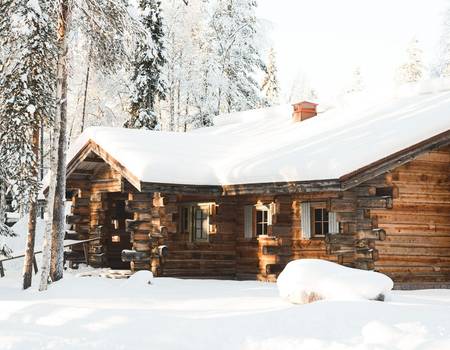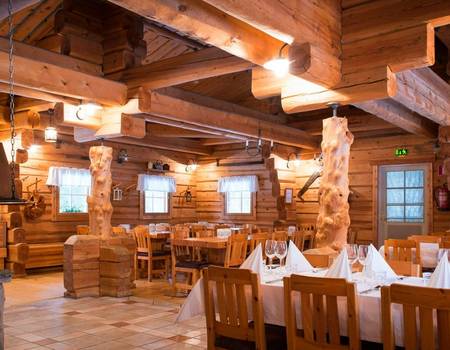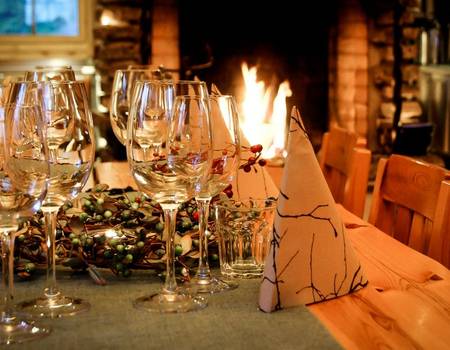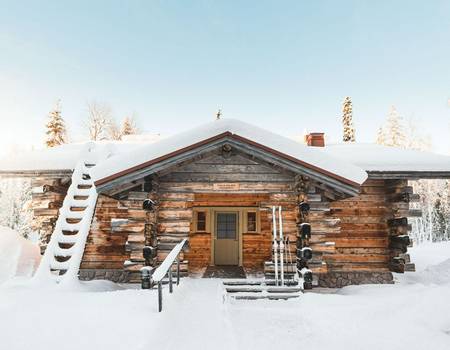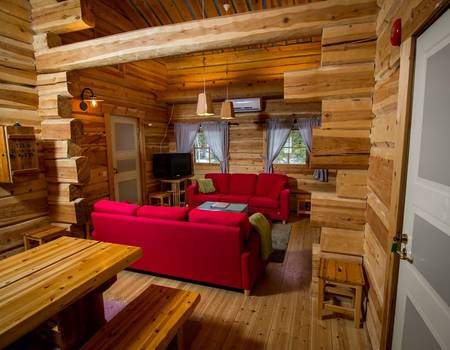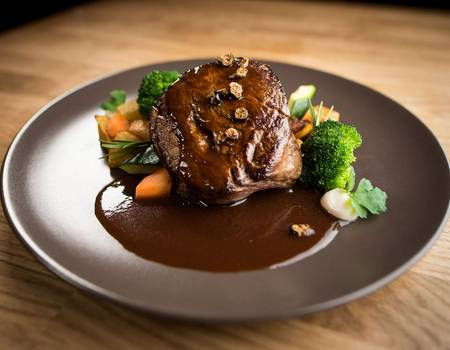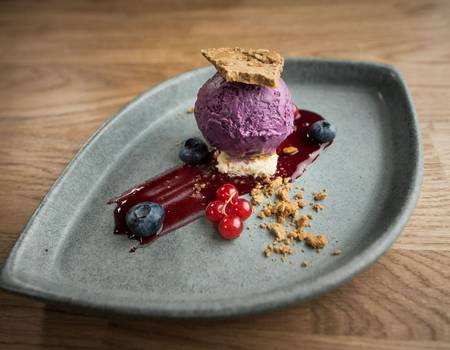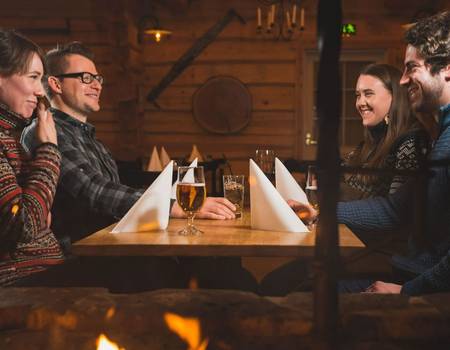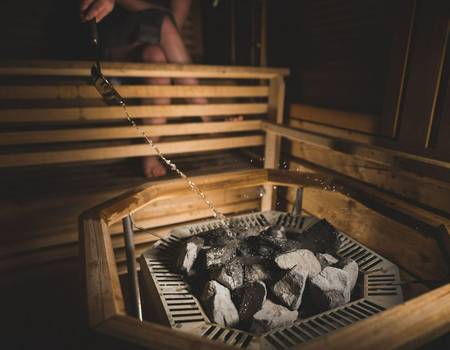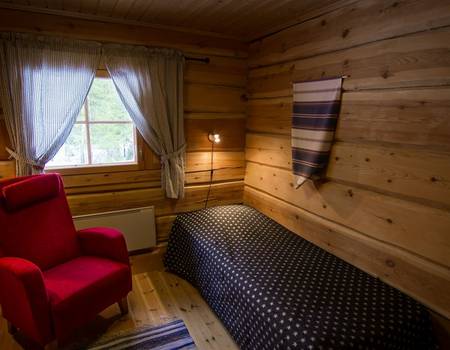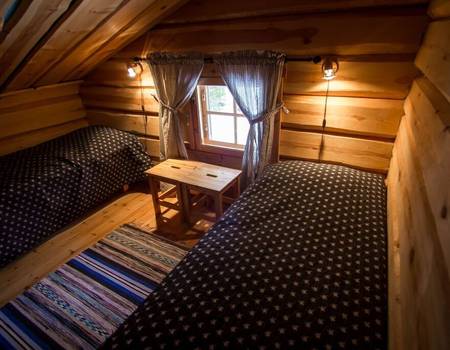 Arctic Circle Wilderness Lodge
Nights:
1-4
Overlooking the rapids of River Raudanjoki, the Arctic Circle Wilderness Lodge offers a variety of amazing accommodation options at its peaceful riverside setting. Only a short transfer from Rovaniemi airport, the resort is hidden amongst the forest with fantastic views of the river and out to the wilderness beyond. A perfect spot for Aurora hunting in the Arctic Circle.
With rustic wooden beam interiors and the gentle glow and warmth from a crackling fire, the cosy atmosphere in the main hotel building is immediately welcoming and the feeling continues throughout the accommodation which is only a short walk away.
There are several room types available, with some based in large log cabins, each with a traditional design and others based in semi-detached riverside cabins. There are also the detached Panorama Huts, with floor-to-ceiling windows looking out over the beautiful surroundings. Please contact us for a quotation.
Hotel Facilities
Main lodge with a cosy communal room and a large stone fireplace in the dining room, adding a warming glow to meal times. A former lumberjack's lodge, the wooden walls are decorated with various tools of the trade
WiFi is available in all room types and in the main hotel building. Please note that this can, of course, be disturbed by unpredictable weather and heavy snowfall
The riverside hot tub and sauna offer relaxation with stunning, idyllic views of the rapids. These are bookable for an extra charge, based on private use. You can book these in advance, or locally
Evening meals during peak times are typically served in a buffet style. Outside of these periods, the buffet menu is normally rearranged to a hearty set menu. In most cases, this consists of a warming soup starter, followed by a set main course (typically either meat or fish dish with vegetables and sides), and a dessert with tea and coffee. The set menu is served at the table. Please let us know at the time of booking if you have any dietary requirements
Lunch is not included during your time here, however, this can be booked in advance if you wish, or you can arrange it locally, as long as you pre-order the night before.
The main lodge has a small bar area, where you can purchase a range of beer, wine, spirits and soft drinks
Stunning riverside views on your doorstep due to the hotel's setting next to River Raudanjoki
Stella House
Merely 100m from the main hotel building lies Stella House. This large log cabin has an interior inspired by traditional Finnish heritage, primarily lumberjack workers living and working in the forest and amongst the wilderness. This is clear from the cabin's décor, as both the exterior and interior are lined with rustic logs, and the comforting smell of wood greets you as soon as you step through the door.
The house is made up of five bedrooms, all with private, ensuite bathrooms. Every room has three beds – two in the loft (accessible by steep stairs), and one on the bottom floor.
Bedrooms lead onto a communal lounge area, which is shared with guests staying in the other rooms in the cabin. The large, homely sofas and armchairs make this space perfect for an evening of reading and relaxing after a busy day out in the snow. The lounge also has a television and a mini-kitchen.
The entrance to the cabin has a small terrace for admiring the views (and maybe even the Northern Lights!) and all of the windows look out onto the snow-tipped pine trees of the forest.
Read more
Read less
---
Other options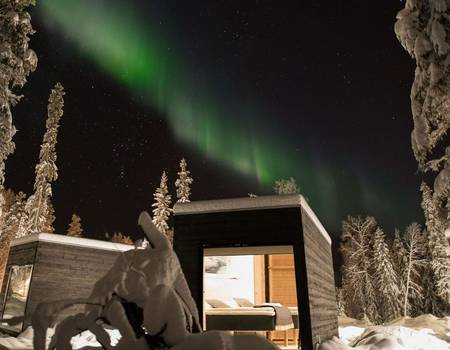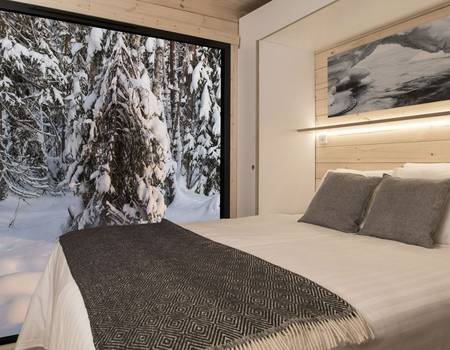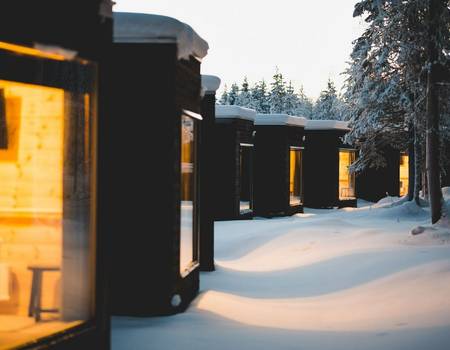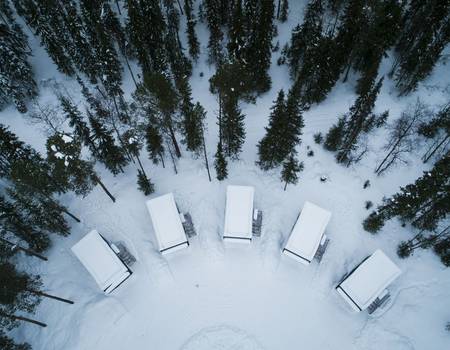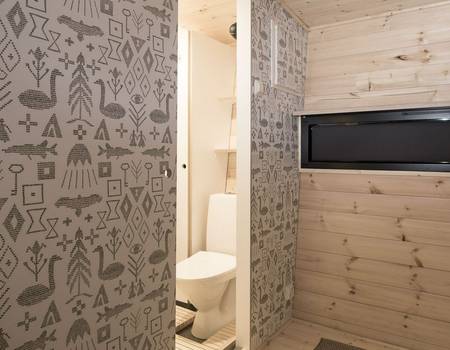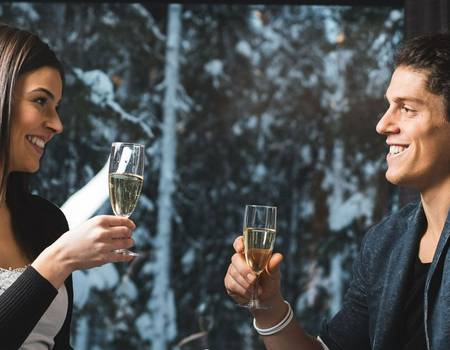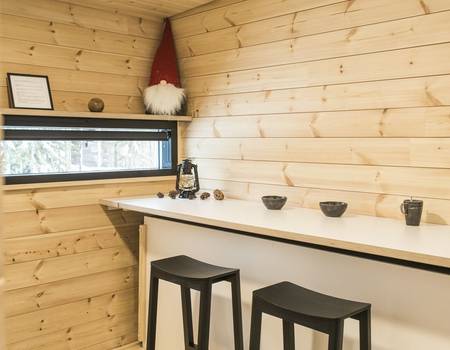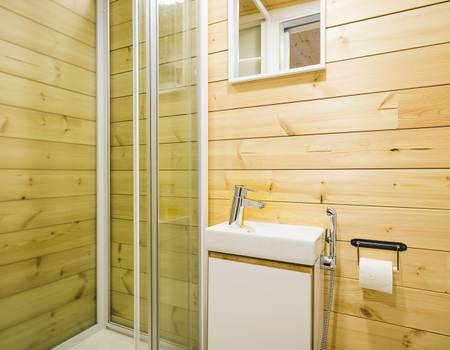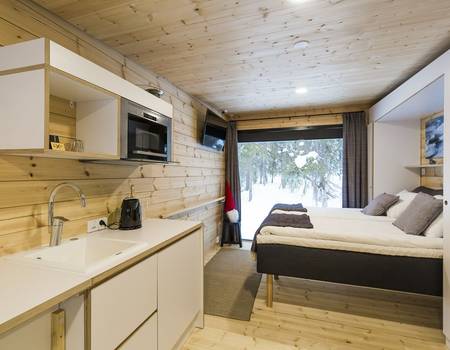 Panorama Huts
Supplements from: £189pp
The Panorama Huts are placed in the heart of nature, with a floor-to-ceiling window that makes you feel as though you are in the middle of the snow-drenched forest landscape while still being toasty warm.
The cabins showcase a modern, slick style, whilst blending in with the lodge's natural surroundings.
Each cabin has two twin beds or one queen bed, which have been placed beside the window so that you can wake to views of the amazing forest. You never know, you may even have the chance to witness the Northern Lights from the comfort of your bed. There is space for a third bed should your group require it. On top of all of this, the cabins are complete with a private shower room and a kitchenette.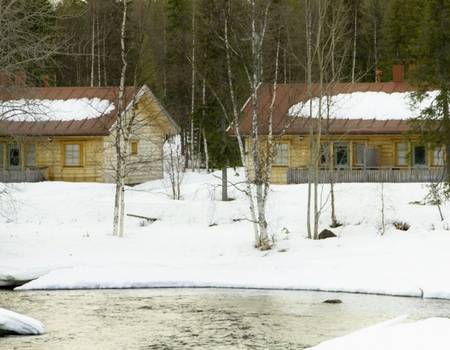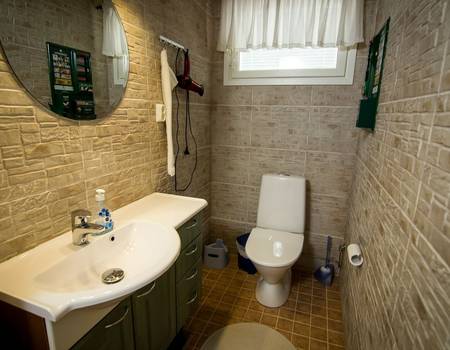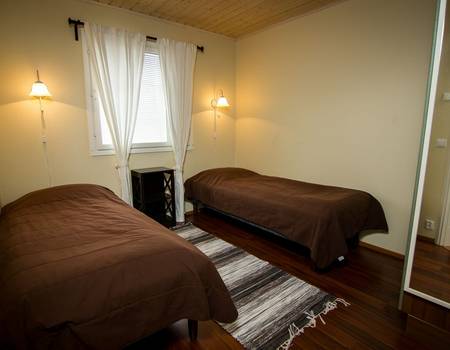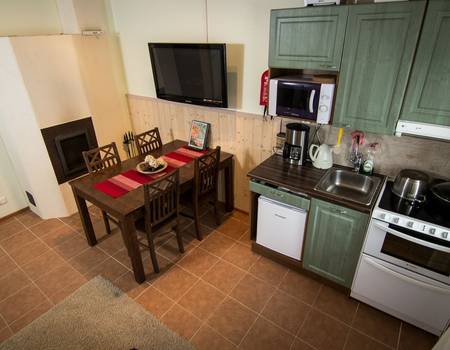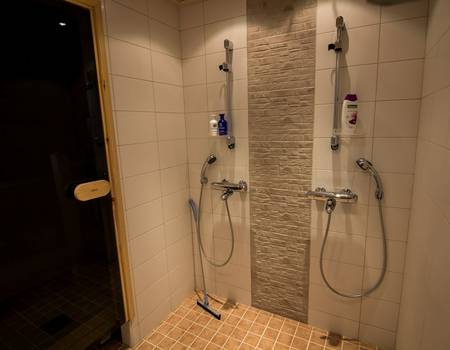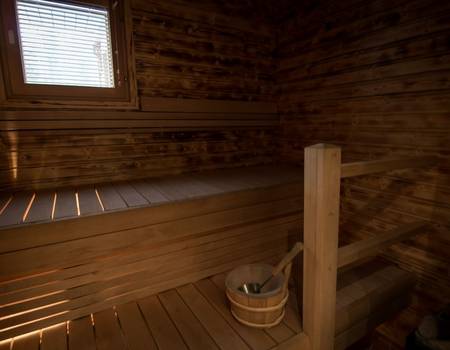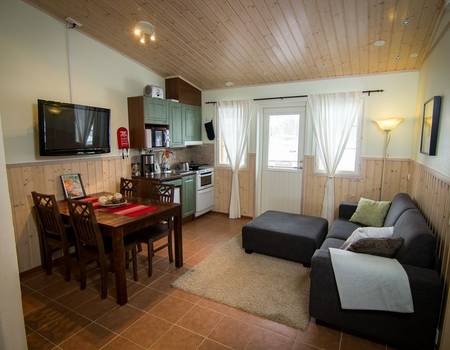 Riverside Apartments
Supplements from: £272pp
Situated on the peaceful riverside, with just the sound of the rapids splashing by, these semi-detached apartments put you in the heart of the wilderness whilst being only a short walk from the main hotel building and restaurant (250m away).
The Riverside Apartments showcase a traditional Finnish style, using wood from the local forests. Overlooking the river and snow-capped trees, the views are best enjoyed when you step outside the living room to your private terrace. Equipped with a fireplace and private sauna, the apartments are a brilliantly cosy place to come back to after a day exploring the Arctic.
Facilities
Each cabin comes with two twin bedrooms, a cosy living room with a fireplace, dining area with TV, small kitchen, toilet, private sauna with shower room and a private entrance. An extra bed is available in the living room with convertible sofa.
Personalise
Personalise this tour
---
Our pick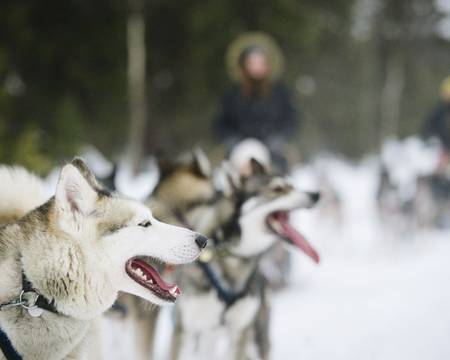 Husky safari in the deep forest
Get away from it all during and incredible dog sled adventure. After a transfer to the kennels, you will meet your dogs and be shown how to control a sled and team. You will then set off on a thrilling trip along the trails, for around 1.5 hours, taking in the stunning wilderness as you go. You'll cover between 14 and 20km depending on conditions.
Back at the kennels, you will be served warm drinks and cookies as you hear stories and ask questions about the lives of the sled dogs.
Two adults will travel per team (one driving) and up to 2 children can also travel in the sled. Upgrades to single sleds are available on request.
Duration: Approx. 3 hours including transfers
Min age 4 years old
Available: 10 Jan to 04 Apr at 12.45pm daily
---
Other options
Activities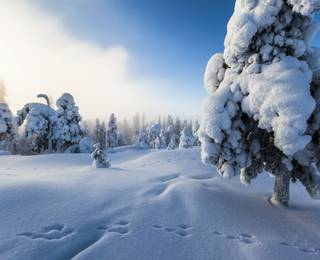 Wilderness Photography Expedition
From: £155pp
A full day out in the wilderness is an incredible experience. The itinerary today can be altered slightly to fit the preferences of the group, but typically you will travel to two destinations during the day. At each location (and en route) there will be photographic opportunities. Travelling by minibus you will then continue on foot.
You will hike through the wilds, led by an experienced guide with excellent photography skills. They know all the secret spots, far away from the crowds. They will ensure that you get to experience a broad spectrum of landscapes and nature throughout the day.
Guests will need their own photography equipment for this trip.
Read more about this activity
Duration: Approx. 5-6 hours including transfers
Minimum age: 13 years old
Available: 01 Dec to 31 March at 9 am daily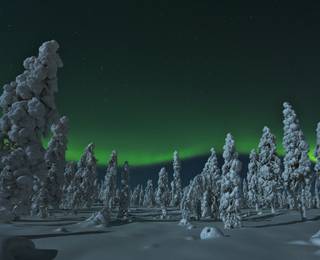 Northern Lights Photography
From: £202pp
We not only want to give you the best possible chance of seeing the Northern Lights with your own eyes, but we also want to help you capture them on camera too. Night-time photography can be a little tricky which is why we have an expert photographer on hand to help you with your camera settings. Locations are chosen based on the best weather conditions and our guides use their local knowledge to find the best photographic spots and you will travel by minivan in search of the Aurora. Guests will need to bring their own DSLR camera.
Included: Return transfers, all described activities, hot drinks and snacks, walking/snowshoe trip to reach perfect location, use of thermal clothing, guidance in English but other languages available on request
Duration: approximately 4-5 hours including transfers
Read more about this activity
Minimum age: 13 years old
Available: 01 Dec to 18 March at 8 pm and 19 March to 31 March at 10 pm
---
Image Credit: Visit Rovaniemi Rovaniemi Tourism & Marketing Ltd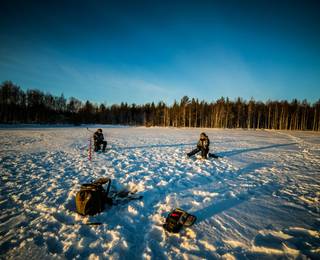 Get an insight into Lappish culture by trying your hand at ice fishing. You'll be taken by car to one of the many frozen lakes or ponds in the area where you'll then learn how to ice fish. You'll keep warm with sausages and hot drinks by the campfire as you wait in the tranquil surroundings for your catch of the day.
Duration: 3 Hours
Available: 01 Dec - 31 March at 11 am
---
Image Credit: Visit Rovaniemi Tourism & Marketing LTD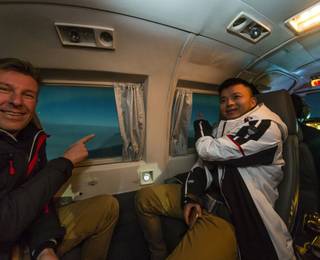 Northern Lights flight
From: £390pp
Cloud cover can sometimes obscure the Northern Lights when hunting at ground level and this incredible and innovative activity is the perfect solution.
The Northern Lights Flight is an amazing opportunity for you to get above low-lying clouds, meaning that if the solar activity levels are favourable, you should get the most incredible views of the Aurora Borealis. You will fly aboard a small, private plane, which has a maximum capacity of seven passengers.
Duration: approx. 2 hours including transfers, with approximately 1 hour of flight time including safety briefing and procedures.
Read more about this activity
Minimum age: 4 years old
Minimum numbers: there is a minimum of 2 persons needed for the Northern Lights flight to go ahead. There are 7 seats on the plane, which will be filled on a group departure. Private flights can be requested but passengers would need to cover the cost of 7 passengers in order to guarantee no other persons are booked on the same flight.
Available: 01 Dec to 31 March at 8.30 pm daily
Please note: if reports show that cloud coverage is too high or weather conditions are unfavourable before take-off, then the Northern Lights flights will be cancelled. However, this is a rare occurrence and all money will be refunded when a flight does not take off, or the flight will be rescheduled for another day if possible. Weather patterns can change quickly however and so in some cases, a flight may take off and the cloud base may rise, sadly this is beyond anyone's control and no refunds will be given in this case. Please be advised that the plane can fly to an altitude of around 3000 metres.
---
Image Credit: Arctic Circle Wilderness Lodge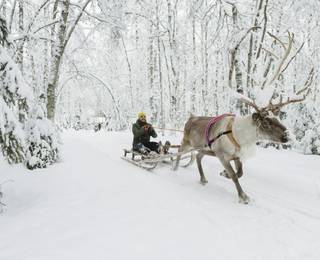 Reindeer safari through the deep forest
From: £125pp
You'll travel to a nearby reindeer farm just outside of Rovaniemi where you'll meet real reindeer herders who will tell you all about their way of life. The main event, however, will be riding along a 3.5km trail through the forest in a reindeer-pulled sleigh. You'll also have time to feed the animals with their favourite food.
Warm drinks and a pastry will be served during the activity as you enjoy tales about life in Lapland and the history of herding.
Duration: approx. 2.5 hours including transfers
Read more about this activity
Min age 4 years old
Available: 01 Dec to 31 Dec at 9 am and 12 pm daily, 01 Jan to 31 March 10 am and 2 pm daily
---
Image Credit: Visit Rovaniemi Rovaniemi Tourism & Marketing Ltd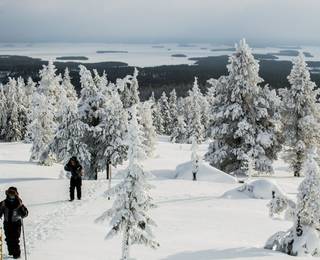 Snowshoes help you walk across the thick snow with ease, giving you access to some incredible trails. You'll either start your hike from the lodge today or be transferred to a starting point a little further away. Please note that it is possible that it will be the same route as your evening snowshoe hike. You will then head out into the wilderness with your guide, where you'll easily get to grips using your snowshoes. Here, you'll walk among the snowy forest and take in the full beauty of your surroundings. There will be a break around the fire to enjoy a warming hot drink and snack.
Duration: 2.5 hours
Min age: 8 years old
Available: 1 Dec to 31 March at 12 pm daily
---
Image Credit: Visit Rovaniemi Rovaniemi Tourism & Marketing Ltd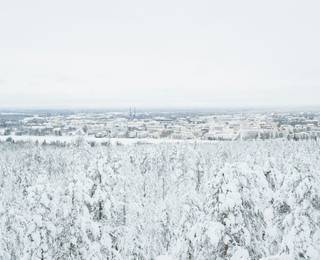 Visit to the frozen waterfalls in Korouoma National Park
From: £157pp
Korouoma is a beautifully rugged destination where a long crack in the bedrock has led to the formation of many waterfalls, which freeze in the winter months. They are situated around 1.5 hrs drive from Rovaniemi, but they are well worth the travel. The ice falls here are up to 60 metres high and a real sight to behold. You will enjoy a moderate hike around the area covering around 5km in varied terrain. You can take pictures of these huge ice formations before having a picnic lunch by an open fire.
Duration: approx: 5 and a half hours including transfers
Read more about this activity
Min age: 8 years old
Available: Mondays, Wednesdays and Fridays at 9 am from 1 Dec to 15 April
---
Image Credit: Juho Kuva/Visit Finland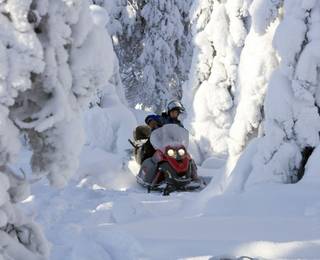 Snowmobile safari to a reindeer farm and Santa Claus Village
From: £179pp
You'll head out on an exciting snowmobile ride to explore the landscape around you. Taking to the forest trails, you can admire the winter wonderland and see some amazing views along the way. After this thrilling ride, you'll head to a local reindeer farm where you'll have a short sleigh ride. Hot drinks and snacks will be served in a traditional Finnish Kota, along with a presentation on the many myths and legends of the Arctic Circle.
Following this, you'll have lunch at the Santa Claus Village where you'll also have free time to explore this magical village and even meet the man in red himself.
Read more about this activity
The trip lasts approximately 6 hours and the riding time on the snowmobile is approximately 1 hour and 30 minutes. You must be over 18 years old and hold a full driving license to drive a snowmobile. Two people will share a snowmobile or you can arrange for your own at an extra charge. Children can take part in this activity as they will travel in the sledge pulled by the guide's snowmobile. You'll also be awarded the International Reindeer Driver's Licence and the Arctic Circle Crossing Certificate.
Duration: Approx. 6 hours including lunch and transfers
Minimum age: 4 years old
Available: 01 Dec to 31 March at 9 am daily
---
Image Credit: Visit Rovaniemi Rovaniemi Tourism & Marketing Ltd
Little Extras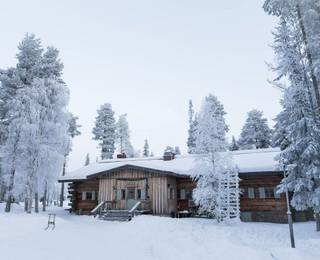 Hot tub
Unwind even further and soak in your surroundings in the Hot Tub with spectacular views of the natural landscape.
Duration: 1- 3 hours
Price: £333 per booking
---
Image Credit: Arctic Circle Wilderness Lodge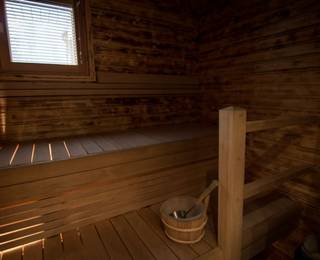 Sauna
Saunas are a Finnish tradition where locals go to unwind with friends and family. You can have your own relaxing experience in the large riverside sauna.
The sauna is usually for 1-4 people but you can also reserve for larger groups (supplements will apply).
Contact us for a quotation.
Duration: 45 minutes
Price: £40 per booking (1-4 people)
Charge for additional people: £12 per person
---
Image Credit: Arctic Circle Wilderness Lodge
Dates & Prices
Price Comparison Guarantee
Expertise and knowledge are key to witnessing the Northern Lights. We've been running Aurora hunting holidays longer than any company in the UK and with no lead in prices, no hidden costs and more included, we're confident our tours will come out on top.
Price based on 2 adults (13+) sharing a Stella room (en-suite with shared lounge area)
Prices
Next season's pre-sale dates and prices
To secure your holiday for next season, you can make a pre-sale booking and fix the price of your trip at the pre-sale price displayed below. Simply by paying an initial deposit of £100pp, you will protect yourself from any package price increases. The departure dates and itineraries remain preliminary and we will contact you when the final dates and itineraries are confirmed, you will then have 14 days to decide if you would like to go ahead. A further deposit payment will be due at the time of us confirming the trip details to you. If you decide not to travel, we will refund your full deposit payment. We reserve the right to charge supplements where there are significant changes to an itinerary or increases in flight costs. Any non-package rates remain subject to change.
Dates

Wed 02 Dec 2020
to
Sun 06 Dec 2020

Enquire

Adults

£ 1,815

Wed 09 Dec 2020
to
Sun 13 Dec 2020

Enquire

Adults

£ 1,790

Wed 06 Jan 2021
to
Sun 10 Jan 2021

Enquire

Adults

£ 1,620

Wed 13 Jan 2021
to
Sun 17 Jan 2021

Enquire

Adults

£ 1,515

Wed 20 Jan 2021
to
Sun 24 Jan 2021

Enquire

Adults

£ 1,600

Wed 27 Jan 2021
to
Sun 31 Jan 2021

Enquire

Adults

£ 1,525

Wed 03 Feb 2021
to
Sun 07 Feb 2021

Enquire

Adults

£ 1,570

Wed 10 Feb 2021
to
Sun 14 Feb 2021

Enquire

Adults

£ 1,525

Wed 17 Feb 2021
to
Sun 21 Feb 2021

Enquire

Adults

£ 1,950

Wed 24 Feb 2021
to
Sun 28 Feb 2021

Enquire

Adults

£ 1,630

Wed 03 Mar 2021
to
Sun 07 Mar 2021

Enquire

Adults

£ 1,675

Wed 10 Mar 2021
to
Sun 14 Mar 2021

Enquire

Adults

£ 1,705

Wed 17 Mar 2021
to
Sun 21 Mar 2021

Enquire

Adults

£ 1,675
Please note: our holiday prices are based on the lowest available airline fares. These fares can sell out quickly and, as a result, prices may increase and supplements may be applicable. We recommend booking at the earliest opportunity to secure the best possible fares and flight times.
Terms
For our full booking terms and conditions please click here
The Specifics
Holiday group size (approximate)
Minimum numbers required for this holiday to run vary from 2 to 8 people (depending on departure date). Maximum 30 people (approximately). Please speak to our Travel Experts for further information.
Group Size
We always try to provide an approximation of the group size you can expect to be with for the duration of each of our holidays. It may be that you are joined by others for parts of your holiday (such as transfers and particular activities) but the above number reflects those you can normally expect to be with from beginning to end. If group size is something which is particularly important to you, please speak to our Travel Experts and they can suggest the best holidays for you.
Tailor-made holiday group sizes will vary for all activities as will the group size for any additional activities you book.
Minimum numbers required for a holiday to operate
Some of our holidays require a minimum number of participants to operate (as listed in the 'Group Size' section). If your holiday departure has not yet reached the minimum number, you will be told at the time of booking. In the unlikely event that your chosen date is not guaranteed by nine weeks before your scheduled departure date, we will contact you to discuss the available options as per our booking conditions.
Minimum and maximum age
If a specific minimum age applies to this holiday, it can be found in the Key Facts box on the holiday Overview page.
Unless otherwise stated in the Key Facts box on the holiday Overview page, the minimum age for participation in an Aurora Zone holiday is typically 12 years old (there may be younger children in some destinations who have booked with other companies). If an adult-only environment is important to you, then please contact our Travel Experts and they will advise on the best dates and destinations for you. If you are looking for a holiday designed specifically for families then please see our sister company www.activitiesabroad.com.
Itinerary amendments
The order of activities listed in this agenda is provided for guidance only, your final and detailed itinerary will be provided either with your final travel documents (which are uploaded into your online account around a week prior to departure) or upon arrival.
Medical History and Advice
We want our holidays to be accessible as they can be and will do our best to accommodate any special requests and requirements where possible. We have a wide range of holidays and destinations and so our travel experts will help find the best holiday for you.
In order to give us the best possible chance to do this, we ask that if you or any member of your party has any medical condition or disability which may affect your holiday or has any special requirements, that you tell us at the time of enquiry or booking. You must also promptly advise us if any medical condition or disability which may affect your holiday develops after your booking has been confirmed. You may need to provide a doctor's note and proof of insurance in some cases as the health and safety of our clients is absolutely paramount.
In providing this information you are allowing us to work with our expert local partners to ensure that your whole party can enjoy the holiday. By letting us know in advance we can discreetly work with you to adapt any part of the holiday which may potentially be challenging. Being able to prepare for this in advance makes an incredible difference to what we can offer and minimises any impact on your party and the rest of the group.
Unfortunately, if you choose not to share this information with us in advance then it may limit some or all of the itinerary you have booked, and we cannot be held accountable for any additional costs or missed activities resulting from this.
Insurance
Insurance is not included in your holiday, but it is a pre-requisite to travelling with us. You will need to ensure that you have cover for all the activities that you will be participating in during your holiday.
It is extremely important that you take out a suitable travel insurance policy at the time of booking. Plans do sometimes change, and you will need this policy should you need to cancel your holiday.
If you are struggling to find a suitable policy then details of our preferred provider, who will cover you for all the activities we offer, can be found on our website by clicking here. Please note that this policy is available to EU residents under the age of 75 only.
Booking Activities Locally
Additional activities can be booked locally in almost all our destinations. However, as per our booking conditions, we cannot be held responsible for any injury or loss incurred through participation in activities which are booked at your destination outside of our holiday itinerary (see our 'Terms and Conditions' for further details).
When arranging any such activity please always ensure that safety is your primary concern.
In some of our destinations, you can borrow or hire equipment for use in your free time. You do so entirely at your own risk. You must ensure that you are properly prepared, have the necessary equipment and knowledge (maps, etc) and ensure that where applicable, you follow marked routes. We recommend discussing your plans with the local teams who will be able to advise on the most suitable options for you.
Always let the reception/guide know where you are planning to go and take a torch and mobile phone (with the hotel/guide's phone number stored). It is also a good idea to leave your contact number and the time you expect to return to the hotel should the hotel need to contact you.
The UK Foreign Office Advice
Our clients' safety is at the centre of everything we do, and our operations team continually assesses and monitors the destinations we feature. We carry out thorough risk assessments and work closely with all of our suppliers to continually follow best practice. For up to date travel advice the UK government offers its Travel Aware website as well as the advice detailed below.
The Foreign and Commonwealth Office Advice
We receive all updates from the Foreign and Commonwealth Office (FCO) with regards to travel advice and we always ensure that we follow this advice in our operations. The FCO issues travel advisories for countries based on a very wide range of factors. They may provide notification about things as simple as a football match and crowds, or they may go so far as to advise against all travel to a region. We ask all our clients to refer to the relevant Travel Advice by Country for the destinations they are visiting in order to make an informed decision on the safety of the destination based on the details provided. It also provides vital information regarding entry requirements, embassy information, local laws and customs as well as specific safety and health. Guests should take responsibility for keeping themselves up to date with this advice. Please also ensure that, if you are transiting through another country, you have read the advice and meet the entry requirements for that destination too.
The FCO travel advice is applicable to British Passport Holders. Most governments will issue their own travel advice for a region and, if you are not a UK resident then you can find some helpful links below:
Australian Department of Foreign Affairs and Trade http://www.smartraveller.gov.au/
New Zealand Ministry of Foreign Affairs and Trade https://www.mfat.govt.nz/
Canadian Consular Affairs Bureau http://voyage.gc.ca/
The U.S. Bureau of Consular Affairs https://travel.state.gov/content/travel/en/international-travel.html
If the FCO deems that there is an unacceptable level of risk for UK citizens then, together with the government, they may issue an advisory against all travel to a region or country. If such an advisory is published, then we will act accordingly, and this may require the cancellation, curtailment or amendment of a holiday itinerary. These decisions are made on the basis of ensuring our clients' safety and will affect all clients on the holiday, regardless of their nationality.
If one of our local experts suggests an amendment due to a situation which develops locally then we may also take the decision to amend an itinerary appropriately.
If we have to cancel your holiday prior to departure you will be offered the option of an alternative trip (where any price difference will either be refunded to or covered by you) or a full refund of the monies paid.
If we have to curtail a holiday, then you will be refunded for any costs for the elements we have been unable to deliver, where we have been able to secure a refund from our suppliers. If we must reroute a holiday, then any basis for refund is determined on a case by case basis and dependent on whether the central holiday experience was provided or not.
Brexit information for British Passport holders
For the most up to date information on how the UK's departure from the EU may affect your holiday please click here to view our Brexit information for British Passport holders.
Flight schedule changes and connecting transportation
On your documentation, we will confirm your flight schedule. Sometimes the flight number, routing and timings might change prior to your departure. If the change is classed as a significant change then we will contact you to discuss this. Please see our booking conditions for details.
Flight schedule changes can impact on your pre and post-holiday travel arrangements if these have been booked separately to your holiday. We strongly recommend that you do not book transport (such as trains or transfers), car parking or non-connecting flights to the departure point for your holiday until you have received your final confirmed travel times when your final travel documents are issued. We are not responsible for the effect of any schedule change on your pre or post travel arrangements. We strongly recommend that you do not purchase non-flexible or non-refundable tickets to avoid cancellation and penalty charges.
Booking your own flights - cancellation disclaimer
If you have chosen to book your own flights, then you will need to wait until we confirm to you that the holiday departure has met the minimum numbers required to run (if applicable to your chosen holiday). Once the holiday is guaranteed to run, you will be informed and you can then make your arrangements.
If transfers are included in your holiday, please ensure that any potential flights will be met by our standard transfers (speak to one of our Travel Experts for advice) otherwise private transfer supplements may be applicable. Once your flights are booked, please send us a copy of your detailed flight itinerary.
Please be aware that most tickets are non-refundable in the case of cancellation. For this reason, we strongly advise you check the rules of the ticket and check the limitations of your cancellation insurance before booking. We cannot be held liable, in the unlikely eventuality that we should be forced to cancel or amend your trip, for losses incurred relating to any flight booking you have made.
Terms and Conditions
Our full booking terms and conditions can be found on our website: https://www.theaurorazone.com/booking-conditions
Reviews
Traveller Reviews
Rovaniemi - Aurora Hunting at the Arctic Circle Wilderness Lodge
08 January 2020
by Susan & Lisa Jago
All our activities were a lot of fun
Exceptional holiday, wonderful packed programme in a stunning country. The Finnish were without exception very friendly, lovely people.
20 March 2019
by Caroline Adcock
Thoroughly enjoyed all activities, snowmobiling was great. The night time snowmobiling was ethereal, quite magical. The day snowmobiling was quite a contrast as much faster. The guides were great, extremely helpful. Snow shoe hike was hard work and good fun. The reindeer rides were very gentle and through stunning surroundings.
It was a perfect mix of activities and relaxation
13 February 2019
by Tracey & Gino Dimatteo
Fantastic service from start to finish. Booking office staff very knowledgeable and helpful. Loved our perfect accommodation in the panoramic hut surrounded by a beautiful forest setting. Food was fabulous. This was one of my favourite holidays ever. All the staff were so friendly and welcoming. Loved Finland.
---
---