Menesjärvi - New Year Wilderness Auroras
HOLIDAY TYPE:
Small Group
VISITING:
Finland
BROCHURE CODE:
21004
All prices include: flights, transfers, accommodation, meals, guided activities and cold weather clothing; all as listed.
Overview
Welcome in the New Year in the spectacular wilderness surroundings of Menesjärvi during this four-night break. Enjoy unforgettable experiences such as a husky safari and snowmobiling as well as night-time searches for the Northern Lights.
What's included?
ALL OF THE ACTIVITIES AND SERVICES LISTED BELOW ARE INCLUDED IN THE HOLIDAY PRICE
Flights: indirect return flights from London Heathrow to Ivalo (via Helsinki). Flight routes subject to change.
Transfers: return group airport transfers
Accommodation: 4 nights in twin/double hotel rooms
Meals: 4 breakfasts, 3 lunches, 4 dinners
The following activities and equipment are included in the price: snowmobile safari and ice fishing, Aurora workshop and Aurora snowshoeing, morning with a reindeer herder, New Year's Eve kota dinner, husky safari, visit to the Sámi Siida Museum, Aurora snowmobile safari (the order of activities is subject to change)
Cold weather clothing is provided for the duration of your stay
Free use of snowshoes and cross-country skis
Services of our expert local guides
Please note: The Sami Siida Museum will sadly be closed for renovation for the 2021/2022 season so the main exhibitions are not accessible. Guests will be able to visit the gift shop and the open air museum – an outdoor trial showcasing exhibits on the cultural heritage, architectural heritage and livelihoods of Finland's three Sámi cultures. Guests are also welcome to visit Sajos, an architecturally beautiful building in the heart of Inari which is home to the Sámi Parliament and is the centre of Sámi culture and administration. Guided tours and an informative video are offered throughout the day and there is also a shop selling Sami handicraft, books and music.
---
There can be few better locations for welcoming in the New Year than Menesjärvi. This is not a destination for those looking for lively nightlife but with its remote wilderness location, lakeside setting and lack of light pollution, Menesjarvi offers a wonderful sense of escapism. There is also huge potential to witness the region's own bright lights as the Aurora Borealis is a frequent guest here.
Your four nights will be spent at Hotel Korpikartano, a hotel that brims with character and offers a warm welcome to all its guests. The accommodation is simple and cosy, providing all the essentials. The staff members here are wonderful and the location is incredibly special.
As one of our active trips, this itinerary is designed to keep you busy during the day and at night. That said, you do also have some time to simply relax and tailor your four-night holiday.
Highlights of the Northern Lights trip include a snowmobile ride to go ice fishing, a morning with a traditional Sami reindeer herder and a memorable husky safari in the Arctic wilds.
Your evenings will, of course, be spent seeking out the Aurora with a snowshoe walk, Northern Lights snowmobile trip and a special New Year's Dinner in a lakeside kota all included.
We love this location because it has everything a wilderness setting should have: endless snow-covered fells and forests, the vast expanse of frozen Lake Menesjarvi and absolute silence all around. This remoteness, not only ensures that you get a fantastic sense of peace but also means that your chances of seeing the Northern Lights are excellent.
Welcoming a New Year in this unique and remarkable environment is sure to be something you will never forget.
---
Image credit: Timo Halonen & Ville Heimonen
View Gallery
Download Holiday Overview
Download Trip Notes
Key facts
| | |
| --- | --- |
| Duration: | 4 nights |
| Pace: | Active |
| Suitable for: | Ages 16+. See our terms for further information. |
Make an enquiry
Agenda
Accommodation
Included in price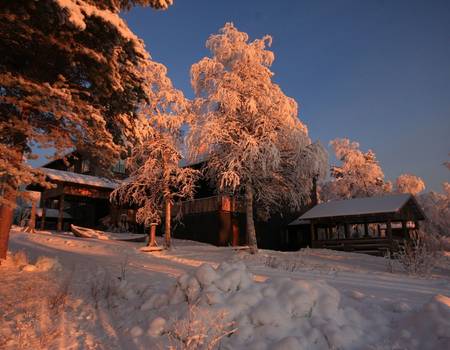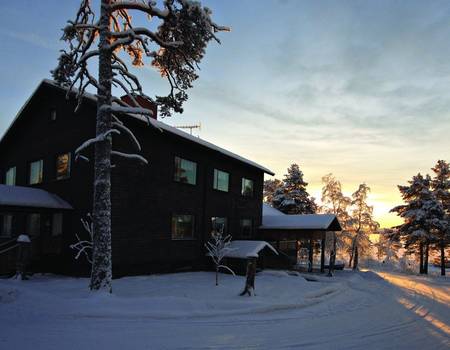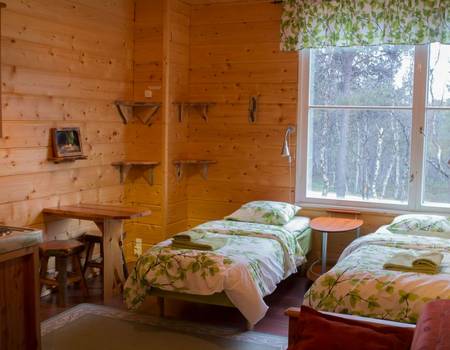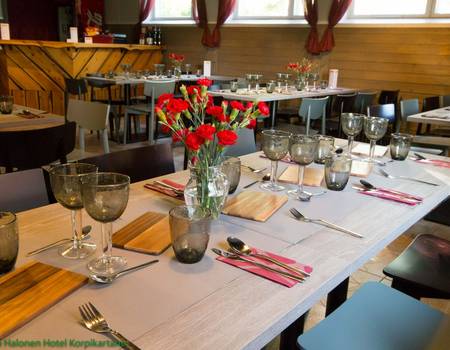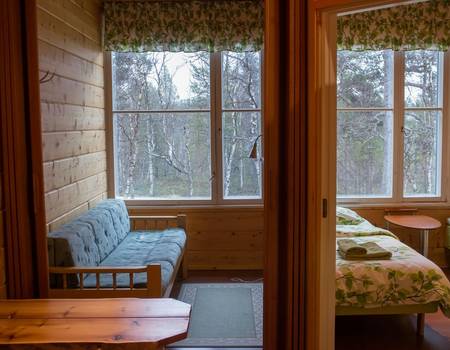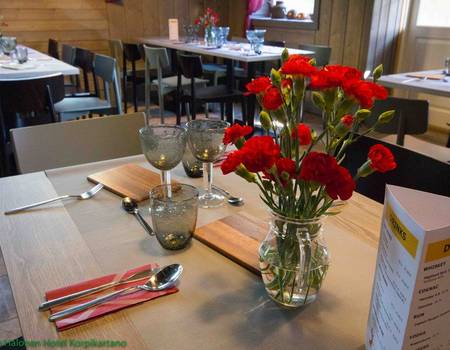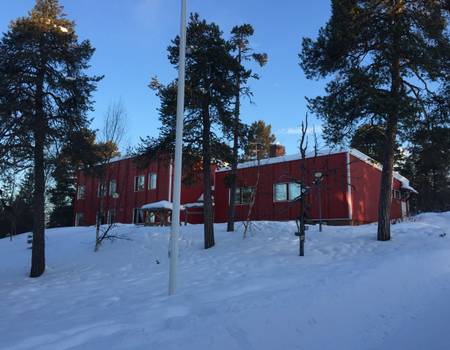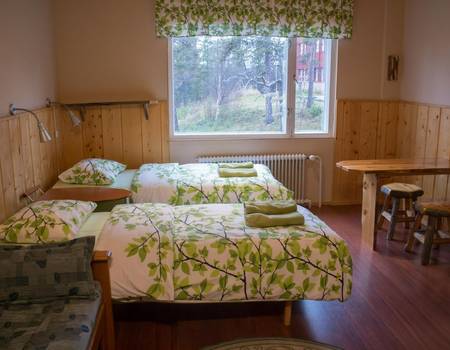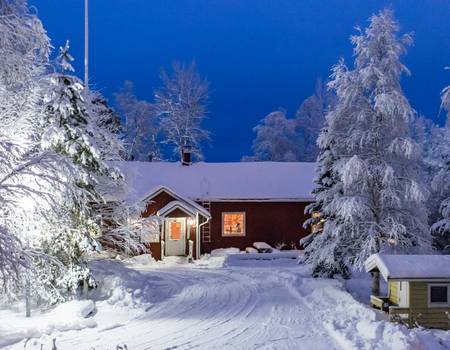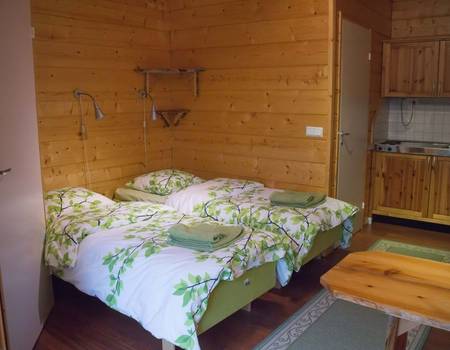 Hotel Korpikartano
Nights:
1-4
Hotel Korpikartano is a very special place in a breath-taking location in Finnish Lapland. Its situation could not be more idyllic, with a fantastic outlook over Lake Menesjärvi and the remote wilderness beyond. The lack of artificial light in the area ensures that if the Aurora appears, then you can enjoy amazing displays from very close to the hotel.
Hotel Korpikartano was originally a boarding school for those growing up in this remote part of the world and is, therefore, full of quirks, character and charm. The welcome provided by the dedicated team at the hotel, creates a wonderful atmosphere and their passion for the region is infectious.
The staff and guides have a huge passion for this landscape and for providing guests with a truly memorable stay.
The hotel comprises of two main buildings. The first houses the dining room and a number of bedrooms. A separate annexe building (a very short walk away) houses the majority of the guest accommodation.
It is a place with great soul and which offers guests the chance to completely switch off from the everyday and relax in a wild and beautiful environment. You are likely to leave feeling very privileged to have experienced this wonderful place.
Hotel facilities
Traditional home cooking is the order of the day in the hotel's dining room. The food can be described as 'simple, tasty and hearty' and is very much designed to fuel you up for your outdoor adventures. In many cases, the evening's set menu will contain local ingredients such as fresh fish that one the staff has caught, berries which have been foraged, or meat purchased from the local reindeer herders. The set meals are all self-service. Breakfast is a buffet of breads, meat, cheese and fish with the addition of porridge and fruit. Lunch and evening meals start with a salad and bread, a set main and then a pudding which is often a local speciality. Please let us know at the time of booking if you have any dietary requirements so these can be accommodated.
You can also purchase a range of wine, beer and spirits to accompany your meal.
Obviously, saunas are a pre-requisite in these parts and there are two, one in each building. They can each be booked privately by guests each day in hour long slots.
There is an outdoor wood-burning sauna and rustic hot tub. Should you request the use of the outdoor sauna (a local charge will apply), don't forget that a dip in the lake (in autumn) or a roll in the snow (in winter) is almost obligatory (as long as you are in a good physical condition).
The simple lounge (near the reception) provides tea and coffee making facilities. Consider this to be the perfect spot to relax by the stove with a book but remember to keep your eyes peeled for the Northern Lights as the windows face north!
There is free Wi-Fi for guests to use throughout both buildings and there is a PC available at reception.
Books and games are also available to borrow from reception.
If you are travelling in the winter then the hotel offers free use of snowshoes, cross-country skis, kick sleds and toboggans so there is also something for those who love the great outdoors and want to explore independently between activities. There are marked trails across the stunning frozen lake and maps are available at reception.
If you want to send a memento home, then there are postcards available to purchase and some local Aurora photography is for sale.
There is a lakeside Kota (wooden tepee) which is open for all guests during the evening. Here you can light a fire and warm up in between forays out onto the lake in search of the Northern Lights.
Room types
The 28 guest bedrooms vary in size and shape as you may expect from a former school. They are cosy, comfortable and decorated with locally-sourced wood. Some of the furnishings have been crafted by the owner's own hand.
All guest bedrooms have an en-suite bathroom with shower and a hairdryer. Cups and kettles are provided in each bedroom and a variety of teas and coffee is available in each building for you to take to your room.
---
Image credit: Timo Halonen, Matt Robinson (please note: The images depicted show the hotel during both the winter and autumn months)
Read more
Read less
Personalise
Personalise this tour
---
Our pick
Cross-country skiing is remarkably good fun and is an efficient way to travel and explore the terrain surrounding the hotel. Gliding across a frozen lake or through a snow-laden forest helps you understand why people get addicted to this pastime. Your guide will give instructions and lead you through the forest on a short ski trip. The skis will then be yours for the remainder of the day should you wish to further enhance your skills. This is an excellent option for your first full day in Lapland.
Duration: 1 – 1.5 hrs (ski hire for the day)
---
Other options
Activities
Additional Aurora snowshoe session
From: £52pp
Wandering around on snowshoes is a classic way of getting around in Lapland, taking you into some truly quiet natural spaces. Why not add another to your holiday for an extra session of therapeutic walking, looking out to see if the Aurora are dancing in the skies above?
Duration: 2 hours
Image credit: Timo Halonen
Riding one person per snowmobile
From: £39pp
Driving a snowmobile over the open whiteness is utterly electrifying, so it is well worth upgrading to drive your own snowmobile for the whole activity, rather than going two per vehicle.
Dates & Prices
Thank you for your interest in this Aurora Zone experience.
We have found that this holiday is better tailored exactly to your requirements, so please email our Travel Experts at This email address is being protected from spambots. You need JavaScript enabled to view it. or contact us on 01670 785 012 to discuss the various options available to you.
Our Travel Experts have been to all the destinations we feature and love to share their experiences and insight. We want to match you with your perfect trip, so if you have any questions please get in touch; we will be happy to talk through the destinations and itineraries with you.
Reviews
Traveller Reviews
It was an exceptional holiday.
29 December 2019
by The Brockdorff Family
Snowmobile expeditions and husky sleigh ride/drive were fantastic. But the morning with the reindeer herder and his sister was an exceptional way to start the new year. Gentle animals, in stunning scenery, with the herder's explanations providing the context. Jerome was particularly helpful and informative, and always had a smile on his face. And Catherine did her level best to ensure everyone got…
Read more to the right activity on time. She was also an excellent MC at the New Year's Eve dinner.
Read less
Everything as advertised.
29 December 2019
by The Perry Family
As a family all the activities were fantastic with a shout-out for the ice fishing. For me, the dog sledding, but I have a bias towards dogs. All of the activity leaders were great but a special thanks to Jerome. Informative, laid back and very accommodating.
We saw the Northern Lights on each night of our visit
28 December 2016
by The Shillibier Family
Seeing the Northern Lights on each night of our visit....unforgettable...New Year's Eve Party Celebrations very, very good. Husky safari.......superb. You mustn't under-estimate the input and contributions made by Anna and Timo, all the guides, the house staff and everyone....and the reindeer herder and the husky guides...and the dogs themselves?...these very good people (and dogs) make the…
Read more holiday very special.
Read less
Totally fell in love with Finland - thank you - it was worth every penny
28 December 2015
by Sam May
Thank you to everyone at the above and yourselves for a fantastic service. Timo and the team there were all so lovely and helpful and run a tight ship - nothing was too much, whatever the time,they were all brilliant. We loved all the activities, the setting, the facilities, the weather... There's usually something I can find to complain about after a holiday but on this occasion I'm stumped!…
Read more Totally fell in love with Finland - thank you - it was worth every penny - please pass on our thanks to all at the hotel. PS we didn't see the lights but awesome though they may be, this really didn't matter with everything else that we had to do, and it's left us with a reason to try again another time.
Read less
We will remember this trip for the rest of our lives
05 January 2015
by Andy Gilbert
I was so impressed with the attention to detail regarding my wife being gluten free, even when we were out on excursions she was well catered for. The husky sledging (favourite activity), the dogs were so friendly. We enjoyed helping set up our team and loved fussing them. We will remember this trip for the rest of our lives.
---
---