Overview
With its excellent Aurora potential, nearby Wildlife Park and wilderness surroundings, Ranua is an exceptional base for your Northern Lights holiday. During this three-night stay, your days are left free to fill with authentic winter activities and wildlife experiences while your nights are dedicated to the Aurora.
What's included?
ALL OF THE ACTIVITIES AND SERVICES LISTED BELOW ARE INCLUDED IN THE HOLIDAY PRICE
Flights: direct return flights from London to Rovaniemi or indirect flights via Helsinki depending on departure date (flight supplements may apply). Please speak to our Travel Experts for further details. Flight routes are subject to change
Transfers: return airport transfers between Rovaniemi and Ranua
Accommodation: 3 nights apartment accommodation
Meals: half board (full board available for a supplement from 10th January)
The following activities and equipment are included in the price: searching for the Aurora Borealis by snowmobile, Northern Lights search with Finnhorse, unlimited access to Ranua Wildlife Park (order subject to change)
Cold weather clothing for the duration of your stay
Fully qualified wilderness guides and instructors for any activities
---
Nestled in Finnish Lapland, just below the Arctic Circle, sits the peaceful village of Ranua. Its excellent Northern Lights track record and surrounding wilderness make a winter adventure to remember.
From snowmobiling and dog sledding to reindeer experiences and cross-country skiing, your days have been left free for you to choose the snow-based 'Personalise' to suit you. Ranua is also renowned for its Wildlife Park, home to over 50 different species including wolves, lynx and polar bear. Your stay includes unlimited access to the park for you to observe all the wildlife that call this piece of Lapland home.
Read more
Due to its brilliant Aurora potential, we have included two dedicated activities to increase your chances of ticking the spellbinding show off your bucket list. Each activity takes you further out into the wilderness and darker skies. One night will see you drive across the winter landscape on a snowmobiling adventure while the next will take place in a cosy horse-drawn sleigh, for a peaceful way to search the skies.
Your base in the apartments of Gulo Gulo Holiday Village puts you within easy access to all activities, the wildlife park and in stylish and modern accommodation. You will only be a short walk away from the restaurant where you can fill up on breakfast before a day exploring the winter wilderness and enjoy dinner ahead of your hunt for the Northern Lights. From December through to 10th January, we will not be offering a full board upgrade to include lunch, but guests can arrange and pay for this locally. In our experience, the restaurant can become busy during the festive lunchtimes, with outside visitors to the park, and we have found that most families prefer to make their own lunch arrangements in their wonderfully equipped apartment kitchens. One free taxi ride to the local supermarket is included in your stay, and reception can arrange this for you either at check-in or the following day, so you can easily stock up on supplies.
---
Image credits: Gulo Gulo Holiday Village, Jari Romppainen, Köpi kaikkonen
View Gallery
Download Holiday Overview
Download Trip Notes
Key facts
| | |
| --- | --- |
| Duration: | 3 nights |
| Pace: | Relaxed |
| Suitable for: | Ages 16+. See our terms for further information. |
Make an enquiry
Agenda
Accommodation
Included in price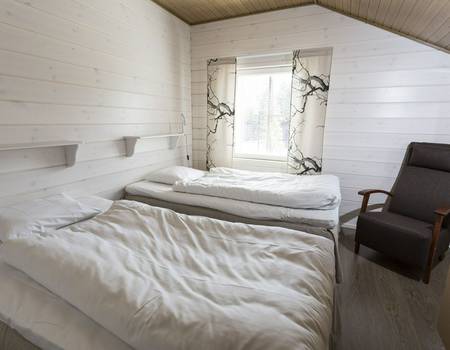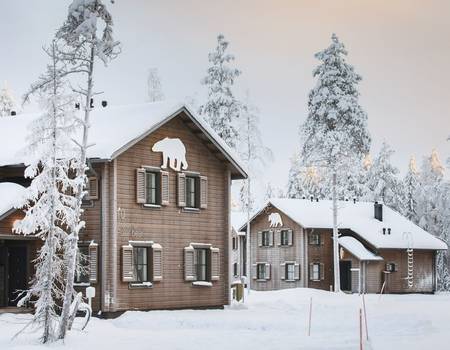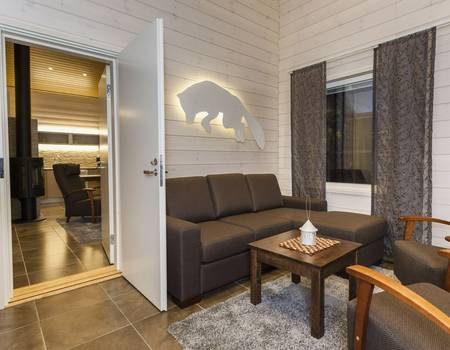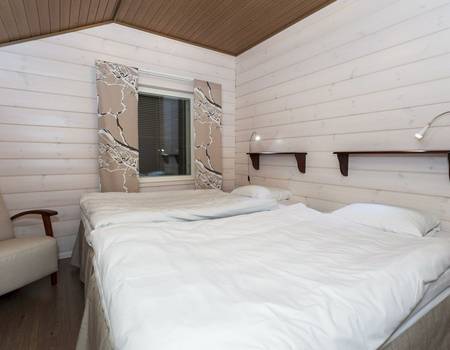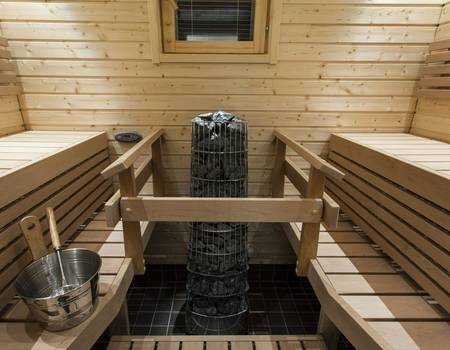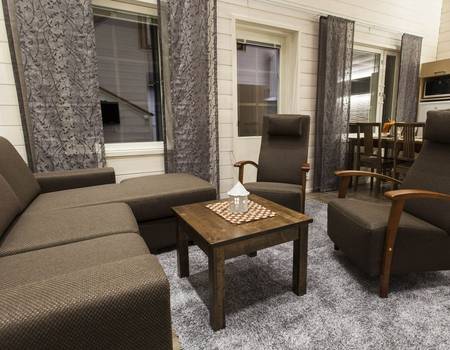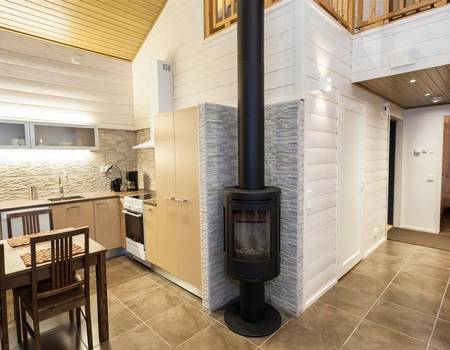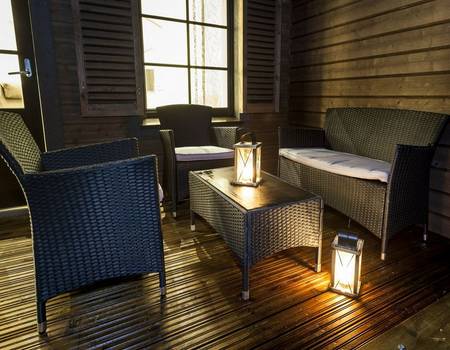 Gulo Gulo Holiday Village
Nights:
1-3
Situated just 4km from the small village of Ranua, but in prime Northern Lights territory, the Gulo Gulo Holiday Village offers modern and comfortable self-contained apartments to return to after a day exploring Lapland.
Guests will have unlimited access to the nearby Ranua Wildlife Park for the duration of their stay. The restaurant is also situated here, serving buffet-style meals which offer a mix of traditional Finnish foods as well as more continental dishes. Drinks are available for purchase with meals.
You will also be driven to the local supermarket to stock up on any supplies that you may like to have back in the apartments.
Room types
apartments
Whether you're returning after a day exploring the Arctic or you're coming in from a night of Aurora hunting, these spacious and modern apartments are a wonderfully relaxing space to return to.
There are thirty holiday apartments at Gulo Gulo, housed within ten semi-detached buildings which back onto the stunning snowy forest. You will be within easy walking distance of the Wildlife Park and restaurant, just across the road.
The ground floor accommodation features an open-plan living room with a flat-screen TV, dining area and a kitchen equipped with a stove, microwave, dishwasher, fridge, coffee maker and kettle (you may want to bring your own tea and coffee to enjoy in your apartment, or you can pick them up at the local supermarket). The apartments offer hairdryers, ironing facilities and all linen and towels are provided.
Downstairs, you'll find one twin bedroom and the bathroom which includes a shower, toilet and drying cabinet for clothes. You can also enjoy the private sauna, perfect for relaxing after a day of adventure in the wilderness.
There is a second twin bedroom on the first floor as well as an open loft area with two smaller beds, suitable for children, and a shower and toilet.
The apartments have their own decking area which is an ideal spot for searching for the Northern Lights.
Read more
Read less
---
Other options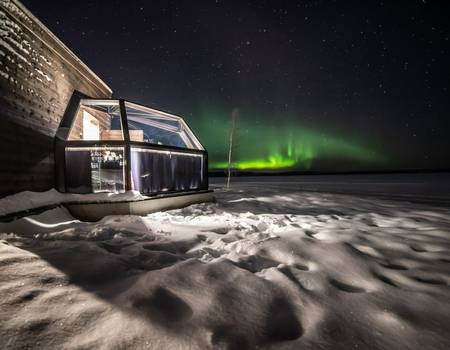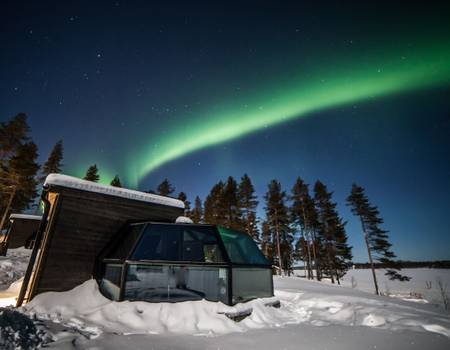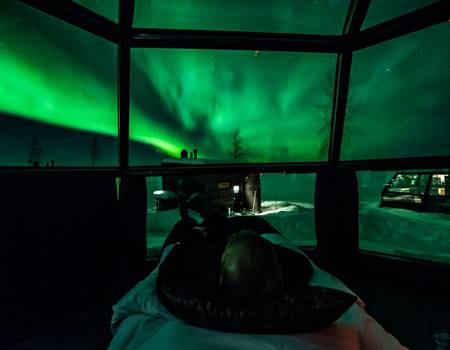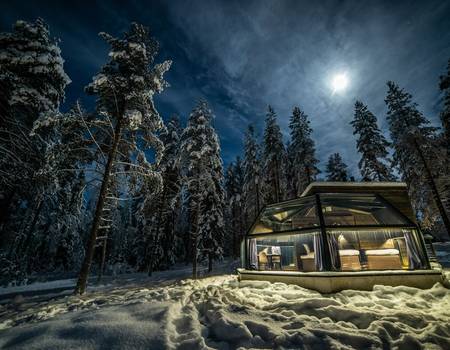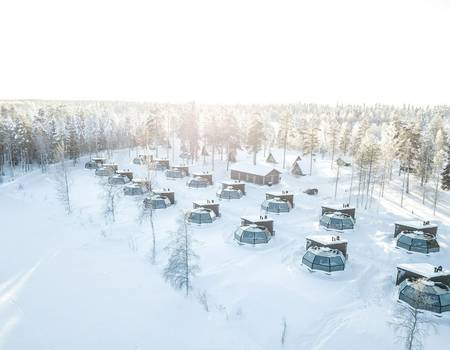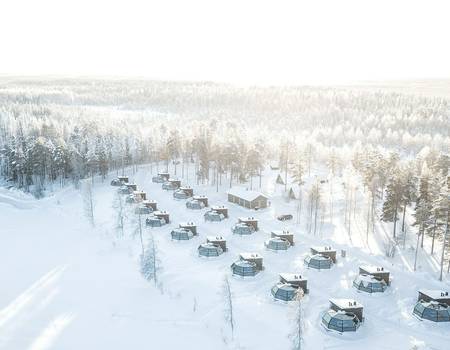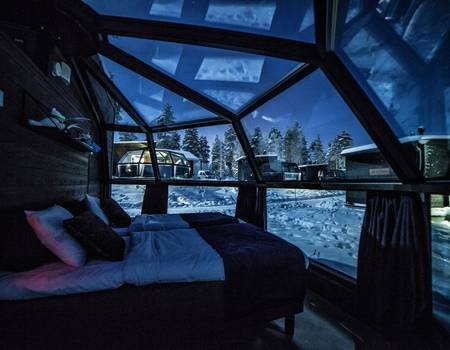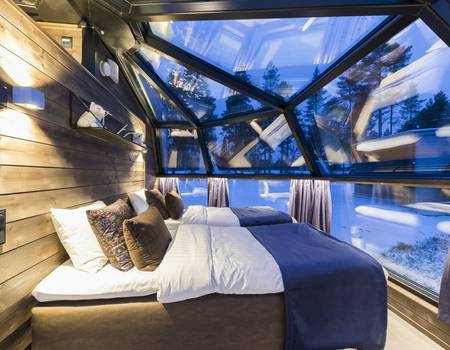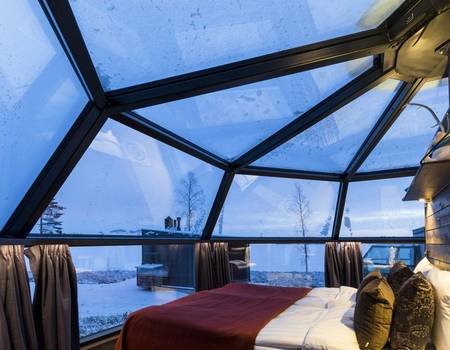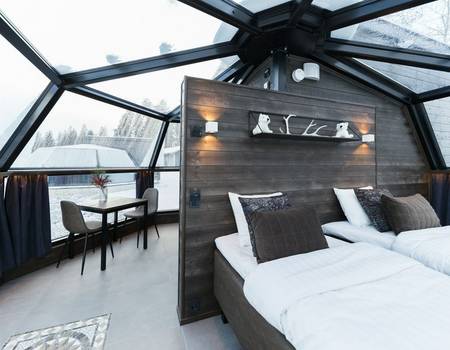 Arctic Fox Igloo
Supplements from: £163pp
Continue your Northern Lights hunt from the comfort of your bed when you stay in the stunningly designed Glass Igloos.
Set in a peaceful lakeside location and with glass walls for constant views of the night sky, staying in an Arctic Fox Igloo is the perfect way to complete your memorable Northern Lights holiday.
Usually, you will transfer to the Arctic Fox Igloos after your evening meal to spend your night looking for the Auroras. In the morning, you will be picked up in time for breakfast back at the main restaurant.
Facilities
There are 20 igloos in total (10 twin igloos and 10 family/lakeside igloos), located around 8km from Ranua Wildlife Park.
All igloos come equipped with a small kitchenette, bathroom and private sauna.
Guest bedroom types
TWIN ROOM: Each igloo has a twin bed and limited lake view.
FAMILY/LAKESIDE ROOM: Each igloo has got the same facilities as the twin igloos but is equipped with a double bed and space for two small extra beds for children (4-14 years old) and offers a lake view. Please note that the maximum occupancy is 2 adults and 2 children (4-14 years old).
---
Image Credits: Jari Romppainenn & Marko Juntilla
Read more
Read less
Personalise
Personalise this tour
---
Our pick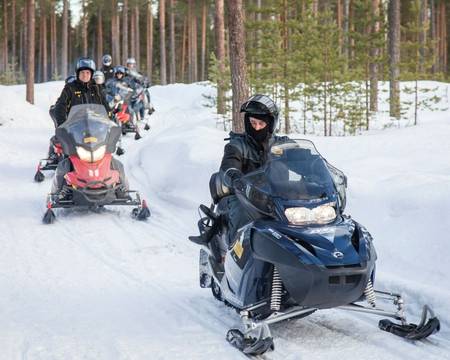 One of the most thrilling and effective ways to explore Ranua's vast wilderness is via snowmobile. After a full safety briefing and instructions, you will follow your guide out onto the trails, passing through snow-covered forests and frozen waterways.
You will travel two people per snowmobile throughout with the option to swap drivers. Please note, the driver of a snowmobile must be at least 18 years old and hold a valid driving licence. Single driver supplement applies.
Read more
Duration: various available:
Approximately 30 minutes - £71 per person
Approximately 1 hour - £94 per person
Approximately 2 hours - £116 per person
Approximately 4 hours - £157 per person
Approximately 6 hours - £201 per person
The distance covered on each safari will vary and will be determined by the group's ability and a snack will be provided during the 4 and 6-hour safaris.
---
Other options
Activities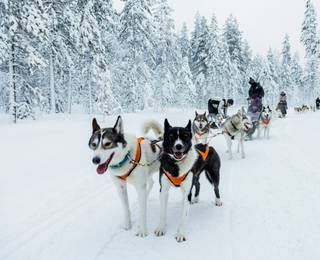 Husky Safaris
From: £37pp
Discover why dog sledding is one of the most sought-after Arctic experiences during a husky safari through Ranua's surrounding wilderness.
As soon as you arrive to meet the huskies, you'll hear how excited they are to get going on the trails. After full instructions and a safety briefing, you will set off to explore the snowy landscape, travelling two people per sled. The dogs will soon quieten down to concentrate on the job at hand as you watch the winter landscape unfold around you.
Read more about this activity
The length of the journey varies from 3km to 45km depending on your preference. After the tour, you will have time to meet the dogs and take pictures with them.
Duration: Various available:
Around 3km (approx. 15 mins) - £37 per person
Around 5km (approx. 20-30 mins) - £57 per person
Around 10 km (approx.50-60 mins) - £88 per person
Around 20 km (approx. 1.5 - 2 hours) - £117 per person
Around 35-45km (approx. 4 - 5.5 hours) - £193 per person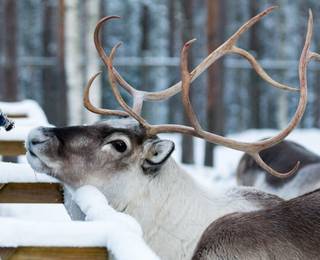 Snowmobile safari to a reindeer farm
From: £134pp
Get a true insight into life in Lapland when you snowmobile to a local reindeer farm and learn all about the herder and their animals.
The tour starts with a safety briefing and full instructions from your guide before you set off (2 people per snowmobile) on the trails towards Laivala, a traditional reindeer farm, which is approximately 15km away.
Here, you will meet the herder and their animals before enjoying a short reindeer sleigh ride (approximately 300 metres). During your time at the farm, you will learn all about the life of the reindeer herder and their long history in the region. Hot snacks will also be served before you snowmobile back to the hotel.
Read more about this activity
Please note: the driver of a snowmobile must be at least 18 years old and hold a valid driving licence. Single driver supplement applies.
Duration: 3 hours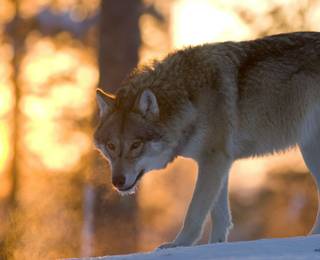 Snowmobile Safari to Wolfdog Land
From: £134pp
Snowmobile to Susimaa where you will meet the wolfdog pack who live on the self-sufficient farm. The tour starts with a safety briefing and full instructions before taking to the trails (2 people per snowmobile).
Upon arrival at Susimaa, Sarah and Harald will greet you and tell you all about life on the farm with their loyal wolfdogs. Everything grows wildly here and the dogs run free. You will get to meet the friendly wolfdogs as well as enjoy soup and warm drinks by the bonfire.
Read more about this activity
Please note, you must be at least 18 years old and hold a valid driving licence to drive a snowmobile. Single driver supplement applies.
Duration: 4 hours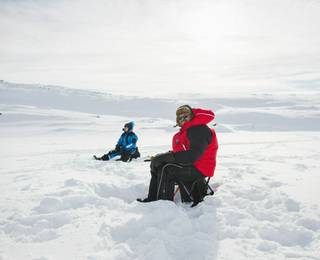 Ice Fishing Safari
From: £134pp
Ice fishing is hugely popular with the locals and during this activity, you'll see why it is so loved. The tour starts with full instructions and a safety briefing before a snowmobile safari to reach a nearby frozen lake.
Upon arrival, you will help your guide drill a hole in the thick ice. Now you can lower your line and wait for a fish to take a bite.
Warm drinks and snacks will also be served as you enjoy the peaceful activity.
Read more about this activity
Please note, you must be at least 18 years old and hold a valid driving licence to drive a snowmobile. You will travel two people per snowmobile. Single driver supplement applies.
Duration: approximately 3 hours (around 30km in total)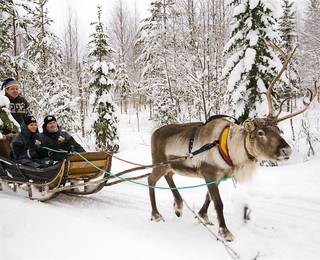 Reindeer Safari (3km)
From: £51pp
Reindeers have played a significant role in Lapland for centuries. These much-loved animals are central to the culture and traditions here and during this activity, you will get to meet the reindeer as well as enjoy a short sleigh ride (3 km approximately) into the snow-covered landscape.
Duration: approximately 40 minutes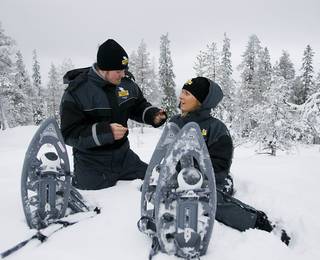 One of the most peaceful ways to enjoy the tranquil and pristine snowy landscape is via snowshoes, a pastime the locals love just as much as visitors.
Your guide will help fit you with a pair of snowshoes before you head out onto the untouched snow, off the beaten track. Your guide will share information about the flora and fauna, and tell you all about life in Lapland.
Duration: approximately 2 hours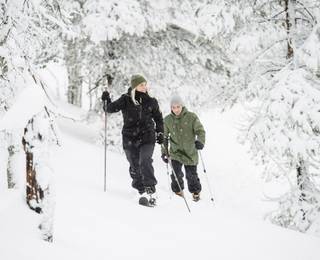 Cross-Country Skiing
From: £60pp
Find out why the Finnish love this mode of transport when you take to the trails on cross-country skis.
You don't need any prior skiing experience as your guide will provide full instructions before setting off on your exploration.
The ski tracks begin close to Ranua Wildlife Park and you will cover approximately 3km.
Duration: Approximately 2 hours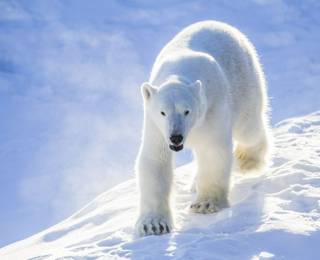 Meet the Polar Bear
From: £56pp
This is an opportunity of a lifetime to get close to the majestic polar bears in their natural habitat.
You will meet with your guide who will take you to the polar bear enclosure where you will get to see these wonderful Arctic animals just on the other side of the fence. You will learn all about how the polar bear survives in Lapland as you admire them from just a few metres away. This is truly an experience not to be missed.
Duration: approximately 45 minutes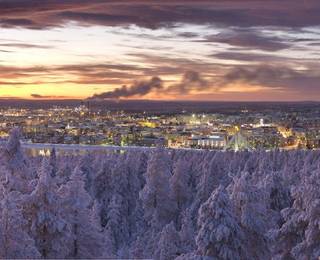 Day Trip to Rovaniemi
From: £122pp
Following breakfast, you will transfer in a minibus to the vibrant and modern city of Rovaniemi, approximately an hour away.
As this is the official hometown of Father Christmas, you will stop at the Santa Claus Village where you can get into the festive spirit as well as cross the Arctic Circle line. This is also a brilliant opportunity to pick up locally crafted souvenirs for your loved ones.
Read more about this activity
After lunch at the Santa Claus Village, you will visit Arktikum, a local museum featuring exhibits of the unique culture of the Arctic. Alternatively, you can go to the city centre and explore independently before transferring back to Ranua.
Duration: 7 hours (transfer 2 hours)
---
Image credit: Visit Rovaniemi (Rovaniemi Tourism & Marketing Ltd)
Dates & Prices
Price Comparison Guarantee
Expertise and knowledge are key to witnessing the Northern Lights. We've been running Aurora hunting holidays longer than any company in the UK and with no lead in prices, no hidden costs and more included, we're confident our tours will come out on top.
Please note: some prices are based on direct flights (Sunday to Wednesday from London Gatwick). Supplements for indirect flights from London Heathrow (via Helsinki) may apply.
Prices
Departure dates between

Mon 03 Jan 2022
to
Fri 11 Feb 2022

Enquire

Adults

£ 1,315

Sat 12 Feb 2022
to
Sun 27 Feb 2022

Enquire

Adults

£ 1,355

Mon 28 Feb 2022
to
Mon 28 Mar 2022

Enquire

Adults

£ 1,265
Please note: our holiday prices are based on the lowest available airline fares. These fares can sell out quickly and, as a result, prices may increase and supplements may be applicable. We recommend booking at the earliest opportunity to secure the best possible fares and flight times.
Next season's dates and prices
Our dates and prices for 2022/23 are now available to book, so get in early and secure your places now. Our Travel Experts will happily provide you with a full quotation including any additional activities or accommodation upgrades. We will advise you of your flight details when they are confirmed. This will normally be around 9 months prior to departure.
Departure dates between

Thu 01 Dec 2022
to
Mon 12 Dec 2022

Enquire

Adults

£ 1,580

Tue 13 Dec 2022
to
Mon 02 Jan 2023

Enquire

Adults

£ 1,765

Tue 03 Jan 2023
to
Wed 11 Jan 2023

Enquire

Adults

£ 1,510

Sun 12 Feb 2023
to
Mon 27 Feb 2023

Enquire

Adults

£ 1,560

Tue 28 Feb 2023
to
Tue 28 Mar 2023

Enquire

Adults

£ 1,455
| Supplements | Adult |
| --- | --- |
| | Please note that the following festive meal supplements apply: Christmas £40pp; New Year: £65pp |
Terms
For our full booking terms and conditions please click here
The Specifics
Holiday group size (approximate)
This holiday requires a minimum of 2 people to run, however, on some dates we require a minimum of 8 people for our flight allocation. The Maximum group size varies for activities.
Group Size
We always try to provide an approximation of the group size you can expect to be with for the duration of each of our holidays. It may be that you are joined by others for parts of your holiday (such as transfers and particular activities) but the above number reflects those you can normally expect to be with from beginning to end. If group size is something which is particularly important to you, please speak to our Travel Experts and they can suggest the best holidays for you.
Tailor-made holiday group sizes will vary for all activities as will the group size for any additional activities you book.
Minimum numbers required for a holiday to operate
Some of our holidays require a minimum number of participants to operate (as listed in the 'Group Size' section). If your holiday departure has not yet reached the minimum number, you will be told at the time of booking. In the unlikely event that your chosen date is not guaranteed by nine weeks before your scheduled departure date, we will contact you to discuss the available options as per our booking conditions.
Minimum and maximum age
If a specific minimum age applies to this holiday, it can be found in the Key Facts box on the holiday Overview page.
Unless otherwise stated in the Key Facts box on the holiday Overview page, the minimum age for participation in an Aurora Zone holiday is typically 12 years old (there may be younger children in some destinations who have booked with other companies). If an adult-only environment is important to you, then please contact our Travel Experts and they will advise on the best dates and destinations for you. If you are looking for a holiday designed specifically for families then please see our sister company www.activitiesabroad.com.
Itinerary amendments
The order of activities listed in this agenda is provided for guidance only, your final and detailed itinerary will be provided either with your final travel documents (which are uploaded into your online account around a week prior to departure) or upon arrival.
Medical History and Advice
We want our holidays to be accessible as they can be and will do our best to accommodate any special requests and requirements where possible. We have a wide range of holidays and destinations and so our travel experts will help find the best holiday for you.
In order to give us the best possible chance to do this, we ask that if you or any member of your party has any medical condition or disability which may affect your holiday or has any special requirements, that you tell us at the time of enquiry or booking. You must also promptly advise us if any medical condition or disability which may affect your holiday develops after your booking has been confirmed. You may need to provide a doctor's note and proof of insurance in some cases as the health and safety of our clients is absolutely paramount.
In providing this information you are allowing us to work with our expert local partners to ensure that your whole party can enjoy the holiday. By letting us know in advance we can discreetly work with you to adapt any part of the holiday which may potentially be challenging. Being able to prepare for this in advance makes an incredible difference to what we can offer and minimises any impact on your party and the rest of the group.
Unfortunately, if you choose not to share this information with us in advance then it may limit some or all of the itinerary you have booked, and we cannot be held accountable for any additional costs or missed activities resulting from this.
Insurance
Insurance is not included in your holiday, but it is a pre-requisite to travelling with us. You will need to ensure that you have cover for all the activities that you will be participating in during your holiday.
It is extremely important that you take out a suitable travel insurance policy at the time of booking. Plans do sometimes change, and you will need this policy should you need to cancel your holiday.
If you are struggling to find a suitable policy then details of our preferred provider, who will cover you for all the activities we offer, can be found on our website by clicking here. Please note that this policy is available to EU residents under the age of 75 only.
Booking Activities Locally
Additional activities can be booked locally in almost all our destinations. However, as per our booking conditions, we cannot be held responsible for any injury or loss incurred through participation in activities which are booked at your destination outside of our holiday itinerary (see our 'Terms and Conditions' for further details).
When arranging any such activity please always ensure that safety is your primary concern.
In some of our destinations, you can borrow or hire equipment for use in your free time. You do so entirely at your own risk. You must ensure that you are properly prepared, have the necessary equipment and knowledge (maps, etc) and ensure that where applicable, you follow marked routes. We recommend discussing your plans with the local teams who will be able to advise on the most suitable options for you.
Always let the reception/guide know where you are planning to go and take a torch and mobile phone (with the hotel/guide's phone number stored). It is also a good idea to leave your contact number and the time you expect to return to the hotel should the hotel need to contact you.
The UK Foreign Office Advice
Our clients' safety is at the centre of everything we do, and our operations team continually assesses and monitors the destinations we feature. We carry out thorough risk assessments and work closely with all of our suppliers to continually follow best practice. For up to date travel advice the UK government offers its Travel Aware website as well as the advice detailed below.
The Foreign and Commonwealth Office Advice
We receive all updates from the Foreign and Commonwealth Office (FCO) with regards to travel advice and we always ensure that we follow this advice in our operations. The FCO issues travel advisories for countries based on a very wide range of factors. They may provide notification about things as simple as a football match and crowds, or they may go so far as to advise against all travel to a region. We ask all our clients to refer to the relevant Travel Advice by Country for the destinations they are visiting in order to make an informed decision on the safety of the destination based on the details provided. It also provides vital information regarding entry requirements, embassy information, local laws and customs as well as specific safety and health. Guests should take responsibility for keeping themselves up to date with this advice. Please also ensure that, if you are transiting through another country, you have read the advice and meet the entry requirements for that destination too.
The FCO travel advice is applicable to British Passport Holders. Most governments will issue their own travel advice for a region and, if you are not a UK resident then you can find some helpful links below:
Australian Department of Foreign Affairs and Trade http://www.smartraveller.gov.au/
New Zealand Ministry of Foreign Affairs and Trade https://www.mfat.govt.nz/
Canadian Consular Affairs Bureau http://voyage.gc.ca/
The U.S. Bureau of Consular Affairs https://travel.state.gov/content/travel/en/international-travel.html
If the FCO deems that there is an unacceptable level of risk for UK citizens then, together with the government, they may issue an advisory against all travel to a region or country. If such an advisory is published, then we will act accordingly, and this may require the cancellation, curtailment or amendment of a holiday itinerary. These decisions are made on the basis of ensuring our clients' safety and will affect all clients on the holiday, regardless of their nationality.
If one of our local experts suggests an amendment due to a situation which develops locally then we may also take the decision to amend an itinerary appropriately.
If we have to cancel your holiday prior to departure you will be offered the option of an alternative trip (where any price difference will either be refunded to or covered by you) or a full refund of the monies paid.
If we have to curtail a holiday, then you will be refunded for any costs for the elements we have been unable to deliver, where we have been able to secure a refund from our suppliers. If we must reroute a holiday, then any basis for refund is determined on a case by case basis and dependent on whether the central holiday experience was provided or not.
Brexit information for British Passport holders
For the most up to date information on how the UK's departure from the EU may affect your holiday please click here to view our Brexit information for British Passport holders.
Flight schedule changes and connecting transportation
On your documentation, we will confirm your flight schedule. Sometimes the flight number, routing and timings might change prior to your departure. If the change is classed as a significant change then we will contact you to discuss this. Please see our booking conditions for details.
Flight schedule changes can impact on your pre and post-holiday travel arrangements if these have been booked separately to your holiday. We strongly recommend that you do not book transport (such as trains or transfers), car parking or non-connecting flights to the departure point for your holiday until you have received your final confirmed travel times when your final travel documents are issued. We are not responsible for the effect of any schedule change on your pre or post travel arrangements. We strongly recommend that you do not purchase non-flexible or non-refundable tickets to avoid cancellation and penalty charges.
Booking your own flights - cancellation disclaimer
If you have chosen to book your own flights, then you will need to wait until we confirm to you that the holiday departure has met the minimum numbers required to run (if applicable to your chosen holiday). Once the holiday is guaranteed to run, you will be informed and you can then make your arrangements.
If transfers are included in your holiday, please ensure that any potential flights will be met by our standard transfers (speak to one of our Travel Experts for advice) otherwise private transfer supplements may be applicable. Once your flights are booked, please send us a copy of your detailed flight itinerary.
Please be aware that most tickets are non-refundable in the case of cancellation. For this reason, we strongly advise you check the rules of the ticket and check the limitations of your cancellation insurance before booking. We cannot be held liable, in the unlikely eventuality that we should be forced to cancel or amend your trip, for losses incurred relating to any flight booking you have made.
Terms and Conditions
Our full booking terms and conditions can be found on our website: https://www.theaurorazone.com/booking-conditions
---
---