Overview
Charge up your Half Term with this four-night break at Pine Bay Lodge. A husky safari and forest snowmobile tour provide fast-paced excitement, while a session of ice fishing gives you a taste of quieter local culture. There will also be Northern Lights snowshoeing and a hunt for the Aurora in a snowmobile-pulled sled. All throughout, you can admire the magnificent landscape of the Luleå Archipelago.
What's included?
ALL OF THE ACTIVITIES AND SERVICES LISTED BELOW ARE INCLUDED IN THE HOLIDAY PRICE
Flights: return flights from London Heathrow to Luleå (via Stockholm); flight routes subject to change
Transfers: return airport transfers
Accommodation: 4 nights in an en-suite double room at Pine Bay Lodge
Meals: 4 breakfasts, 3 lunches, 4 dinners

The following activities are included in the holiday: snowmobile forest tour, husky safari, Northern Lights sled tour with wilderness dinner, ice fishing, Northern Lights snowshoeing (the order of activities is subject to change)

Fully qualified guides and instructors during activities
---
This four-night holiday at Pine Bay Lodge provides plenty of snow-based excitement for a thrilling Half Term getaway. You will snowmobile through the nearby forests and ride husky sleds around the wilderness. There will be a chance to pick up the Nordic hobby of ice fishing, which is very much an obsession in Sweden.
By night, you can snowshoe in search of the Aurora Borealis and also go hunting for them in a snowmobile-pulled sled. The lodge is located well inside the Aurora Zone, meaning that you will be in the right place for spotting the Northern Lights.
Pine Bay Lodge is a welcoming building based next to a tranquil lake in the woods. It has been constructed in a pleasant Scandinavian fashion, with a spacious lounge area where visitors can mingle and share their stories by the fireplace. True to Swedish tastes, there are also sauna facilities on site which make for wonderful retreats after a day on the snow.
Read more
The lodge is based in the Lulea region, famed for its archipelago of over 1,300 islands. Part of the Bay of Bothnia, these are all connected by sea ice during the winter, creating a captivating environment which just calls to be explored. All in all, you will have a Half Term Northern Lights holiday that won't be forgotten.
---
©Graeme Richardson
View Gallery
Download Dossier
Key facts
| | |
| --- | --- |
| Duration: | 4 nights |
| Pace: | Active |
| Suitable for: | Ages 18+. Please see our terms for further information |
Make an enquiry
Agenda
Accommodation
Included in price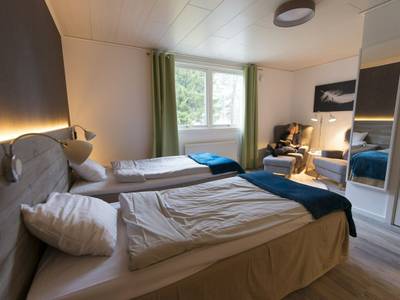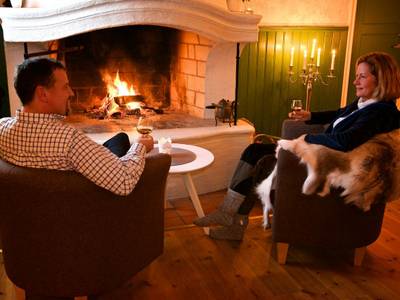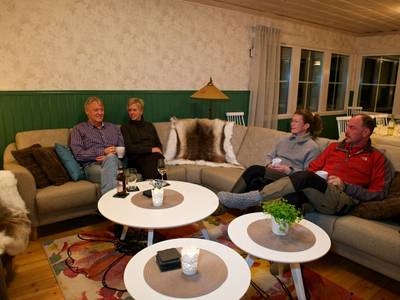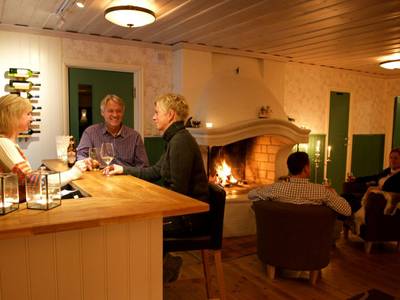 Pine Bay Lodge
Nights:
1-4
The lodge is located on the coastal edge of the Luleå Archipelago offering views across the frozen sea and surrounding snow-clad forests. There is minimal light pollution here, resulting in the night sky producing stunning displays of the Northern Lights if conditions are right.
The words homely and charming immediately spring to mind when describing Pine Bay Lodge (Furufjärden in Swedish). It offers a 'home from home' style of accommodation, which is comparable to that of a ski chalet.
Pine Bay is the kind of place that makes you feel like you want to curl up by the fire and relax with your slippers on. Obviously, this is highly recommended after a day of adventures, as long as the Northern Lights are not dancing around the sky as they often do.
Our good friend Göran Widén, who owns the lodge, recently told us: "If I come into the lodge and find someone fast asleep on the sofa in front of the open fire, it is the ultimate compliment. For people to be so relaxed and comfortable in the lodge shows I have been successful in creating the atmosphere I had in mind when dreaming of how I wanted my guests to feel during their holiday."
Hotel facilities
The lodge is centred on the main lounge area, where the open fire beckons guests to the cosy sofas
The open plan dining area offers views of the surrounding countryside and at night the chance to keep a watchful eye out for the Northern Lights (many a meal has been interrupted here)
The kitchen at the lodge is a real highlight and every evening a delicious menu of local produce is carefully prepared for all guests
A sauna is available to book locally and we do encourage all guests to enjoy the traditional roll in the snow afterwards. This will help you understand the real meaning of the word refreshing!
Guest bedrooms
The lodge has only eight guest bedrooms in the main building, all with en-suite shower rooms. There is also a family suite of rooms in a small annexe adjacent to the main building. You really could describe this as an 'exclusive destination'. The rooms are very comfortable and provide a peaceful place to lay your head after a day of adventures.
---
Image credits: Fredrik Broman &
Graeme Richardson
Read more
Read less
Personalise
Personalise this tour
---
Our pick
This region is the only place we feature where guests can explore the wilds in a hovercraft. These machines perfectly suit the ever-changing seasons here and are exceptionally good fun.
You will each be given an intercom headset in order for the pilot to be able to communicate with you and impart his local knowledge.
During this two and a half hour tour, you will set off across the ice and islands and head out to the island of Brändöskär which is typically close to the edge of the frozen sea. You will disembark and take a walk on the ice where depending on the weather conditions, you may witness some of the vast natural sculptures which form as the pack ice gradually shifts and cracks.
A light lunch is included and you will be served warm drinks before returning to the lodge.
---
Image credit: Graeme Richardson
---
Other options
Activities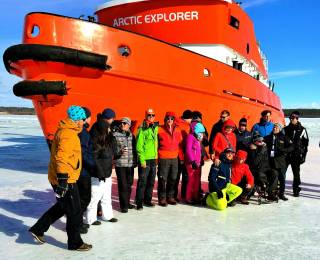 The frozen sea is a sight to behold. A vast, thick sheet of shimmering white, stretching out far into the distance, it is hard to believe that the ocean lies below. The ship then cuts through the ice with apparent ease and suddenly the water is revealed. Shards of Ice surround the boat and you would be forgiven for wondering whether you are on an expedition to Antarctica. The title of the ship 'Arctic explorer' conjures up images of historic voyages and when you get out onto the open ocean it is difficult not to feel a sense of adventure.
Read more about this activity
You will take a 35-minute transfer to Luleå from your accommodation at Brändön Lodge or Pinebay Lodge, before picking up a second transfer from Luleå to Piteå, which takes approximately 50 minutes. Following an introduction and safety briefing by the ship's captain, the journey will begin in Pitsundskanalen, which is where the mouth of the river Piteälven meets the open sea. A mere 100 yards ahead of this point, the ocean opens out and there is a seemingly endless display of ice, which is easily broken by the 'Arctic Explorer'. The ship leaves a trail of ocean behind and this makes it possible to bathe in the freezing water.
You will be given survival suits which will provide protection from the cold and also prevents you from getting wet. Following this, you will have the opportunity to float on the water. It is an invigorating experience, and when you are lowered into the ocean you may have feelings of trepidation, but this soon replaced by delight. You can also experience walking upon the thick Ice of the frozen sea, which is a surreal experience, particularly if you imagine the contrast of a summer's day, where the water is flowing freely.
The cruise will last for approximately 2 hours. A hot drink and survival suits are included.
Little Extras
Drive your own snowmobile
From: £102pp
If you would like to, you can choose to drive your own snowmobile for the duration of the two-hour forest tour snowmobile safari. Sit behind the controls for the entire safari as you glide over the snow and ice, savouring the beauty of the surrounding landscape.
Sauna
The sauna at Pine Bay Lodge sits a short walk from the main building, jutting out over the edge of the frozen lake. If you would like to experience authentic Swedish relaxation then why not book yourself a trip to the sauna?
Dates & Prices
We include more, no hidden costs
On each of our holidays, you will see a clear outline of exactly what's included in the price of your holiday. We never use 'headline' or 'lead-in' prices like so many tour operators, as we prefer to include as much as we can, rather than see our clients incur considerable additional costs in our destinations.
Please note the single person price is based on one adult staying in single room, sharing a husky sled, sharing a snowmobile and sharing airport transfers.
Prices
Dates

Sat 16 Feb 2019
to
Wed 20 Feb 2019

Book

Adults

£ 1,945

Single Adult

£ 1,970

Wed 20 Feb 2019
to
Sun 24 Feb 2019

Book

Adults

£ 1,925

Single Adult

£ 1,950
Next season's provisional dates and prices
To secure places for next season, you can make a provisional booking and fix the cost of your holiday at the provisional package price displayed online. Simply by paying a deposit, you will protect yourself from any package price increases. The departure dates and itineraries remain subject to change and we will contact you when the final dates and itineraries are confirmed. You will have 14 days to decide if you would like to go ahead. If you decide not to travel we will refund your deposit. We reserve the right to charge supplements where there are significant changes to an itinerary or increases in flight costs. Any non-package rates remain subject to change.
Dates

Sat 15 Feb 2020
to
Wed 19 Feb 2020

Enquire

Adults

£ 2,080

Single Adult

£ 2,105

Wed 19 Feb 2020
to
Sun 23 Feb 2020

Enquire

Adults

£ 2,060

Single Adult

£ 2,085
Terms
For our full booking terms and conditions please click here
Holiday group size (approximate)
Minimum 2, maximum 24 people
Group sizes and minimum numbers
Most of our holidays require a minimum number of participants to operate. Minimum numbers are detailed on each holiday page and are always approximate. Group sizes for tailor made holidays will vary for each of the activities. For private departures you may also be joined by other guests during the activities unless you have discussed specific private activities with us.
If your selected date has not yet reached minimum numbers you will be informed at the time of booking. In the unlikely event that your chosen date has not reached the required minimum numbers nine weeks before your scheduled departure date we will contact you and discuss the various options available to you. We will always do all we can to operate a holiday and in some cases we may be able to operate the holiday by combining your itinerary with that of other guests for some activities (this may mean that the maximum group size is increased but this will be discussed in full with you).
If we are unable to operate the holiday then you will be offered the chance to transfer to an alternative holiday or date (subject to availability). If the alternative is more expensive you will be asked to pay the difference, if it is cheaper then you will be reimbursed. You will also be offered the option to cancel and receive a full refund of all monies paid.
See our booking conditions for further information.
Order of activities
The order of activities is always subject to change and you will be provided with your final itinerary upon arrival at your destination
Medical History and advice
If you or any member of your party is pregnant or has any medical condition or disability which may affect your holiday or has any special requirements as a result of any medical condition or disability (including any which affect the booking process), please tell us before you confirm your booking so that we can assist you in considering the suitability of the arrangements and/or making the booking. In any event, you must give us full details in writing at the time of booking and whenever any change in the condition or disability occurs. You must also promptly advise us if you become pregnant or any medical condition or disability which may affect your holiday develops after your booking has been confirmed.
See our booking conditions for further information.
Experience and fitness
We offer a vast choice of holidays which range from 'relaxed' to 'active' so there really is something for everyone and our holidays can be filtered by how active they are. Regardless of the chosen holiday, all activities will include tuition from a beginner's lever and no prior experience is assumed.
If you are unsure about the physical demands of a particular holiday please contact us and our expert team will be happy to help.
See our booking conditions for further information.
Guides and safety
It is absolutely essential when partaking in any activity that you listen very closely to, and abide by, the instructions provided.
If there is anything that you are unsure of during a safety briefing or that you would like to clarify with the guides please make this clear to them immediately before starting the activity.
Our guides' word on activities is always final and your safety is their principal concern at all times, please respect their decisions. By following their instructions, your safety and enjoyment during each activity will be greatly enhanced.
See our booking conditions for further information.
Booking activities locally
In almost all of our destinations you can book and pay for additional activities locally. Please note that we cannot be held responsible for any injury or loss that occurs through any activities that are booked in your destination (see our terms and conditions for further details).
Please always ensure that your safety is your primary concern when arranging any such activity.
Car Hire
If your trip includes car hire the named driver must have a credit card registered in their name which they can present when they collect their car along with their driving licence, as a deposit will be held on the credit card. Please see your trip dossier for full details.
---
---