Overview
This autumn short break combines Tromsø, the cosmopolitan 'Capital of the Arctic', with the peaceful island of Sommarøy, two very complementary yet contrasting experiences. You'll take to the water for a RIB (rigid inflatable boat) boat trip on the fjords (with the option to go whale watching in October) and hunt the Northern Lights by minibus in Tromsø before unwinding on Sommarøy, enjoying leisurely walks and an Aurora camp.
What's included?
ALL OF THE ACTIVITIES AND SERVICES LISTED BELOW ARE INCLUDED IN THE HOLIDAY PRICE
Transfers: return airport transfers

Accommodation: 2 nights at Clarion Collection Aurora Hotel, 2 nights at the Sommarøy Arctic Hotel
Meals: 4 breakfasts, 2 lunches, 2 light evening buffets, 2 dinners
The following activities are included in the holiday: guided RIB boat trip*, Aurora hunt by minibus, guided walk on Sommarøy, guided Northern Lights trip to the islands Aurora Camp (the order of activities is subject to change)
Fully qualified guides and instructors during activities
*Please note that the whale migration season begins at the end of October. For those travelling in November, there is an option to upgrade your RIB boat trip to a RIB whale safari. A supplement will apply. Please speak to one of our Travel Experts for details.
---
Autumnal Aurora displays equal those of winter, particularly when you view them from somewhere such as Sommarøy. On this island in Northern Norway, the lights can suddenly appear from behind the mountains before reaching out and dancing above the sea. A strong Aurora can even cast a reflection on the water's surface, giving you two displays for the price of one.
Your holiday begins in the city of Tromsø, which is often referred to as the 'Capital of the Arctic'. Tromsø is no sleepy town; it is a vibrant hive of activity and offers many attractions. There are some seriously good eateries, a thriving cafe and shopping culture as well as the world's most northerly aquarium and the imposing Arctic Cathedral which dominates the city skyline.
Tromsø is predominantly built on a large island linked to the mainland, and the city's boundaries are marked by the fjords and mountains which surround it, meaning that the wilderness is always within easy reach. During your stay, you'll have time to explore the city and will be treated to a thrilling RIB wildlife tour. In September and October, the boat will stay closer to Tromsø from where the views of the area will have you reaching for your camera. There is a rich marine life in this area, including seals and various seabirds. For those travelling in November, it is possible to upgrade your RIB wildlife tour to a RIB whale safari*. November heralds the start of the whale migration season and this tour will take you further out to try and track down the orcas and humpbacks which travel through Norwegian waters.
As most Aurora hunters know, city lights do not allow for the best Northern Lights viewing and so we have also included a dedicated Aurora hunt by minibus on your second night in town. Your expert local guide will lead the chase using the latest weather forecasts and solar activity readings to determine your route.
Read more
From Tromso you continue to the island of Sommarøy where a mix of white sandy beaches (think tropical bays but with less heat), charming fisherman's cottages and rugged hills and mountains await you. The bright colours of the buildings tone wonderfully with the vibrant colours of autumn.
Sommarøy is about getting away from it all so your time here will be spent at a relaxed pace. You'll enjoy a guided walk on the island and a visit to an Aurora Camp on your first night here. There will also be some free time for you to soak up your surroundings and hunt for the Aurora on your second day. Famed for its Northern Lights displays, you don't have to venture far to witness the lights here if conditions are favourable.
In short, this autumn break gives you the chance to take in a cosmopolitan Arctic city and the wonderfully peaceful island of Sommaroy, whilst enjoying some carefully chosen activities and dedicated Aurora hunts.
---
*Please note: the whale migration season begins at the end of October. For those travelling in November, there is an option to upgrade your RIB boat trip to a RIB whale safari. A supplement will apply. Please speak to one of our Travel Experts for details.
---
Image credits: Sommarøy Arctic Hotel, Tromsø Adventure
View Gallery
Download Dossier
Key facts
| | |
| --- | --- |
| Duration: | 4 nights |
| Pace: | Balanced |
| Suitable for: | Ages 15+. See our terms for further information |
Make an enquiry
Agenda
Accommodation
Included in price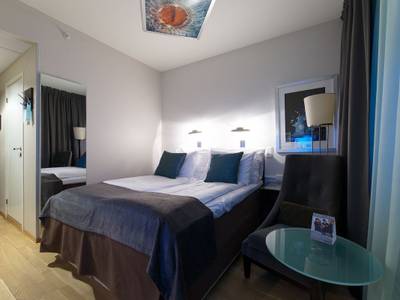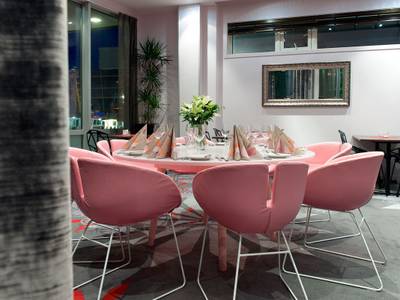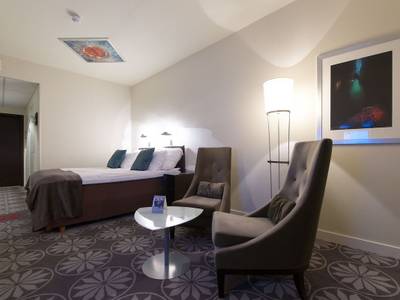 Clarion Collection Hotel Aurora, Tromsø
Nights:
1-2
This hotel is well-located in the harbour area of the cosmopolitan city of Tromsø. The hotel has a lovely modern design with free Wi-Fi and stunning panoramic views of the mountains surrounding Tromsø and the Tromsøysund Strait. The hotel has a small gym and an outdoor hot tub set on the rooftop which is one of our favourite places to spend an evening in the city.
There is a bar area which is quite popular in the evenings. If you would like to take the opportunity to explore this vibrant city, then your location in the heart of Tromsø couldn't be better for visiting the highlights on foot.
Hotel Facilities
The location is this hotel's real selling point - just 500 metres from the famous Polar Museum, with the Polaria Aquarium just a 10-minute walk away
This hotel offers a wonderful afternoon tea for guests which includes coffee and fresh waffles - delicious!
A light evening buffet is included for all guests to enjoy
There is a gym, a sauna and an exceptional outdoor hot tub on the roof of the hotel
The friendly reception desk is open 24 hours to help you with anything you may need
Guest Rooms
TWIN/DOUBLE ROOMS: the hotel offers 121 hotel rooms each equipped with a flat-screen cable TV and work desk. All rooms are very clean, comfortable and welcoming. Some of the hotel rooms have a lovely view towards the harbour and many guests enjoy watching the Hurtigruten ships sail into port whilst en route north or south.
Read more
Read less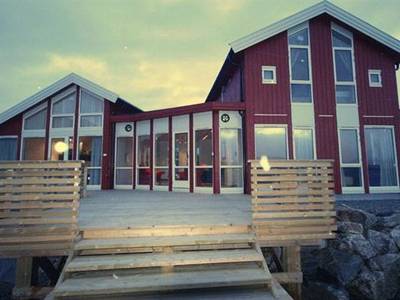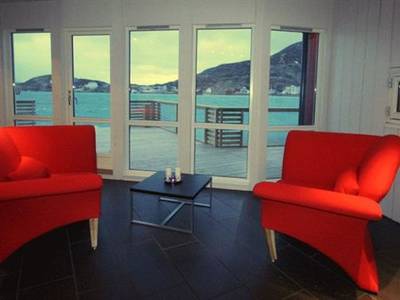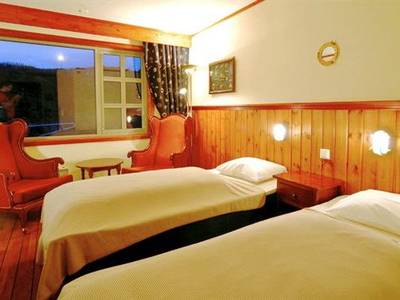 Sommarøy Arctic Hotel
Nights:
3-4
Overlooking the Atlantic Ocean, in the traditional fishing community of Sommarøy, this hotel offers a location with breath-taking views across the water. A recent full renovation and extension (which was completed in 2017) also ensures world-class facilities as well as plenty of Nordic charm.
The small island of Sommarøy ('summer island') is a thriving community with an active fishing industry so you can be sure of a genuine coastal experience and plenty of freshly caught delicacies to enjoy at meal times.
The hotel is located around 45 minutes from Tromsø yet its remote location provides a true sense of escape. Despite offering 155 rooms in total (with various room/apartment options) the hotel still has an intimate feel and guests will frequently spend evenings socialising in the bar or keeping watch for the Northern Lights together.
Hotel Facilities
Relax in the hotel's seaside bathhouse which features a woodfired sauna and spacious hot tub. The hotel also boasts an outdoor hot tub with excellent views of the sea and night's sky
The hotel has a wine lounge which features a glass wall overlooking the harbour and a central fireplace. This can be booked for small groups or is sometimes open for everyone.
The bar offers an excellent wine list and you can sample a drink from the hotel's own vineyard in Italy
The hotel offers free private parking to all guests
Breakfast, which is included in your stay, is served within the on-site lobby restaurant which uses fresh local ingredients where possible
The 24-hour reception team will be happy to assist you in booking additional activities or pointing out local sights
Guest Rooms
DOUBLE/TWIN/SINGLE STANDARD ROOMS: the hotel has 15 standard rooms in total. These are all located on the ground floor of the original building and offer an ensuite shower room, free Wi-Fi, TV, desk, hairdryer and a seating area.
DOUBLE/TWIN STANDARD-PLUS ROOMS: there are 14 standard-plus rooms which have the same amenities as standard rooms but are located on the upper floor of the hotel with the majority offering sea views. These require a minimum of two people.
SUPERIOR BALCONY ROOM: located in the new hotel wing, the superior balcony rooms are all warmly decorated in a modern Nordic fashion and offer double or twin beds as well as an en-suite shower room, free Wi-Fi, TV, desk, hairdryer and a seating area. Each has a balcony with sea views. There are 42 superior balcony rooms in total
SUPERIOR BALCONY SUITE: the hotel has 3 comfortable and spacious balcony suites in the new wing of the hotel which have one double/twin and one single bedroom as well as a large living area and balcony. The ensuite bathroom has a bathtub, shower and hairdryer. The suites have tea and coffee making facilities and free Wi-Fi
FISHERMAN'S COTTAGES: each fisherman's cottage (Rorbu) is furnished in a cosy Norwegian coastal style and located around a two-minute walk from the hotel. There are four 3-bedroom cottages for up to 6 guests, each featuring a kitchen, lounge and two shower rooms/toilets.
---
Image credits: Sommarøy Arctic Hotel
Read more
Read less
Personalise
Personalise this tour
---
Our pick
Departing from the harbour area of Tromsø, you will set out across the water via catamaran in search of the Northern Lights. The boat is charmingly comfortable with a viewing deck and a heated lounge for you to enjoy as you set off slowly across the water. There is no artificial light pollution on the water and regardless of whether the Northern Lights do appear you will still be able to enjoy Tromsø from a wonderful new perspective and you will be able to see the illuminated Arctic Cathedral and Tromsø bridge. A typical Northern Norwegian fish dinner, complete with dessert and hot drinks, is included. Warm clothing is provided, but be sure to still wear plenty of layers.
This excursion is available from October onwards and is available as an option for those wanting to extend their stay in Tromsø. Your host's knowledge about the city and its surroundings, as well as their many year's experience of the Northern Lights, will make for a very memorable evening.
---
Other options
Activities
Northern Lights husky hike
From: £125pp
You will be transferred to a local husky farm, where you will be introduced to its many furry residents. Following that, you will take some of the dogs for a walk, wandering through the outdoors and admiring the surrounding nature. Be prepared, as the Northern Lights might make an appearance at any time!
You will reach a campfire where you can sit and wait for a display. A traditional Sámi meal will be served inside a comfy tent, and you will have a chance to watch short films - one about the Northern Lights, the other about how the huskies from this farm have participated in the 1000-mile Iditarod, the longest dogsledding race on earth.
Duration: approximately 5 hours
Puppy training
From: £112pp
The Tromsø Villmarkssenter (Tromsø Wilderness Centre) is an adventure group that invests a lot of time in training huskies for dogsledding. Getting puppies ready to work in a racing team is essential work and this activity gives you a close-up look at the process. Spend time with the puppies as they are taken through the various steps to becoming seasoned racing dogs – a must for canine-lovers! Lunch is included.
---
Image credit: Tromsø Adventure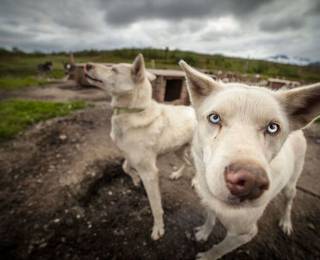 Visit a husky centre outside of Tromsø and meet the sled dogs which are synonymous with the Arctic. A tour of the centre will introduce you to the lives of the mushers and their dogs both historically and during the present day. You will be given an insight into dogsledding and how it has become an important part of the Arctic culture. This will include a film from Iditarod, the world's greatest sled race, where the owner actually participated in 2006 and won "most inspirational musher" award.
Read more about this activity
Obviously, no visit to the husky centre would be complete without meeting the dogs themselves and on arrival, you will no doubt be greeted with a chorus of barks. They will be eager to meet you and there are usually puppies as well so have your camera ready. You can cuddle as many of the dogs as you want during this 3-hour tour and you will leave with a greater knowledge of their lives north of the Arctic Circle.
Departure transfers will take place at 2.30pm from the Radisson Blu Hotel. Hot drinks and biscuits are included.
Availability: Every day from 08 Sept to 30 November
Minimum numbers: 2 people
Duration: 3 hours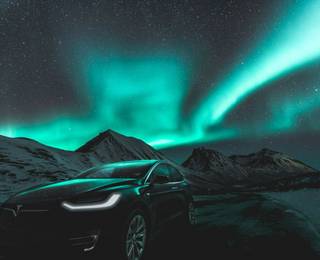 Northern Lights Adventure with Tesla
From: £250pp
You'll be picked up in central Tromsø by your own exclusive Tesla Model X with certified driver and guide. What better way to search for one of nature's greatest wonders than in a zero-emission, eco-friendly and environmentally clean car equipped with a glass roof.
You will be given an introductory talk where you'll receive your warm suits for the night, followed by a short lesson in Northern Lights forecasting and photography. You'll then have a brief introduction to our Tesla Model X. This powerful performance car can cruise the winter conditions with ease, taking you to locations out of the light pollution and on the road to the Northern Lights.
Our professional guides know the area well and will explain the science and history behind the Aurora so you get the true insider knowledge. They'll also help you with your camera settings so you can capture the adventures of the night.
You'll enjoy a meal at one of our favourite local restaurants as well as drinks and snacks throughout the evening.
With so many ways to try and see the Aurora in Tromsø, the Tesla tour gives you the option to have a more private and environmentally-friendly experience of the magical display.
Availability: 15th September – 31st March
---
Image Credit: Pukka Travel
Dates & Prices
We include more, no hidden costs
On each of our holidays, you will see a clear outline of exactly what's included in the price of your holiday. We never use 'headline' or 'lead-in' prices like so many tour operators, as we prefer to include as much as we can, rather than see our clients incur considerable additional costs in our destinations.
Prices
Departure dates between

Sun 16 Sep 2018
to
Fri 30 Nov 2018

Enquire

Adults

£ 995

Single Adult

£ 1,195
Next season's pre-sale dates and prices
To secure places for next season, you can make a provisional booking and fix the cost of your holiday at the provisional package price displayed online. Simply by paying a deposit, you will protect yourself from any package price increases. The departure dates and itineraries remain subject to change and we will contact you when the final dates and itineraries are confirmed. You will have 14 days to decide if you would like to go ahead. If you decide not to travel we will refund your deposit. We reserve the right to charge supplements where there are significant changes to an itinerary or increases in flight costs. Any non-package rates remain subject to change.
Dates

Sun 15 Sep 2019
to
Fri 29 Nov 2019

Enquire

Adults

£ 1,055

Single Adult

£ 1,280
Terms
For our full booking terms and conditions please click here
Holiday group size (approximate)
Minimum 2 people; maximum 15 people
Group sizes and minimum numbers
Most of our holidays require a minimum number of participants to operate. Minimum numbers are detailed on each holiday page and are always approximate. Group sizes for tailor-made holidays will vary for each of the activities. For private departures, you may also be joined by other guests during the activities unless you have discussed specific private activities with us.
If your selected date has not yet reached minimum numbers you will be informed at the time of booking. In the unlikely event that your chosen date has not reached the required minimum numbers nine weeks before your scheduled departure date, we will contact you and discuss the various options available to you. We will always do all we can to operate a holiday and in some cases, we may be able to operate the holiday by combining your itinerary with that of other guests for some activities (this may mean that the maximum group size is increased but this will be discussed in full with you).
If we are unable to operate the holiday then you will be offered the chance to transfer to an alternative holiday or date (subject to availability). If the alternative is more expensive you will be asked to pay the difference, if it is cheaper then you will be reimbursed. You will also be offered the option to cancel and receive a full refund of all monies paid.
See our booking conditions for further information.
Order of activities
The order of activities is always subject to change and you will be provided with your final itinerary upon arrival at your destination
SINGLE SUPPLEMENT
Please note that some of our holidays may incur a single supplement. Please speak to one of our Travel Experts who will provide you with a quotation.
Medical History and advice
If you or any member of your party is pregnant or has any medical condition or disability which may affect your holiday or has any special requirements as a result of any medical condition or disability (including any which affect the booking process), please tell us before you confirm your booking so that we can assist you in considering the suitability of the arrangements and/or making the booking. In any event, you must give us full details in writing at the time of booking and whenever any change in the condition or disability occurs. You must also promptly advise us if you become pregnant or any medical condition or disability which may affect your holiday develops after your booking has been confirmed.
See our booking conditions for further information.
Reduced Mobility
If you have a reduced level of mobility, then please contact our travel experts to discuss the suitability of this holiday in relation to your requirements.
Experience and fitness
We offer a vast choice of holidays which range from 'relaxed' to 'active' so there really is something for everyone and our holidays can be filtered by how active they are. Regardless of the chosen holiday, all activities will include tuition from a beginner's level and no prior experience is assumed.
If you are unsure about the physical demands of a particular holiday please contact us and our expert team will be happy to help.
See our booking conditions for further information.
Guides and safety
It is absolutely essential when partaking in any activity that you listen very closely to, and abide by, the instructions provided.
If there is anything that you are unsure of during a safety briefing or that you would like to clarify with the guides please make this clear to them immediately before starting the activity.
Our guides' word on activities is always final and your safety is their principal concern at all times, please respect their decisions. By following their instructions, your safety and enjoyment during each activity will be greatly enhanced.
See our booking conditions for further information.
Booking activities locally
In almost all of our destinations, you can book and pay for additional activities locally. Please note that we cannot be held responsible for any injury or loss that occurs through any activities that are booked in your destination (see our terms and conditions for further details).
Please always ensure that your safety is your primary concern when arranging any such activity.
Car Hire
If your trip includes car hire the named driver must have a credit card registered in their name which they can present when they collect their car along with their driving licence, as a deposit will be held on the credit card. Please see your trip dossier for full details.
Travelling in the Autumn requires a degree of flexibility. This period is a time of change in the far North and the arrival of the first snowfall can be very unpredictable.
Autumn activities: The daytime activities included in this holiday may be amended to accommodate the arrival of winter's first snows (an unpredictable science!). Walks may become snowshoe treks and guests may need to be flexible in their approach. This is unlikely to be the case in September but changes become more likely in October and November. Your Aurora hunting activities should be unaffected.
If cold weather clothing is required and will make your stay more comfortable then this will be included and issued to you upon arrival. If you would like to borrow any additional equipment then please just speak to one of the local guides. For more information please see the trip dossier.
Reviews
Traveller Reviews
We had lots of fun :-)
27 October 2017
by Royston Bok & Magdalene Chua
Want to thank you and your team for the great arrangement in the hotels and the activities.
---
---