Overview
This six-night holiday is designed to maximise your Aurora viewing potential whilst showing you the highlights of Tromsø and the stunning Northern Norwegian coastline. You will spend time in a vibrant city, enjoy wilderness dog sledding and cultural encounters, search for whales and witness Norway's natural world at its finest.
What's included?
ALL OF THE ACTIVITIES AND SERVICES LISTED BELOW ARE INCLUDED IN THE HOLIDAY PRICE
Transfers: return airport transfers included from Tromsø Airport
Accommodation: 4 nights en-suite hotel room in Tromsø, 2 nights Sommarøy Arctic Hotel
Meals: 6 breakfasts, 2 lunches, 3 light buffet dinners*, 2 dinners
The following activities are included: Tromsø city tour, two Northern Lights hunts by bus, entrance to Polaria, Sámi culture and reindeer encounter, Northern Lights dinner cruise, husky safari, Northern Lights camp, wildlife boat safari, Northern Lights hunt (the order of activities is subject to change)
Cold weather clothing during your time at Sommarøy and in Tromsø during the following activities: Northern Lights hunts by bus, dinner cruise and dogsledding
---
Tromsø is one of the most well-known Aurora hunting destinations in the North. This vibrant city is located ideally within the Aurora Zone and has much to offer visitors. This holiday allows you to experience the best that this city has to offer during the day before you head out at night and leave the city lights behind in search of the Aurora Borealis.
During your time in Tromsø, you can explore its heritage and learn about the local region and its people. You will also head out into the wilds to meet a Sámi family and enjoy a thrilling husky safari.
In the evenings, you will be guided by experts on Northern Lights hunts which take you deep into the wilds and away from light pollution. The guides will use the latest weather and Aurora forecasts to determine the best routes each night.
Read more
Following your time in Tromsø, you will be taken to the Island of Sommarøy for the last nights of your holiday. Based on a stunning waterfront location, your hotel is ideally situated to allow you to experience all that this island has to offer. The hotel has been almost completely renovated to a lovely standard during the winter of 2016/17.
Sommarøy is renowned as being an excellent location from which to spot wildlife. Whales can sometimes be seen in this area as they follow herring shoals, and there is an abundance of bird life, including white-tailed eagles. A wildlife cruise on the Atlantic Ocean is the perfect way in which to search for animals and admire the picturesque beauty of the surrounding landscape.
Your evenings are again filled with Northern Lights hunting trips but the beauty of Sommaroy is that you have a great opportunity to witness the Aurora just outside of the hotel.
---
Image credits: Sommarøy Arctic Hotel
View Gallery
Download Dossier
Key facts
| | |
| --- | --- |
| Duration: | 6 nights |
| Pace: | Active |
| Suitable for: | Ages 18+. Please see our terms for further information |
Make an enquiry
Agenda
Accommodation
Included in price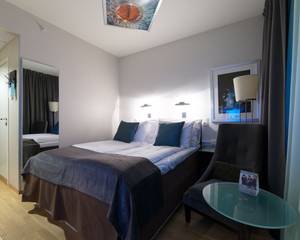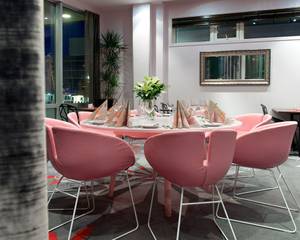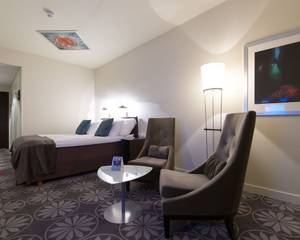 Clarion Collection Hotel Aurora, Tromsø
Nights:
1-4
This hotel is well-located in the harbour area of the cosmopolitan city of Tromsø. The hotel has a lovely modern design with free Wi-Fi and stunning panoramic views of the mountains surrounding Tromsø and the Tromsøysund Strait. The hotel has a small gym and an outdoor hot tub set on the rooftop which is one of our favourite places to spend an evening in the city.
There is a bar area which is quite popular in the evenings. If you would like to take the opportunity to explore this vibrant city, then your location in the heart of Tromsø couldn't be better for visiting the highlights on foot.
Hotel Facilities
The location is this hotel's real selling point - just 500 metres from the famous Polar Museum, with the Polaria Aquarium just a 10-minute walk away
This hotel offers a wonderful afternoon tea for guests which includes coffee and fresh waffles - delicious!
A light evening buffet is included for all guests to enjoy
There is a gym, a sauna and an exceptional outdoor hot tub on the roof of the hotel
The friendly reception desk is open 24 hours to help you with anything you may need
Guest rooms
Twin/Double Rooms: The hotel offers 121 hotel rooms each equipped with a flat-screen cable TV and work desk. All rooms are very clean, comfortable and welcoming. Some of the hotel rooms have a lovely view towards the harbour and many guests enjoy watching the Hurtigruten ships sail into port whilst en route north or south.
Read more
Read less
Personalise
Personalise this tour
---
Our pick
Northern Lights dinner cruise
Departing from the harbour area of Tromsø, you will set out across the water via catamaran in search of the Northern Lights. The boat is charmingly comfortable with a viewing deck and a heated lounge for you to enjoy as you set off slowly across the water. There is no artificial light pollution on the water and regardless of whether the Northern Lights do appear you will still be able to enjoy Tromsø from a wonderful new perspective and you will be able to see the illuminated Arctic Cathedral and Bridge.
Read more
Dinner is a traditional Norwegian supper (usually fish based), served in the boat's indoor area whilst you wait for the Northern Lights to hopefully appear in the dark skies above you.
Your host's knowledge about the city and its surroundings, as well as their many years of experience of the Northern Lights, will make for a very memorable experience.
Cold weather clothes are provided.
Image credit: Patin
---
Other options
Activities
Aurora Reindeer Safari
From: £182pp
This is a wonderful experience for those who want to further experience some of the traditions of Sámi culture and encounter reindeer up close.
You will travel to a remote camp, deep in the wilderness and in an ideal location from which to watch the Northern Lights should conditions be favourable. Travelling two people per sled you will enjoy a safari by reindeer-pulled sleigh, keeping watch on the skies above and enjoying the magic of the experience.
Read more about this activity
Even if the Northern Lights do not appear, this is a delightful way to spend the evening. A hearty meal (typically a reindeer stew) will be served after the sleigh ride and will be followed by traditional Sámi tales and a joik performance (traditional singing).
Cold weather clothes are provided.
Duration: This tour lasts roughly 4 hours
Image credit: Gaute Bruvik - Visitnorway.com, Innovation Norway
Trip Extensions
Hurtigruten Cruise Extensions
The world famous Hurtigruten coastal steamer stops at Tromsø on its routes both north and south and this is a very popular way to end your time in Norway.
If you are still looking to discover more of this wonderful country then we can arrange extensions for you to travel north to Kirkenes or south to the Lofoten Islands or Ålesund to name just a few of the options available.
We would be more than happy to work with you to personalise any extension you wish utilising this iconic coastal route so simply contact our Travel Experts for details and a full quotation.
Extend your stay in Tromsø
From: £94pp
We can offer you the chance to extend your stay in Tromsø either at the beginning or end of your time in Norway. The city has so much to offer visitors that you may feel like you need more time to explore.
We can, of course, arrange additional Northern Lights hunts for you if you wish, along with a host of other activities including snowmobiling and reindeer sleigh ride.
Read more about this activity
If you want to enjoy a cruise element at the end of your holiday then we can also look options for you to combine your holiday with a trip on the famous Hurtigruten ships which travel the length of the Norwegian Coast. The boats stop in Tromsø during both their north and southbound voyages.
Includes light evening buffet & breakfast.
Image credit: Ole C Salomonsen
Dates & Prices
We include more, no hidden costs
On each of our holidays, you will see a clear outline of exactly what's included in the price of your holiday. We never use 'headline' or 'lead-in' prices like so many tour operators, as we prefer to include as much as we can, rather than see our clients incur considerable additional costs in our destinations.
Flights are not included in the holiday price so that the best possible fares and schedule can be found at the time of booking. There are low cost and scheduled flights operating on this route and our travel experts will happily provide a quotation and arrange the flights as part of the package.
Prices
Next season's provisional dates and prices
To secure places for next season, you can make a provisional booking and fix the cost of your holiday at the provisional package price displayed online. Simply by paying a deposit, you will protect yourself from any package price increases. The departure dates and itineraries remain subject to change and we will contact you when the final dates and itineraries are confirmed. You will have 14 days to decide if you would like to go ahead. If you decide not to travel we will refund your deposit. We reserve the right to charge supplements where there are significant changes to an itinerary or increases in flight costs. Any non-package rates remain subject to change.
Departure dates between

Fri 30 Nov 2018
to
Thu 27 Dec 2018

Enquire

Adults

£ 2,335

Single Adult

£ 2,655

Mon 31 Dec 2018
to
Sat 30 Mar 2019

Enquire

Adults

£ 2,335

Single Adult

£ 2,655
Terms
For our full booking terms and conditions please click here
Holiday group size (approximate)
Minimum 2 people, maximum 24 people (approximately)
Group sizes and minimum numbers
Most of our holidays require a minimum number of participants to operate. Minimum numbers are detailed on each holiday page and are always approximate. Group sizes for tailor made holidays will vary for each of the activities. For private departures you may also be joined by other guests during the activities unless you have discussed specific private activities with us.
If your selected date has not yet reached minimum numbers you will be informed at the time of booking. In the unlikely event that your chosen date has not reached the required minimum numbers nine weeks before your scheduled departure date we will contact you and discuss the various options available to you. We will always do all we can to operate a holiday and in some cases we may be able to operate the holiday by combining your itinerary with that of other guests for some activities (this may mean that the maximum group size is increased but this will be discussed in full with you).
If we are unable to operate the holiday then you will be offered the chance to transfer to an alternative holiday or date (subject to availability). If the alternative is more expensive you will be asked to pay the difference, if it is cheaper then you will be reimbursed. You will also be offered the option to cancel and receive a full refund of all monies paid.
See our booking conditions for further information.
Order of activities
The order of activities is always subject to change and you will be provided with your final itinerary upon arrival at your destination
Medical History and advice
If you or any member of your party is pregnant or has any medical condition or disability which may affect your holiday or has any special requirements as a result of any medical condition or disability (including any which affect the booking process), please tell us before you confirm your booking so that we can assist you in considering the suitability of the arrangements and/or making the booking. In any event, you must give us full details in writing at the time of booking and whenever any change in the condition or disability occurs. You must also promptly advise us if you become pregnant or any medical condition or disability which may affect your holiday develops after your booking has been confirmed.
See our booking conditions for further information.
Experience and fitness
We offer a vast choice of holidays which range from 'relaxed' to 'active' so there really is something for everyone and our holidays can be filtered by how active they are. Regardless of the chosen holiday, all activities will include tuition from a beginner's lever and no prior experience is assumed.
If you are unsure about the physical demands of a particular holiday please contact us and our expert team will be happy to help.
See our booking conditions for further information.
Guides and safety
It is absolutely essential when partaking in any activity that you listen very closely to, and abide by, the instructions provided.
If there is anything that you are unsure of during a safety briefing or that you would like to clarify with the guides please make this clear to them immediately before starting the activity.
Our guides' word on activities is always final and your safety is their principal concern at all times, please respect their decisions. By following their instructions, your safety and enjoyment during each activity will be greatly enhanced.
See our booking conditions for further information.
Booking activities locally
In almost all of our destinations you can book and pay for additional activities locally. Please note that we cannot be held responsible for any injury or loss that occurs through any activities that are booked in your destination (see our terms and conditions for further details).
Please always ensure that your safety is your primary concern when arranging any such activity.
Car Hire
If your trip includes car hire the named driver must have a credit card registered in their name which they can present when they collect their car along with their driving licence, as a deposit will be held on the credit card. Please see your trip dossier for full details.
Minimum age
The minimum age for participation in our itineraries is 15 years old, however, for some activities and shared transfers, our guests may be joined by others and these may include those of a younger age. Any younger participants will be fully supervised by an adult and the guides will ensure that they are only able to participate if there will be no effect on the activity experience. None of the hotels we feature has a minimum age and so there may be families staying at them with younger children, especially during the holiday periods.
To drive a snowmobile you must have a full driving licence and be over 18 years old.
Reviews
Traveller Reviews
It was just magical!
20 February 2018
by Mira and Kisan Ranchhoodas
Seeing the Northern Lights 5days in a row, it was just magical!
Everything was brilliant.
19 December 2017
by Carol and Glyn Mount
The food at the Clarion Aurora in Tromso was plentiful and a chalkboard by the entrance to the restaurant (and in the room booklet) was informative about food available and the chalkboard gave the menu for the evening buffet. If you didn't fancy the options there were abundant other restaurants in Tromso. We ate at the hotel every night and were very happy with the food. Everything was brilliant.…
Read more The aurora watching was the reason for the holiday, a lifetime's ambition. We saw the aurora every night except the last (because it was snowing! We had two amazing nights where the lights performed and danced for four hours. The meal on the dinner cruise (just three guests) was a simple Norwegian Cod dish but really tasty and very enjoyable and our hosts were great company. The Sami Reindeer, wonderful. The dog sledding, fantastic. Would highly recommend the Polar Museum about the expeditions and polar explorations and polar bear hunting. Truly astounding.
Read less
---
---